Cairns Snorkeling Info – Safety Tips
Snorkeling allows you to explore the amazing wonders of the Great Barrier Reef with no previous experience required and no sore eyes from the salt water. The masks (which are included in all Cairns reef tours) provide clarity of vision and the snorkel allows you to keep your head down, enjoying the wonders of the Great Barrier Reef, without having to come up and take a breath.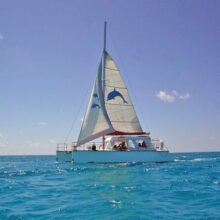 With a maximum of 20 passengers Reef Day Tripper offers a relaxed sailing small group day tour to the reef!
Can't decide?
CALL US: 07 4041 1638
Or try the form below, we have personally been on every Cairns reef and diving trip. We can help you choose the best tour, to suit your experience and budget.
Anyone who can swim, can snorkel. First time snorkelers may find breathing through a snorkel a little strange and uncomfortable, so we recommend practising in shallow water first. A Cairns island, cay or pontoon snorkel tour is recommended for first time snorkelers (as opposed to an Outer Great Barrier Reef day trip), as you can get comfortable in the shallow waters, before heading out to explore the reef.
Snorkeling is just like swimming, except you are floating on top of the water, face down, breathing through the snorkel. This allows you to make the most of your time on the reef, seeing the corals and fish beneath you. The masks provide the vision / lens / clarity you need to see the reef. A mask has three basic components, a glass "lens", silicone "skirt" and adjustable strap.
Cairns operators are experienced at fitting masks to faces, so will be able to find one that is comfortable and best for you. Top tip: the adjustable strap, which fits around your head, will allow you to make the mask fit properly. You do not need to tighten this strap too much, as the water pressure will hold the mask to your face.
If you get water into your mask while snorkeling, simply lift it away from your face and drain it. If you get water into your snorkel, then blow sharply, to push the water through the end of the snorkel.
If you are not a confident swimmer, you can still enjoy snorkeling on the Great Barrier Reef as all operators are able to provide you with buoyancy devices such as vests, noodles and safety rings. If you become tired while snorkeling, rest on the floatation device, or flip over and swim on your back, which uses different muscles. Alternatively, signal to the boat, they always have lifeguards on duty who can come and collect you in their tender.
Please note, it is recommended that you have a reasonable level of fitness to snorkel, especially if you are choosing an Outer Great Barrier Reef trip.
Snorkeling Tips
Snorkeling is an extremely safe activity, especially if you take all of the correct precautions and listen to your own body whilst swimming. Below are some basic Great Barrier Reef snorkeling safety tips.
Fitness. Make sure you only snorkel / swim to your fitness levels. Do not get too far away from the boat / island / coral cay / pontoon that you are not going to be able to swim back to it. Watch the currents and make sure you do not get carried away. It is highly recommended that you do not snorkel after consuming alcohol.
Sunburn.The Cairns Great Barrier Reef is located in a tropical location. Summer is hot and even winter is warm with high UV rays being emitted from the sun at all times throughout the year. When snorkeling, the water is running across your back, so while you may feel cool and comfortable, if you have not taken appropriate precautions, you could be getting sunburnt, which in extreme cases may lead to sun stroke. There are some easy ways to avoid this. Make sure you apply (and reapply) waterproof sunscreen throughout the day and take advantage of the lycra suits on offer, they provide great sun protection. Drink plenty of fluids to stay hydrated throughout the day: all Cairns reef tour operators provide cool water on board, free of charge.
Marine Stingers. Two types of marine stingers, or jellyfish, are found on Cairns' Great Barrier Reef. Both are poisonous and can leave painful stings and sometimes scars. Usually, they are only present in the waters between November and May, but this may change pending weather conditions. You can easily avoid painful contact with marine stingers by taking advantage of the full length body suits / lycra suits, available on board the boats. All Cairns day tour operators provide briefings and safety instructions regarding marine stingers, en route to the Great Barrier Reef. You do not need to do anything to prepare in advance for this.
Take a Friend. Like diving, it is always a good idea to snorkel with a friend. That way, if something goes wrong, like you get a cramp, you are not on your own. Stay close together while snorkeling and share the experience of exploring the Great Barrier Reef.
Don't Touch the Reef or its Residents. The Great Barrier Reef is a protected marine environment, home to rare and endangered corals and marine life. It is advised and preferred that you do not touch any corals or marine animals, for your safety and theirs. Corals are sensitive to sunblock and creams, which can be easily transferred from your hands. Similarly (most) fish do not like to be handled and may respond with aggression. For your benefit and the protection of the Great Barrier Reef, for the enjoyment of future generations, please do not touch the reef, its residents or try to take a souvenir shell / coral home: fines do apply and will be enforced.
Please note: We are not affiliated with any of the boats. We are Cairns locals, trying to help visitors have the best time they can, on the amazing Great Barrier Reef. This website is funded and built by us: we make commission from your tour bookings. We hope the information is of some assistance, please don't hesitate to contact us for more advice.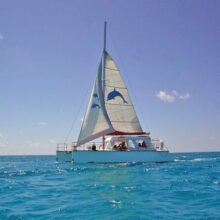 With a maximum of 20 passengers Reef Day Tripper offers a relaxed sailing small group day tour to the reef!
Click the links below to find out more.
Can't decide? We have personally been on every Cairns reef and diving trip. We can help you choose the best tour, to suit your experience and budget.
FREE UNDERWATER CAMERA HIRE*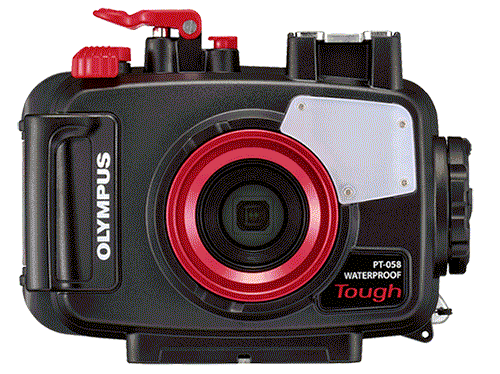 Spend over $550.00 AUD on your Great Barrier Reef tour with us and receive the latest Digital Underwater Camera Hire. Take amazing High-Resolution images and 1080 HD Video.
Not available for any tours to the Islands as fine white sand damages the seals on the cameras and makes them leak!
You need to come into our shop located on the Cairns Esplanade the day before departure to pick up the camera before 5:30 pm. You also need to supply your own SD Camera Card and drop the camera off back at our shop before 5:30pm.
Please Remember there is no other way to collect our cameras! All passengers must come into our shop the day before departure day before 5:30 pm.