Great Barrier Reef fish are some of the most striking, diverse and colourful found on any coral reef system, anywhere on earth.
There are estimated to be between 1,200 and 2,000 species of Great Barrier Reef fish, from 130 different families. The reside in the more than 2,900 individual coral reefs that comprise the mighty Great Barrier Reef World Heritage Area, occupying a total area of 348,000 km2, which is bigger than the United Kingdom, Switzerland and Holland combined.
TOURS FOR VIEWING GREAT BARRIER REEF FISH: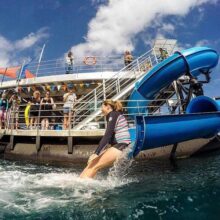 Great day tour for people of all ages. Visit Outer Reef Pontoon at Moore Reef, with lots of inclusions: snorkelling, glass bottom boat and semi-sub tours, underwater observatory and more.
Can't decide?
CALL US: 07 4041 1638
Or try the form below, we have personally been on every Cairns reef and diving trip. We can help you choose the best tour, to suit your experience and budget.
Some quick & interesting Great Barrier Reef Fish Facts:
Juvenile anemone fish (also known as clown fish) can swim 9.5 body lengths per second, 24 hours after hatching. To put that into human terms, Australian Olympic swimming legend Ian Thorpe swam 2 body lengths per second.
The slowest horse on earth is the seahorse, which can take up to 2.5 days to travel 1km.
The longest living Great Barrier Reef fish are the red bass, which can live to more than 50 years.
The whale shark is biggest of all Great Barrier Reef fish, growing up to 12m long.
All Great Barrier Reef fish have ears: their ear bone is the only way for scientists to tell their age.
The Great Barrier Reef fish all lead very different lives. Some are solitary, while some live in large schools darting throughout the coral reef systems, enjoying the freedom of this unpolluted natural paradise.
An essential part of this amazing natural ecosystem, Great Barrier Reef fish are a part of the food chain, have developed amazing symbiotic relationships with corals and also provide 'cleaning services' for some of the reef's larger residents. For visitors, perhaps the most amazing thing is the diversity in colour, shape and size of the Great Barrier Reef fish, so we will look at these areas are little more closely.
Great Barrier Reef Fish Colours:
Great Barrier Reef fish literally come in all the colours of the rainbow: blue, red, orange, purple and green.
Colour is used for camouflage, so they can blend into the coral backgrounds and avoid predators.
Some Great Barrier Reef fish can change colours, like the Coral Trout during feeding.
Great Barrier Reef fish rely on colour and pattern to identify mates and other species.
Juvenile Great Barrier Reef fish are often different colour and shape to adult fish, making identification tricky.
Great Barrier Reef Fish Classification:
Great Barrier Reef fish with bony skeletons are classified as Osteichthyes. This includes everything from the larger sized groupers, snappers and bream to the smaller seahorses, butterfly fish and gobies.
Open water Great Barrier Reef fish prefer to cruise the Coral Sea and are classified as Pelagic fish. Members of this classification include tuna and marlin, which are generally bigger and faster swimming than most Great Barrier Reef fish. They also have red blood cells, giving them oxygen and energy.
The other major classification is the Chondrichthyes, which includes sharks and rays. Why are they different? Rather than having a bony skeleton, they have cartilage, making them more flexible and streamlined in the ocean.
What Great Barrier Reef fish will I see on my Cairns scuba diving trip?
Anemone Fish (Clown Fish)
Anemone Fish (Clown Fish). Definitely made internationally famous by the Finding Nemo movie, the anemone fish is arguably the most popular Great Barrier Reef fish with snorkelers and scuba divers. Globally, there are over 28 species of anemone although the clown fish, with its bright orange colouring and distinctive white band with black outline, is the most easy to identify. They live amongst the poisonous tentacles of the fish-eating anemone, which they become immune to, by coating themselves with a layer of mucus. How do they do this? By gently letting the tentacles touch their body in various different places, they establish immunity and the mucus covering. Once safe, they enter the anemone and take up residence. Interesting anemone fish facts: they are able to change sex during their lifetime & the males care for the nest and eggs until they hatch.
Surgeon Fish (Tang)
Surgeon Fish (Tang). In keeping with the Finding Nemo theme, the next fish we will look at is the surgeon fish, which includes a range of different species and colours. The common name comes from the fact that all of these fish have a 'blade' and venomous fin spines. They use these to protect themselves from their predators and other surgeon fish when disputing territory. Surgeon fish and tangs generally travel in schools across the Great Barrier Reef. Growing up to 38cm long, they are about three times bigger than the clown fish.
Parrotfish
Parrotfish. Parrotfish are an abundant Great Barrier Reef fish that are easily identifiable thanks to their parrot-like 'beak'. Why does a fish need a beak? Parrotfish eat soft and hard corals, which they bite off the coral reef with their sharp beak; they chew the corals with grinding teeth in their throats before expelling them at the other end in a stream of coral 'dust' particles. Found throughout the Great Barrier Reef, parrotfish come in a range of different colours and patterns, including blues, greens and yellows, easily blending in with the vibrant coral reef background. Growing up to 38cm in length, these are not giants of the reef, but they are certainly some of the most colourful of the Great Barrier Reef fish. Interesting parrotfish fact: they are not usually eaten by people as a 'plate fish', however they were once served raw to the kings of Polynesia and were considered a royal food.
Butterfly Fish
Butterfly Fish. Butterfly fish are another easy to recognize Great Barrier Reef fish species, thanks to their distinctive body shape; very thin, rounded, almost like a plate with a long 'nose'. They take their common name from the diverse range of stunning colours that you can find them in. Yellow is definitely a dominant colour amongst the butterfly fish and all species have a distinctive band of colour (usually black) that runs vertically down their bodies and over their eyes. Butterfly fish are found on coral reefs around the world. They feed on coral polyps and algae and are prized as aquarium fish. Interesting butterfly fact: they usually travel in pairs and when they find a partner, they stick together for life.
Damselfish
Damselfish. This is definitely a Great Barrier Reef fish species you will see when scuba diving the waters off Cairns. There are approximately 141 species of damselfish in Australia and on the Great Barrier Reef, they thrive in large schools, generally spotted darting in and out of hard plate corals, such as staghorn coral. Female damselfish lay their eggs on the hard coral surface and the males will protect them until they hatch. For this reason, the males can seem quite aggressive to scuba divers and have been known to take a bite, which is relatively painless. Damselfish are algae eaters and come in a range of vibrant colours. Interesting damselfish fact: the Spiny Chromis Damselfish is one of the preferred snacks for adult Coral Trout.
Coral Trout
Coral Trout. Even non-scuba divers will be familiar with this delicious Great Barrier Reef fish! The coral trout species is an excellent tasting reef fish, which is targeted by fishermen up and down Queensland's Great Barrier Reef coastline. They belong to the Serranidae family of fish, which also includes groupers and cods and are characterized by having a large mouth with teeth and three spines on the gill cover. Generally, coral trout tend to stick close to their home reef and can live up to 18 years of age, weighing 26kg. Interesting coral trout fact: Coral trout start their lives as females, but turn into males when they reach about 42cm long.
Groupers & Cods
Groupers & Cods. We start to climb the food chain with the groupers and cods and perhaps one of the most famous, is the Giant Potato Cod. Growing up to 2m long and weighing 100kg, these giant fish are quite friendly with scuba divers and make for some once in a lifetime photo opportunities. The best place to scuba dive and see a Potato Cod is definitely the Cod Hole, which is north on the Great Barrier Reef, located near Lizard Island the Ribbon Reefs. You definitely need to book a live aboard dive tour for this one and Spirit of Freedom is a popular choice. Potato Cods feed on other Great Barrier Reef fish, crabs and lobsters.
Maori Wrasse
Maori Wrasse. Possibly the biggest Great Barrier Reef fish is the Humphead Maori Wrasse, which can live up to 30 years and grow to just over 2m. These amazingly beautiful fish are also quite tasty and a highly prized eating fish across south-east Asia, unfortunately, this has led to them being listed as endangered on the Union for Conservation of Nature list, since 2004. They have been a protected species in Queensland (Australia) since 2003. Adult Maori Wrasse prefer offshore reef systems with steep slopes and drop offs. Giant Maori Wrasse are seen on many Cairns dive trips and snorkel trips, including those provided by Sunlover Cruises and Reef Magic, at their Marine World platform. Interesting wrasse fact: the large hump on their heads grows with age, the bigger the hump, the older the fish.
Sharks
Sharks. There are over 160 species of shark living in Australian waters. Although for many divers these are not a Great Barrier Reef fish they want to see, chances are, you will. The most commonly seen shark on Cairns dive day trips is the White-tipped Reef Shark, which generally grows no more than 2m long and is a relatively placid reef dweller. For those divers that want to get amongst the larger sharks, then a live aboard Cairns scuba dive trip to the Coral Sea is the way to go. Here you can watch a shark feed, which attracts a range of open water sharks, including the Hammerhead.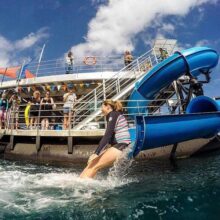 Great day tour for people of all ages. Visit Outer Reef Pontoon at Moore Reef, with lots of inclusions: snorkelling, glass bottom boat and semi-sub tours, underwater observatory and more.
Click the links below to find out more.
Can't decide? We have personally been on every Cairns reef and diving trip. We can help you choose the best tour, to suit your experience and budget.
FREE UNDERWATER CAMERA HIRE*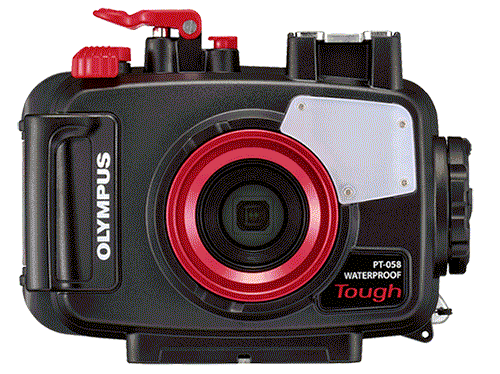 Spend over $550.00 AUD on your Great Barrier Reef tour with us and receive the latest Digital Underwater Camera Hire. Take amazing High-Resolution images and 1080 HD Video.
Not available for any tours to the Islands as fine white sand damages the seals on the cameras and makes them leak!
You need to come into our shop located on the Cairns Esplanade the day before departure to pick up the camera before 5:30 pm. You also need to supply your own SD Camera Card and drop the camera off back at our shop before 5:30pm.
Please Remember there is no other way to collect our cameras! All passengers must come into our shop the day before departure day before 5:30 pm.