Cairns liveaboard diving trips and multi-day scuba diving tours depart daily, allowing you to maximise your dive time on the Great Barrier Reef.
Liveaboard Diving Cairns let you fit more dives into your trip than you could manage on day tours. As an added bonus, you can do night dives and morning dives, as well as watch sunrise and sunset over the Coral Sea.
VIEW SELECTED TOURS BELOW:
Reef Encounter offers 2-3-4 day trips from Cairns to the Great Barrier Reef. Suitable for snorkelers and divers: options for all budgets and itineraries.
Watch the sun set and wake up on the Great Barrier Reef on this 3 day / 2 night trip from Cairns. Suitable for divers and snorkellers. Twin share and double cabins. Includes meals and accommodation.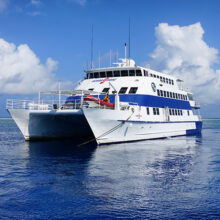 3-Day/2-Night Liveaboard dive trip departs Cairns Wednesdays, Thursdays & Fridays. Beautiful diving on the outer reefs. Includes all chef-prepared meals and accommodation & 11-Dives with full gear!
Can't decide? We have personally been on every Cairns reef and diving trip. We can help you choose the best tour, to suit your experience and budget.
All liveaboard trips visit several different dive site locations, meaning you get to explore more of the Great Barrier Reef.
Liveaboard Diving with Turtles
Potato Cod - Cod Hole
Coral Sea Shark Diving
There are several benefits to choosing a liveaboard dive trip from Cairns, including: more time diving, less time travelling, saving money on accommodation and meals (all included in your liveaboard package), getting to visit as much of the Great Barrier Reef as you can, having the opportunity to do night dives.
There are two different types of Cairns liveaboard diving trips. The first is the liveaboard trips that visit Cairns' Outer Great Barrier Reef. These depart daily and can be booked anywhere from a single night to a week. The second is the liveaboard trips that depart from Cairns and visit the Ribbon Reefs, Cod Hole and Coral Sea. These trips last a minimum of 4 days / 3 nights and can last up to a week.
Cairns Outer Reef Liveaboard Dive Trips
What's the difference? Cairns' Outer Great Barrier Reef liveaboard dive trips visit the reefs off Cairns. The reefs are generally about 60km offshore and dive depths vary anywhere from 5m to 30m. Visibility and conditions are dependent on the season, but visibility is usually anywhere from 10m – 30m, excluding extreme weather events.
Prodive's Scubapro
Kangaroo Explorer Cairns Liveaboard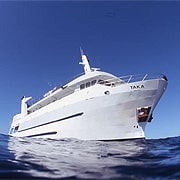 Taka - Deep Sea Divers Den
These trips are suitable for beginners to experienced divers and visit several different dive sites. The reefs you may visit off Cairns include, but are not limited to: Milln, Moore, Hastings, Saxon, Thetford and Briggs Reefs, to name just a few. To give you an indication of the amount of diving you can do on these trips, you can enjoy up to seven (7) certified dives on an overnight trip and 11 dives on a two night trip.
Cairns Ribbon Reef and Coral Sea Liveaboard Dive Trips
Cairns Ribbon Reef and Coral Sea liveaboard trips go further afield than Cairns, taking you up the coast to the Ribbon Reefs and then out to the Coral Sea. These trips depart four times a week (Monday, Wednesday and Thursday) and last anywhere from 4 days / 3 nights to 7 days. The longer trips include the Great Barrier Reef's Ribbon Reefs (with the Cod Hole) and Coral Sea, the shorter trips visit either the Ribbon Reefs or the Coral Sea and include a low-level scenic flight, to or from Cairns.
The Ribbon Reef trips are similar to Cairns' Outer Great Barrier Reef trips, in that the maximum dive depth is generally no deeper than 30m and you are still within the protected waters of the Great Barrier Reef, however currents may be stronger here than Cairns. The difference is the marine life diversity and water clarity. These sites are less visited and further from shore, you can expect some of the best Great Barrier Reef diving here. These trips are suitable for beginner and advanced divers and nitrox is available as an optional extra.
Spirit Of Freedom Dive Boat
Mike Ball - Spoilsport
Diving at Osprey Reef
The Coral Sea is outside the Great Barrier Reef Marine Park and World Heritage Area. Cairns' liveaboard dive boats steam about 300km away from the coast, taking you to remote dive destinations with 1,000m wall drop-offs (dive depth is capped at 40m for recreational divers). These liveaboard trips are recommended for experienced, Advanced certified divers. Nitrox is available and Coral Sea trips include a shark feed dive, weather permitting. Currents here are generally stronger than on the Great Barrier Reef.
Cairns Liveaboard Diving - General Information
All Cairns liveaboard dive boats have professional crew and equipment, boasting over 60 years combined dive industry experience. Diver safety and safe diving practises are paramount on all of these boats, with thorough dive site briefings and safety procedures on board.
Cabin accommodation ranges from quad share to double and stateroom. Some boats offer private ensuites and some do not. All boats include lycra suits or wet suits in the tour price.
Water temperatures on Cairns' Great Barrier Reef is about 29 degrees Celsius in Summer and 23 degrees Celsius in Winter.
All Cairns liveaboard dive trips include accommodation, meals, linen, transfers to and from Cairns to the reef and diving. Do as much or little diving as you like.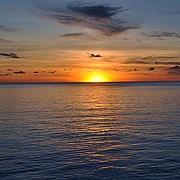 Sunset over Coral Sea
Friendly Crew
Great for Photographers
As each operator has different packages, reef destinations and inclusions, it can be hard to know where to start: Cairns Dive Adventures is here to help. We've been on and reviewed all of Cairns' liveaboard trips and can help you choose the best one for your budget and experience.
We are not affiliated with any of the boats. We are Cairns locals who love diving and want to make sure divers who visit our town and Great Barrier Reef have the very best experience they can. This site is built and funded by us. We give unbiased advice and trip reviews, which are designed to give you a thorough overview of the trip and what you can expect to experience. We hope it is informative. We make our income from booking your tours: we thank you for your support.
For those wanting to expand their scuba diving skills, you may choose to complete a dive course while on your Cairns liveaboard trip. PADI and SSI dive courses are available.
Please note: Dive tour operators will want to see a copy of your dive certification license / card, so please ensure you have this with you when booking / travelling. It is preferable if you have your log book with you too. If you have not dived in a while, refresher courses are available.
Please note: Travelling with non-divers is no problem. All Cairns Liveaboard Diving tours offer the opportunity for guests to book an introductory dive (no experience necessary), or alternatively, your non-diving companion can snorkel and swim on the Great Barrier Reef.
Dive the very best of the Great Barrier Reef! Dive the Cod Hole, Ribbon Reefs & Coral Sea. Spectacular color, thousands of fish, sharks, night dives and 1000 meter wall dives!
Cairns liveaboard dive information
Click the links below to find out more.
Can't decide? We have personally been on every Cairns reef and diving trip. We can help you choose the best tour, to suit your experience and budget.
FREE UNDERWATER CAMERA HIRE*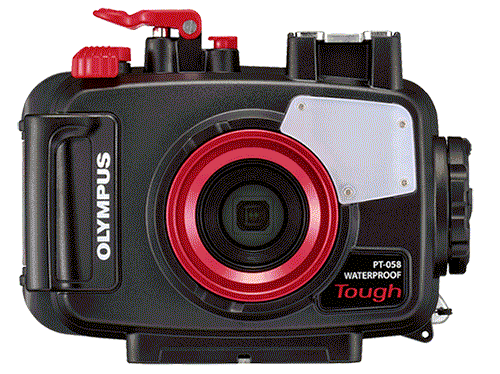 Spend over $550.00 AUD on your Great Barrier Reef tour with us and receive the latest Digital Underwater Camera Hire. Take amazing High-Resolution images and 1080 HD Video.
Not available for any tours to the Islands as fine white sand damages the seals on the cameras and makes them leak!
You need to come into our shop located on the Cairns Esplanade the day before departure to pick up the camera before 5:30 pm. You also need to supply your own SD Camera Card and drop the camera off back at our shop before 5:30pm.