Mike Ball – Spoilsport: Coral Sea Dive Expedition
Coral Sea Diving at Osprey Reef, North Horn Wall, Admiralty Anchor, Around The Bend, North Horn Shark Feed and Much More!
All Prices in Australian Dollars.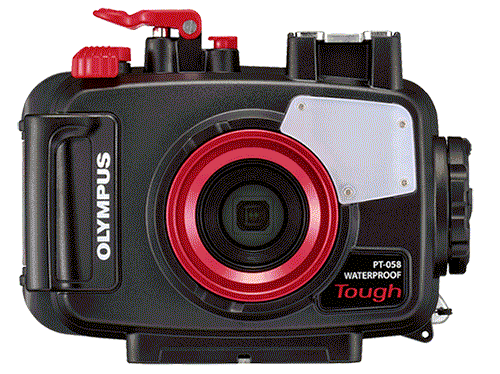 *FREE UNDERWATER CAMERA HIRE
Book this trip with us, you must spend over $550.00 AUD to receive our 1 x Free Cairns Underwater Camera Hire. You must come into our Cairns Esplanade Shop to pick up the camera the day before departure day before 5:30 pm. Reserve your camera today!
Can't decide? We have personally been on every Cairns reef and diving trip. We can help you choose the best tour, to suit your experience and budget.
Mike Ball – Spoilsport: Coral Sea Dive Expedition
Tour Type: 4 Day / 4 Night Trips | Operates: Weekly | Departs: Thursday 6pm | Returns: Monday 11am | Transfers: No
HIGHLIGHTS:
Coral Sea Diving at Osprey Reef, North Horn Wall, Admiralty Anchor, Around The Bend, North Horn Shark Feed and Much More!
| AVAILABLE ON THIS TOUR: | |
| --- | --- |
| Certified Scuba Diving:  Yes, Advanced Dive Certification Required | All Snorkel Gear Yes, Snorkel, Fins, Mask and Life Jackets |
| Meals: Yes, Hot & Cold Breakfast, Morning Tea, Lunch, Afternoon Tea and Dinner! | Guided Dives: No, But there will be instructors in the water on every dive. The crew give fantastic dive briefings! |
| Hot Showers and Toilets: All Cabins Have Private Bathrooms Except Budget Cabins | Full Dive Gear: Yes, Extra Cost See Price List |
| Underwater Photographer Friendly: Yes, Camera Bucket and Camera Area Available | Outer Reef: Yes Ribbon Reefs & Osprey Reef Shark Dive |
Please note due to COIVD-19 at this point in time Coral Sea & Cod Hole Expedition – 5 Night
2020 Departure dates: 3rd, 17th September | 15th, 29th October | 12th November | 3rd, 31st December
2021 Departure dates: 14th January | 4th, 18th February | 4th, 18th March | 1st, 15th April | 6th, 20th May
Scuba Diving the Coral Sea in Australia is a shark lovers paradise! This remote area dive destination (Osprey Reef) offers 1,000m wall drop-offs, amazing visibility often 30+ meters, outstanding marine life and more reef sharks than you can poke a stick at! In fact, the 'North Horn Dive Site' located at Osprey Reef in the Coral Sea is considered in the world's top 10 shark feed dive sites.
Mike Ball Dive Expeditions has been running liveaboard dive expeditions since 1969 and provides trips from Cairns to the Coral Sea, with weekly departures (Departing Cairns every Thursday). Please note that the Coral Sea is 230km East of the Queensland coastline and 350km north-east of Cairns: this is remote scuba diving. Safe diving is paramount and this trip is recommended for scuba divers with an advanced diver certification level or higher. In fact, if you only have your Open Water Dive license then it is recommended you upgrade your dive license to Advanced certification before embarking on this expedition.
Mike Balls dive boat "Spoilsport" offers regular air and nitrox diving for couples and groups of people who just want to fun dive and enjoy some of Australias very best diving. Mike Ball is also the only dive boat running trips to the Coral Sea and Osprey Reef that offers solo scuba diving and rebreather services (for more information on these advanced diving techniques, please see the diving tab below). The tour price includes Four nights accommodation, all chef-prepared meals and bed linen. Also included is a scenic, low-level flight from Lizard Island to Cairns at the end of the trip. Full or part dive gear can be hired at extra charge (See price table below).
Spoilsport, Mike Ball's 30m twin-hull boat, is Australia's most awarded liveaboard dive boat. It takes a maximum of 28 guests and 12 crew, spread across its three levels of air-conditioned interior. Its 14 guest cabins are serviced daily and configured to suit a range of budget/itinerary options.
Budget cabins have twin bunk beds (shared bathroom); club cabins have twin bunk beds with private ensuite bathroom; standard cabins have twin beds with ocean views and private ensuite bathroom; premium cabins have a queen bed, ocean views and private ensuite bathroom.
The top deck is all about passenger comfort, with its spacious lounge and saloon opening out to the exterior sun deck, while the middle deck houses all passenger accommodation and the dive deck. There is an onboard chef preparing all your meals and snacks.
Having trouble figuring out the room arrangments on Mike Ball? See below:
Premium Rooms:
Have a 1 x Queen Bed or 1 x Double Bed with private bathroom and Premium Ocean Views.
Standard Rooms:
Have low-level Twin Beds (2 x Single Beds) with private bathroom and Ocean Views.
Club Rooms:
Twin Bunk Beds, (2 x Single Beds) 1 bed on top and 1 bed below with private bathroom.
Budget Rooms:
Have Bunks Beds, (2 x Single Beds) 1 bed on top and 1 bed below with a shared bathroom outside the room in the hall.
---
Click here to Download the Mike Ball Room Layout and Vessel Specification Guide.
---
All prices in Australian Dollars.
Can't see the prices on your mobile? Click the Green Circle with the + Sign.
CHOOSE OPTION
INCLUDES
DIVES
PRICE
+ TAXES
ROOM TYPE:
Adult Premium Cabin
Certified Diver
14
($3,244.00 per person) or (Sole Occupancy $3,893.00)
$21.00
Adult Standard Cabin
Certified Diver
14
($2,958.00 per person) or (Sole occupancy $3,550.00)
$21.00
Adult Club Cabin
Certified Diver
14
($2,670.00 per person) or (Sole occupancy $3,204.00)
$21.00
Adult Budget
Certified Diver
14
($2,321.00 per person) or (Sole occupancy $2,785.00)
$21.00
-
-
-
-
-
PADI DIVE COURSES:
PADI Advanced Course
Dive Course
-
$260.00
-
PADI Nitrox Course
Dive Course
-
$310.00
-
EXTRAS:
Full Dive Gear Hire
Dive Gear
-
$132.00
-
Nitrox Tank Fills
Nitrox Tank Fills
-
$25 per day
=
5 x Night Mike Ball - Minke Whale dates:

18 June 2020
25 June 2020
2 July 2020
9 July 2020
16 July 2020
Certified Diver
14
$TBA
Detailed below is a basic itinerary, based on a standard trip. Please note, the itinerary may vary, pending weather and conditions. We have included highlights, as well as detailed trip information, for ease of reading. Please contact us for more information.
THURSDAY. Highlights: Checking-in, exploring Spoilsport and motoring overnight to the Ribbon Reefs.
MORE DETAIL: Your Mike Ball Dive Expeditions Coral Sea adventure begins with luggage check-in at 2/3 Abbott Street, Cairns, prior to 4pm. Today you can explore Cairns city, its Esplanade, Lagoon pool, art galleries and restaurants before meeting at Mondos Cafe / Restaurant (under the Hilton) where there is a reserved table for Mike Ball guests from 4pm. There you have time to have dinner (at your own expense)and meet your fellow divers. The Spoilsport crew will meet guests at Mondos at 6pm.
From here, you will be escorted on the short walk to Trinity Wharf, where Spoilsport is berthed, awaiting your arrival. The friendly crew will welcome you aboard and provide an orientation, as the vessel departs Cairns and commences its 120km journey north to the pristine Ribbon Reefs. is served and you settle in to your comfortable surrounds, getting to know your fellow passengers and learning more about the Great Barrier Reef.
FRIDAY. Highlights: Exploring some of the fabulous dive sites on the Great Barrier Reef's Ribbon Reefs, including the world famous Cod Hole (weather permitting).
MORE DETAIL: Wake up on the Great Barrier Reef's Ribbon Reefs and prepare to start your scuba diving adventures! The Ribbon Reefs offer many fabulous dive sites, including the world famous Cod Hole, all bursting with a vast array of Great Barrier Reef fishes and marine life.
Some of the creatures you can expect to see on the Ribbon Reefs include, several varieties of Anemonefish, Trumpetfish, Reef Sharks, Sea Turtles, Nudibranchs, Giant Clams, Diagonal-banded Sweetlips, Groupers, Parrotfish, Wrasse, Trout, Damsels, Basslets and more.
Pending conditions, a highlight will definitely be the world famous Cod Hole! Crystal clear waters support shallow, sunlight coral gardens and are home to giant Potato Cod, who are used to divers visiting and happy to 'pose' for photographs.
Your first day ends with a night dive, where you will get a completely different perspective of the reef. As you go to sleep, Spoilsport continues your journey, making its way north-east beyond the sheltered waters of the Great Barrier Reef into the Coral Sea.
SATURDAY & SUNDAY. Highlights: Scuba diving in the Coral Sea with its 1,000m wall drop-offs, reef sharks, coral fans, amazing visibility and much, much more!
MORE DETAIL: The next two days of the trip are spent exploring Osprey Reef in the Coral Sea. Reef sites and dive times will vary, pending weather and conditions, but a highlight will be visiting the famous North Horn site for a shark feed dive.
Mike Ball Dive Expeditions keeps all guests informed of the boat's movements and reef sites, via comprehensive daily briefings. There are two things you can be assured of: the diving will be excellent and the meals and snacks will be plentiful.
Highlights of diving Osprey Reef in the Coral Sea include: sheer walls descending 1,000m, which are home to an amazing variety of life including man-sized soft coral trees and gorgeous gorgonian fans. Crystal clear waters generally have visibility up to 40m, allowing you to easily see the many residents of the reef, including green sea turtles, grey whaler sharks, silvertip sharks and hammerhead sharks, to name just a few.
Sunday night is your last night aboard Spoilsport and it's party time, as the guests and crew celebrate with an international BBQ feast! Remember to pack your loudest tropical shirt and prepare to feast on steaks, sausages, salads and more, all washed down with the complimentary red and white house wine. As you sleep tonight, Spoilsport makes its way back to the Great Barrier Reef and Lizard Island.
MONDAY. Highlights: Low-level scenic coastal flight from Lizard Island to Cairns, flying over the Great Barrier Reef, Low Isles and more.
MORE DETAIL: There is no water action today. Breakfast is served on board Spoilsport before you transfer over to nearby Lizard Island on tender. You return to Cairns on a spectacular, low-level flight over the Great Barrier Reef. Flight plans have been designed to showcase the scale of this amazing natural marvel with highlights including Endeavour Reef, where Captain Cook ran aground, Cape Tribulation and more. Arriving into Cairns around 11am, complimentary coach transfers will return you to your inner-city hotel.
This trip is recommended to advanced certified divers: open water certification is a minimum requirement, but please note that some of the Coral Sea reef sites do not even start until 18m beneath the surface.
Mike Ball Dive Expeditions does allow solo diving, but only for divers with a Solo Certification (you can complete one of these on board, but must have an Advanced Certification and evidence of at least 100 logged dives).
Scuba divers travelling on their own will be paired up with other divers on board, who have similar experience / skill levels. Most of the diving is unguided, however, if you want personalised dive guides this service is available on Mike Ball Dive Expeditions at extra cost ($250 per day + berth cost for the guide). Contact us for more information.
The Coral Sea dive sites have 1,000m wall drop-offs. In regards to maximum dive depths on Mike Ball Dive Expeditions, depth guidelines are based on individual diver experience and industry standards. The maximum depth, for divers with appropriate certification and experience, is 40m. Dives in excess of 40 metres (132ft) to a maximum of 50 metres (165ft) can only be undertaken by divers with a minimum experience of 100 dives with 25 deeper than 30 metres (100ft) including one to a depth within 3 metres of dive being undertaken.
Dive safety is paramount on these trips, especially given the remote location of Osprey Reef. There is no reverse profiling. There are no set limits on dive time: although divers must return to the boat with a minimum of 50 bar of air left in their tanks.
Mike Ball Dive Expeditions has an open dive deck policy, allowing you to dive as much, or as little, as you like. Most certified divers will do up to five (5) dives per day (2 in the morning, 2 in the afternoon plus a night dive). On a normal itinerary, Spoilsport will visit up to three (3) different dive sites per day.
Diving equipment is not included in the tour price. You are welcome to bring your own or hire it on the boat ($160 for 4 day full equipment rental). All divers are required to use a Nautilus Lifeline GPS (these are included). Extras include: Nitrox and the choice to participate in some dive courses (PADI Advanced or Nitrox).
Certified divers can enjoy up to 14 dives on this trip: you do not have to do all of the dives, do as many or as few as you like.
Certified divers will be required to show evidence of their certification: through current dive licenses and log books. All divers will be required to sign a Waiver Release and Indemnity Deed on board the boat. You will also be required to complete dive medical paperwork on board.
Mike Ball Dive Expeditions are just that, dive trips. However, snorkelers and non-diving partners are more than welcome to join in. Please note that the Coral Sea does not really have any suitable snorkel sites, although some snorkelling may be enjoyed on the first day in the Ribbon Reefs. Discounts apply for snorkelers: contact us for more information on prices.
Customer Tour Reviews & Feedback
Customer reviews are written by our customers using our 1 x FREE Digital Underwater Camer Hire Service.
Awesome Diving Coral Sea Dive Trip
By: Andrew Morris
Staff Service
- 5 out of 5
Reef Quality
- 4 out of 5
Vaue For Money
- 5 out of 5
Overall Rating
- 5 out of 5
Travelled on: 05/11/2020
The professional service from Clint at Cairns Dive Adventures and the Mike Ball Diving team was flawless. I would recommend both companies to everyone. They helped create an unforgettable travelling experience, which I will be repeating sooner than later.
Cairns Dive Adventures Trip Reviews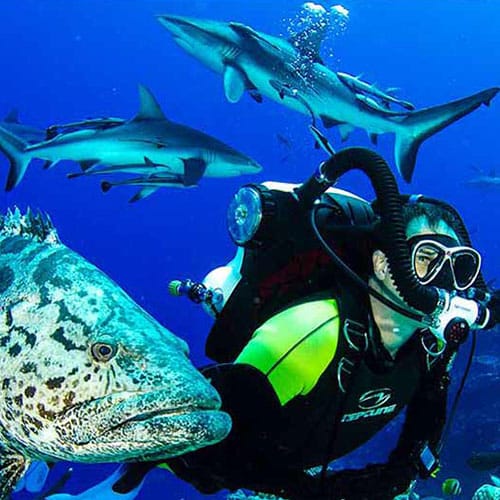 Just spectacular! Some of the best diving I have ever done! The shark feed is a real eye-opener and some of my best photos and video from the trip. The crew is fantastic with wonderful chef-prepared meals.
All prices in Australian Dollars.
We accept VISA & MC with no booking fees.
Choose your options on the booking form.
Press the red book now button.
Due to current social distancing regulations (subject to change) – Twin-share: Only available to guests in travel bubble (travelling together). Solo travelers: Mandatory sole occupancy surcharge of 20% applies. (Sole occupancy normally 70%). If twin shared is preferred please advise at time of booking, sole occupancy will be refunded if restrictions are lifted before departure.
---
Inclusions: Accommodation, all chef-prepared meals, all dives.
---
Reef Tax: $21.00 per person Marine Park Fee is payable direct to Mike Ball Dive Expeditions. This is included in the price table above.
FREE UNDERWATER CAMERA HIRE*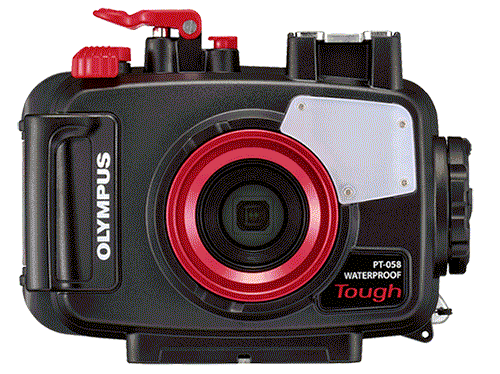 Spend over $550.00 AUD on your Great Barrier Reef tour with us and receive the latest Digital Underwater Camera Hire. Take amazing High-Resolution images and 1080 HD Video.
Not available for any tours to the Islands as fine white sand damages the seals on the cameras and makes them leak!
You need to come into our shop located on the Cairns Esplanade the day before departure to pick up the camera before 5:30 pm. You also need to supply your own SD Camera Card and drop the camera off back at our shop before 6:00pm.