Cairns Outer Reef Liveaboard Diving
Cairns outer reef liveaboard diving allows you to stay and play on Cairns' Outer Great Barrier Reef. There are excellent dive sites, abundant marine life and there's nothing quite like watching the sun rise and set over the Coral Sea.
VIEW SELECTED TOURS BELOW: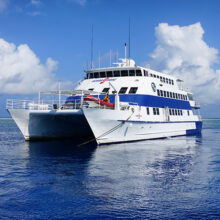 Ocean Quest 3-Day/2-Night Liveaboard dive trips depart Cairns every day! Enjoy amazing diving on beautiful outer reefs. Includes all chef-prepared meals and accommodation & 10-Dives with full dive gear!
Can't decide? We have personally been on every Cairns reef and diving trip. We can help you choose the best tour, to suit your experience and budget.
Cairns liveaboard dive operators are highly qualified and internationally recognised by PADI and SSI for their experience and professionalism. With more than 60 years combined diving experience, you can be assured your Cairns Great Barrier Reef dive trip will be undertaken with the highest safety standards and environmental care and protection.
Prodive's Scubapro
Kangaroo Explorer Cairns Liveaboard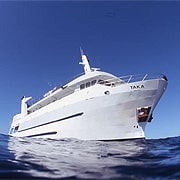 Taka - Deep Sea Divers Den
Cairns Outer Reef Diving
Outer Great Barrier Reef dive site depth varies, but is generally no more than 30m, with some of the best diving in the first 15m of water. The reef and dive sites are about 60km offshore, so visibility is usually good and varies from 10 – 30m. Water temperature is generally warm, around 29 degrees Celsius in Summer and 23 degrees Celsius in Winter.
These trips are suitable for everyone from the beginner to the advanced diver. Water entry is generally giant stride from the back of the boat and the dive sites have swim throughs, caves, ledges and coral bommies.
Cuttlefish Milln Reef
Hang out with Nemo
Flatworm are amazing
All Cairns Outer Great Barrier Reef dive tours include accommodation, linen, meals, dive equipment and lycra suits or wet suits. Dive guides are available on most boats but guided dives do cost extra. All of these trips visit multiple reef and dive sites. All diving is open water diving (so subject to currents etc): there is no solo diving.
Liveaboard Diving Options
There are two types of Cairns liveaboard dive tours. The first is where a day boat takes you out to the reef, meeting up with a liveaboard boat which is pretty much permanently at sea. These tours offer complete flexibility in regards to departure dates and length of stay. You can choose an overnight trip, or stay at sea for a week. Price is calculated on a per day rate and includes a set number of dives, including night dives and accommodation. Usually, an overnight package will give you the chance to complete seven (7) certified dives, including a night dive.
The other type of Cairns liveaboard dive trip is a 3 day / 2 night trip, which departs every day except Tuesday. On these trips, you board the boat you are going to stay and dive on in Cairns, and then travel to the Outer Great Barrier Reef. You stay on this boat the whole time, which allows you to get to know the dive crew and fellow passengers a little better. These trips visit just as many dive sites and you don't have to worry about meeting up with a day boat each day. You can enjoy up to 11 certified dives on these trips, including two night dives.
Travel time to and from Cairns to the Outer Great Barrier Reef is generally around 2-hours, so by staying out there, you can enjoy more diving, less travelling. Please note: none of the Cairns liveaboard dive tours allow solo diving or reverse profile diving.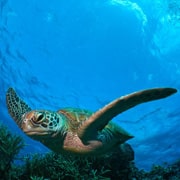 Turtle are common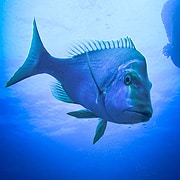 You looking at me
Nemo always friendly
Cairns Dive Adventures has been on all of Cairns' liveaboard dive boats and are pleased to provide unbiased advice and trip reviews. We are not affiliated with any of the boats. We are Cairns locals who are passionate about diving and ensuring you have the very best Great Barrier Reef experience, to suit you experience and itinerary. Our income is from tour bookings made on this site: we thank you for your support and hope our information has been of some assistance.
Please note: Dive tour operators will want to see a copy of your dive certification license / card, so please ensure you have this with you when booking / travelling. It is preferable if you have your log book with you too. If you have not dived in a while, refresher courses are available.
Please note: Travelling with non-divers is no problem. All Cairns liveaboard dive tours offer the opportunity for guests to book an introductory dive (no experience necessary), or alternatively, your non-diving companion can snorkel and swim on the Great Barrier Reef.
For those wanting to expand their scuba diving skills, you may choose to complete a dive course while on your Cairns liveaboard trip. PADI and SSI dive courses are available.
Reef Encounter offers 2-3-4 day trips from Cairns to the Great Barrier Reef. Suitable for snorkelers and divers: options for all budgets and itineraries.
Cairns liveaboard dive information
Click the links below to find out more.
Can't decide? We have personally been on every Cairns reef and diving trip. We can help you choose the best tour, to suit your experience and budget.
FREE UNDERWATER CAMERA HIRE*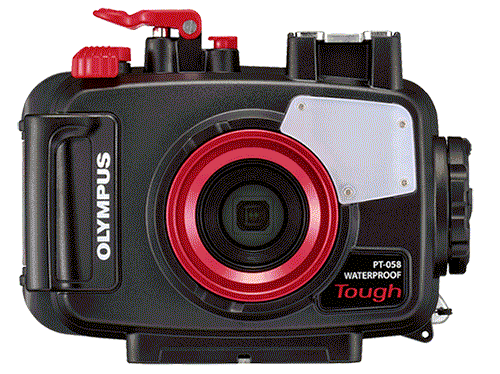 Spend over $550.00 AUD on your Great Barrier Reef tour with us and receive the latest Digital Underwater Camera Hire. Take amazing High-Resolution images and 1080 HD Video.
Not available for any tours to the Islands as fine white sand damages the seals on the cameras and makes them leak!
You need to come into our shop located on the Cairns Esplanade the day before departure to pick up the camera before 5:30 pm. You also need to supply your own SD Camera Card and drop the camera off back at our shop before 5:30pm.
Please Remember there is no other way to collect our cameras! All passengers must come into our shop the day before departure day before 5:30 pm.