Cod Hole – Great Barrier Reef
The Cod Hole is one of the world's must do dive sites. Situated on Ribbon Reef #10 on Australia's Great Barrier Reef, the Cod Hole's clear, warm, blue waters are home to an aquarium of marine life, most famous of which is the diver-sized Potato Cod.
This prestigious Great Barrier Reef site is on the 'bucket list' for most certified divers, attracting visitors from around the world who journey on liveaboard tours from Cairns (Queensland) to explore this natural paradise.
COD HOLE LIVEABOARD DIVE TRIPS DEPARTING FROM CAIRNS: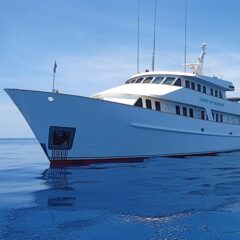 The cod hole & ribbon reefs offer spectacular diving over coral gardens, deep coral walls, protruding bommies. Magnificent diving in the remote untouched outer edge ribbon reefs!
Can't decide?
CALL US: 07 4041 1638
Or try the form below, we have personally been on every Cairns reef and diving trip. We can help you choose the best tour, to suit your experience and budget.
Dive the Cod Hole
The Cod Feed
Spirit of Freedom
Underwater photographers and cinematographers, Valerie and Ron Taylor, first brought the Cod Hole to the world's attention around 20 years ago. Today, divers can swim with these gentle giants, who grow up to 2m long and weigh up to 100kg.
The friendly fish are familiar with the sounds of boat engines and are often waiting just beneath the surface, at around 5m, to welcome divers to their underwater world. Being on the Great Barrier Reef, the Cod Hole delivers an abundance of marine life including giant Flowery Cod, Humphead Maori Wrasse, White-Tipped Reef Sharks, several varieties of Sweetlips and Anemonefish, Red Bass, Green Turtles, Star Fish and Feather Stars, Titan Triggerfish, Puffer fish and more.
From the smallest, most colourful damsels, to the largest groupers and cods, the Cod Hole is a stunning and diverse dive site which you will remember for the rest of your life.
Where is the Cod Hole?
The Cod Hole is on the northern end of Ribbon Reef #10, in the World Heritage protected Great Barrier Reef Marine Park, in North Queensland, Australia. It is about 240km north of Cairns and is accessible via several liveaboard Cod Hole dive tour operators.
Potato Cod
Spirit of Freedom Liveaboard
Ribbon Reefs
Classified as a 'Sensitive Location' by the Great Barrier Reef Marine Park Authority, the maximum group size per vessel visiting the Cod Hole is limited to just 60 people, including the crew. Aircraft are not permitted to fly below 500 feet in this area and there is no anchoring allowed, access is via approved and licensed moorings only, of which there are three.
Charroa manage the moorings at the Cod Hole and Ribbon Reefs.
Why is the Cod Hole Special?
Friendly, diver-sized Potato Cod roam these waters, waiting to welcome divers to the wonders of the Great Barrier Reef. Attuned to the sounds of dive boats, the cod are often lingering around the mooring lines and are the first thing you see, as you descend into the warm, blue waters.
It is an intensely powerful and emotional experience, sharing and exploring the Great Barrier Reef with these gentle giants. They swim straight up to your face, coming within centimetres of your mask. Even as you swim away and begin to explore the other wonders of this unique site, the Potato Cod come with you, almost like your own personal Great Barrier Reef guides.
Beautiful Cod
Potato Cod and Diver
Diver with cod
Some Cairns Cod Hole dive tour operators are licensed to feed the cod. This is an unforgettable experience! If you are travelling with one of these operators, you will usually do a 'normal' dive first, followed by the Cod Feed on the second dive at the site. This allows you to familiarise yourself with the fish, before witnessing the feeding frenzy.
The Cod Feed begins with all divers settling on to the sandy bottom in a tight circle. The Cod are familiar with this routine and you are instantly surrounded by several of them, as well as large Flowery Cod and swiftly moving Red Bass, all eager to share the spoils of a pilchard breakfast. Sometimes Coral Trout, Sweetlips and Trevally will join the feed. Triggerfish have also been known to gatecrash the party and the dive is cancelled if this happens, to ensure diver safety.
Extensive dive briefings are provided prior to a Cod Feed to ensure everyone is comfortable and the fish are protected.
What will I see at the Cod Hole?
The Cod Hole delivers excellent Great Barrier Reef diving. Other than the main attraction, there are coral walls and bombies festooned with hard and soft corals. Staghorn corals plate over the edge of boulders, providing the perfect platform for Feather Stars to feed in the passing currents and (name of fish here) to hide underneath.
Magnificent Sea Anemone sway in the currents, protecting their resident Pink Anemonefish, while coral chasms are lined with brain coral one side and soft coral the other, providing a delightful visual contrast for divers. Blue Star Fish are plentiful across the corals, creating an underwater spectacle for those who love them.
Feather Star
Sweetlip
Mr Cod
Marine life at the Cod Hole is diverse. Titan Triggerfish roam around, as do several types of Pufferfish. Gem-like Damsels dart in and out of the coral, while colourful giant clams rest gently on the sandy ocean floor.
The Cod Hole is also home to Shark Alley, and at just 9m you will see White Tipped and Grey Reef Sharks cruising through the warm waters.
Internationally renowned as a pristine dive site, the Great Barrier Reef's Cod Hole delivers on experience and is definitely a 'must do' on any Australian dive holiday itinerary.
How can I visit the Cod Hole?
There are two reputable Cairns Cod Hole Dive Tour Operators, Spirit of Freedom and Mike Ball Dive Expeditions.
Each of these operators has Advanced Ecotourism accreditation through Eco Tourism Australia, which means they have been independently assessed for their environmental performance and found to be innovative leaders in their field, committed to environmental best practice and conservation, providing guests with the opportunity to learn more about the wonders of the amazing Great Barrier Reef.
Mike Ball - Spoilsport
Spirit of Freedom
Potato Cod
As the Cod Hole is 240km north of Cairns, all dive tours must be booked as liveaboard expeditions. Dive trip duration varies from four days and three nights to seven nights and eight days. The number of certified dives varies from 11 to 28, pending the trip duration, your experience and preferred tour operator.
When is the best time of year to visit the Cod Hole?
The Cod Hole and Great Barrier Reef are beautiful year round, so there really is no 'best' time to visit. The Cairns / Northern Region of the Great Barrier Reef, where the Cod Hole is located, is subject to tropical weather conditions. This means that the coldest water temperature you will experience is around 23 degrees Celsius in July, reaching a maximum of over 29 degrees Celsius in summer (January).
That being said, there are certain events that happen throughout the year, which you make like to take into consideration when planning a liveaboard dive trip to the Cod Hole.
Who can dive at the Cod Hole?
Divers of any experience level with at least an Open Water Dive License can dive the Cod Hole. For maximum enjoyment of the site, it is preferred that you have at least 10 certified dives to your credit before arrival, but some divers do come to the Cod Hole straight from having completed their certification. Please note: if this is the case, then you should only book a tour to the Cod Hole and Ribbon Reefs, not the Coral Sea, which is often included on the longer Cairns liveaboard dive itineraries to the Cod Hole.
Dive depth at the Cod Hole varies from 10 – 30m (although you do have to move a fair way from the three moorings to reach 30m), currents are rated from none to gentle and surface conditions are usually calm.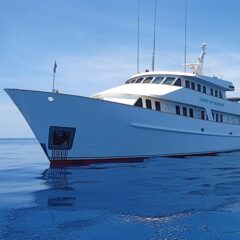 The cod hole & ribbon reefs offer spectacular diving over coral gardens, deep coral walls, protruding bommies. Magnificent diving in the remote untouched outer edge ribbon reefs!
Cod Hole Liveaboard Dive Information
Click the links below to find out more.
Can't decide? We have personally been on every Cairns reef and diving trip. We can help you choose the best tour, to suit your experience and budget.
FREE UNDERWATER CAMERA HIRE*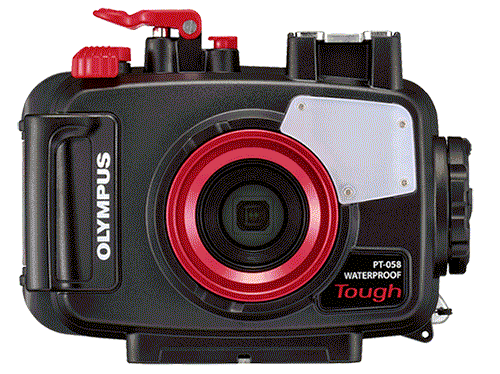 Spend over $550.00 AUD on your Great Barrier Reef tour with us and receive the latest Digital Underwater Camera Hire. Take amazing High-Resolution images and 1080 HD Video.
Not available for any tours to the Islands as fine white sand damages the seals on the cameras and makes them leak!
You need to come into our shop located on the Cairns Esplanade the day before departure to pick up the camera before 5:30 pm. You also need to supply your own SD Camera Card and drop the camera off back at our shop before 5:30pm.
Please Remember there is no other way to collect our cameras! All passengers must come into our shop the day before departure day before 5:30 pm.