Cairns Liveaboard Snorkelling
Cairns liveaboard snorkelling trips and multi-day snorkel tours depart daily, allowing you to maximise your time on the Great Barrier Reef.
Liveaboard tours let you spend more time on the Great Barrier Reef and explore more reef sites, than you could manage to see on day tours. It also means you can enjoy sunset and sunrise over the Coral Sea and being rocked to sleep by the motion of the ocean, onboard one of the many liveaboard reef boats.
REEF TOURS FOR KIDS & FAMILIES:
Ocean Quest 3-Day/2-Night Liveaboard dive trips depart Cairns every day! Enjoy amazing diving on beautiful outer reefs. Includes all chef-prepared meals and accommodation & 10-Dives with full dive gear!
Can't decide?
CALL US: 07 4041 1638
Or try the form below, we have personally been on every Cairns reef and diving trip. We can help you choose the best tour, to suit your experience and budget.
Prodive's Scubapro
Kangaroo Explorer Cairns Liveaboard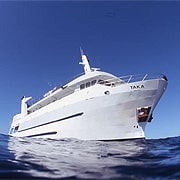 Taka - Deep Sea Divers Den
These tours are suitable for adventurous snorkelers who are confident swimmers in open water. Why? All of these tours include staying on liveaboard boats which move around various Great Barrier Reef sites. They do not visit tropical islands, sand cays or pontoons; which means all swimming / snorkelling is completed in the open ocean. That being said, the boats visit protected Great Barrier Reef sites and moorings, so water conditions will be the best they can, pending weather.
All of Cairns' liveaboard boats cater to snorkelers and scuba divers. This means that should you be interested, you can try an introductory dive while on the boat. These are an additional cost to your snorkel tour price, but include all equipment, instruction and a dive guide. No previous experience necessary, but please note that some health conditions will prevent you from trying this underwater activity (including heart conditions, asthma and pregnancy).
Why Do An Overnight Snorkel Tour
There are several benefits to choosing a liveaboard trip from Cairns, including: more time at the Great Barrier Reef, less time travelling, saving you money on accommodation and meals (all included in your liveaboard package), getting to visit as much of the Great Barrier Reef as you can (the boat will visit several different sites during a liveaboard trip, rather than the one or two you would see on a day tour) and watching sunrise and sunset over the Coral Sea.
Sunrise over the reef
Snorkeling Overnight Tours
Stay at sea
Cairns Outer Reef Liveaboard Snorkel Trips
The liveaboard tours best suited to snorkelers are the ones that visit Cairns' Outer Great Barrier Reef. These depart daily and can be booked anywhere from a single night up to a week. The prices and accommodation type (cabin size) varies from operator to operator, allowing you to tailor your snorkel tour to suit your itinerary and budget.
The Great Barrier Reef is comprised of more than 2,900 individual coral reefs. The reefs you may visit off Cairns include, but are not limited to: Milln, Moore, Hastings, Saxon, Thetford and Briggs Reefs, to name just a few. These reefs are all approximately 60km offshore from Cairns and travel time to and from the reef, varies anywhere from 90-minutes to two hours, pending which tour you choose.
The reefs themselves are all perfect for snorkelers. They rise from the ocean floor (usually around 18-25m deep) to plateau just metres beneath the surface. At low tide, some of the reef even comes out of the water. This means that snorkelers will see lots of colourful corals and marine life. As a bonus, most of the 'colour' is in the first 5-10m anyway, so you will see vibrant greens, pinks, yellows and blues.
Colourful Corals
Get close to the fishes
You will see Butterflyfish
Some of the Great Barrier Reef fish and critters you are likely to see on a liveaboard snorkel trip include: clams, many different species of butterflyfish and angelfish, damselfish, anemonefish (otherwise, known as Nemo), cleaner wrasse, humbugs, wrasse, surgeonfish, fusiliers and a range of parrotfish. Looking deeper down, you may also see sea cucumbers, pufferfish, triggerfish, snapper, trevally, bass and more.
Snorkelling visibility and conditions are dependent on the season, but visibility is usually anywhere from 10m – 30m, excluding extreme weather events. The water temperature is generally warm, around 29 degrees Celsius in Summer and 23 degrees Celsius in Winter. All liveaboard boats are equipped with lycra suits and wet suits in a range of sizes, for your in-water comfort. Buoyancy devices are also available (if needed) and there are Safety Officers on watch, whenever there is someone in the water.
How to choose a Liveaboard Snorkel Tour
All Cairns liveaboard snorkel trips to the Great Barrier Reef include accommodation, meals, linen, transfers to and from Cairns to the reef and all snorkelling equipment. You can choose to do as much or little snorkelling as you like, with the option to also try introductory scuba diving. All of the trips visit multiple reef sites during your stay at sea.
Accommodation on the boats ranges from quad share cabins, to doubles and staterooms. Some boats offer private ensuites, some do not. The main difference between Cairns' liveaboard snorkel tours is the tour operator and type of boat.
Some companies have a liveaboard boat which is pretty much permanently at sea. These companies also have day tour boats, which provide day trips and daily transfers to and from the liveaboard boat. These tours offer complete itinerary flexibility. You can leave any day of the week and stay at sea as long, or as little as you like.
Scissor-tail Sergeants
Love to see turtles
Anemonefish on the Reef
The other type of tour is taking a boat from Cairns and staying on the Great Barrier Reef, on the same boat, with the same people, for three days / two nights. This means you do not have to meet up with a day tour boat each day and you can get to know your fellow guests and crew.
Each operator has different packages, reef destinations and inclusions: it can be hard to know where to start! Cairns Dive Adventures is here to help, we've been on and reviewed all of Cairns' liveaboard trips and can help you choose the best one for your budget and experience.
We are not affiliated with any of the boats. We are Cairns locals who are passionate about ensuring you have the very best Great Barrier Reef experience, to suit you experience and itinerary. For your convenience, we have listed the best Cairns liveaboard snorkel tours to the Great Barrier Reef, on the right hand side of this page.
Please note: This site is built and funded by us. We give unbiased advice and trip reviews, which are designed to give you a thorough overview of the trip and what you can expect to experience. We hope it is informative. We make our income from booking your tours: we thank you for your support.
Please note: Travelling with certified scuba divers is no problem. All Cairns Great Barrier Reef liveaboard tours cater to snorkelers and scuba divers. In between dives and swims, you and your diving companion can enjoy relaxing in the air-conditioned interiors or on the exterior sun decks. Should you feel so inclined, the liveaboard boats also offer the opportunity to try introductory scuba diving, so you can see what your companion gets up to under the water.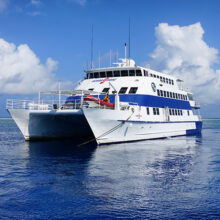 Ocean Quest 3-Day/2-Night Liveaboard dive trips depart Cairns every day! Enjoy amazing diving on beautiful outer reefs. Includes all chef-prepared meals and accommodation & 10-Dives with full dive gear!
Cairns Liveaboard Diving Information
Click the links below to find out more.
Can't decide? We have personally been on every Cairns reef and diving trip. We can help you choose the best tour, to suit your experience and budget.
FREE UNDERWATER CAMERA HIRE*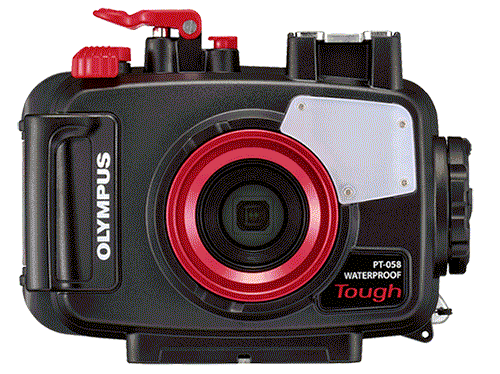 Spend over $550.00 AUD on your Great Barrier Reef tour with us and receive the latest Digital Underwater Camera Hire. Take amazing High-Resolution images and 1080 HD Video.
Not available for any tours to the Islands as fine white sand damages the seals on the cameras and makes them leak!
You need to come into our shop located on the Cairns Esplanade the day before departure to pick up the camera before 5:30 pm. You also need to supply your own SD Camera Card and drop the camera off back at our shop before 5:30pm.
Please Remember there is no other way to collect our cameras! All passengers must come into our shop the day before departure day before 5:30 pm.