3 Day 2 Night Liveaboard Cairns
Find a 3 Day 2 Night Liveaboard Cairns. There are three liveaboards that depart Cairns and offer 3-days and 2-night of scuba diving and snorkeling.
There are another 4 liveaboards that also depart from Cairns, but these only offer either a 2-day/1-night or a 4-day/3-night liveaboard experience.
So in this article, we are going to focus on the three main liveaboards that offer a 3-day/2-night experience. The first boat we will mention is Pro-Dive Cairns. Pro-Dive Cairns have three dedicated liveaboard dive boats that depart Cairns every day of the week, except on Tuesdays.
Pro-Dive Cairns have TWIN share rooms and two DOUBLE Bed Rooms all with shared bathrooms. The boats are a single hull design so this does make them bob around in the water. But the dive locations make up for the slight discomfort the boats provide. All bed linen, towels and chef-prepared meals are provided.
Pro-Dive Cairns scuba dive at Flynn, Milne and Pellowe reef systems. These dive sites offer scuba divers easy, enjoyable diving. With deep walls of around 18+ meters and bright colorful shallow coral gardens. Scuba diving at these reefs caters to divers of all levels, from advanced to open water certification.
Moving on to the next 3-day/2-night liveaboard from Cairns is a boat called Reef Encounter. This liveaboard snorkel/dive boat has reef permits for Norman, Saxon and Hastings reef systems. These reefs offer divers the chance to see bright colorful coral with many different species of soft and hard corals grouped together. There are large shallow coral gardens with many different marine species. Often the early morning dive (first dive of the day), divers can find large schools of Giant Humphead Parrotfish swimming together at around 16 meters.
Reef Encounter offers comfortable living arrangements. All TWIN Bed and DOUBLE Staterooms have Ocean views with private bathrooms. For the budget conscious traveler, they also offer Multishare rooms, three beds in the one room with a private bathroom. All passengers must be over 18 years of age to go in the Multishare room. All bed linen, towels and chef-prepared meals are provided.
Last but not least the third liveaboard dive boat from Cairns that also offers a 3-day/2-night trip is Ocean Quest. Operated by a long time local dive operation called Deep Sea Divers Den. Ocean Quest is serviced by a day boat called SeaQuest. This allows passengers to join the liveaboard 7 days per week.
Ocean Quest also operates on reef permits at Norman, Saxon and Hastings Reefs. This vessel caters to certified divers, advanced divers and people wanting to complete further PADI dive education. Nitrox, Deep Diving, and other advanced dive courses can be completed on this vessel.
Ocean Quest offers TWIN and DOUBLE Bedrooms all with private ensuite bathroom. All bed linen, towels and chef-prepared meals are provided.
Companies that do not offer 3 day 2 night liveaboard, Cairns.
Liveaboard dive boat operator Spirit Of Freedom only offer 4-Day/3-Night expeditions to the Cod Hole and Ribbon Reefs. They also operate liveaboard dive expeditions to Osprey Reef (5-Days/4-Nights) departing Cairns on Thursdays and return to Cairns on Mondays. These trips are for advanced divers with many dives offering challenging yet rewarding conditions.
Mike Ball dive expeditions is another liveaboard dive boat operator that does not offer 3-day/2-night options. These guys offer similar programs to Spirit of Freedom, only in the reverse order. Departing to the Cod Hole by low-level flight on a Monday and returning to Cairns by boat on Thursdays. Similarly, they also offer liveaboard expeditions to Osprey Reef and the Coral Sea famous for the North Horn shark dive, these trips depart Cairns by boat on Thursdays and return to Cairns by light aircraft on Mondays. Trips to these remote area dive locations are for advanced divers.
Coral Sea Dreaming is a smaller sailing vessel that offers 2-Day/1-Night liveaboard dive trips from Cairns. Departing Cairns on Tuesdays, Thursdays, and Saturdays. Small groups with a maximum of just 12 passengers and 3 crew. These small boutique trips are for divers that want small numbers and a relaxed laid back sailing style vessel.
Conclusion:
Cairns Dive Adventures is independently owned and operated. We are not affiliated with any tour operator and offer independent dive travel advice and tour bookings based on our own diving experiences. If you would like to book a 3 day 2 night liveaboard, or have any further questions, try our tour finder this is one of the best ways to help us to help you. Feel free to contact our dive crazy reservation staff at PH: 07 40411 638 or send us an email - reservations@cairnsdiveadventures.com.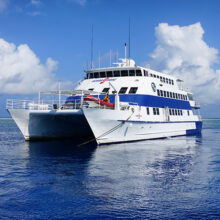 Liveaboard dive / snorkel trips that depart Cairns daily. Can be booked in 2-3-4 day options. Maximum of 30 overnight guests. Includes all meals and accommodation.
Liveaboard Dive Information
Click the links below to find out more.
Do You Need Help Choosing?
Can't decide? We have personally been on every Cairns reef and diving trip. We can help you choose the best tour, to suit your experience and budget.
FREE UNDERWATER CAMERA HIRE*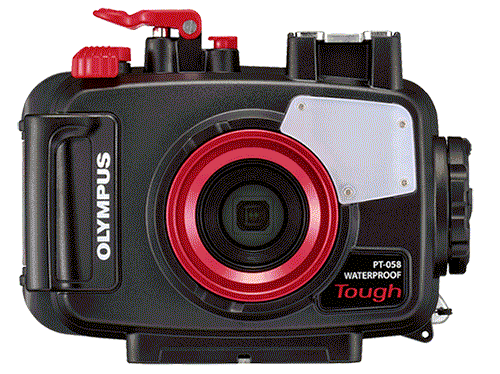 Spend over $550.00 AUD on your Great Barrier Reef tour with us and receive the latest Digital Underwater Camera Hire. Take amazing High-Resolution images and 1080 HD Video.
Not available for any tours to the Islands as fine white sand damages the seals on the cameras and makes them leak!
You need to come into our shop located on the Cairns Esplanade the day before departure to pick up the camera before 5:30 pm. You also need to supply your own SD Camera Card and drop the camera off back at our shop before 6:00pm.