Port Douglas is a one hour drive north of Cairns, providing a second tropical gateway to the Great Barrier Reef. Dive tours depart Port Douglas' Crystalbrook Super Yacht Marina daily, visiting the Agincourt Ribbon Reefs, which are a part of the Great Barrier Reef Marine Park.
VIEW SELECTED TOURS BELOW: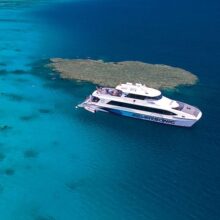 Silversonic provides daily reef tours departing from Port Douglas and visiting the ribbon reefs at Agincourt Reef. 5 hours at reef and up to 3 dives.
Can't decide? We have personally been on every Cairns reef and diving trip. We can help you choose the best tour, to suit your experience and budget.
Diving here is different to diving off Cairns and if you have time, it is certainly worth investigating doing day trips from both destinations. Not only is the drive between the two coastal ports rated as spectacular (recently the road was named the Great Barrier Reef Drive), but the ribbon reefs offer very different diving experiences.
Fan Coral
Bright Coral Fish
Glass Fish
The Agincourt Ribbon Reefs are a cluster of five separate reefs (Ribbon 1 – Ribbon 2 etc) which run parallel to the Continental Shelf of Australia. Their proximity to the shelf means they are regularly flushed by clear oceanic waters, which means, generally speaking, visibility will be good. It also means you may experience thermoclines, with washes of hot and cold currents during your dive.
Port Douglas diving day tours do include more reef travel time than their Cairns cousins, as the Agincourt Ribbon system is further offshore than the Cairns reef systems. However, the boats offer a smooth ride and the destination is well worth the travel time.
Diving off Port Douglas Video
PORT DOUGLAS VS CAIRNS DIVE DAY TOURS
So, what's the difference between day tour diving off Port Douglas and Cairns? In reality, not much, both destinations have excellent diving day tours in regards to boats, equipment and reef sites. Both offer years of experience and eco-accreditations: some Cairns operators give you the choice of guided or unguided dives, while all Port Douglas dives will be guided.
Clear waters
Colourful Reef
Reef Sharks
However, if we drill down, there are some differences in the actual reefs and types of dives. Most Port Douglas diving day tours visit the Agincourt Ribbon Reefs. Being a distance offshore, these reefs generally have better visibility than some of Cairns' inshore reef systems. You can also expect to see larger reef sharks (grey reef sharks, black tip and white tip reef sharks) and perhaps a greater diversity of the smaller reef fish species. Interestingly, we have never seen Dory (Palette Surgeonfish of Finding Nemo fame) off Cairns, but we have from Port Douglas.
You might also get the chance to do a few different types of dives off Port Douglas, with some of the boats offering drift dives and tender drops. Most of the Cairns diving day tours will be water entry directly off the boat itself.
Dive depths from Cairns and Port Douglas are roughly the same, but you might get the chance to go slightly deeper off Port Douglas. The water temperatures at both destinations will be the same.
You will have a greater chance of seeing Dwarf Minke Whales off Port Douglas than you will off Cairns. The Dwarf Minke Whales are seasonal visitors to the Ribbon Reefs and there are no guarantees that you will see them at all, but they migrate here for a short visit between June and August.
We would not say one destination is better than another, but they are different, which is why if you have the time, it's worth diving both locations Cairns and Port Douglas.
DAY TOUR RIBBON REEF DIVING
The Great Barrier Reef's Ribbon Reefs are internationally renowned for their pristine waters and abundant marine life. This reputation is for the far northern Ribbon Reefs, which lie offshore around Lizard Island and are home to such famous dive sites as the Cod Hole, Steve's Bommie and Challenger Bay.
Nemo
Feather Star
Wall Diving
Diving and snorkelling these Ribbon Reefs is a life changing experience. They really do offer the very best of the Great Barrier Reef. Here it's as though you are in an aquarium (no wait, having dived in the Melbourne Aquarium, this is better!). Multitudes of rainbow coloured anthias, damsels, chromis provide the topping for a reef system that is full of everything from the largest reef fish, Queensland Groupers and Potato Cods, to the smallest critters. These reefs cannot be visited during a day tour, due to their distance from the mainland ports of Cairns and Port Douglas. However, liveaboard trips depart Cairns regularly.
Port Douglas' Agincourt Reefs do offer people the opportunity to do ribbon reef day tour diving and snorkelling. It must be said these systems are not the same as those further north, but they do offer a taste of the ribbon reefs, with the convenience of a day tour.
Port Douglas Diving FAQ
Will I get to spend time in Port Douglas on a day diving trip from Cairns?
No, the transfer drops off and picks up from the Marina Mirage. You may get to drive through Port Douglas on the way to the Marina or on the way back, but you will not have time to explore Port Douglas.
Is it worth doing two day tours, diving out of Cairns and Port Douglas?
This is a very popular choice for some divers who may not want to do a liveaboard trip and would prefer the comfort of their hotel at night. Cairns Dive Adventures can arrange packages incorporating both trips and transfers where necessary.
How do I get to Port Douglas from Cairns for my diving trip?
If you are wanting to dive from Port Douglas and are staying in Cairns, all companies offer transfers from Cairns. You can expect to pay between $22-$39 for transfers from Cairns, depending on the company you are traveling with.
Can I get a discount if I bring my own dive gear to Port Douglas?
Most of the dive trips departing Port Douglas have rates that inlcude just tanks and weights, you should expect to save around $10-$20 on the cost of the day trip. All boats have excellent dive gear.
Can I dive at Low Isles?
No, there are no day tours that offer scuba diving as an option at Low Isles. This sand cay is a great day tour option for snorkellers and families.
Can I do unguided dives in Port Douglas?
No, none of the dive boats departing Port Douglas offer unguided diving, all dives are guided by a dive instructor or dive master. For most divers coming to Cairns and Port Douglas this is desirable.
Is the diving better in Port Douglas than Cairns?
We get asked this question all the time and the short answer in our opinion is no, the diving is different but overall you can expect to experience similar diving conditions, fish and corals in both locations.
Are there any liveaboard diving operators departing from Port Douglas?
At this stage no liveaboard dive boats depart from Port Douglas, in the past a boat called Diversion Dive did depart Port Douglas for the Cod Hole and Ribbon Reefs, this boat no longer operates. None of the liveaboards (including Spirit of Freedom and Mike Ball) offer pickups from Port Douglas accommodation and in most cases you should arrange to stay in Cairns the night before departing on a liveaboard dive boat from Cairns.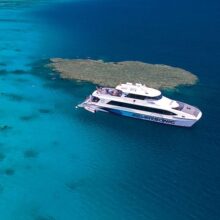 Silversonic provides daily reef tours departing from Port Douglas and visiting the ribbon reefs at Agincourt Reef. 5 hours at reef and up to 3 dives.
Click the links below to find out more.
Can't decide? We have personally been on every Cairns reef and diving trip. We can help you choose the best tour, to suit your experience and budget.
FREE UNDERWATER CAMERA HIRE*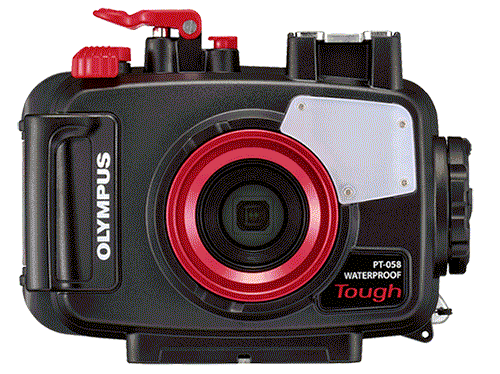 Spend over $550.00 AUD on your Great Barrier Reef tour with us and receive the latest Digital Underwater Camera Hire. Take amazing High-Resolution images and 1080 HD Video.
Not available for any tours to the Islands as fine white sand damages the seals on the cameras and makes them leak!
You need to come into our shop located on the Cairns Esplanade the day before departure to pick up the camera before 5:30 pm. You also need to supply your own SD Camera Card and drop the camera off back at our shop before 5:30pm.
Please Remember there is no other way to collect our cameras! All passengers must come into our shop the day before departure day before 5:30 pm.