Taking it to the next level. Advanced Dive Courses (PADI and SSI) can be booked in Cairns and completed on the Outer Great Barrier Reef, northern Ribbon Reefs and even the remote Osprey Reef in the Coral Sea. Cairns dive operators have over 60 years combined experienced teaching people all levels of scuba diving skills. You can expect professional staff, instructors, equipment and boats. Not to mention, outstanding dive sites!
VIEW SELECTED TOURS BELOW:
Take your scuba diving skills to the next level with an Advanced Open Water Course. Liveaboard trips in 2 day / 1 night and 3 day / 2 night packages, includes most things.
Can't decide? We have personally been on every Cairns reef and diving trip. We can help you choose the best tour, to suit your experience and budget.
Why do an Advanced dive course? These courses provide you with a greater knowledge of scuba diving. You complete speciality courses, learn more about safe diving practises and once certified, can go beyond the 18m depth restriction of Open Water Divers. This means you can explore wrecks and deeper dive destinations, including Osprey Reef in the Coral Sea.
Key skills you will cover during the Advanced dive course include: practical aspects of deep diving; physiological effects of deeper scuba diving; more ways to use your underwater compass; how to navigate using kick-cycles, visual landmarks and time; how to better use your dive computer and plan recreational dives.
Deep Diving
Osprey Reef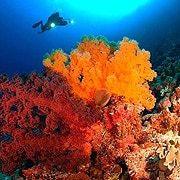 Underwater Photography
Learning safe diving practises, especially when diving at deeper depths, is essential. Completing practise divers with a Dive Instructor are the best way to go, as some divers may suffer from nitrogen narcosis on deeper dives.
What is nitrogen narcosis? Basically, nitrogen narcosis is an altered state of mind under the water, when the sufferer loses some motor function and decision making abilities.
Symptoms of nitrogen narcosis include giddiness, euphoria, disorientation and delayed reaction time: it has been compared to feeling 'drunk' under the water. It is caused by the total gas pressure increasing with the depth of the dive, leading to more nitrogen dissolving in the diver's bloodstream which impairs the conduction of nerve impulses, which has a similar effect to alcohol or narcotics on the individual.
The effects of nitrogen narcosis reduce and then disappear, as the diver ascends and the pressure decreases. Typically, by the time the diver has returned to a depth of around 18m (60 feet) all symptoms should have disappeared.
Advanced Dive Course – Speciality Courses
When completing an Advanced Dive Course, divers choose and complete 5 skill set modules: 2 are compulsory (diving at depth and night diving) and 3 are optional. These skills are taught in a safe environment with qualified, professional dive instructors. Optional skills include underwater navigation, digital underwater photography, wreck diving, peak performance buoyancy, search and recovery diving or being an underwater naturalist. A quick overview on these is below.
Underwater Navigation
Underwater Photography
Peak Performance Buoyancy
Wreck Diving
Search and Recovery
Underwater Naturalist
Underwater navigation is learning how to find you way around the dive site and most importantly, back to the boat at the end of the dive! Finding the boat should not be about luck, it should be about planning and navigating the site. During this you learn navigation patterns, underwater navigation (with and without a compass), map marking and how to estimate distance underwater. This can lead to often humorous results during training.
Digital underwater photography will help you get better pictures, capturing your favourite diving memories. This is one of the most popular specialities and is good to combine with peak performance buoyancy, which is really essential for getting great photos. Learn about photo composition, lighting and more.
Peak performance buoyancy will help you be more comfortable in the water. The objective of this is to achieve neutral buoyancy, which means you neither sink nor float, but move comfortably through the water. The benefits of this, firstly you use less air (you are not always inflating and deflating your BCD to be comfortable) and secondly, you can easily hover in place, which is great for photos and interacting with / observing the underwater world.
Wreck diving is not a skill you will get to practise on Cairns' Great Barrier Reef, as we have no wrecks in our immediate vicinity. However, one of the best wreck dives on the planet, the Undara, is a 4 hour drive south of Cairns and well worth a visit. What you learn with this training is how to explore shipwrecks and avoid common hazards, consideration and equipment when entering a wreck and planning your wreck dive.
Search and recovery diving is a great skill to have, especially if you have dropped your underwater camera! What do you learn? Amongst other things, you learn about dive planning, search and recovery techniques and potential problems, how to locate objects using search patterns, limited visibility search techniques and various recovery methods. You never know what treasure you may find!
The underwater naturalist course teaches you to have a greater appreciation and understanding of what you are looking at during your dive. Not only will you learn the names of different fish and marine life, but you'll be taught about the relationships between various creatures of the underwater world. Learn about predator / prey relationships and how to enjoy responsible interactions with aquatic life.
Cairns Great Barrier Reef vs Ribbon Reef & Coral Sea Trips
Advanced dive courses in Cairns can be completed on the Outer Great Barrier Reef or the far northern Ribbon Reefs, or even on the remote Osprey Reef in the Coral Sea. All advanced dive courses are completed on liveaboard trips, allowing you to enjoy maximum dive time, once you have completed your core training modules.
What's the difference? Cairns' Outer Great Barrier Reef has relatively sheltered water with not much current, making it a great place to practise peak buoyancy control. The maximum dive depth is generally 30m and deep dives are completed around the 28m mark. Travel time to and from the reef is around 2hours and this is generally, a cheaper option than booking a Ribbon Reef or Coral Sea trip, with advanced dive course component. When not with your instructor, explore the Outer Great Barrier Reef and its marine life.
Liveaboard Diving with Turtles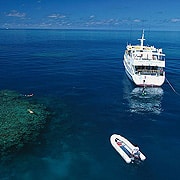 Ribbon Reefs
Osprey Reef
The Ribbon Reefs are 250km north of Cairns and include many world famous dive sites such as the Cod Hole, Challenger Bay and Steve's Bommie. Liveaboard dive trips depart Cairns and can be booked, as a 4 day / 3 night trip, or in conjunction with a 7 day Ribbon Reefs and Coral Sea adventure*. The 4 day trip includes a low-level scenic flight which gets you to or from Cairns to Lizard Island, with a tender transfer to the boat. The maximum dive depth here is still around 30m but as these dive sites are 60km offshore and a long way from any populated centres, visibility tends to be higher than Cairns' Outer Great Barrier Reef.
*If you are booking one of these 7 day adventures, your Advanced dive course component will be completed in the Ribbon Reefs, preparing you for some awesome diving on the remote Osprey Reef in the Coral Sea. This is extreme diving with 1,000m wall drop offs and up to 90m visibility. North Horn at Osprey Reef is rated as being in the world's top 10 shark dive destinations. These trips are life changing.
Ribbon Reef and Coral Sea trips are more expensive than Cairns Outer Great Barrier Reef trips and the advanced dive course is in addition to the trip itself. They are more expensive due to the travelling time and length of trip.
All Cairns advanced dive course operators are committed to safe diving practices and offer professional, safe, tuition and equipment. On board accommodation ranges from quad share to twin share and doubles. Trips and courses can be booked to accommodate your budget and itinerary.
Cairns Dive Adventures has been on all of these trips and is pleased to offer unbiased advice and reviews, to help you make an informed decision. We are not affiliated with any of the boats / dive operators. We are Cairns locals who are passionate about diving and ensuring you have the very best dive course experience you can, to suit your budget and itinerary. Our income is made from bookings made on this site: we thank you for your support and hope our information has been of some assistance.
The Reef Encounter: 3-Day Open Water Learn to Dive Course is amazing, Why? Forget the swimming pool and classroom training! All confined water dives are completed in the shallow coral gardens of the Great Barrier Reef!
Cairns learn to dive information
Click the links below to find out more.
Can't decide? We have personally been on every Cairns reef and diving trip. We can help you choose the best tour, to suit your experience and budget.
FREE UNDERWATER CAMERA HIRE*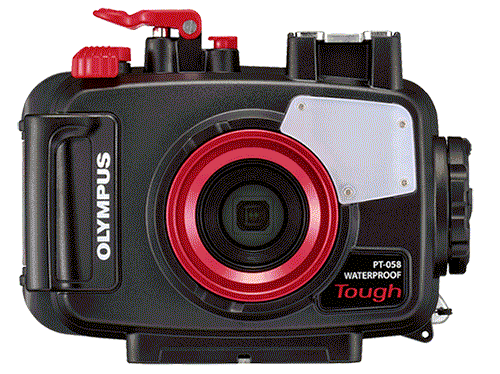 Spend over $550.00 AUD on your Great Barrier Reef tour with us and receive the latest Digital Underwater Camera Hire. Take amazing High-Resolution images and 1080 HD Video.
Not available for any tours to the Islands as fine white sand damages the seals on the cameras and makes them leak!
You need to come into our shop located on the Cairns Esplanade the day before departure to pick up the camera before 5:30 pm. You also need to supply your own SD Camera Card and drop the camera off back at our shop before 5:30pm.
Please Remember there is no other way to collect our cameras! All passengers must come into our shop the day before departure day before 5:30 pm.