Cairns Cheapest Dive Tours
Cairns cheapest dive tours allow you to experience the Great Barrier Reef on a budget. Low cost certified diving trips depart Cairns every day, with the tour price including equipment, dive briefings, transfers to and from the reef and lunch.
There really is no set answer as to 'what is the cheapest Cairns dive tour', as it is all relative to your qualifications, expectations and what specials may be on offer at any given time (they fluctuate throughout the year).
DAY DIVING TRIPS FROM CAIRNS: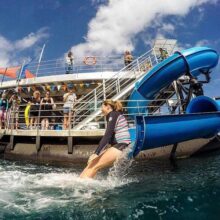 Great day tour for people of all ages. Visit Outer Reef Pontoon at Moore Reef, with lots of inclusions: snorkelling, glass bottom boat and semi-sub tours, underwater observatory and more.
Can't decide?
CALL US: 07 4041 1638
Or try the form below, we have personally been on every Cairns reef and diving trip. We can help you choose the best tour, to suit your experience and budget.
Outer Reef Diving
Dive Site Briefing
Cairns Diving
Please note: when researching and booking a certified dive tour from Cairns, it is important to consider other factors as well as budget. While Cairns' cheapest Great Barrier Reef diving tour may save you money, will it deliver the experience you are looking for?
Each tour offers a slightly different experience, hence the price point varies. Some boats offer optional guided or unguided diving, some have packages with or without equipment, some visit the Outer Great Barrier Reef while others visit a pontoon or sand cay.
Gorgonian Fan
Cairns' Cheapest Day Diving
Outer Reef
Cairns Dive Adventures has been on every day dive tour out of Cairns. We have reviewed the boats, tours, dive sites and equipment. We will provide you with first hand advice on which tour will deliver you the very best experience for your money.
For your convenience, please see a quick price comparison table for some of Cairns' Great Barrier Reef day diving tours, for certified divers, below. Please note: these are the 'standard' prices and do not take any specials into account. These prices include travel from Cairns to the reef, lunch and all diving equipment. Other inclusions vary from tour to tour.
Cairns' Cheapest Certified Dive Tour Price List
NOTE: * This price includes the Reef Levies | ** Guided Dives per person per dive.
When considering your day at the Great Barrier Reef, it is important to take into account the total cost of the trip including reef levies and any additional extras (equipment and/or guided dives). If you have your own equipment and just need tanks and weights, there are Cairns diving tours that offer this at a cheaper rate. Nitrox dives are also available, but only on specific boats and must be booked in advance.
White Tipped Reef Shark
Motor Catamaran
Cairns Diving
Certainly, one thing is for sure, the cheapest Cairns dive tours are the day trips. You can expect to pay a lot more for a liveaboard trip, whether it's staying on Cairns' Outer Great Barrier Reef or travelling further north to the Cod Hole, Ribbon Reefs and Coral Sea. Other factors to take into consideration when choosing your Cairns dive tour include:
Do I want the choice of guided or unguided diving (not all boats offer this)?
Do I want to visit multiple reef sites during my day tour?
Do I want to learn about the reef during my day tour?
Do I want to use the same diving equipment (rental) all day, or am I happy to share?
Do I care about what type of boat it is (sailing boat or fast catamaran)?
Do I care how many people are on the boat?
Do I get seasick?
How much time do I get to spend in the water?</li?
Options for glass bottom boat tour as well, or other features (visit to sand cay)?
What if I'm traveling with a non-diver?
The above points, and so much more, should all be considered when choosing your Great Barrier Reef dive tour. Often the price difference between Cairns' cheapest dive tour and something that may deliver a far superior experience for you personally, is not that much and let's face it, for many, this is a once in a lifetime experience so you want it to be the very best it can be.
Some frequently asked questions (FAQ) we have received from guests researching Cairns' cheapest dive tour, include the following:
Cairns' Cheapest Dive Tour FAQ
Does completing a Cairns Introductory Dive make me a certified diver?
No. An introductory dive gives you some general knowledge as well as basic scuba skills, enabling you to complete an underwater dive, accompanied and supervised by an experienced Instructor. It does not give you all the information and skills that allow you to be a Certified Diver, who is able to scuba dive unaccompanied. To become a certified scuba diver you need to complete an intensive theory component and several training dives: Learning to Dive Courses in Cairns take a minimum of four (4) days to complete.
Am I able to book a private dive guide in Cairns?
Yes, but please note that this needs to be arranged in advance and will be an additional cost to your trip. This is not available on all tours. Cairns is the closest mainland point to the Great Barrier Reef, meaning you spend less time travelling and more time diving! There are numerous dive operators in Cairns, which means dive tour pricing to the Great Barrier Reef is competitive. Cairns' cheapest day diving will give you the opportunity to explore the clear, warm, tropical waters of the Coral Sea. If you are travelling without a dive buddy, don't worry, you will be paired up with someone on the boat.
Can I get a discount on my Cairns dive trip?
From time to time Cairns dive operators will run specials / price reductions / value adds (pay for two dives get one free) on their trips. Cairns Dive Adventures knows all of the operators and has access to all of these specials. We can offer you the best price available on all dive tours. If you are a group of 11 or more certified divers, then we are able to offer you a group discount.
Can I save money in Cairns by bringing my own lunch to the reef?
Unfortunately not. All Cairns dive day tours include lunch in their package price, most also include tea, coffee and snacks. You can take your own food if you choose, but this will not save you money.
Is the diving cheaper at Green Island or Fitzroy Island?
Day tours to Green Island and Fitzroy Island are cheaper. Diving is an extra cost to the boat transfer and when you combine it, this may not be a cheaper option. Also, dive conditions around the islands generally have lower visibility and less marine life diversity than you can expect to see on the outer reef locations.
Cairns Dive Adventures is committed to providing you with the best possible advice on the tour to suit your needs, budget and itinerary. We also have the latest information on all Cairns dive specials. For more information, contact us today on info@cairnsdiveadventures.com
TUSA Reef Tours provide small group Certified Diving and Snorkeling on the Great Barrier Reef. One of newest day trips from Cairns with over 5 hours on the reef, visiting 2 locations. Outstanding Customer Service!
Cairns Day Diving Information
Click the links below to find out more.
Can't decide? We have personally been on every Cairns reef and diving trip. We can help you choose the best tour, to suit your experience and budget.
FREE UNDERWATER CAMERA HIRE*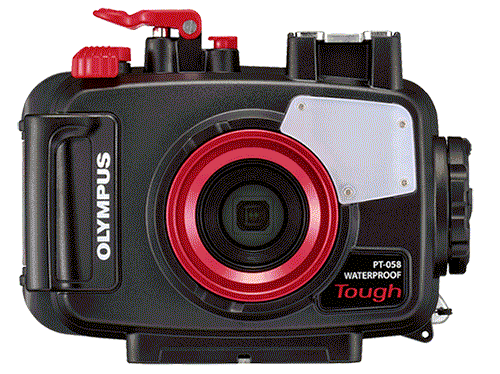 Spend over $550.00 AUD on your Great Barrier Reef tour with us and receive the latest Digital Underwater Camera Hire. Take amazing High-Resolution images and 1080 HD Video.
Not available for any tours to the Islands as fine white sand damages the seals on the cameras and makes them leak!
You need to come into our shop located on the Cairns Esplanade the day before departure to pick up the camera before 5:30 pm. You also need to supply your own SD Camera Card and drop the camera off back at our shop before 5:30pm.
Please Remember there is no other way to collect our cameras! All passengers must come into our shop the day before departure day before 5:30 pm.