Finding Nemo – Great Barrier Reef
Nemo is famous. Thanks to the world of animated movies, this brave little fish has been beamed into homes globally, and few people would fail to recognise his distinctive orange body and white stripes.
However, did you know that Clownfish are just one of several Anemonefish you may see on a visit to Cairns' Great Barrier Reef? 12 species of Anemonefish inhabit Australian waters. All can easily be seen snorkelling or diving. On Cairns' Great Barrier Reef you can find Nemo and his friends.
All Anemonefish share one common trait, they live in sea anemones. Sea anemones require sunlight for photosynthesis and for this reason, they are generally found in clear, shallow waters. These soft bodied organisms have stinging cells in their tentacles, which the Anemonefish protect themselves from with a mucus body covering.
Sea anemones vary in size, as does the population of Anemonefish that may inhabit them, growing anywhere from one pair to several fish. All Anemonefish communities are dominated by a large female, who shares her home with smaller males.
Interestingly, Anemonefish are one of the few fish species that hatches as a male, but can turn itself into a female if circumstances require. This is known as Protandrous Hermaphroditism. If the female in the colony dies, then the dominant male becomes the female. In turn, a smaller male will become the dominant male of the sea anemone home.
Anemonefish eggs are laid in or near the anemone, and tended by the adults. Juvenile Anemonefish are adorable and move very fast! In fact, just one day after hatching, these cute little critters can move 9.5 body lengths per second – making them faster than most Olympic swimmers! If you are lucky enough to see one, you will be mesmerised by its beauty and speed.
We have spent many days and dives exploring Cairns' Great Barrier Reef and the northern Ribbon Reefs. In our travels we frequently come across five different types of Anemonefish: Clown, Pink, Clark's, Black and Spine-cheek Anemonefish.
With their distinctive and unique colouring, each of these Anemonefish is delightful to watch as they dart in and out of their sea anemone homes.
Clown Anemonefish (Amphiprion percula) are definitely the most recognisable, thanks to Nemo. These little orange fish have three white vertical bands, bordered in black, and grow to around 11cm (4.3 inches). Strangely, these are the Anemonefish you are least likely to see when visiting Cairns' Great Barrier Reef, we're not sure if it's due to their popularity with aquarium owners, or just general distribution.
Pink Anemonefish (Amphiprion perideraion) are the ones we see most frequently, often living in the most magnificent sea anemone homes. Growing up to 10cm long, Pink Anemonefish have a light pink/orange body, with a white stripe running down their back and either side of their face and white tail.

Clark's Anemonefish (also known as the Great Barrier Reef Anemonefish) is another one we see quite a lot off Cairns. Its colouring is similar to the Clown Anemonefish, having an orange body, but with only two vertical white stripes bordered in black and a white tail. Clark's Anemonefish (Amphiprion clarkii) grow to around 12cm long.
Black Anemonefish (Amphiprion melanopus) have a large white, vertical stripe separating their orange head from their black body. Fins are generally light orange and the white stripe appears luminous against the black body. Apparently some examples of this species can lack the white stripe altogether, although we have never seen this ourselves.
Spine-cheek Anemonefish (Premnas biaculeatus) are perhaps the most interesting to look at, with their 'fluffy' fins coming out of their faces, belly, back and tail. Body colour varies from dull to dark red and it's considered one of the most aggressive of the Anemonefish species. Spine-cheek Anemonefish also have thin white vertical stripes running down their bodies.
The Great Barrier Reef is home to over 1,600 fish species and we see something new on each and every visit.
Great day tour for people of all ages. Visit Outer Reef Pontoon at Moore Reef, with lots of inclusions: snorkelling, glass bottom boat and semi-sub tours, underwater observatory and more.
Click the links below to find out more.
Do You Need Help Choosing?
Can't decide? We have personally been on every Cairns reef and diving trip. We can help you choose the best tour, to suit your experience and budget.
FREE UNDERWATER CAMERA HIRE*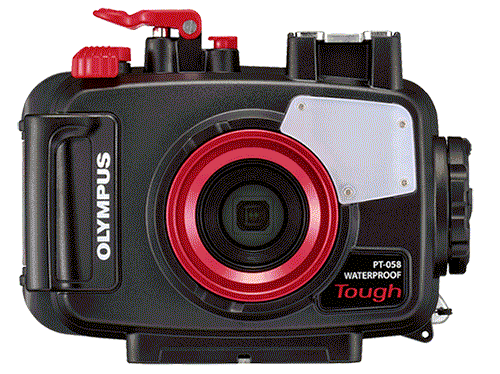 Spend over $550.00 AUD on your Great Barrier Reef tour with us and receive the latest Digital Underwater Camera Hire. Take amazing High-Resolution images and 1080 HD Video.
Not available for any tours to the Islands as fine white sand damages the seals on the cameras and makes them leak!
You need to come into our shop located on the Cairns Esplanade the day before departure to pick up the camera before 5:30 pm. You also need to supply your own SD Camera Card and drop the camera off back at our shop before 6:00pm.