Great Barrier Reef Coral Spawning Dates for 2013
The Great Barrier Reef's coral spawning 2013 is nearly upon us, with this natural phenomena predicted to occur on Thursday – Friday – Saturday, 21 to 23 November 2013. What is coral spawning? It's an annual event that only happens on a few nights of the year, when the Great Barrier Reef's more than 400 different types of corals reproduce en masse.? There are a few 'triggers' that help scientists and keen divers predict when this may happen and these are water temperature, moon cycle and time of day.
Coral Spawning Triggers
Water Temperature.? To create the perfect conditions for optimum tropical coral reproductive success, the water temperature must be around 27 degrees Celsius.? Currently the water temp is hovering around 25 degrees, but will be perfect come this time next month.
Moon Cycle.? Coral spawning always occurs three to five days after a full moon.? Why?? This is when the ocean is at its most calm and the tidal currents at their smallest.? This provides the coral gametes the best conditions to wash together, fertilize and form polyps.
Time of Day (or Night).? Coral spawning always happens at night.? This means that recreational snorkelers and divers must either book a berth on a liveaboard boat, or take one of the special Coral Spawning charters / operations, to catch the coral spawning action.
As a natural event, scientists and tour operators can only predict when they think it might happen.? For this reason there are never any guarantees about actually seeing coral spawning. If you do get lucky, then you can expect to be in the water, surrounded by hundreds and thousands of tiny pink eggs, washing around in the milky coral sperm, witnessing one of the world's natural wonders going about its annual reproductive business.
If you are unlucky, then you can simply enjoy a night time excursion to the Great Barrier Reef.? This is an entirely different experience to day time visits.? At night the predators come out, to roam across the coral gardens.? Some of the critters you will see include crayfish, cone shells and reef sharks.
Why is coral spawning important? This is the one time of the year that the building blocks of the Great Barrier Reef, its living structure, the corals, reproduce.? Marine biologist Stuart Ireland – also the great underwater photographer from Calypso Productions who took the coral spawning pictures accompanying this article – explained why this was an important part of the reef's evolutionary process.
"Coral spawning allows for cross-breeding and hybridisation, which helps the Great Barrier Reef corals evolve and become stronger," Mr Ireland said. "By having a mass spawning event, there is a greater chance of successful reproduction and survival from the predators in the water (fish etc), that like to eat the corals' eggs and sperm," he said.

Click the links below to find out more.
Can't decide? We have personally been on every Cairns reef and diving trip. We can help you choose the best tour, to suit your experience and budget.
FREE UNDERWATER CAMERA HIRE*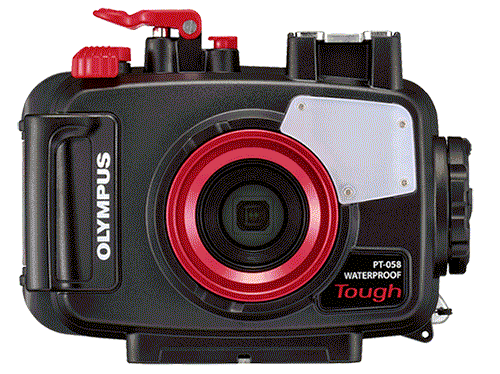 Spend over $550.00 AUD on your Great Barrier Reef tour with us and receive the latest Digital Underwater Camera Hire. Take amazing High-Resolution images and 1080 HD Video.
Not available for any tours to the Islands as fine white sand damages the seals on the cameras and makes them leak!
You need to come into our shop located on the Cairns Esplanade the day before departure to pick up the camera before 5:30 pm. You also need to supply your own SD Camera Card and drop the camera off back at our shop before 5:30pm.
Please Remember there is no other way to collect our cameras! All passengers must come into our shop the day before departure day before 5:30 pm.