Where is the best place to dive at Green Island?
Where is the best place to dive at Green Island? Definitely the best place to scuba dive is on the island's offshore reefs.? In fact, this is the only place you can scuba dive at Green Island, unless you take your own equipment with you.
Why? All organised Green Island dive operations take place on the offshore reefs, which are accessed either by a direct mooring or tender transfer to and from the island. Note: If you had your own dive equipment, then another option is to dive underneath the island's jetty, but this cannot be booked as a tour option.
Located approximately 1.5km from the island itself, Green Island's offshore reefs are comprised of coral gardens, walls and isolated bommies.? They are all quite shallow, with a maximum depth of around 8-10m, and visibility varies pending weather and tide.? Individual dive times are generally a maximum of 45-minutes and all Green Island scuba diving is guided.
Do I need to be a certified diver to dive at Green Island?
You do not need to be a certified diver to scuba dive at Green Island.? A range of introductory dive packages are available for non-divers and no experience is necessary.? However, please note that anyone wanting to book an introductory dive will need to complete dive medical paperwork and some conditions (such as asthma, diabetes and pregnancy) will preclude you from being able to dive.
Green Island is a great place to try an intro dive
Green Island is a great place for people to book an introductory dive.? With shallow, sheltered waters, introductory divers can enjoy exploring the underwater world, without having to worry about currents and depths.? All of Green Island's introductory dives are guided and some packages include practise dives in the resort pool.
What will I see scuba diving at Green Island?
Marine life on Green Island's offshore reefs is diverse.? What will you see?? We have seen reef sharks, sea turtles, anemonefish, parrotfish, angelfish, chromis, coral trout, coralfish, rabbitfish, goatfish, sea cucumbers, clams, cod and more.? Although we can't guarantee what you'll see on the day, we can say it will be abundant.
What else can I do at Green Island?
Green Island is a great day tour, or extended stay and play option.? Boasting a luxury resort and Crocodile Habitat, this 12 hectare coral cay is a popular Great Barrier Reef tropical escape destination.? Island activities include self-guided rainforest walks, fish feeding, parasailing, scenic helicopter flights, glass bottom boat tours, swimming and snorkelling.
Formed as a natural coral cay, Green Island was protected as a national park in 1937 and listed as a marine park in 1974.? It is the only Great Barrier Reef island to have reef and rainforest and became a part of the Great Barrier Reef World Heritage Area in 1981.
You can choose to visit Green Island on a day tour or stay overnight (or more) at the luxury resort.
Green Island Diving FAQ
Do you need to bring your own diving equipment?
No you don't need to, although you can if you want too. Diving equipment is provided and included in all Green Island diving packages: this includes wetsuits or lycra suits, fins, masks, snorkels, BCDs, weight belts and tanks. All Green Island diving is guided and briefings and instruction is included.
Does Green Island offer introductory diving?
Yes it does. There are a few packages available, depending who you travel with. No experience is needed for introductory diving, but you will need to complete (and pass) a medical questionnaire. All equipment and instruction is included in the tour price.
What will I see diving at Green Island?
We can't many any promises, but you might see (and we have seen) sea turtles, reef sharks, clams, sea cucumbers, stingrays, triggerfish, butterflyfish, angelfish, fusiliers, chromis, anemonefish, parrotfish, wrasse, snapper and more.
Will I see turtles diving at Green Island?
No promises, but you might! Sea turtles are a common sight around Green Island and 9 times out of 10, you will see one on a visit to the island.
Is diving at Green Island the same as the outer reef?
In short, no. The reef systems on the outer reef are closer to the continental shelf, so generally speaking, have better visibility. Maximum depth on the outer reef is generally around 18m (compared to 10m at Green Island) and there is greater dive diversity on the outer reef, in regards to potential for swim throughs etc. That being said, you will see a lot of marine life and corals when diving off Green Island.
Are there currents at Green Island?
Yes and no. Of course there are currents in all places of the ocean. However, Green Island's waters provide some protection from strong tidal currents. There are less currents at Green Island than on the outer reef.
Does Green Island have child minding services?
No, it does not. There are no child minding services for any of Cairns' Great Barrier Reef trips or islands.
Click the links below to find out more.
Can't decide? We have personally been on every Cairns reef and diving trip. We can help you choose the best tour, to suit your experience and budget.
FREE UNDERWATER CAMERA HIRE*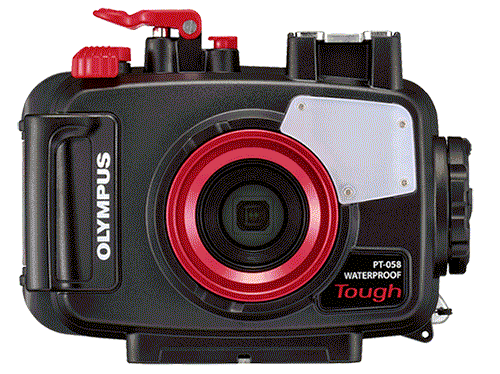 Spend over $550.00 AUD on your Great Barrier Reef tour with us and receive the latest Digital Underwater Camera Hire. Take amazing High-Resolution images and 1080 HD Video.
Not available for any tours to the Islands as fine white sand damages the seals on the cameras and makes them leak!
You need to come into our shop located on the Cairns Esplanade the day before departure to pick up the camera before 5:30 pm. You also need to supply your own SD Camera Card and drop the camera off back at our shop before 5:30pm.
Please Remember there is no other way to collect our cameras! All passengers must come into our shop the day before departure day before 5:30 pm.