Where is the best place to snorkel at Green Island?
Where is the best place to snorkel at Green Island? For colourful corals and abundant marine life, you need to go to the offshore fringing reefs. Located approximately 1.5km from the island itself, these reefs are easily accessed by tender transfer, or some day tour boats will moor here for the day.
Snorkelling on Green Island's Offshore Reefs
Green Island's offshore reefs lie in shallow waters (generally a maximum depth of around 8-10m). A combination of coral garden beds, walls and isolated bommies, these reefs are home to a diverse array of marine life.

Snorkelling conditions vary, pending weather and tide. At high tide, the reefs are a few metres beneath the surface, but at low tide, the corals can be just centimetres under the water.
What will you see? Snorkelling on Green Island's fringing reefs you will see a combination of hard and soft corals, clams and sea cucumbers. Marine life will vary, but you may see turtles, reef sharks, feather stars and a variety of fish including coral trout, butterflyfish, angelfish, fusiliers, chromis, anemonefish, parrotfish, wrasse and more.
Can you snorkel from the beach at Green Island? Yes you can. Swimming and snorkelling are popular activities from Green Island's beaches and one of them is patrolled by life savers for your protection. Please note that many of the beaches are surrounded by sea grass beds. This means there is not too much to see when snorkelling, although diligent snorkelers will see clams, triggerfish and a range of other little fishes swimming about.
Snorkelling under the jetty at Green Island
The best snorkelling from Green Island's beaches is most certainly underneath the jetty. Here you can find an abundance of corals and marine life, approximately 60m from shore (around the 'elbow' of the jetty). Obviously exactly what you may see will vary, but might include stingrays, turtles, schools of snapper, rabbitfish, sweetlips, trevally and maybe even a large Queensland grouper.

The best place to enter the water for jetty snorkelling, is on the resort side of the jetty. Best time of day? It doesn't really matter; this is a great snorkelling site high or low tide.
Please note: A range of boats come and go from Green Island jetty throughout the day. For your own safety, it is vital you stay on the resort side of the jetty. All of the boats moor and move on the other side. There are buoys in the water showing where it is safe to swim. Please be watchful of your surroundings.
Things to do on Green Island
Of course the 12 hectare Green Island offers visitors so much more than just snorkelling. This is a popular day tour choice from Cairns. It is the only Great Barrier Reef island to have reef and rainforest. It is home to a luxurious resort and has a range of island activities including parasailing, scenic helicopter flights, introductory and certified diving. Green Island also has a day spa and Crocodile Habitat.

Green Island is a coral cay. This means the island was created through an accumulation of sand and coral rubble, over thousands of years. The result is gently sloping beaches on a tropical island boasting sheltered, shallow waters full of a diverse array of marine life. This coral cay has been attracting visitors for decades and is in fact the place where glass bottom boats were invented. Named a national park in 1937, Green Island was listed as a marine park in 1974 and became a part of the Great Barrier Reef World Heritage Area in 1981.
You can visit this tropical island on a range of day tours or stay overnight at Green Island Resort.
Green Island Snorkelling FAQ
Does Green Island have child minding services?
No it does not. There are no child minding services for any of Cairns' Great Barrier Reef trips or islands.
Are there currents at Green Island?
Yes and no. There are currents in all places of the ocean. However, Green Island's waters provide some protection from strong tidal currents. There are less currents at Green Island than on the outer reef.
Is snorkelling at Green Island the same as the outer reef?
In short, no. The outer reef is closer to the continental shelf, so there is clearer water more of the time. There are also larger reef systems at the outer reef with more coral diversity. That being said, you will see lots snorkelling at Green Island too.
Will I see turtles snorkelling at Green Island?
No promises, but you might! Sea turtles are a common sight around Green Island and 9 times out of 10, you will see one on a visit to the island.
What will I see snorkelling at Green Island?
We can't make any promises, but you might see (and we have seen) sea turtles, reef sharks, clams, sea cucumbers, stingrays, triggerfish, butterflyfish, angelfish, fusiliers, chromis, anemonefish, parrotfish, wrasse, snapper and more.
What's better - paid for snorkel tours or snorkelling from the beach?
This is a tricky one and it all depends. Snorkel tours are definitely worth it! You will see the best corals on the offshore reefs, which are accessed on paid for snorkel tours. The downside, these must be booked in advance and operate at preset times throughout the day. Snorkelling from the beach, under the jetty, is good for marine life but there is not as much coral. On the upside, you can do this at any time during the day. If this was your only time / chance to snorkel on the Great Barrier Reef, then we strongly suggest taking a paid for snorkel tour.
How do you get to Green Island's offshore reefs – can I swim there?
The offshore reefs are about 1.5km from the island itself. We do not recommend swimming there, due to distance and tidal currents. These reefs can be accessed either by tender transfer from the island, or booking a tour which moors on the offshore reefs.
Do you need to bring your own snorkelling equipment?
No you don't need to, although you can if you want too. Snorkelling equipment is provided and/or available for rent on all Green Island day tour operations: this includes lycra suits, fins, masks and snorkels. Snorkelling instruction is also available and provided.
Click the links below to find out more.
Can't decide? We have personally been on every Cairns reef and diving trip. We can help you choose the best tour, to suit your experience and budget.
FREE UNDERWATER CAMERA HIRE*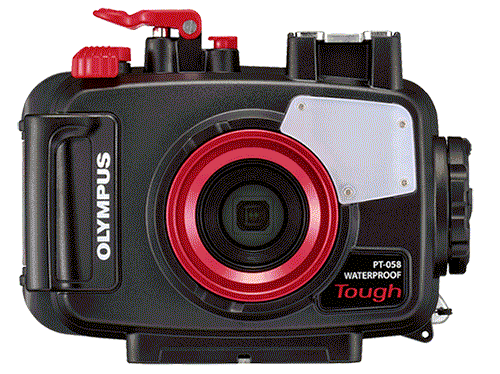 Spend over $550.00 AUD on your Great Barrier Reef tour with us and receive the latest Digital Underwater Camera Hire. Take amazing High-Resolution images and 1080 HD Video.
Not available for any tours to the Islands as fine white sand damages the seals on the cameras and makes them leak!
You need to come into our shop located on the Cairns Esplanade the day before departure to pick up the camera before 5:30 pm. You also need to supply your own SD Camera Card and drop the camera off back at our shop before 5:30pm.
Please Remember there is no other way to collect our cameras! All passengers must come into our shop the day before departure day before 5:30 pm.