Taking a baby to the Reef – Reef Magic Trip Review
Cairns Dive Adventures Trip Review
The passengers on board today's Reef Magic trip were aged between 5-months and 72 years old. Everyone had a great time! Which just goes to show the versatility of the Reef Magic Great Barrier Reef day tour. Some people stayed dry and saw the reef through the glass-bottom boat, semi-submersible and underwater observatory, others got...
Taking a baby to the Reef – Reef Magic Trip Review
Can you take a baby to the Great Barrier Reef? The answer to this question is yes! A number of Cairns reef operators cater to babies and on Sunday, we took our 6-month old out on his first visit to the Great Barrier Reef. We choose a day tour with Reef Magic Cruises to their Marine World pontoon, as we felt this would be perfect for baby and pram, while still getting Mum and Dad to the reef. There were five young children on board that day, ranging in age from 5-months to 14 months. So be brave – pack the nappy bag and hit the water!
Reef Magic Cruises provides full day tours from Cairns to their pontoon, which is permanently moored on Cairns' outer reef at Moore Reef. These tours cater to just about everyone, from snorkelers to divers and even non-swimmers.
This trip is also perfect for families, especially those with babies. Here's some questions I needed answered before we booked with Reef Magic.

Can you take a pram on the boat and pontoon? Yes you can. There are no real size restrictions, the boat (and its ramp) is designed to accommodate fold-up wheelchairs, so as long as your pram is no bigger than this, you'll be fine. Prams can also be taken on to the pontoon.
Are there any change tables? Yes, there's change table facilities on the boat. These are located in the toilet so be warned they are a little cramped, but at least they are there.
Are there any nappy disposal bins? No there aren't, but you can place your nappies in the bins on the boat and pontoon (maybe take a plastic bag for the sake of other guests).
Are there any microwaves on board to heat up bottles? Yes, there is a microwave on the boat and you can use this for bottles.
Are there any swim suits for babies? Reef Magic does have lycra suits for children on their Marine World pontoon. These are not suitable for babies, but are fine for children aged 1 year and up. They also have children's fins and masks and snorkels, as well as a range of buoyancy devices, including vests and noodles. NB: Baby rashies and sun suits can be purchased at various locations around Cairns.
Can I take my baby into the ocean? It's up to you. There is a kids paddle pool, which is a small enclosure lowered into the ocean adjacent to the pontoon. We chose not to take our baby in (he splashes around a lot and I did not want him to get salt water into his eyes), but we did take him on the glass bottom-boat ride and to the underwater observatory.
The tour price includes: boat transfers to and from Cairns, glass bottom boat tour, underwater observatory, semi-submersible tours, snorkelling, hot and cold buffet lunch, marine biologist presentation and snacks. Optional extras include: scenic helicopter flights, guided snorkel tours, diving (certified and introductory), helmet diving, beverages and the hire of lycra or wet suits ($6 each – highly recommended).
We checked in at the Reef Fleet Terminal for our baby's first reef trip at 8.30am on Sunday 14 April 2013. We were well prepared for the day ahead with a nappy bag full of change mats, nappies, wipes, bottles and formula.
Boarding the boat, we were delighted to discover there were five other prams and babies on board today's trip: gives you that boost of confidence! The babys ranged in age from 5-months (little girl on holiday in Cairns from the Gold Coast) up to 14 months old. Of course there were lots of families on board with older children too, not to mention those without children. The age of passengers aboard today's trip ranged from 0 – 72 years of age, just showing Reef Magic caters to everyone.
Reef Magic III is a comfortable catamaran with three levels of seating. The lower deck is air-conditioned with screens, the middle deck has an air-conditioned interior and exterior sun deck while the top deck is a sundeck. There's 5 toilets on board for everyone's comfort and convenience.
There's free tea and coffee available on boarding from 8.30am and the boat departs Cairns' Marlin Marina at 9am. It's a non-smoking boat, although there is a smoking area on the pontoon. As Reef Magic commenced its departure, the crew provided a welcome and safety briefing.
They ran through the day ahead and explained all activities available. Then passengers were asked to attend separate briefings for any activities they had booked. I'm diving today (first time since I was pregnant with our son – as you can not dive when pregnant) so headed over to the certified dive briefing.
There are four certified divers on board today and funnily enough, three of us have babies. If you want to dive you will need to travel with a companion who will look after the baby while you're diving, as Reef Magic does not provide a baby-sitting service.
There's the option for three certified dives. I am only taking one, so my husband has time to participate in some in-water activities and we still have some family time. I'm also going to try a helmet dive for the first time.
Briefings complete, everyone settles around the boat and Reef Magic provides a marine biologist presentation on the Great Barrier Reef. Despite the weather (15 knots) the ride is smooth and our baby had his usual morning sleep on the way out there. He could have slept on a spare seat or in his pram, but we let him sleep on our shoulders.
Reef Magic III arrives at Moore Reef, which is approximately 50km offshore from Cairns, at 10.30am. There's another briefing on snorkelling safety while the crew prepares the pontoon. Our baby boy woke up on arrival and my husband gave him a feed while I went snorkelling.
The water temperature is 27 degrees today and the lycra suits provide total sun protection. The first fish I see is Wally, the world famous, big blue, Napolean Wrasse. This friendly fish is always at Marine World and a real crowd pleaser. Cruising around the coral gardens I also saw rabbitfish, parrotfish, cleaner wrasse, unicornfish, Moorish idols, six-bar wrasse, butterflyfish, dotted sweetlips and scissor-tail sergeants.
By the time I returned to the pontoon, it was time for baby to have another bottle and then we enjoyed the hot and cold buffet lunch. The buffet is large and has something for everyone including bread rolls, fresh fruit, cold meats and cheese, cold prawns, chicken drumsticks, nori rolls and a selection of salads (ceasar, pasta, beetroot, potato and coleslaw). There were also some hot dishes including chicken curry, rice and vegetarian lasagne.
After lunch I tried a helmet dive. This is an interesting experience and is suitable for people of all ages and abilities – you don't even need to know how to swim! The helmet is like a pearl-diving helmet of old. Fully pressurised with air being pumped in the whole time, the helmet is connected to the surface with an air-supply hose, and sits on your shoulders as you walk down under the pontoon.
A safety / instruction briefing is provided before you enter the water and there is a scuba diver in the water to assist you. All helmet divers 'walk' along an underwater pathway, complete with handrails for your comfort and stability. There's quite a lot of noise in the helmet from the air supply and your ears are constantly equalising during the 20-minute experience, which is interesting (and completely unlike scuba diving) given you stay at the same depth the whole time (around 3m under the surface).
Walking along the pathway, the scuba diver guide points out fish, does a fish feed right in front of your helmet, so the fish are really close to you and also hands us a sea cucumber, hard coral and shell, to touch and feel. This was a fantastic experience and for those who can't swim, a brilliant way to get up close and personal with the fish – so much better than a glass bottom boat ride or visit to the underwater observatory. However, I would not recommend this for certified scuba divers.
Helmet dive complete, it was back on the pontoon and over to the Marine World tender for a transfer to the certified dive site, Pressure Point. All four certified divers were participating in this dive, which was the last one for the day. Water entry was giant stride off the side of the tender and we descended to a maximum depth of 20m with our dive guide, before making our way along the coral wall. Please note: all certified dives with Reef Magic are guided, this is compulsory.
Visibility today was not great (around 5m) as it had been blowing 40 knots in Cairns all week and we were diving on an outgoing tide, but regardless, there was lots to see. There were several large schools of fusiliers and snappers around the corals, giant clams, sea whips and fans, hard and soft corals, clarke's anemonefish, true clown fish (yes NEMO we found you), bi-colour angelfish, butterflyfish, unicornfish, parrotfish, pufferfish and more.
The dive lasted 36-minutes and then we surfaced and made our way back over to the tender, which was collecting some snorkelers. Transferring back to the pontoon, there was just time for a freshwater shower and change, before we had to be back on the boat at 3pm for return to Cairns.
I boarded the boat to discover my little man had been on a glass bottom boat tour with Daddy and visited the underwater observatory. Both had had a good time and there had been no tears from baby, he had even managed to have a lunchtime sleep (unusual!) in his pram, on the air-conditioned boat.
The Reef Magic crew conducted a head count and once complete, the catamaran began its 90-minute transfer back to Cairns. Our son had his usual afternoon nap on the way back, while we enjoyed a cold beer and some ice-cream (way to celebrate baby's first trip to the reef!). We arrived back into Cairns on time, at 5pm.
THE VERDICT: The passengers on board today's Reef Magic trip were aged between 5-months and 72 years old. Everyone had a great time! Which just goes to show the versatility of the Reef Magic Great Barrier Reef day tour. Some people stayed dry and saw the reef through the glass-bottom boat, semi-submersible and underwater observatory, others got wet and went snorkelling, scuba diving and helmet diving. The catamaran was comfortable, the staff friendly and all in all, this is a great way for baby to visit the Great Barrier Reef.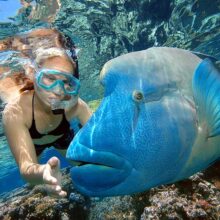 Up to 5 hours at the reef. Outer Great Barrier Reef pontoon with fabulous coral gardens. Meet Wally! Lots of inclusions: snorkelling, glass bottom boat, semi-sub, underwater observatory and more.
Click the links below to find out more.
Can't decide? We have personally been on every Cairns reef and diving trip. We can help you choose the best tour, to suit your experience and budget.
FREE UNDERWATER CAMERA HIRE*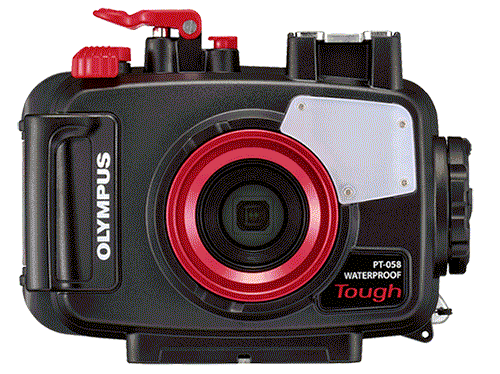 Spend over $550.00 AUD on your Great Barrier Reef tour with us and receive the latest Digital Underwater Camera Hire. Take amazing High-Resolution images and 1080 HD Video.
Not available for any tours to the Islands as fine white sand damages the seals on the cameras and makes them leak!
You need to come into our shop located on the Cairns Esplanade the day before departure to pick up the camera before 5:30 pm. You also need to supply your own SD Camera Card and drop the camera off back at our shop before 5:30pm.
Please Remember there is no other way to collect our cameras! All passengers must come into our shop the day before departure day before 5:30 pm.