Reef Magic Cruises – Marine World Review
Cairns Dive Adventures Trip Review
This is a great pontoon day tour with lots of inclusions and activities. It's perfect for families, older reef visitors, snorkelers of all experience levels and certified divers who also like to add some snorkelling and other activities into their day. With a maximum of 200 guests and around 25 crew, customer service was excellent...
Reef Magic Cruises – Marine World Review
Reef Magic Cruises provides full day Cairns reef tours to their Marine World activity platform on Moore Reef, Cairns' Outer Great Barrier Reef. These tours are perfect for families, snorkelers and divers travelling with non-diving companions. Inclusions are the reef trip, glass-bottom boat and semi-submersible tours, morning and afternoon tea, snorkelling equipment, marine biologist presentation, underwater observatory and fish feeding. Highlights are seeing Wally, the giant, blue Maori Wrasse.
We experienced the Reef Magic Cruises Great Barrier Reef day tour on Easter Monday 2012. The morning was glorious as we checked in at 8.15am, wandering the sun soaked Marlin Marina with a cool breeze as we made our way to the Reef Magic catamaran.
Boarding the 30m vessel at 8.45am there was complimentary tea and coffee and you could choose between two levels of air-conditioned interior or the exterior sundeck.
Reef Magic can carry up to 300 passengers but limits its daily numbers to just 200, for passenger comfort. Being Easter, today was busy and the full 200 guests were on board, but there was still plenty of room for everyone to find a seat.
When all guests were on board, Kaylah commenced the morning briefing at 9.10am and five minutes later, we pulled out of the marina and commenced the 90-minute trip to Moore Reef. During the briefing Kaylah outlined the day ahead and gave an overview of the ship's features, including the on-board bar and complimentary water station. Everyone was reminded this was a non-smoking boat with smoking space allocated at the pontoon.
As we headed out past the rainforest covered mountains, the briefing continued. She talked about the need for sunscreen (a good tip for days like today) and discussed the tour inclusions and optional extras, such as introductory and certified diving, guided snorkelling tours, helmet diving, helicopter flights and massages. All of these can be booked on the boat, on the day, or pre-booked.
A 30-minute guided snorkel tour with a marine biologist is $35 for adults and $25 for children and is suitable for beginners. In this tour, participants hold on to a life ring and the marine biologist takes them around the coral gardens. A 50-minute guided Adventure Snorkel Tour is more suited for strong swimmers and costs $45 for adults / $35 for children.
Certified divers have the chance to enjoy up to three guided dives ($60 for the first one and $30 for additional dives) which are from the pontoon and/or tender transfer to alternative reef site. There is no unguided diving. Introductory diving was also available with no experience necessary. Intro dives went 6-8m deep and lasted 20-25 minutes: $120 for the first dive and $70 for additional dives.
Helmet diving is something else altogether. This is putting on a large helmet (similar to the old pearl diving helmets) and being guided on a 'walk track' underneath the pontoon. Again, no experience necessary and on this one, you don't even get your hair wet. These are $120 per person.
Scenic helicopter flights are available in three packages: 5-minute intro flight for $89 pp, 10-minute vertical flight for $148 pp and 30-minute reef and rainforest flight for $395. These can be booked on board.
Martina, one of the on-board photographers, then ran through her services. Basically, they would be taking photos of people in and out of the water during the whole day. Images would be available for review and purchase on the way home.
Then Sarah, the on-board masseuse, quickly discussed her services before multi-lingual staff members introduced themselves in Korean, Japanese, French, German and Arabic. These staff members were available to assist anyone with those language needs.
Although it may sound like a lot of information, all of the introductory briefings only took 20-minutes and were completed at 9.30am. After that, it was time for the certified and introductory dive briefings. There were six (6) certified divers and 34 introductory divers on board today. I was not diving today due to an ear infection, but my buddy was.
At the certified dive briefing he discovered the first dive would commence as soon as we arrived at the pontoon. It was going to be a tender transfer to a dive site called Middle Reef, reaching a maximum depth of 18m and lasting 40-minutes. They were told the water temperature was around 28 degrees and lycra or wet suits were available at the pontoon.
Shortly afterwards there was a marine biologist presentation. This was accompanied by a slide show presentation and provided an overview of the Great Barrier Reef, its history, types of coral and fish. We found out about 'Wally' one of the resident Humphead Maori Wrasse at the pontoon. Wally is apparently 1.5m long and weighs around 75kg.
All too soon we arrived at the Marine World activity platform. While the crew secured the boat, there was a quick briefing on snorkelling safety and advice that, if needed, prescription masks were available from the bar at $5 hire ($100 deposit). Cakes and muffins were available as we departed the boat to the pontoon.
As I snacked on some delicious chocolate cake, my diver partner grabbed his equipment and headed to the dive tender. He was gone for an hour and enjoyed an interesting drift dive with swim throughs. Visibility was around 8-10m and he saw Coral Trout, Grey Reef Sharks, White-tipped Reef Sharks, Trevally, Pufferfish and large schools of Glass Fish.
While he dived, I snorkelled the coral gardens just off the pontoon. The corals are literally metres from the pontoon and as soon as I entered the water, from the comfortable in-water platform, I met Wally! This magnificent blue fish is a highlight in anyone's day and makes for a great photo souvenir.
Other highlights included seeing a Green Turtle, Titan Triggerfish, Parrotfish, Angelfish, Clark's Anemonefish, Scissor-tail Segeants, Rabbitfish and Sailfin Surgeonfish, to name just a few.
If you are interested to find out if it is better to visit the reef from either Cairns or Port Douglas check out our latest article – Is it better to dive from Cairns or Port Douglas.
We both met back at the pontoon for the 12.15pm hot and cold buffet lunch. This is served to you and includes bread rolls, a selection of cold meats and chicken pieces, chilled prawns, cheese, a variety of salads and fresh fruit. The hot component consisted of beef curry, rice and vegetarian lasagne. There was plenty of food and the buffet was served from 12.15 – 1.30pm.
Glass-bottom boat and semi-submersible tours run throughout the day, with the activity board near the buffet listing the departure times. After lunch we both went snorkelling. We saw Wally again, most of the same fish as before, as well as Black Anemonefish, Six-bar Wrasse, Yellow-tailed Fusiliers and a very cool squadron of squid.
During this snorkel, I noticed the fish feeding from the pontoon and went over a closer look. It was amazing to see the speed the Trevally and Red Bass darted in and out of people's legs to snatch the food: impressive creatures with masterful, underwater agility.
We climbed out of the water to catch the 2.15pm semi-submersible tour. This was complemented with a commentary, making it an informative reef presentation. At 3pm it was time for everyone to get out of the water and back on board Reef Magic, where complimentary cheese, crackers and fresh fruit awaited.
After a final headcount, Reef Magic pulled away from Marine World at 3.35pm to commence its return journey to Cairns. During the trip guests grabbed a cold beer / refreshment from the on-board bar, looked at the photos from the day and relaxed around the boat.
Reef Magic powers through the water, providing a comfortable, quiet ride, which brought us back into Cairns' Marlin Marina at 5.10pm.
THE VERDICT. This is a great pontoon day tour with lots of inclusions and activities. It's perfect for families, older reef visitors, snorkelers of all experience levels and certified divers who also like to add some snorkelling and other activities into their day. With a maximum of 200 guests and around 25 crew, customer service was excellent and the facilities had plenty of room for everyone to have a good day. The superior ride of the Reef Magic boat made for a comfortable transfer to and from the reef. All in all, an informative day, exploring all levels of the Great Barrier Reef, from above and below.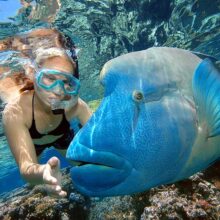 Up to 5 hours at the reef. Outer Great Barrier Reef pontoon with fabulous coral gardens. Meet Wally! Lots of inclusions: snorkelling, glass bottom boat, semi-sub, underwater observatory and more.
Click the links below to find out more.
Can't decide? We have personally been on every Cairns reef and diving trip. We can help you choose the best tour, to suit your experience and budget.
FREE UNDERWATER CAMERA HIRE*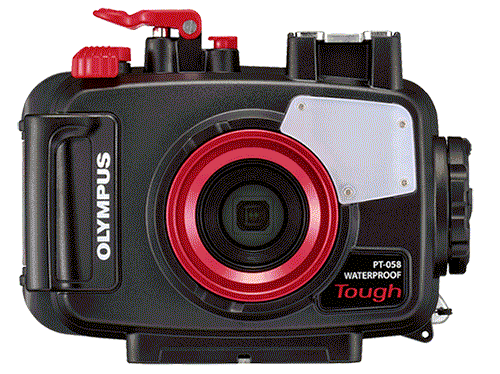 Spend over $550.00 AUD on your Great Barrier Reef tour with us and receive the latest Digital Underwater Camera Hire. Take amazing High-Resolution images and 1080 HD Video.
Not available for any tours to the Islands as fine white sand damages the seals on the cameras and makes them leak!
You need to come into our shop located on the Cairns Esplanade the day before departure to pick up the camera before 5:30 pm. You also need to supply your own SD Camera Card and drop the camera off back at our shop before 5:30pm.
Please Remember there is no other way to collect our cameras! All passengers must come into our shop the day before departure day before 5:30 pm.