Reef Experience – Dive & Snorkel Review
Cairns Dive Adventures Trip Review
This is a great value for money trip that is suitable for snorkelers and divers. The complimentary introductory dive (no experience needed) lasts 20-minutes while certified divers will enjoy the one (1) free cert dive, which is guided or unguided, with the option to book a second dive to maximise their experience. The BBQ breakfast...
Reef Experience – Dive & Snorkel Review
Reef Experience offers a complete reef day tour to the Great Barrier Reef, visiting two (2) different reef sites and providing up to five (5) hours to swim, snorkel, dive and play.? The 24m Reef Experience catamaran is licensed to take up to 140 guests, but day tour numbers are limited to just 100, ensuring everyone has room to move around.? This tour promotes itself as being the only fully-inclusive option, with the standard tour price including: snorkelling, one (1) certified dive or introductory dive, glass bottom boat tour, BBQ breakfast and lunch and a complimentary wine or cold drink, with cheese and crackers, on the way home.
Check-in for Reef Experience is from 7.30am at the catamaran, which is moored at Cairns' Marlin Marina (adjacent to the Reef Fleet Terminal and Cairns Harbour Lights).? The day we went out was simply stunning.? It had been sunshine for weeks and the forecast was just 5 knots of wind.
Upon boarding, the friendly crew handed out all of the relevant medical forms and snorkelling equipment.? Once settled, we completed the paperwork and enjoyed the complimentary BBQ breakfast, which was a bacon and egg burger accompanied by fresh fruit.
Reef Experience pulled out of the marina at 8.30am and welcome, safety, trip and equipment briefings were all provided during the trip to the reef.? There was also a quick presentation by the professional, on-board photographers, who take photos of you throughout the day and have these available for preview and purchase on your return trip to Cairns.? They also rent underwater cameras on board, at a rate of $50 per day.
The 24m Reef Experience catamaran has two levels and offers air-conditioned interior seating, as well as exterior seating on the sundeck.? There are four (4) toilets on-board and a hot shower on the back deck.? It also worth noting that complimentary sunscreen was provided to guests on-board, something that would come in handy today.
The layout and fit out of this boat has been tailored to provide reef visitors with maximum comfort and convenience.? The interior of the downstairs level (where lunch is served) was kitted out with waterproof flooring, which meant customers could come and go without having to completely towel dry.? This is particularly helpful when you want to grab a quick bite / drink in the middle of the day, between dives.
There were 79 passengers aboard today's trip; 5 were certified divers and the rest were snorkelers, most of whom were very excited to try the complimentary introductory scuba dive.? The intro dive lasts around 20-25 minutes and guests have the option of doing a further dive, at an additional cost, if they like it.? Reef Experience is fully equipped with dive and snorkel equipment.
Travel time to the reef was approximately 80-90 minutes.? During this time customers had the choice to participate in a reef interpretation presentation, which provided information about the Great Barrier Reef, its fish and corals.? Around 30 people joined the presentation and by all accounts, enjoyed the show.
All dive site and equipment briefings were also provided at this time.? The certified dive briefing was on the back deck, with one of the dive masters.? It covered hand signals, air use, dive computers and lost buddy procedures.? Reef Experience offers the choice of guided and unguided diving.
Certified divers can complete two (2) dives during the Reef Experience day tour: one at each of the reef locations.? The first dive is at 10.10am, the second at 1.15pm; the dives are capped at 40-minutes each.? There is no reverse profiling, so your first dive of the day should be your deepest (maximum of 15m).
Water entry on this boat can only be described as 5-star, with the Reef Experience crew actually putting your BCD on to your back, as you sit on the duckboard at the back of the boat, with your feet in the water.? They complete your buddy check and all you have to do is basically flop forward into the water.? I have never, ever found diving this easy.
Cairns is well into Spring and today's water temperature on the Great Barrier Reef is 27-28 degrees Celsius.? Divers have the choice of long or short sleeved wetsuits; my buddy and I opted to dive without wetsuits and loved every second.
Our first destination was at one of my favourite dive sites 'The Fish Bowl' at Hastings Reef.
Dive 1: 'The Fish Bowl' – Hasting Reef – 10.10am
Hastings Reef is always a great place to dive.? Unless there have been extreme weather conditions, this reef generally always has great visibility and coral coverage.? For our first dive we decided to track along the wall, hoping to stumble across the opening to the fish bowl itself.? We saw heaps of fish along the way, including but not limited to: dotted sweetlips, maori wrasse, butterflyfish, blue green chromis, red bass, anemomefish, diagonal-banded sweetlips, yellow-tailed fusiliers, feather stars and giant clams. ? ? On finding the entrance, we headed into the fish bowl and found my little blue and green chromis bommie. We spent around 10 minutes here, before heading back to the boat. The dive lasted 38min with a maximum depth of 10.5m.
Back on board, there was plenty of time for a snorkel before lunch.? Today's conditions can only be described as a glass out, making it perfect for snorkelling.? Generally speaking, the Great Barrier Reef fish you see snorkelling are a little different to those you see deeper down when diving.? One of our favourites is the six-bar wrasse, a cheeky little fish which darts in and out in front of your mask.? We also saw pipe fish and large schools of butterflyfish.? All too soon the smell of sausages grilling on the BBQ for lunch, lured us back to the boat.
Reef Experience is one of the few Cairns reef day tour boats to have a BBQ.? A fresh lunch is cooked daily and served from 12pm.? Today's menu included: a spicy chicken noodle stir-fry, sausages and a selection of salads and bread rolls.? There was plenty of food for everyone and it was certainly enjoyed by all.
After lunch, Reef Experience moved to its second and final reef site for the day, 'Breaking Patches', which is part of the Michaelmas Reef system.

Dive 2: 'Breaking Patches' – Michaelmas Reef – 1.15pm
Looking down from the boat we could see the reef and its coral formations below.? Visibility is great and we couldn't wait to get back into the water!? For this dive we were joined by one of the dive masters.? Before water entry we discussed our dive plan and agreed to follow the reef wall around the corner, getting us away from the intro divers and snorkelers.? Breaking Patches has lots of beautiful red gorgonian sea fans and several large sea whips, some encrusted with sea squirts and feather stars. There was a lot to see on this dive, including: lionfish, anenomefish, angelfish, spotted sweetlips, bumphead parrotfish and a large school of other parrotfish. On the way back to the boat, we visited a shallow coral garden with huge giant clams. Looking up, we could see the snorkelers were all having a great time, some of them just floating around on complimentary safety noodles, enjoying the spectacular conditions.
Reef Experience provides guests with plenty of time to enjoy the Great Barrier Reef.? Second dive complete, we dried off and grabbed a cold beer (purchased in addition to the ticket price), heading to the sun deck to just relax and appreciate the view.
Packing up for the day, Reef Experience left the reef at around 2:45pm.? Our return time took about 70-80 minutes, which went really quickly over a few beers and the complimentary cheese, wine and cold meat platter.? The boat arrived back into Cairns just after 4pm and the crew provided a quick debrief before lining up along the jetty, to provide everyone with a personalised farewell.
VERDICT:
This is a great value for money trip that is suitable for snorkelers and divers.? The complimentary introductory dive (no experience needed) lasts 20-minutes while certified divers will enjoy the one (1) free cert dive, which is guided or unguided, with the option to book a second dive to maximise their experience.? The BBQ breakfast and lunch is a nice touch, as is the complimentary cold drink (wine or fruit juice) at the end of the day.? The reef sites were first class and the crew friendly and professional.? A great day out from Cairns.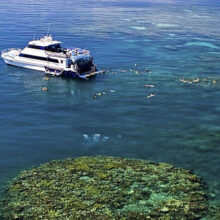 Cairns' only fully inclusive day tour, including: city hotel transfers, trip to Great Barrier Reef, 6 hours on reef, 2 reef locations, meals, free scuba dive, marine biologist presentation & equipment.
Click the links below to find out more.
Can't decide? We have personally been on every Cairns reef and diving trip. We can help you choose the best tour, to suit your experience and budget.
FREE UNDERWATER CAMERA HIRE*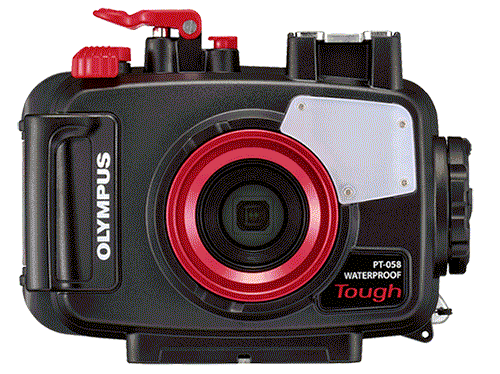 Spend over $550.00 AUD on your Great Barrier Reef tour with us and receive the latest Digital Underwater Camera Hire. Take amazing High-Resolution images and 1080 HD Video.
Not available for any tours to the Islands as fine white sand damages the seals on the cameras and makes them leak!
You need to come into our shop located on the Cairns Esplanade the day before departure to pick up the camera before 5:30 pm. You also need to supply your own SD Camera Card and drop the camera off back at our shop before 5:30pm.
Please Remember there is no other way to collect our cameras! All passengers must come into our shop the day before departure day before 5:30 pm.