Raging Thunder 'Fitzroy Flyer' Review
Cairns Dive Adventures Trip Review
Raging Thunder provides full day reef tours to Fitzroy Island, in the Great Barrier Reef Marine Park, daily. The full day tour departs Cairns at 8.30am and provides you with approximately five (5) hours to explore this offshore continental island with its fringing coral reefs. Day tours start at $58 adults ($31.50 for children) and…
Raging Thunder 'Fitzroy Flyer' Review
Raging Thunder provides full day reef tours to Fitzroy Island, in the Great Barrier Reef Marine Park, daily. The full day tour departs Cairns at 8.30am and provides you with approximately five (5) hours to explore this offshore continental island with its fringing coral reefs. Day tours start at $58 adults ($31.50 for children) and can be booked with a range of package options (lunch, snorkeling, sea kayaking etc) to suit your budget and preferences. This is a great day tour for solo, couples, groups and families with plenty of activities to keep you entertained throughout the day.
Our Raging Thunder day tour commenced with check-in at Cairns Reef Fleet Terminal at 8am. July winter weather in Cairns is stunning with blue sky and warm sunshine. Many people had chosen to spend their day at Fitzroy Island and check-in took approximately 20-minutes with boarding around 8.30am and a 8.40am departure.
Transfers between Cairns and the island take about 45-minutes, pending weather, aboard the high speed Fitzroy Flyer catamaran. Although the vessel is showing its age, the seats were comfortable, guests had a choice of indoor or outdoor seating and the ride was smooth and pleasant, despite 20 knot winds on our day of travel. Passengers enjoyed stunning views of the passing rainforest mountains, as the catamaran hugged the coast for much of the journey.
Fitzroy Island is a continental island, which means it was once connected to the mainland (this is different to Green Island, which is a coral cay). Captain James Cook was the first European to sight the island, back in June 1770 and over time, early explorers came to appreciate the island for its safe anchorage and reliable supply of fresh water.
On approach today, we are impressed with the towering rainforest mountain peaks, sliding down to the beaches and clear, blue waters. An idyllic island paradise.
Due to winds, the outward journey took about an hour today with guests disembarking on to the timber jetty around 9.45am. Wandering on to the island, a large resort is nestled at the foothills of the mountain, with walking trails swinging left and right along the beach. After perusing the island map, we decided to take the Lighthouse (1.8km) and Summit (2.3km) walks to make the most of the views.
Entering Fitzroy Island National Park at the base of the track around 10.20am, we ascended the rainforest covered hillsides before broaching the ridgeline, with magnificent sea views and making our way to the lighthouse. Built in 1970 this was Australia's last staffed lighthouse that was purpose built. Open to the public today, its interior walls have interesting interpretive signage explaining the history of the island and lighthouse.
Resting to take in the magnificent views over the Coral Sea, we were hopeful of seeing some of the migrating Humpback Whales which have been a thrilling sight off the Cairns coastline in recent weeks. We did see a single whale breaching, but it was off in the distance near Sudbury Cay.
Backtracking about 100m, we headed up the summit walking track. This was definitely steeper and longer than expected, but the views from the 269m tall mountain peak over the Coral Sea, Fitzroy Island's rainforest valleys and interior and the nearby mountainous mainland were quite spectacular on this clear, crisp winter day.
Fitzroy Island Summit Panorama
Fitzroy Island's Lighthouse and Summit Walking Tracks consist of two, thin strips of concrete. According to the interpretive signage, construction on the track commenced in the 1950s and was mostly completed by hand, with workers pouring concrete over a base of rocks, gravel and lumps of coral.
Descending the mountainous terrain, we headed straight to the island bar 'Foxy's' for a well deserved beer and lunch, arriving at around 1.15pm. Supremely positioned on the beachfront, Foxy's had amazing views over the glistening Coral Sea and Fitzroy Island's ocean trampoline, making the perfect place to relax and refresh after our mountain trek.
The menu is 'island casual' and has enough choice to keep most satisfied. Lunch options include steak sandwiches ($20), salads ($18), a selection of paninis (13.50), fish and chips ($18), fresh prawns ($18) and burgers ($18). There are also daily specials written on the board. The bar is well stocked with local and imported beers, basic spirits and has an excellent cocktail list for those so inclined.
We ordered the Fitzroy Island Burger which came with beetroot, lettuce, tomato, bacon, egg and a beef patty, served with chips. The meal was tasty and generous in proportion, so much so that we needed to rest before hitting the beach for some snorkeling.
Live entertainment from local bands and musicians added to the ambience at Foxys, although we left just as they started their set, to make sure we had time for swimming and snorkeling.
Fitzroy Island's beaches are mostly made of coral pieces, adding a unique charm to this island destination. The Beach Hire Hut is situated next to the jetty, on the beach between the resort and Foxy's. The Hut is a hive of activity during the day as this is the place to organize your island activities (if you haven't already pre-booked them) including snorkeling equipment, glass bottom boat tours, use of the ocean trampoline, paddle ski hire, life jackets, wet suits and stinger suits. This is also where the half day sea kayaking tours depart from.
We had our own snorkeling equipment, so after seeking advice on the best place to see some coral, we headed west along the beach to snorkel off the rocks that divide the main beach with nearby Nudey Beach. The winter water is 20 degrees (Celsius) and due to wind, visibility was not the best, probably around 2m. Despite this, we were pleased to see a variety of hard and soft corals, colourful clams and many Great Barrier Reef fish, including six-bar wrasse, scissor-tail sergeants, half and half pullers, several different types of colourful parrotfish and butterflyfish, a large six-banded angelfish, white damsels, dash-dot goatfish and more.
In the afternoon, there was time for another quick beer, before departing Fitzroy Island on the Fitzroy Flyer at 4.30pm, arriving back into Cairns at 5.15pm.
Top Tips
If you are looking for a caffeine hit, get it before you go as the Fitzroy Flyer is an island transfer vessel only, they do not serve tea and coffee.
If you are sitting on the top deck in winter, make sure you have a warm fleece jacket, as the winds are a little cool. Alternatively, sheltered seats are available downstairs / indoors.
If you are going to tackle the Lighthouse and Summit Walks take your own water as there is none available along the way and wear sensible shoes (we wore thongs and do not recommend it).
Scuba diving is available on Fitzroy Island and can be booked at $65 per dive at the Resort dive shop.
The transfer only ticket price is very affordable: optional extras (snorkeling, sea kayaking etc) can be booked at any time throughout the day at the Beach Hire Hut.
Raging Thunder do offer a range of optional extras on this Fitzroy Island day tour, including lunch (sandwich, fruit and water / juice) for $10 extra, snorkeling etc.
You can stay overnight at Fitzroy Island. There is a luxury resort with beachfront cabins or smart Cairns Regional Council camping ground, complete with amenities and BBQ facilities.
THE VERDICT: Fitzroy Island is a great winter reef day tour for people wanting to enjoy the sunshine and combine swimming and snorkeling with other adventurous activities, such as mountain walks and sea kayaking. The walks are free (with amazing views), sea kayaking, the ocean trampoline and other activities are in addition to your ticket price. Families will enjoy the day with the island's sheltered harbour providing a lovely environment for swimming and relaxing, although the coral beach can be a little "hard" underfoot and towel. Snorkelling near the rocks is good, allowing you to see hard and soft corals as well as several varieties of Great Barrier Reef fish.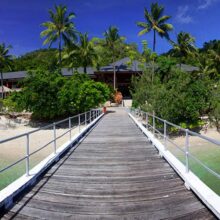 Fitzroy Island boat transfers with Fitzroy Island Adventures offer a fast quick transfer service to the beautiful Fitzroy Island.
Click the links below to find out more.
Can't decide? We have personally been on every Cairns reef and diving trip. We can help you choose the best tour, to suit your experience and budget.
FREE UNDERWATER CAMERA HIRE*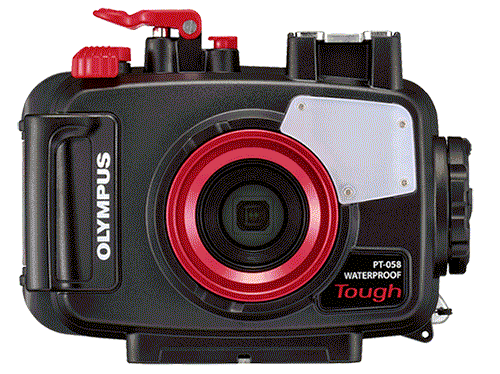 Spend over $550.00 AUD on your Great Barrier Reef tour with us and receive the latest Digital Underwater Camera Hire. Take amazing High-Resolution images and 1080 HD Video.
Not available for any tours to the Islands as fine white sand damages the seals on the cameras and makes them leak!
You need to come into our shop located on the Cairns Esplanade the day before departure to pick up the camera before 5:30 pm. You also need to supply your own SD Camera Card and drop the camera off back at our shop before 5:30pm.
Please Remember there is no other way to collect our cameras! All passengers must come into our shop the day before departure day before 5:30 pm.