Pro Dive Cairns: 3 Day Liveaboard Review
Cairns Dive Adventures Trip Review
Pro Dive Cairns provides professional, liveaboard certified and learn to dive trips to the Great Barrier Reef. The crew is friendly and efficient. The liveaboard vessel is comfortable, with shared amenities, an air-conditioned interior lounge and spacious exterior sun deck. Meals are generous, hearty and regular, ensuring your internal tank is kept filled for the...
Pro Dive Cairns: 3 Day Liveaboard Review
Pro Dive Cairns' 3 Day Liveaboard Trip to the Great Barrier Reef provides the chance to enjoy swimming, snorkeling and up to 11 scuba dives, including two night dives, on Cairns' southern reefs. Dive locations vary and are chosen to maximize your dive experience, pending the conditions and weather on your trip. The reefs we visited on this trip were Milln and Flynn, which offered an excellent variety of diving experiences, including drift diving, deep diving and swim throughs. Internationally recognised as a PADI 5 Star Training and Instructor Development Centre, Pro Dive Cairns allow you to combine your liveaboard trip to the Great Barrier Reef with a Learn to Dive Open Water Course, Adventure Course or Advanced Course. On this trip, my dive buddy completed a PADI Advanced Dive Course, which means he is now licensed to dive to depths of 30m. The course also covered peak performance buoyancy, underwater navigation, night diving and underwater photography.
Pro Dive Cairns has three (3) liveaboard vessels, each named Scubapro (the original, Scubapro II and Scubapro III). These functional, monohull dive vessels have shared amenities, interior lounge and exterior sundeck, which are kept in good order by the hard working crew, throughout the trip.
DAY 1. Our Cairns liveaboard diving adventure on the Great Barrier Reef commenced at 6.15am on Sunday 12 June at the Pro Dive Cairns store, on the corner of Grafton and Shields Streets. We made our own way there, being residents of Cairns, but coach transfers were provided for others, with all guests arriving promptly for check-in and registration. Once everyone was accounted for, we were transferred to Scubapro, which was moored at Cairns Marlin Marina.
Welcomed aboard by the crew, we were invited to enjoy some much appreciated breakfast which consisted of a selection of fresh fruit (watermelon, pineapple and rockmelon), croissants, ham and cream cheese, raisin toast, crumpets, muffins and all the condiments, complemented with fresh tea and coffee. As we settled in to eat, the crew prepared Scubapro for departure and our Trip Director Chris provided an orientation of the ship and issued each guest a safety and cabin number. On receipt of these, we were asked to take our bags through to our cabins and return to the air-conditioned lounge.
The cabins were located across three levels, some providing ocean views, with accommodation ranging from bunk-style to double beds. At 7.15am, the 23.95m monohull Scubapro commenced its 50km, three (3) hour trip to Milln Reef, pulling out of Marlin Marina under an overcast winter sky with dappled shadows on the rainforest mountains surrounding Cairns, as the early morning sunlight tried to break through.
As we set out, Chris played a video presentation which covered all aspects of safety and ship rules during our three day liveaboard dive trip to the Great Barrier Reef, including information on the never ending fruit bowl and complimentary tea, coffee and biscuits. At its completion, Chris ran through a few other important topics, including sea sickness. He suggested that if anyone did suffer from this condition, then it was a good idea to take some preventative medication now, before Scubapro left Cairns' protected harbour; tablets were available on-board for guests who had not brought their own.
Chris then spoke about the fridges and the on-board honour system for soft drink and chocolates etc, as well as outlining the location of the water bubbler (top deck) and reminding everyone about the importance of staying hydrated throughout the trip, taking advantage of the complimentary Pro Dive Cairns water bottles supplied to each guest.
No alcohol is provided to passengers on this trip, or available for sale on Pro Dive Cairns; however, guests are invited to bring their own and a fridge is provided for this. (This is told at the time of reservation, so many guests had brought along beer and wine).
Afterwards, guests were broken up into their dive 'groups' for briefings: there were two groups of divers who were completing their Open Water License (a German speaking group and an English speaking group), five (5) divers participating in an Advanced Dive Course, one (1) snorkeler and the rest of the guests were qualified Open Water divers enjoying the liveaboard dive trip to the Great Barrier Reef.
Briefings complete, dive passengers headed to the dive deck to set-up their equipment for the trip ahead. Each passenger was provided with a tank, mask and fins, snorkel (Queensland law requires diving with a snorkel), BCD, regulators, weight belt and wet suit.
With everything set, we dispersed across the ship to enjoy the trip out to the Great Barrier Reef. Conditions were not favourable on this day with winds blowing around 20 knots, creating quite a bit of movement on-board Scubapro. Some guests, who had not taken notice of the earlier warnings, did feel the effects of sea sickness during transit, but were mostly recovered by the time we reached the sheltered waters and mooring of our first dive location at Petaj on Milln Reef.
DAY 1 – DIVE 1: MILLN REEF "Petaj". On arrival, Chris provided a dive briefing on the top deck, complete with dive site map and directions on orientation and recommended maximum dive depth and time. Excited passengers prepared for their first dive on the Great Barrier Reef, pulling on 5mm wet suits in preparation for the 23 degree (Celsius) winter water temperatures.
Splashing down at 11.22am, we descended into the blue water and almost straight away spotted our first Cuttlefish. It's amazing that no matter how many times we have dived the Great Barrier Reef, we still see something "new" (for us) each time. The clear waters were home to a range of hard and soft corals, including some gently waving Daisy Coral. Exploring Petaj we saw a White-tipped Reef Shark, Pink Anemonefish, Humbugs, Sea Squirts, Bi-colour Angelfish, Sea Stars, Coral Cod, Trumpetfish, Moorish Idol and schools of Yellow-tailed Fusiliers, to name just a few things. This dive ended at 12.05pm and had a maximum depth of 18m.
Surfacing, we climbed aboard Scubapro and enjoyed a hot shower before changing for lunch, a delicious selection of fresh salads (pasta, rice, tomato and Greek) accompanied by pumpkin soup, baked potato with sour cream and cheese, cold meats and fresh bread.
After lunch, those participating in the Advanced Dive Course, again met with Dive Instructor Pierre Halle who explained the fundamentals of the first learning dive of the course, which would focus on mastering peak performance buoyancy. [I had previously completed a PADI Adventure Dive License, so did not participate in this, but listened in and then joined them on the dive later that afternoon.]
DAY 1 – DIVE 2: MILLN REEF "Petaj". This was the first dive of the Advanced Dive Course and involved practicing the skills to master performance buoyancy. Instructor Pierre Halle came equipped with hoops and weights, an interesting combination as we entered the water at 2.42pm. Taking the five (5) Advanced Students to a sandy patch on the ocean floor at 12.9m Pierre settled them in a semi-circle and demonstrated using breathing to control buoyancy. Skills practised included hovering vertically, face down, not using your hands to control your movement and swimming through the hoops, hopefully without hitting your tank or fins on the way through. As I watched with some amusement, a Blue-spotted Stingray cruised past and Headband Humbugs darted in and out of a nearby cluster of Staghorn Coral. Ending the exercise at around 3.20pm, the divers slowly made their way back to Scubapro passing a large Granulated Sea Star on the way and pausing with the fish near the water's surface.
Back on-board, it was time for another quick, hot shower and change, before continuing the Advanced Course instruction with Pierre. On the next dive, students would be learning / practising underwater navigation. Pierre explained the fundamentals, showed how to use the compass and outlined the exercise to be completed underwater. As the class continued, Scubapro moved to its second dive destination for the day, Whale Bommie.
DAY 1 – DIVE 3: MILLN REEF "Whale Bommie". The afternoon was drawing to a close for the third dive of the day, with everyone entering the water around 4.41pm. As this was the second practical / instruction dive of the Advanced Course, Pierre again led the group of student divers to settle on a sandy patch at 14m. He quickly commenced the exercise, which required each diver to navigate an underwater square, heading out a required number of kicks in each direction, until it was completed, returning them to the start point. I accompanied my dive buddy on this exercise, which ended with us completing a fairly precise underwater triangle. Along the way, we saw several streaming schools of Variable-lined Fusiliers, Dash-dot Goatfish and Clark's Anemonefish.
Once each diver had completed their exercise, we made our way back to Scubapro seeing a Barramundi Cod, Yellow-tailed Fusiliers, Leopard Sea Cucumbers, Butterfly Fish, Juvenile Midnight Snappers and a large Humphead Maori Wrasse. The dive ended at 5.20pm.
Another hot shower and change saw us back inside enjoying a hearty dinner of chicken curry, served with yoghurt, cucumber and poppadums as accompaniment. Outside, the sun set over the Coral Sea and a starry night sky sparkled in the cool night air. It's winter in Cairns in June and the outside temperature was around 12 degrees (Celsius): we were not looking forward to getting back into the wet wetsuits for our night dive.
DAY 1 – DIVE 4: MILLN REEF "Whale Bommie". The night dive was a part of the Advanced Course and Pierre provided his diver students with torches and glow sticks, before entering the cool water at 7.34pm. This dive lasted around 40-minutes and highlights included seeing a sleeping turtle and several Bumphead Parrotfish and Red Bass.
Back on board, it was time for another hot shower (and these were mightily enjoyed by everyone) before we kicked back with a cold beer and reflected on our first day. It had been an early start and a big day of diving, so many guests retired relatively early (around 9.30pm), while others stayed up to discuss their adventures on the Great Barrier Reef.
DAY 2. Our second day started with a 6.30am wake-up call and delicious breakfast of bacon and scrambled eggs, toast, muffins and condiments, tea and coffee, fresh fruit and yoghurt. Outside, the sun was shining in a clear blue sky, which had dawned with a brisk, cool, morning breeze.
After breakfast, Pierre gathered everyone together to discuss the next dive in the Advanced Course: the deep dive. This morning divers would descend to around 30m, where Pierre would provide some demonstrations on the difference in visibility of colours, compression and air consumption: some underwater navigation training would also be practised on this dive. The safety aspects were clearly outlined and everyone was nervous and excited.
DAY 2 – DIVE 5: MILLN REEF "Whale Bommie". Entering the choppy waters at 7.35am we swam a little way on the surface, to conserve tank air, before descending on Whale Bommie and swimming along until we reached a maximum depth of 26.3m. Here, Pierre checked everyone's air and commenced his underwater presentation. Before we knew it, we had all reduced our air to around 100 – 120 bar, so we commenced our safe return to the surface and Scubapro vessel.
Other than it being a deep dive, we also saw many Great Barrier Reef fish and residents including a stunning Gorgonian Sea Fan, White-tipped Reef Shark and Blue-spotted Stingray.
Back on board, it was definitely time for a hot shower and some coffee and cake to warm up. While we rested and enjoyed some sunshine on the top deck, Scubapro moved to nearby Flynn Reef and a new dive site, where we would enjoy our second dive of the day, this time a recreational dive, as opposed to being part of the course.
DAY 2 – DIVE 6: FLYNN REEF "Tennis Court". At 11.13am we splashed down on Flynn Reef and commenced our exploration of this new Great Barrier Reef dive site. There was an amazing diversity of marine life and corals and just some of the things we saw included: Yellow Damsels, Butterflyfish, Pennant Bannerfish, Coral Beauty, Orange-spine Unicornfish, Blue-face Angelfish, Striped Sweetlips, Half and Half Pullers, Harlequin Tuskfish, Spotted Boxfish, Orange-lined Triggerfish, an Ocellate Phyllidia nudibranch and schools of Yellow-tailed Fusiliers.
Making our way back to the boat at around 12pm we noticed a large Humphead Maori Wrasse was cruising along underneath it. This magnificent fish entertained the divers who were completing their safety stops and made a great photo opportunity for those who were climbing aboard, with their underwater cameras.
Meantime, it was lunchtime on Scubapro and everyone tucked into a veritable feast of mini pies and macaroni cheese, served with a selection of salads, including rice, tomato, green and Greek. The next dive of the day would be a part of the Advanced Course, so Pierre called everyone together for a briefing and some tuition on the next skill, which was underwater photography.
For those that did not have their own cameras, Pro Dive Cairns had underwater cameras available for hire (at $35 per dive). Pierre explained the preferred / best underwater photo composition (try to include a diver as a point of interest), distance from subject and effects of light. Afterwards, there was time to relax in the sunshine on the top deck, as Scubapro moved to a new dive site for the day and trip.
DAY 2 – DIVE 7: FLYNN REEF "Gordons Mooring". Armed with cameras, the Advanced Dive students entered the water with Pierre at 3.07pm on Monday 13 June, ready to try their new underwater photography skills. Gordon's Mooring proved a perfect site for this, delivering a range of delightful subjects, including nudibranchs (Elizabeth Chromodoris) and flatworms (Yellow and Black), resting Green Turtles, sprawling beds of Staghorn Corals, interesting compositions of Cabbage Coral and some swim throughs.
This dive ended at 3.58pm and was the last of the Adventure Dive Course. After a hot shower and change, everyone enjoyed a hearty dinner of Cottage Pie served with vegetables (broccoli, cauliflower and beans), bread and butter. It was another cool night and my dive buddy and I decided to enjoy a few glasses of red wine with dinner, rather than partake in the second night dive of the trip. We were in the minority though, with most other divers heading back into the water, keen to see some much talked about Reef Sharks. Once they had completed their night dive, a warm desert of bread and butter pudding with custard was served.
Totally exhausted, I headed to bed early and slept soundly, while other divers discussed the logistics of creating an underwater pyramid, on one of the dives the following day. The wake-up call the next morning came around 5.30am, allowing time to enjoy the hot breakfast of baked beans and sausages, toast, muffins and crumpets, fresh fruit and yoghurt, before our first dive at 6.30am.
As Scubapro moved to a new dive site, Chris provided a dive briefing on the top deck and explained that one feature to look out for was a large bommie clustered with Clark's Anemonefish and schools of large Bumphead Parrotfish, who might be retiring after a long night of grazing on coral. Briefing complete, it was down to the dive deck and into our cold, wet, wetsuits for the first dive of our last day on this winter liveaboard diving adventure on Cairns' Great Barrier Reef.
DAY 3 – DIVE 8: FLYNN REEF "Little Traceys". It was slightly overcast as we entered the water at 6.44am, which meant conditions for photographers – sans strobe – were not great. This was a shame as we found the bommie Chris had explained during the briefing and it was indeed home to many, many Clark's Anemonefish of all sizes. Despite not getting photographs, it was a delightful spectacle, enjoyed by all of the divers. Heading back to Scubapro we also stumbled across a school of large Bumphead Parrotfish, who looked magnificent in the deep blue waters. Back at the boat at around 7.30am another giant Humphead Maori Wrasse was waiting, obliging those with an underwater camera with some more great pictures.
As this was our final day on the Great Barrier Reef, the time between dive one and two was short and we were back on the top deck for another dive briefing, before you knew it.
DAY 3 – DIVE 9: FLYNN REEF "Traceys". Into the water at 9.06am, we headed out to explore the new dive site of Tracey's. Features and highlights of this dive included seeing large coral bommies with massive Plate Corals, sheltering Dotted Sweetlips, almost neon green Sea Stars, two glorious flat worms, several nudibranchs, Christmas Tree Worms, hard and soft corals and a Magnificent Anemone home to several Pink Anemonefish. This dive ended at 9.52am and had a maximum depth of 18.4m.
Another short break between dives, as the Scubapro crew prepared the divers and vessel for its return to Cairns. A final briefing was provided and Chris outlined the final dive procedures to guests, which included returning equipment into containers for the return trip, having a quick hot shower and lunch, so the boat could pack-up and commence its homeward motor.
DAY 3 – DIVE 10: FLYNN REEF "Traceys". On our final dive of the trip, the first point of business was to complete the much talked about underwater diver pyramid. Everyone came together quite quickly (impressive actually) and after some photos, we headed out to explore Traceys. This dive of the trip was a relatively shallow one, reaching a maximum depth of 14m, but spending most of the time around 8m. This proved perfect for underwater photos, as our exploration of the shallows ensured there was plenty of light. We saw a wide selection of Great Barrier Reef fish and hard and soft corals. Towards the end of the dive (and our camera battery) we came across a Green Sea Turtle, cruising slowing around the reef site, much to the amazement and excitement of other divers. Chris had told us to be back on board no later than 12pm, so keeping an eye on the clock; we arrived back at Scubapro at 11.49am.
Out of the water, we had a quick hot shower, changed and grabbed a filling lunch of focacia, cold meats and selection of salads. While we ate, the crew worked feverishly to pack up the dive deck and prepare Scubapro for departure, which was done with speed and efficiency.
All too soon, Scubapro had commenced its return motor to Cairns. This time guests who were caught unawares on the trip out, made sure to take sea sick tablets before we started the journey and everyone enjoyed the sunshine on the top deck during our three (3) hour trip back to port.
Arriving at Cairns' Marlin Marina around 3.30pm, we were transferred from the boat back to the Pro Dive Cairns store where the Advanced and Open Water Divers had their photos taken for license purposes and outstanding paperwork and accounts were completed. Complimentary coach transfers were provided to guests and everyone was invited to meet up for a post-trip dinner and drinks at Rattle-n-Hum that night.
TOP TIPS:
Sea sickness tablets and medication is recommended. These are preventative only and should be taken as a precaution before travel. If you have been sea sick before, or think you may suffer from motion sickness, then plan for this in advance, as there is nothing worse than being caught out and feeling unwell on your Great Barrier Reef liveaboard dive trip, especially when it could be easily prevented by taking some tablets.
In winter, the water and weather is cool in Cairns and on the Great Barrier Reef. Bring warm, comfortable clothes including jackets and track pants or similar.
On the above note, if you are bringing your own wetsuit, we recommended a minimum of 5mm to ensure diver comfort in the water.
Hire an underwater camera before you go: it is much cheaper to hire an underwater camera in Cairns for the duration of the trip, rather than on a per dive basis on the boat.
Take two towels with you: this is recommended by Pro Dive Cairns and trust me, you'll appreciate the dry towel for your shower at night.
THE VERDICT: Pro Dive Cairns provides professional, learn to dive trips and liveaboard certified dive trips to the Great Barrier Reef. The crew is friendly and efficient. The liveaboard vessel is comfortable, with shared amenities, an air-conditioned interior lounge and spacious exterior sun deck. Meals are generous, hearty and regular, ensuring your internal tank is kept filled for the diving and swimming completed during the trip. Complimentary water bottles are provided and are a great way to stay hydrated, thanks to the filtered water cooler on the top deck. The dive deck and equipment were well maintained and there was a focus on passenger safety during the dive briefings and headcounts. Dive Instructors were friendly and informative, ensuring guests enjoyed their dive courses, while still having time for recreational dives.
Get your PADI Advanced Open Water Certification on this 3 day / 2 night trip. Must already have Open Water Dive License. Includes accommodation, training, meals and more.
Click the links below to find out more.
Can't decide? We have personally been on every Cairns reef and diving trip. We can help you choose the best tour, to suit your experience and budget.
FREE UNDERWATER CAMERA HIRE*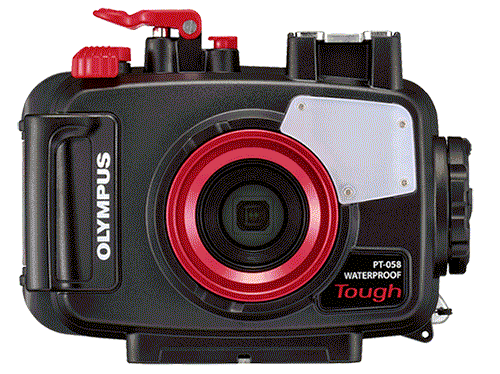 Spend over $550.00 AUD on your Great Barrier Reef tour with us and receive the latest Digital Underwater Camera Hire. Take amazing High-Resolution images and 1080 HD Video.
Not available for any tours to the Islands as fine white sand damages the seals on the cameras and makes them leak!
You need to come into our shop located on the Cairns Esplanade the day before departure to pick up the camera before 5:30 pm. You also need to supply your own SD Camera Card and drop the camera off back at our shop before 5:30pm.
Please Remember there is no other way to collect our cameras! All passengers must come into our shop the day before departure day before 5:30 pm.