Passions of Paradise – Review
Cairns Dive Adventures Trip Review
Passions of Paradise offers guests an award winning, Adventure Tourism experience on Cairns' Great Barrier Reef and at Michaelmas Cay National Park. Combining these two elements allows Passions' guests to explore the open waters of the Great Barrier Reef and swim in the shallow, protected waters surrounding the cay, which are bursting with marine life…
Passions of Paradise – Review
Passions of Paradise offers guests an award winning, Adventure Tourism experience on Cairns' Great Barrier Reef and at Michaelmas Cay National Park. Combining these two elements allows Passions' guests to explore the open waters of the Great Barrier Reef and swim in the shallow, protected waters surrounding the cay, which are bursting with marine life and some of the largest and most impressive giant clams you will ever see. Passions of Paradise's 25m sailing catamaran has an air-conditioned interior and exterior sun deck on the bow, complete with trampolines, for relaxing comfort and enjoyment. Locally owned and operated the friendly crew ensures a great day out.
Winter has officially begun in Cairns and for locals the evenings are chilly (16 degrees Celsius), with dawn breaking on startling clear blue skies. Our Passions of Paradise day tour commenced with check-in at Cairns' Reef Fleet Terminal at 7.15am. Boarding commenced at 7.30am and we were welcomed aboard by a friendly, enthusiastic crew who invited us to grab a complimentary tea or coffee and some delicious mini-muffins.
There are 80 guests aboard Passions of Paradise today, which is very nearly a full boat. Passengers dispersed around the vessel, some choosing to catch the early morning sunshine on the bow, while others settled into the comfortable interior seating.
As Passions of Paradise departed Cairns at 7.50am, the crew introduced themselves and provided a full orientation of the ship, its safety features and the day ahead. As an Advanced Ecotourism accredited operator, Passions of Paradise are committed to ensuring the reef's protection and their guests' education and enjoyment of this natural paradise. Some top tips on reef protection were covered during the introduction, including not throwing anything overboard.
Of today's passengers, four (4) are certified divers, 22 guests are trying an introductory dive and the remaining 54 will be snorkeling. During the two (2) hour to trip to the Great Barrier Reef, these guests are broken up into groups and provided with relevant safety and introductory briefings.
The Passions of Paradise dive crew is committed to providing introductory divers with excellent tuition and custom service in safety and delivery of their first underwater dive experience. The 22 intro divers are broken up into three (3) groups and each Dive Instructor will be responsible for four (4) divers at a time.
While the introductory dive briefing commences inside, certified divers meet on the back deck. Most of today's divers have Open Water certification and all certified dives on Passions of Paradise are guided. Our Dive Master today is Jarrod, who has been with the company for just over a year. He is excited about our first dive site of the day 'Long Bommie', which has just 'opened' three days ago.
'Long Bommie' is situated on the Breaking Patches Reef about 2km off Michaelmas Cay (45km north east of Cairns). The site has not been visited by Cairns' day tour boats for 15 years and as Jarrod explains some of its key features, including swim throughs and wall dives, his enthusiasm is contagious. Our first dive of the day will be at 10.30am with a maximum depth of 18m. After providing equipment, including wet suits (which we very much appreciated when we entered the 24 degree water), and completing the dive and safety briefing, we relaxing in the sunshine and enjoyed the smooth trip out to the reef.
A snorkel briefing was also provided during the transit, with those guests provided with masks and fins: lycra suits and wet suits are available to snorkelers, as an optional extra. Other optional extras available include a Glass Bottom Boat Tour with a marine biologist ($20) and underwater camera hire ($45) both of which can be booked at the bar on the day.
Arriving at Long Bommie, the certified divers are the first into the water, descending on to Long Bommie where we are immediately surrounded by swarming schools of several varieties of Fusiliers, including Yellow-tailed, Variable-line and Scissor-tails.
This impressive site delivers on large Gorgonian Sea Fans, Sea Whips, Encrusting Coral, Table Coral, Anemones, Purple Sea Squirts, Colonial Sea Squirts and a diverse and numerous array of Great Barrier Reef fish. We enjoyed the wall dive and swim throughs and were amazed at one particular car-sized coral bommie, that seemed to attract schools of fish from all over the site.
Surfacing, we enjoyed a snorkel at Long Bommie, watching the introductory divers exploring the underwater world beneath us. At high tide, the corals were a few metres underneath the water but we did see an octopus, several Black Anemonefish and multiple damsels.
Back on board Passions of Paradise, I enjoyed a hot shower before heading in for lunch which included a delicious range of fresh salads, cold prawns and meats, bread rolls and two types of curry (beef and coconut vegetarian), as well as a fresh fruit platter.
Head count complete, Passions of Paradise motored the short distance to Michaelmas Cay. This is one of the most important seabird breeding sites within the Great Barrier Reef Marine Park, and it was amazing how many birds were on the cay!
This afternoon there was a choice of guest activities: more introductory diving, a Glass Bottom Boat Tour, snorkeling, relaxing on the white sands of Michaelmas Cay or a second certified dive, this time on Banana Bommie.
Opting for a second dive, we transferred to Banana Bommie and did a giant stride entry off the Glass Bottom Boat at 1.10pm. Banana Bommie was home to a range of Nudibranchs, hard and soft corals, Great Barrier Reef fish (including Moorish Idol, Harlequin Tuskfish, Coral Trout, Dotted Sweetlip, Damsels and more) Sea Fans, little clams and I even spotted an Anemone Shrimp! This dive had a maximum depth of 14.1m.
From here we transferred to Michaelmas Cay and snorkeled our way back to Passions of Paradise. The warm, protected waters surrounding the cay proved brilliant for snorkelers! Some of the largest, most impressive and colourful Giant Clams we have ever seen rested in the shallow water. We saw many Great Barrier Reef fish darting amongst the coral bommies, including Picasso Triggerfish, Six-banded Wrasse, Butterflyfish and more. Approaching Passions of Paradise, we also saw several Black-striped Cardinalfish nibbling on the algae growing on the mooring line.
Back on board it was nearly 2.30pm and time for Passions of Paradise to begin its homeward journey. Headcount complete and guests fully satisfied with their amazing day on the Great Barrier Reef, the trip home commenced, complemented by an informative Marine Biologist presentation, allowing guests to learn more about what they had seen and ask questions. This was followed by complimentary cheese and crackers and sweet biscuits, which we washed down with a few beers from the on-board bar.
As promised, Passions of Paradise did sail for part of the homeway journey, but lack of winds meant some of the trip was also completed under motor to ensure we arrived back into Cairns on time, around 5pm.
THE VERDICT: Passions of Paradise delivers an amazing day tour to Cairns' Great Barrier Reef, combining Outer Reef with Michaelmas Cay. This diversification in experience allows guests of all swimming, snorkeling and diving abilities to enjoy the wonders of the Great Barrier Reef Marine Park. The crew is very friendly, committed to ensuring each and every guest is looked after from the very beginning to the very end of their day. As expected of an award winning product, the boat and equipment is in excellent condition and the trip is comfortable and peaceful. This is an excellent day tour for snorkelers and introductory and certified divers, combining the Great Barrier Reef with Michaelmas Cay.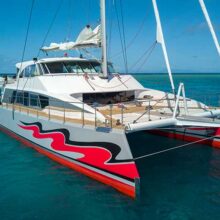 Australian Tourism Award Winner. Daily dive/snorkel trips to Paradise Reef, Hastings reef, and more on 25m sailing catamaran. Free scuba demonstration & guided snorkel tour. Hot / cold buffet lunch.
Click the links below to find out more.
Can't decide? We have personally been on every Cairns reef and diving trip. We can help you choose the best tour, to suit your experience and budget.
FREE UNDERWATER CAMERA HIRE*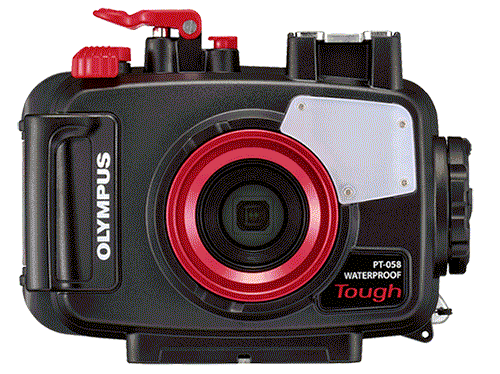 Spend over $550.00 AUD on your Great Barrier Reef tour with us and receive the latest Digital Underwater Camera Hire. Take amazing High-Resolution images and 1080 HD Video.
Not available for any tours to the Islands as fine white sand damages the seals on the cameras and makes them leak!
You need to come into our shop located on the Cairns Esplanade the day before departure to pick up the camera before 5:30 pm. You also need to supply your own SD Camera Card and drop the camera off back at our shop before 5:30pm.
Please Remember there is no other way to collect our cameras! All passengers must come into our shop the day before departure day before 5:30 pm.