Passions of Paradise – December Diving Review
Cairns Dive Adventures Trip Review
December in Cairns can be hot and stormy, but out on the Great Barrier Reef with Passions of Paradise, its picture perfect with excellent visibility, friendly crew and experienced dive masters. A great day out – enjoyed by all on board.
Passions of Paradise – December Diving Review
It's nearly Christmas in Cairns and on the Great Barrier Reef, the natural decorations provided by colourful corals, vibrant fish and the aptly named Christmas Tree Worm, create the perfect setting for tropical, festive fun.
Yesterday, we enjoyed an amazing day of December diving with Passions of Paradise. The warm waters of the Coral Sea were crystal clear and so blue it nearly hurt your eyes, visibility was excellent and beneath the surface was a whole new world to explore.
Starting at the beginning though, we checked in at the Reef Fleet Terminal at 7.30am before boarding the 25m Passions of Paradise sailing catamaran where tea, coffee and muffins were being served. Heading out to sea at 8am the waters were flat and the sky a little overcast, following a stormy night in Cairns complete with thunder, lighting and torrential rain, the night before.
The day looked peaceful though and with good conditions, Passions of Paradise transferred us smoothly from Cairns to the Outer Great Barrier Reef. During the journey dive medicals and briefings were completed and certified and introductory divers were divided into groups, to maximize our dive conditions and time.
The first stop of the day was at Passions of Paradise's exclusive mooring at Paradise Reef, where the coral reached up from the seabed to lie just beneath the surface. As the first dive group slipped beneath the waves, we had an hour to snorkel and explore. Highlights included the warm waters, amazingly blue surrounds, drop offs, rainbow-coloured parrotfish and as expected, anemone fish (better known as clown fish), were a big delight for everyone.
Our first dive of the day allowed a more thorough exploration of Paradise Reef. While some introductory divers enjoyed their first ever underwater experience on the Great Barrier Reef with the Passions of Paradise dive masters, certified divers headed out with their buddies. Visibility was 20m and the dive was amazing.
With excellent timing, we climbed back aboard Passions of Paradise just as a hearty and delicious buffet lunch of chilled prawns, cold meats, salads and chilli beef with rice was being served. There were also plenty of breads and tropical fruits, which everyone enjoyed as Passions of Paradise made its way to the second destination for the day, Michaelmas Cay.
Michaelmas Cay is a sand cay island in the middle of the Great Barrier Reef, home to nesting and migratory sea birds, who have their own secure section of the island, where visitors are not allowed to walk. Its shallow, protected waters, sandy bottoms and diverse marine life make it another destination that is perfect for snorkelers and divers.
Huge schools of bat fish and giant trevally were waiting for us as soon as we entered the water. Kicking away we explored the hard coral bombies, soft corals and fan corals. A personal highlight was the Christmas Tree Worms: so delicate, bright and beautiful they looked as though they belonged in a store. Fortunately, most of the actual worm is burrowed into its host coral and the colorful plumes we see are in fact tentacles, gathering food in the drifting current. They retract these 'fluffy' tentacles when distributed, but if you are patient enough, they will burst forth again. Although they are small (only about 4cm high) there are numerous across the corals of Michaelmas Cay and very beautiful.
Other Michaelmas Cay December dive encounters included a few different species of anemone fish, butterfly fish, a stingray, upside down jellyfish (so small and cute!) long nose butterfly fish, giant clams, a turtle and many, many, neon coloured damselfish, darting in and out of the staghorn corals. There was of course so much more, the Great Barrier Reef is a diverse ecosystem home to more than 1,200 species of fish from 130 different families, but these were the memorable moments of the day for me.
Another well timed departure from the water saw us climb aboard just as the Passions of Paradise crew were preparing for departure. The large bat fish and giant trevally who had kept us company during the dive were rewarded with a feed of prawns, as we started our return back to Cairns.
Turning off the engines and sailing home, Passions of Paradise guests relaxed on the sundeck and trampolines or went indoors for the marine biologist presentation. Cheese and crackers were served during the homeward journey, which were best accompanied by beers from the onboard bar.
December in Cairns can be hot and stormy, but out on the Great Barrier Reef with Passions of Paradise, its picture perfect with excellent visibility, friendly crew and experienced dive masters. A great day out – enjoyed by all on board.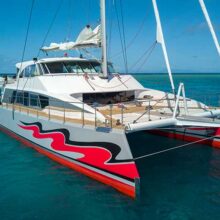 Australian Tourism Award Winner. Daily dive/snorkel trips to Paradise Reef, Hastings reef, and more on 25m sailing catamaran. Free scuba demonstration & guided snorkel tour. Hot / cold buffet lunch.
Click the links below to find out more.
Can't decide? We have personally been on every Cairns reef and diving trip. We can help you choose the best tour, to suit your experience and budget.
FREE UNDERWATER CAMERA HIRE*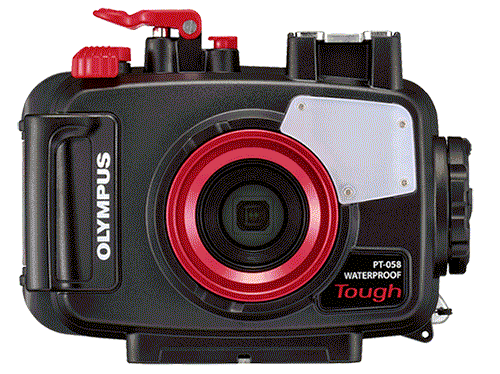 Spend over $550.00 AUD on your Great Barrier Reef tour with us and receive the latest Digital Underwater Camera Hire. Take amazing High-Resolution images and 1080 HD Video.
Not available for any tours to the Islands as fine white sand damages the seals on the cameras and makes them leak!
You need to come into our shop located on the Cairns Esplanade the day before departure to pick up the camera before 5:30 pm. You also need to supply your own SD Camera Card and drop the camera off back at our shop before 5:30pm.
Please Remember there is no other way to collect our cameras! All passengers must come into our shop the day before departure day before 5:30 pm.