Ocean Freedom Autumn Review
Cairns Dive Adventures Trip Review
Ocean Freedom guarantees less travel time and more time on the reef. They deliver on this promise, with guests having ample time to enjoy all of the activities and destinations, whilst also having the chance to just relax and soak up the beauty of the day. The cruiser is fast and comfortable. The crew is...
Ocean Freedom Autumn Review
Ocean Freedom is Cairns Premier Reef and Island Tours' luxury 20m cruiser, providing day tours to Cairns' Great Barrier Reef and Upolu Cay. This fast, comfortable vessel provides guests with up to six (6) hours to explore the reef and cay. There is ample time to enjoy two scuba dives, snorkeling, and a glass bottom boat tour, and still have time to relax on the spacious sun decks and bow. The equipment is well maintained, crew very friendly and reef destinations offer excellent conditions for swimmers, snorkelers and introductory and certified divers. A great day out on the Great Barrier Reef!
The morning of our Ocean Freedom tour began clear and sparkling, a great start to the day ahead. Checking in at Cairns' Reef Fleet Terminal at 7.15am we wandered around Marlin Marina enjoying the morning sunshine, before boarding Ocean Freedom at 7.30am for an 8am departure.
The friendly crew welcomed us aboard, showing us the guest lockers, where we could stow our bags and then offering fresh tea, coffee, fruit platter and selection of delicious pastries. Grabbing a coffee and some fruit, we headed to the top sun deck to enjoy the views. As Ocean Freedom started to depart Cairns, the crew for the day – Mike, Pascal, Jimmy, Kim (and Skipper Rob) – provided a safety briefing and outlined the day ahead.
Ocean Freedom is surveyed to carry up to 150 guests, but numbers are limited to ensure maximum passenger comfort and enjoyment. Today, there are 35 guests aboard. Everyone is offered the chance to enjoy an introductory scuba dive and no experience is necessary. Ocean Freedom has a 2 for 1, introductory diver / scuba diver instructor ratio, which makes this a comfortable and safe experience for first time divers.
As Ocean Freedom picks up speed, the dive briefings are conducted downstairs. Today there are three (3) certified divers on board and about half the passengers opted to try an introductory dive. All Ocean Freedom dives are guided; ensuring guests see the very best of each reef location.
Our French dive guide Pascal, talked us through the day of diving ahead. Our first dive would be on Upolu Reef's 'Wonder Wall' at 9.30am. Entry would be giant stride from the back deck, with a maximum dive time of 50-minutes and depth of 12m. The second dive location and timing would be pending conditions.
The briefing complete, we enjoyed standing in the sunshine on the prow, as Ocean Freedom cruised at top speed to the Great Barrier Reef. Although it is not quite yet winter in Tropical North Queensland, the breeze is brisk for locals and the water temperature on Cairns' Great Barrier Reef is already down to 24 degrees Celsius (cold for Cairns divers). Complimentary short-leg wetsuits are provided to all guests, and fins, mask, snorkel, BCDs, weight belts and tanks are all included in the dive ticket price.
Ocean Freedom was the first Cairns boat to arrive on the reef and certified divers quickly prepared for their 'Wonder Wall' dive. Entering the clear blue waters, we were immediately surrounded by schools of fish. Spaghetti corals waved backwards and forwards in the gentle currents and we set off to explore the site with 8-11m visibility.
There were lots of different corals including Mushroom Leather Coral, Elephant Ear Sponge, Sea Fans, Brain Corals, Mushroom Coral, Daisy Coral and more. Amongst them swam schools of Great Barrier Reef fish, small and large.
Highlights of our first Ocean Freedom 'Wonder Wall' dive included seeing a few Clown Fish, darting in and out of their anemone home, Sea Squirts, Sea Fans, Diagonal-banded Sweetlip, several Trumpetfish, a Green Turtle, resting amongst the corals and holding a Sea Star. Making our way back to Ocean Freedom, we emerged through a school of Yellow-tailed Fusilier, who enjoyed the prawn treats provided by Pascal.
Back aboard, we relaxed on the sun deck, watching the excited introductory divers take their first foray into the underwater world. Without fail, each pair of divers emerged at the end of their 25-minute experience excited at scuba diving on the Great Barrier Reef.
Ocean Freedom also provides Glass Bottom Boat tours, on their newly refurbished Beach Buggy II. Most guests decided to participate in this and the tour set out at around 11am. Visibility was excellent and we passed over a range of corals and fish, enjoying a witty but informative commentary provided by Pascal.
Back at Ocean Freedom, we prepared for our second dive. This time the Ocean Freedom dive tender transferred us away from the boat, so we could enjoy a drift dive through a new site called 'Jaws'. Entering the water at 12.20pm, we descended onto another family of Clown Fish. After a few moments enjoying their antics, we set out to explore 'Jaws'.
Again, the amount and variety of corals and Great Barrier Reef fish at this site was impressive. Each and every trip to Cairns' Great Barrier Reef delivers a new experience for divers. This time we saw our first Stone Fish (super dangerous and not to be touched) as well as a very usual looking critter, that appeared to be a cross between an eel and something else. Pascal tells us it was a type of sea cucumber, speaking of which, we did see an excellent Leopard Sea Cucumber on this dive as well.
Other sightings on our second Ocean Freedom dive included a yellow Sea Squirt, several Giant Clams, Daisy Coral, Spaghetti Coral and a black and grey nudibranch. As we surfaced back at Ocean Freedom, the Yellow-tailed Fusiliers had been replaced by numerous, large, Bat Fish swarming around just beneath the boat.
Ocean Freedom undoubtedly has the best lunch of any Cairns' Great Barrier Reef day tour boat, and back on-board, we tucked in with enthusiasm. While we enjoyed a lunch of smoked salmon, chilled prawns, marinated chicken legs, assorted cold meats, pasta salad, green salad and fresh bread and butter, Ocean Freedom moved to its second destination for the day, Upolu Cay.
Approaching the cay, we noticed some kite-surfers had decided to take advantage of the stunning, slightly windy day to practice their sport on the Great Barrier Reef, making quite the photo opportunity and scenic panorama. Transferring to the cay aboard the glass bottom boat, Ocean Freedom guests enjoyed the warm waters close to the cay. To return to the boat, you could choose to participate in a guided Adventure Snorkel, self-snorkel or simply take a tender transfer.
We opted to self-snorkel and are so pleased! The clear waters were much warmer here and home to an abundant amount of marine life. Blue-spotted Stingrays rested on the sandy bottom and in the coral clusters and bomies, many Great Barrier Reef fish awaited discovery, including another variety of anemone fish, Clark's Anemonefish.
The coral was close to the water surface, making it excellent for snorkelers. Just some of the Great Barrier Reef fish we saw snorkeling at Upolu Cay included, but was not limited to: Yellow Damsels, Half-moon Triggerfish, Butterfly fish, Pennant Bannerfish, Blue-face Angelfish, Coral Beautys, Scissor-tail Sergeant, Half and Half Puller, Six-bar Wrasse, Bi-colour Goatfish, Spotted Boxfish, and a large school of Spotted Unicorn Fish.
Undoubtedly the highlight of our Upolu Cay snorkeling was spotting a juvenile Harlequin Sweetlip. This delightful little fish looked like a cross between a clown fish (for the colouring) and flatworm (for the graceful, dancer-like movement through the water). Not knowing what it was, we spent at least 15-minutes totally mesmerized by its movement through the water and delicate beauty. So enraptured were we by this little critter, we barely noticed the Elegant Phyllidia nudibranch, that shared the same patch of coral. Back on board Ocean Freedom we excitedly described what we had seen to the crew, and a big thanks to Kim, who identified it for us on the fish chart.
Cairns Premier Reef and Island Tours has Advanced Ecotourism Accreditation through Ecotourism Australia. This is in recognition of their commitment to provide Ocean Freedom guests with an informative, amazing and sustainable visit to the Great Barrier Reef. The staff were knowledge about the reef, its protection and critters, which really enhanced the experience of guests. Fish identification charts and books were available on-board, for the enjoyment of guests.
All too soon our Ocean Freedom day on the Great Barrier Reef and Upolu Cay came to an end, with the cruiser preparing for its return journey to Cairns, at around 3pm. On the homeward trip, we completed our dive log books and enjoyed the veritable feast of cheese and crackers, dried fruit and nuts and selection of cakes and sweet treats, all included in the ticket price. We also grabbed two beers from the licensed on-board bar, which had a great selection of beer, soft drink, juice and UDLs.
Ocean Freedom cruised back into Cairns at around 4.30pm, ending a magnificent day on the Great Barrier Reef.
THE VERDICT: Ocean Freedom guarantees less travel time and more time on the reef. They deliver on this promise, with guests having ample time to enjoy all of the activities and destinations, whilst also having the chance to just relax and soak up the beauty of the day. The cruiser is fast and comfortable. The crew is friendly, knowledgeable and caring, going out of their way to ensure everyone had a great day on the reef and cay. This is an excellent day tour for snorkelers and introductory and certified divers, combining the Great Barrier Reef with Upolu Cay.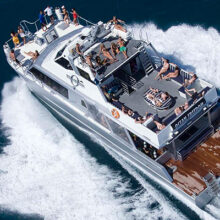 Locally owned & operated. 5 star service. Up to 6 hours snorkel / dive time at 2 Great Barrier Reef locations. Best reef tour lunch in town. Friendly crew, glass bottom boat tour & much more.
Click the links below to find out more.
Can't decide? We have personally been on every Cairns reef and diving trip. We can help you choose the best tour, to suit your experience and budget.
FREE UNDERWATER CAMERA HIRE*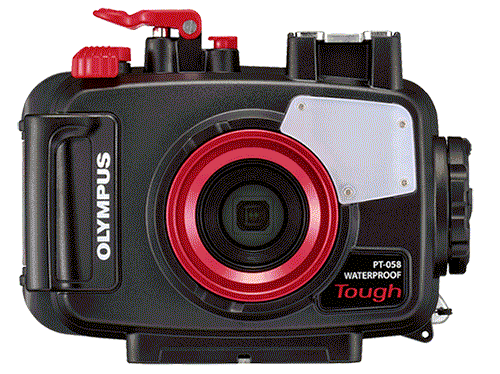 Spend over $550.00 AUD on your Great Barrier Reef tour with us and receive the latest Digital Underwater Camera Hire. Take amazing High-Resolution images and 1080 HD Video.
Not available for any tours to the Islands as fine white sand damages the seals on the cameras and makes them leak!
You need to come into our shop located on the Cairns Esplanade the day before departure to pick up the camera before 5:30 pm. You also need to supply your own SD Camera Card and drop the camera off back at our shop before 5:30pm.
Please Remember there is no other way to collect our cameras! All passengers must come into our shop the day before departure day before 5:30 pm.