Ocean Free – Green Island Review
Cairns Dive Adventures Trip Review
Ocean Free is the only Cairns day tour to combine sailing, snorkeling, diving, Green Island and the Great Barrier Reef. The 16m sailing schooner is charted to carry 52 but takes a maximum of 35 for passenger comfort (on our day there were 24). The crew is very friendly, welcoming and helpful. This is an...
Ocean Free – Green Island Review
Ocean Free is the only Cairns reef trip to combine sailing with snorkeling, diving, Great Barrier Reef and Green Island. This complete day tour is limited to a maximum of just 35 passengers per trip and is delivered on the 16m sailing schooner Ocean Free. Guests enjoy up to 4.5 hours exploring Pinnacle Reef and Green Island, morning and afternoon tea and a delicious buffet lunch. Very friendly crew, guaranteed sailing and reef and island time, make this a memorable day, perfect for divers and snorkelers.
Your Ocean Free day commences with check-in at Cairns Reef Fleet Terminal from 7.15am. It's been a wet week in Cairns, but today the sun is shining and we're greeted by clear blue sky with fluffy white clouds. Boarding Ocean Free is from 7.30am and we're welcomed aboard with a handshake from the friendly crew, complimentary tea, coffee and muffins.
There's downstairs space to stow your bags and shoes and you can choose between shaded seating in the cockpit, or relaxing in the sunshine on the forward decks. At 8.05am Ocean Free pulled back from the marina and started to head out.
As we commenced the 2-hour trip to Green Island, the crew unfurled the sails and provided an introductory and safety briefing. Snorkeling equipment was issued and divers completed their paperwork. It was a stunning day as we motor / sailed to Green Island with the sun shining overhead and several guests enjoyed relaxing under the sail, catching a cool breeze.
The voyage out was informative and light hearted, thanks to our time spent chatting with the Skipper Gordy, who was a wealth of information on the Great Barrier Reef and local dive sites and conditions. We even stopped to watch some dolphins playing in the blue waters of the Coral Sea.
Green Island is 27km offshore from Cairns and we arrived around 10.15am. Ocean Free has an exclusive mooring at Pinnacle Reef, about 1km from the island. Looking into the clear, crystal blue water we could see several Green Turtles around the boat.
Keen to enter the water, we enjoyed some snorkeling before the dive. Heading out, the first creature we spotted was another Green Turtle, resting on the soft corals below. Other snorkeling highlights were to see: Clark's Anemonefish, Scissor-tail Sergeants, Yellow-tailed Fusiliers, Six-banded Angelfish and Parrotfish.
Back at Ocean Free an hour later, we were ready for our guided dive with Robson. The dive depth was shallow (max 10.5m) so we enjoyed an hour under the water, exploring several coral bommies. Highlights included seeing: hard and soft corals, schools of glassfish; Dotted Sweetlips, Coral Rabbitfish, Cleaner Wrasse, Nudibranchs, Cardinalfish, Demoiselle, Yellow Damsels, Pineapple Sea Cucumbers, Feather Stars and plate corals.
Surfacing, it was back on to Ocean Free for a delicious buffet lunch of cold chicken pieces, ham, salami, roast beef, bread rolls and a trio of salads (potato, pasta and green). Cold drinks were available for sale on board, including chilled water and softdrinks. In the waters surrounding the boat, three Black-tipped Reef Sharks were hoping for some tid-bits, as were several Trevally and Red Bass. These 'big boys' were not intimidated by people and several guests entered the water again to try and get some pictures.
After lunch, Ocean Free provided a tender transfer to Green Island. This was optional, you could choose to keep snorkeling, or go and explore the island.
Green Island is the only Great Barrier Reef island to have tropical rainforest. It also boasts walking tracks, a resort (with bar, cafes and restaurants) and life guard patrolled beaches. We transferred over at 12.45pm and there were three return pick-up times: 1pm, 1.30pm and 2.30pm.
These three times allowed you to tailor your time on the island. Coming back at 1 and 1.30pm meant there was time for more snorkeling or a second dive. If you chose the 2.30pm return, it would be straight to the boat and departure to the mainland.
We wandered the rainforest pathways and enjoyed the interpretive signage on the island, its history, flora and fauna. After relaxing with a cool drink, we caught the 1.30pm tender back to Ocean Free so we could continue our exploration of Pinnacle Reef with some more snorkelling.
Our second snorkel commenced with a tender drop off from the main boat. Fom there, we floated gently back to Ocean Free, exploring the coral gardens beneath us. It must have been low tide, as we were close to the corals and saw several Giant Clams, schools of Yellow-tailed Fusiliers, Parrotfish, Butterflyfish and more.
At 2.45pm we were back on board Ocean Free and ready for departure. As the crew prepared the boat, several platters of refreshing, fresh fruit (pineapple, watermelon, rockmelon, orange, kiwi fruit and grapes) were passed around.
An hour later more delicious treats emerged from below, with the crew serving everyone a complimentary glass of wine and fantastic mixed cheese platter. It was around this time, the engines were turned off and we spent an hour under sail.
It must be said, the wind was not strong that day, so the amount of actual sailing we did was pretty limited – in regards to movement in the water – but the serenity was lovely! It was also the perfect time to congratulate two of the guests on board, who had become engaged while exploring Green Island. Nothing like some romance on the reef!
We then fired up the motor and continued our motor / sail back to Cairns. Final treats were served as we entered Trinity Inlet, with an assorted platter of cakes and slices passed around. Ocean Free moored at Marlin Marina about 5.10pm ending another fantastic day on the Great Barrier Reef.
THE VERDICT: Ocean Free is the only Cairns sailing day tour to combine sailing, snorkeling, diving, Green Island and the Great Barrier Reef. The 16m sailing schooner is charted to carry 52 but takes a maximum of 35 for passenger comfort (on our day there were 24). The crew is very friendly, welcoming and helpful. This is an excellent day tour option for those wanting to combine all of the above elements. Diving depth is shallow and conditions suitable for the inexperienced to experienced diver, with introductory diving available. Snorkelling conditions are good and having the time on Green Island makes it a well rounded day trip.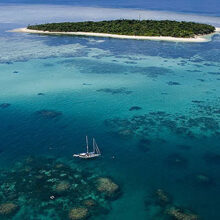 Unique Cairns to Green Island sailing day tour. Max number of guests = 25. Snorkelling & diving plus time on Green Island. Buffet lunch + morning and afternoon tea included. Friendly crew.
Click the links below to find out more.
Can't decide? We have personally been on every Cairns reef and diving trip. We can help you choose the best tour, to suit your experience and budget.
FREE UNDERWATER CAMERA HIRE*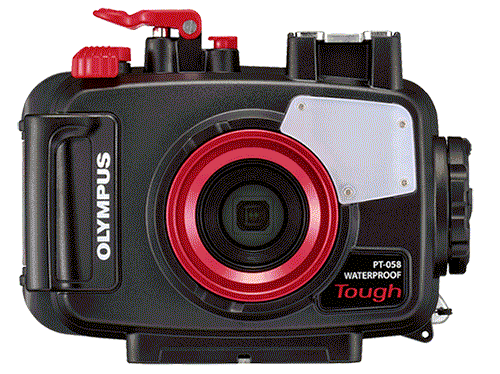 Spend over $550.00 AUD on your Great Barrier Reef tour with us and receive the latest Digital Underwater Camera Hire. Take amazing High-Resolution images and 1080 HD Video.
Not available for any tours to the Islands as fine white sand damages the seals on the cameras and makes them leak!
You need to come into our shop located on the Cairns Esplanade the day before departure to pick up the camera before 5:30 pm. You also need to supply your own SD Camera Card and drop the camera off back at our shop before 5:30pm.
Please Remember there is no other way to collect our cameras! All passengers must come into our shop the day before departure day before 5:30 pm.