Family Reef Trip Review – Reef Magic Cruises
Cairns Dive Adventures Trip Review
Family reef trip review from Cairns, with Reef Magic Cruises. This is an awesome day out with the kids. There's lots of inclusions and activities and plenty of things to keep the whole family happy. Highlights will include meeting 'Wally' (the big blue fish) and being amazed at the colourful, coral gardens.
Family Reef Trip Review – Reef Magic Cruises
Family reef trip review from Cairns, with Reef Magic Cruises. This is an awesome day out with the kids. There's lots of inclusions and activities and plenty of things to keep the whole family happy. Highlights will include meeting 'Wally' (the big blue fish) and being amazed at the colourful, coral gardens.
Lots families choose Cairns as a holiday destination. This city offers the very best of tropical living, with the reef and rainforest right on its doorstep. Planning a family friendly reef trip can be difficult, with so many options and boats.
That's why we thought we'd make it easy and provide a family reef trip review on our day with Reef Magic Cruises, at their Marine World pontoon. Our family is two adults (both certified divers) and a 4-year-old water lover, who was excited to meet Nemo.
The Reef Magic Cruises day tour commences with check-in at the Reef Fleet Terminal between 8-8.30am. From there it's a short walk to the boat, which is moored at Marlin Marina. Get ready for the photographer, who will take a cute holiday snap of you all before you board the boat.
The Reef Magic Cruises boat is a beauty, with plenty of space. It has 3 levels, 2 with air-conditioned interior and a top-level sundeck. There's complimentary tea and coffee on arrival on the boat. If you are diving (Reef Magic Cruises offers three types of dive experiences, certified diving, introductory diving with no experience necessary and helmet diving), you are provided with some standard safety paperwork to complete.
Reef Magic III pulled out of Cairns on time at 9am and with the trip underway, your friendly crew provide some comprehensive briefings on safety, your day and the reef. There's two marine biologists on board today, Sam and Justin, who provide some interesting information on the reef and will host guided snorkel tours during the day.
The trip to the reef takes about 90-minutes. It's a comfortable, scenic ride with views over the Coral Sea and Fitzroy Island, which can be enjoyed topside or from inside. If you are choosing to participate in any of the diving activities, or the latest Seabob tour, then briefings and information are provided enroute to the reef.
We had decided that one parent would take one (1) certified dive during the day*, spending the rest of the time exploring the reef as a family. Richard booked his certified dive for 1.45pm. *There was time for both parents to take a certified dive if we chose; Reef Magic Cruises schedules 3 certified dives each day.
We arrived at the Marine World pontoon at 10.28am. Fruit and muffins are served on arrival and the day's activities and inclusions are explained. All guests are provided with complimentary use of lycra suits, for sun and stinger protection, mask, snorkel and fins. They have kids sizes available and at 4 years of age, our son was in their smallest lycra suit and mask.
The pontoon itself is large and spacious with lots of undercover seating. It also has an upper deck, with partial shade and a range of sun lounges and deck chairs. To really chill out, you can even book a reef massage.
Now, on to the reef! The Marine World pontoon has steps down to a large, partially submerged 'deck', which has a bench seat on it. This is where you can put on your fins and from there, it's a short swim (less than 10m) to the coral gardens. Being December, the water was a wonderfully warm 29 degrees Celsius.
Reef Magic Cruises also provide a range of buoyancy devices (great for kids and adults) including life jackets and noodles. We had brought our own kids (Superman) life jacket, but you don't need to; everything is provided and included in the tour price.
Our son was so excited to see the fish and corals! It was beautiful to share the reef with him and see his amazing reactions to the life around him. At 4 he wasn't great at breathing with a snorkel, but he loved paddling around and looking down at the corals and fish, using his mask. He also loved seeing 'Wally' (the big blue fish) but thought he might be Big Bad Barry (parents will know, this is a reference to the kids show, Ben and Holly's Little Kingdom).
For the less adventurous, the pontoon also has a submerged and enclosed kids play / water area. The little ones will love being in the water here and they can still see lots of marine life, there was even a cute little crab on one of the steps.
There's a range of activities scheduled throughout the day, which are all included in the price. This includes glass bottom boat tours, semi-submersible tours, an underwater observatory and fish feeding.
We took the 11.30am glass bottom boat tour, which we all loved. The boat headed out over the coral gardens (away from the snorkel area) and we saw so much marine life, including hard and soft corals, two sharks, angelfish, parrotfish, barracuda and a large school of diagonal-banded sweetlips. We could see right down to the ocean floor, 24m below us. As the glass bottom boat made its way back to the pontoon, we even saw a dolphin!
A delicious hot and cold buffet lunch is served on board the pontoon from 12pm. It included fresh bread and rolls, five (5) different types of salad (potato, pasta, greek, garden and ceasar), a selection of cold meats including ham and chicken drumsticks, fresh prawns and even some hot dishes (curry, lasagne and noodles). There's complimentary, cold water available all day and you may choose to purchase soft drinks from the boat, which is moored to the pontoon all day.
After lunch, we visited the Underwater Observatory, where we saw 'Wally' again (a large Humphead Maori Wrasse), some introductory divers and some fusiliers. Then it was back into the snorkelling. We saw so many different types of fish including, but not limited to: scissor-tail sergeants, six-bar wrasse, damsels, parrotfish, triggerfish, butterflyfish, lined surgeonfish and even one of my favourites, a Moorish Idol.
The snorkelling was very gentle, with small waves pushing us along, sometimes just metres above the corals below. It is also fully supervised, with crew watching over the snorkel areas at all times during the day.
The fish feeding was conducted on the submerged 'deck' next to the pontoon and it attracted a lot of fast moving giant trevally, bass and spangled emperors and of course, Wally.
As Richard departed the pontoon for his certified dive, Ethan and I had a freshwater shower on the pontoon, got changed, reapplied the sunblock and bought an ice-cream from the boat, which we enjoyed on the top sundeck of the pontoon.
DIVE 1: 'PRESSURE POINT' – MOORE REEF – 1.50PM
Certified diving on Reef Magic Cruises is conducted either from the pontoon or on a nearby reef. All certified diving is guided. This dive was at a site called 'Pressure Point', which was a short dive tender trip away from the pontoon. Entering the water via giant stride, we splashed down to around 15m underwater visibility, reaching our maximum depth of 16.4m. From there we followed our guide to explore the reef. This was an interesting dive site with swim throughs, sea fans and whips, featherstars and lots of fish. It was a drift dive along a coral wall and highlights included seeing a giant school of diagonal-banded sweetlips, a large coral cod, lots of fusiliers, humbugs and more. The dive lasted 43 minutes.
Everyone was called back to Reef Magic III at 3pm for our return trip to Cairns. Complimentary cheese, crackers, cold meats and fresh fruit was served. The on board photographers displayed their work from throughout the day, which was available for purchase. The on-board bar was also open, serving ice-cream, soft drinks, beer, wine and chips (all in addition to your day tour price).
Our day ended at 5pm, the boat pulled back into the Cairns marina and some very satisfied guests departed to continue their adventures around Tropical North Queensland.
THE VERDICT

Reef Magic Cruises is a fantastic choice for a family reef trip from Cairns. It has lots of inclusions and activities in the day tour price and the boat, pontoon and crew all cater to people of all ages and abilities. Our 4-year-old loved seeing the colourful corals, the big blue fish and most of all, the glass bottom boat ride. We all enjoyed the snorkelling and my husband loved the dive and colourful sea fans and fish. Lots of snacks throughout the day with a delicious lunch. Wonderful reef and a highlight for everyone is seeing the large Humphead Maori Wrasse, affectionally known as Wally.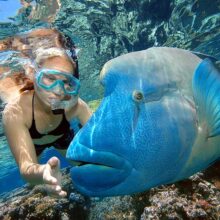 Up to 5 hours at the reef. Outer Great Barrier Reef pontoon with fabulous coral gardens. Meet Wally! Lots of inclusions: snorkelling, glass bottom boat, semi-sub, underwater observatory and more.
Click the links below to find out more.
Can't decide? We have personally been on every Cairns reef and diving trip. We can help you choose the best tour, to suit your experience and budget.
FREE UNDERWATER CAMERA HIRE*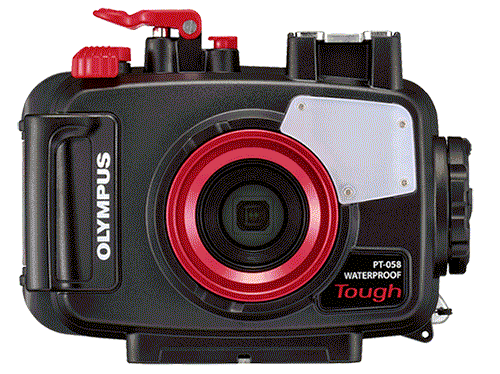 Spend over $550.00 AUD on your Great Barrier Reef tour with us and receive the latest Digital Underwater Camera Hire. Take amazing High-Resolution images and 1080 HD Video.
Not available for any tours to the Islands as fine white sand damages the seals on the cameras and makes them leak!
You need to come into our shop located on the Cairns Esplanade the day before departure to pick up the camera before 5:30 pm. You also need to supply your own SD Camera Card and drop the camera off back at our shop before 5:30pm.
Please Remember there is no other way to collect our cameras! All passengers must come into our shop the day before departure day before 5:30 pm.