Down Under Dive – Osprey 5 Trip Review
Cairns Dive Adventures Trip Review
'OLD Boat - Osprey - no longer running - see review for new boat Evolution below'. Down Under Dive is definitely one of Cairns' best value day tours to the Great Barrier Reef, including a certified or introductory dive in the package price. It attracts fun seekers from around the city and world, who definitely...
Down Under Dive – Osprey 5 Trip Review
Down Under Dive offers Cairns' most affordable diving day tour to the Great Barrier Reef, priced at just $204 including two certified dives. There are a lot of inclusions, such as free guided snorkeling tours, free scuba diving lesson, five hours on the Great Barrier Reef, Aussie BBQ lunch and a cheese and fruit platter on the homeward journey, with a glass of complimentary wine and live, musical entertainment by the crew. The split level Osprey 5 has a spacious forward deck for those wanting to sun bathe and air-conditioned interiors, providing a cool retreat during the day.


NB: This review was completed on the 'old' Down Under Dive boat, Osprey 5. Their new boat Evolution commenced operations in December 2015. We will add a new review for Evolution shortly.
Down Under Dive position themselves in the marketplace as being "fun and affordable" providing an "awesome time at the best price". This market positioning obviously works well with their target demographic, as the day we travelled Osprey 5 was full of young fun seekers, with a much lower average age of guest than many other Cairns' reef tour boats.
Our Down Under Dive experience commenced with check-in at Cairns' Reef Fleet Terminal at 7.30am, where we were issued Certified Diver Participant Record Forms and individual passenger safety numbers. A short stroll down the marina, we board Osprey 5 around 8am.
It is a glorious morning in Cairns, with clear blue skies as we make our way to the top deck. The crew welcomes everyone aboard, issuing fins, mask and snorkel which are stowed in individual passenger cubbyholes, numbered as per your passenger safety number. Grabbing a coffee, we settled in to complete the necessary diver safety paperwork on the top deck.
With all 80 guests aboard, Osprey 5 can accommodate up to 100, we began the journey to Cairns' Great Barrier Reef at around 8.20am. En route, Dive Supervisor Sam Dunstone provided a dive briefing and overview of the on-board equipment.
To our delight, Down Under Dive offers the choice between guided and non-guided dives (guided dives are an extra charge of $10 per person, per dive). Certified divers can participate in up to three (3) dives during the day, with a maximum dive time of 45-minutes per dive.
The first and second dives of the day are at Saxon Reef, at 10am and 11.30am respectively, with a recommended maximum depth of 16m and 14m. The water temperature is around 26 degrees and all divers are provided with a choice between lycra and wet suits.
Of today's 80 guests, 12 are certified divers, 45 guests are trying their first introductory dive and the remainder enjoyed snorkeling. Introductory dive briefings are also held upstairs, so the certified divers head to the forward deck, to take advantage of the stunning weather. Downstairs, the crew is providing snorkel briefings to the other guests.
Arriving at Saxon Reef, the certified divers were in the water by 10.10am. Water access is provided through a side portal door, with a big step out and one metre drop into the Coral Sea. Visibility was quite good on this dive between 10-15m and the water was a deep blue.
Reaching a maximum depth of 16m, some of the fish we saw included a true Clown Anemone fish, a variety of colourful Butterfly Fish, lots of the very pretty Bicolour Angelfish and Coral Beautys, a few Dotted Sweetlips, a large Flowery Cod and Barramundi Cod, Pufferfish, Feather Stars, a White Tipped Reef Shark and more.
Emerging at 10.50am, we entered the very busy and crowded dive deck, ditched our tanks and jumped back into the water for a quick snorkel. The water conditions were a little choppy and many snorkelers took advantage of the buoyancy noodles that were included.
Snorkeling over the coral bommies, which plateau about 1.5m under the surface, we saw more colourful Great Barrier Reef fish including a Chinese Footballer Cod, Parrotfish, Black Anemonefish and Angelfish.
Back aboard Osprey 5, it was definitely time for lunch, a delicious selection of BBQed steaks and sausages, grilled fish, cold prawns, potato salad, pasta salad, green salad and bread and butter, with all of the condiments. Beverages were available for sale from the onboard bar, and we grabbed a few soft drinks.
While we ate, Osprey 5 made its way to the second reef destination for the day, Hastings Reef. For those who enjoy a good rock and roll at sea, Osprey 5 delivered the goods this day and a few passengers were looking a little worse for wear.
At Hastings Reef we enjoyed our second dive for the day, entering the water on schedule at 1.20pm. The first thing I saw as we descended into the blue, was one of the most beautiful blue clams resting atop a giant coral bommie. Glancing sideways, I also saw a giant Maori Wrasse, another beautiful blue creature of the Great Barrier Reef.
Setting out to explore the site we saw Mushroom Leather Corals, Staghorn Corals, Brain Corals and soft Anemones. A Blue-spotted Stingray cruised the sandy ocean floor and Christmas Tree worms, blue and white, festooned the corals we passed by. Coming back to the boat, we admired a group of introductory divers taking their first underwater journey. Everyone looked like they were having a great time!
With so many certified and introductory divers on board, the dive deck was certainly busy and not somewhere to hang around, so we removed the tanks and went for a snorkel over Hastings Reef. The corals were closer to the surface here, making for good snorkeling conditions.
Colourful Parrotfish roamed across the coral beds, as did a now common site to us, the always friendly and cheeky Six-bar Wrasse. Today we saw our first Bird Wrasse, an inquisitive green fish which proved about as difficult to photograph as the Six-bar Wrasse.
Although the waters are still warm at 26 degrees Celsius, we began to feel the chill and headed back to Osprey 5. Grabbing a beer from the bar, we enjoyed the sunshine on the top deck as the crew began to prepare for departure. Safety numbers and a final headcount were completed, before Osprey 5 turned around and headed for Cairns.
The front deck was a popular choice for sun seekers, whilst others took advantage of the air-conditioned interiors to enjoy the complimentary fruit, cheese and crackers platters. The ride home was a little rock and roll, both in movement and the live musical entertainment on the lower deck. We arrived back into Cairns on schedule, at around 5.00pm.
Top Tips
Sea sickness is best treated with preventative medicine. Osprey 5 did have a lot of movement in the water. Admittedly it was a windy day, but my top tip, if you even think you may suffer from sea-sickness (or have done so in the past) get some Kwells or similar and take them before you go.
It is assumed that certified divers will want to dive unguided and water entry is a stride off the side of the boat, with a one metre drop into the water. This is more suited for confident / experienced divers. If you are new to diving or have not dived for a while, we'd suggest paying the $10 extra for the dive guide and your own peace of mind.
The fruit and cheese platter at the end of the day is popular! Get in early to get some cheese and avoid the queues.
THE VERDICT: Down Under Dive is definitely one of Cairns' best value day tours to the Great Barrier Reef, including a certified or introductory dive in the package price. It attracts fun seekers from around the city and world, who definitely enjoyed the sun deck, BBQ lunch and complimentary platters on the return journey. Each guest is allocated a cubby hole to place their belongings, which is a good idea. With such a large proportion of certified and introductory divers on board, the dive deck does get busy, but the equipment is kept in excellent condition by the diligent crew.
Well priced Great Barrier Reef day tour, including BBQ lunch. 5 hours on the reef at 2 reef sites. Introductory and certified diving are available at extra cost. Brand new boat.
Click the links below to find out more.
Can't decide? We have personally been on every Cairns reef and diving trip. We can help you choose the best tour, to suit your experience and budget.
FREE UNDERWATER CAMERA HIRE*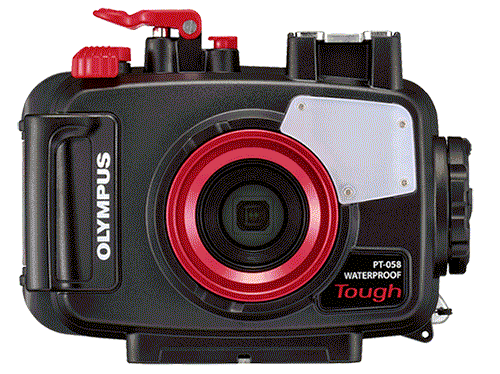 Spend over $550.00 AUD on your Great Barrier Reef tour with us and receive the latest Digital Underwater Camera Hire. Take amazing High-Resolution images and 1080 HD Video.
Not available for any tours to the Islands as fine white sand damages the seals on the cameras and makes them leak!
You need to come into our shop located on the Cairns Esplanade the day before departure to pick up the camera before 5:30 pm. You also need to supply your own SD Camera Card and drop the camera off back at our shop before 5:30pm.
Please Remember there is no other way to collect our cameras! All passengers must come into our shop the day before departure day before 5:30 pm.