Spirit of Freedom – Coral Sea Review
Cairns Dive Adventures Trip Review
The Coral Sea delivers adventure diving by the bucket load with its reef sharks and 1,000m wall drop-offs. We were extremely lucky with the weather, enjoying flat seas, blue water and unbelievable visibility for the entire trip. For those who had booked a 7-day trip, they had also seen (snorkeled and dived) with a Whale...
Spirit of Freedom – Coral Sea Review
If you want adventure diving, with 1,000m wall drop offs, shark feeds and amazing visibility, this is the trip for you! Spirit of Freedom's 4-Day Coral Sea liveaboard trip combines all of these things with amazing service, a luxurious boat, a scenic flight and some life changing experiences. We always thought a shark feed dive would be scary, but trust me, it will be more 'WOW' than anything else. Read on for the full review, with over 100 pictures and videos.
This was an amazing trip! The weather was absolutely perfect. It was so good Spirit of Freedom adjusted its 'standard' trip itinerary of Coral Sea and Ribbons, to be Coral Sea (Vema, Shark and Osprey Reefs) and Bougainville Reef. It is rare for divers to be able to visit many of these reefs due to currents, but this trip was the exception to all rules.
DAY 1. Cairns Airport is where it all begins. Guests from around the world converge in the Hinterland Aviation office for check-in and baggage drop. Our flight takes off at around 9am and tracks along the scenic North Queensland coast, where the rainforest meets the reef. We fly over Low Isles, past Cape Tribulation and along the coast. Beneath us, turtles and dugongs can be seen in the clear blue waters.
Landing at Lizard Island, we walk to the beach for a tender transfer to the boat. The day is just perfect and the 37m Spirit of Freedom rests gently in the calm waters of Watson's Bay. Climbing aboard at 11am, we're welcomed by Trip Director Nick Leigh who gives us an introduction to the ship and takes us the air-conditioned saloon, where cabins are allocated. After settling in, we're split into groups of two, so Nick can review diver certifications and log-books with one group, while the others set up gear on the dive deck.
As we complete our introductions, Spirit of Freedom motors out past Lizard Island while the crew prepares a buffet lunch of cold meats, prawns, salmon and salads. Everyone is keen to get in the water and we're excited to learn that our first two dives today will be on the world famous Cod Hole. Gearing up, you can just tell this will be a special dive. The water is insanely clear and you can easily see to the bottom, 15m below.
DAY 1 – DIVES 1 & 2: Great Barrier Reef 'Cod Hole'. Splashing into the Coral Sea at 2.40pm we immediately descend to 12m, where the Potato Cod are waiting for us. These friendly giants of the sea never fail to amaze me, happily posing for photos and completely non-fussed by the arrival of divers. The Cod Hole is a diverse dive site and setting out to explore we see White-tipped Reef Sharks, Clark's Anemonefish, Trumpetfish and Red Bass, before we come across an Octopus. The next five minutes were spent watching the critter explore a boulder coral, before promptly changing colour and retreating into a hole. One the way back to the boat, we also see a giant Queensland Grouper and Bumphead Parrotfish, before bumping into a Loggerhead Turtle. Good way to start the trip!
It's a brief, one hour interval between dives, where we refresh ourselves with chilled water and fresh fruit on the sundeck. Then it's back into the water at 4.30pm for another look around the Cod Hole. The visibility has dropped from 15m to 10m in our absence, but it's another great dive where we see Titan Triggerfish, Gold-saddle Goatfish, Schooling Bannerfish, Black-spotted Pufferfish, Pink Anemonefish, Sea Cucumbers, White-tipped Reef Sharks and two types of nudibranchs, Elizabeth's Chromodoris and Celestial Phyllidia.
After a hot shower and change, we head up to the sundeck with a few beers to enjoy an amazing sunset over the Coral Sea. The water is calm and the sky turns gold, then red and finally velvet black. Dinner is served ala carte style in the saloon, by the crew. On our first night it was Honey-soy Chicken with rice and steamed broccolini, followed by Apple-crumble with vanilla ice-cream.
It's been a big day of travel for us and as we settle into sleep, in our comfortable, air-conditioned double cabin, Spirit of Freedom fires up its Rolls Royce engines and commences the 150km overnight motor to Osprey Reef.
DAY 2. We woke up early, grabbed a coffee from the machine and headed up to the sundeck to enjoy sunrise over the Coral Sea: a glorious start to our second day. For anyone who was hungry, a 'first' breakfast of cereals, yoghurt and fruit was available in the saloon, before our first dive of the day at 7am.
At our dive briefing, Nick informs us that due to the great conditions, we are actually starting the day with a dive on Vema Reef. Captain Cameron tells my dive buddy that Vema Reef is part of the same reef structure as the nearby Shark Reef, both of which are just slightly south of Osprey Reef.
Nick informs us that Vema Reef is a very deep dive. The reef itself was about 25m underwater, with walls dropping straight down to 932m. The water around the boat is deep, deep blue. We're instructed to giant stride off the back of the boat, swim to the bow and descend on the mooring line: the current is rated as being 2 out of 5.
DAY 2 – DIVE 3: Vema Reef 'Drop Off'. Dropping into the blue the first thing you notice is the visibility (hard to be accurate, but definitely over 50m). The water is crystal clear and intensely blue. After swimming to the mooring, we pause to catch our breath, pop in our regulators and commence the descent. Reaching the reef, it's more like a lunar landscape and when you look down the wall, there is just blue with the outline of reef sharks beneath you. Making our way back along the plateau we see Jewel Damsel, Parrotfish, Purple Fire Goby, Barracuda, Moorish Idols, Bat Fish and Diagonal-banded Sweetlips. Enter 7.08am – Exit 7.55am – Max Depth 33m.
Back on the boat it's a quick hot shower and then time for 'second breakfast' of bacon, scrambled eggs, hash browns, baked beans, ricotta-stuffed mushrooms and toast. We've got about an hour to chill out (and digest) as Spirit of Freedom moves to the second reef and dive site for the day. While the boat moves, the crew tries a spot of line fishing off the back and is rewarded with a massive Wahoo! It's an impressive catch and one that we'll enjoy eating later in the trip.
DAY 2 – DIVE 4: Shark Reef 'Shark Alley'. This dive site delivered some pretty spectacular plate corals, of simply enormous proportions. The reef and the site both have the name 'shark' in them and so it's no surprise that we saw a few of these, including some stunning Silver-tipped Reef Sharks. Not that I would usually use the word "pretty" to describe a shark, but with the sunshine striking through the water, I could clearly see why they were called 'Silver-tipped'. In the blue, blue waters we also saw a young Honeycomb Moral Eel, lots of Giant Squirrelfish, Barracuda, Fire Dartfish, Clown Triggerfish and lots and lots of Palette Surgeonfish (more commonly known as 'Dorey' from the Finding Nemo movie). Enter 10.28am – Exit 11.18am – Max Depth 25.9m.
We had lunch (beef curry and tandoori chicken pieces with rice, lentils, grilled vegetables and yoghurt with cucumber on the side) on the sundeck, to enjoy the views as Spirit of Freedom moved to Osprey Reef. Osprey looked amazing! It was like something out of a movie, the deep blue water lightening to bright azure around the reef, with Flying Fish zooming through the air around the boat. The opening scene, to some spectacular diving!
DAY 2 – DIVE 5: Osprey Reef 'Rapid Horn'. This site can only be enjoyed in the summer months, situated as it is on the southern tip of Osprey Reef. Water entry was by tender drop off, with a drift along the wall and a tender pick-up at the end, to bring us back to the boat. Cruising along the wall was amazing, with a truly psychedelic range of hard and soft corals. It was like being in an underwater fernery, the delicate yellow, purple and orange coral fronds coming off the wall, as hundreds of gem-coloured Basslets darted through and around them. Silver-tipped and White-tipped Reef Sharks cruised off the wall and we even got close to a Tawny Shark, resting on a coral ledge. There were so many fish to see, including hundreds of Pyramid Butterflyfish (we'd never seen these before) but the highlight of the dive was definitely an encounter with a giant Potato Cod.
I've heard people refer to these fish as being 'underwater puppies' before, but never really understood that reference until now. One very friendly fish, spent several minutes just 'playing' with me: even sitting in my lap on the sandy bottom. A very special encounter! Enter 1.22pm – Exit 2.20pm – Max Depth 24m. The tender dropped us back to the boat where an afternoon tea of Banana Bread, Date and Walnut Loaf and Lychees was waiting for us. While we snacked and checked out our videos, the boat moved again.
DAY 2 – DIVE 6: Osprey Reef 'Admiralty'. This is a popular late afternoon and night dive location, with its large caves, swim throughs and 1,000m reef drop-offs. Named after the admiralty anchor that someone has left lodged in the coral walls, the site is an interesting dive for people of all experience levels. We enjoyed the swim throughs and a few caves, but avoided the tight fits. Amongst other things, we saw: Emperor Angelfish, Pennant Bannerfish, Orange-spined Unicornfish, White-lined Rockcod, Lionfish, Regal Angelfish and Titan Triggerfish. Coming back to the boat, unbeknownst to us, the crew was filleting the Wahoo which was attracting the interest of several reef sharks. The safety stop was completed near the prop and I was happy to be out of the water. Enter 4.36pm – Exit 5.40pm – Max Depth 17.3m.
Dinner that night was Pork Loin with roasted rosemary potatoes and steamed spinach with garlic. I debated the merits of a night dive, but chose the wine instead, happy to watch my buddy go down with some other divers into the sharky, night waters.
DAY 2 – DIVE 7: Osprey Reef 'Admiralty' – Night Dive. I watched my buddy splash down amongst the reef sharks (who quickly dispersed) and descend the line, equipped with torch and glow sticks. Their dive lasted about 35 minutes and they spent some more time in the swim throughs (finding the anchor the sight is named after) and saw Feather Stars and Pufferfish.
With everyone back on board, a delicious dessert of chocolate cheesecake with toffee was served, before we all retired to our cabins into a deep, deep sleep.
DAY 3. We awoke with the engines the next morning (around 6.15am) and as the boat moved to the next dive site; we had cornflakes with coffee before our first dive of the day.
DAY 3 – DIVE 8: Osprey Reef 'North Horn'. This is the location for the shark dive, so it's little wonder that when we get in the water the first thing we saw was reef sharks, including those Silver-tipped beauties. North Horn has a 1,000m wall drop-off, so it's a good place to get some depth on your first dive. We descended down to 38.8m (where my dive buddy's video camera broke its red filter with the pressure), before slowly making our way back up the wall (sometimes followed by sharks – check the pics!). We saw cool corals, with striking red and yellow fans, Bumphead Parrotfish, Clark's Anemonefish, Moorish Idols, Peacock Rockcod, Dotted Sweetlips and Pyramid Butterflyfish. Enter 7.20am – Exit 8.12am – Max Depth 38.8m.
Great first dive, followed by a breakfast of champions: baked scrambled eggs with bacon, pancakes and maple syrup and toast. We took it up to the sundeck; the day was too nice to be indoors.
DAY 3 – DIVE 9: Osprey Reef 'North Horn' – Shark Feed. Who-ha!! Let it be said, before the trip I was VERY nervous about doing the shark feed dive. However, by now we had already spent so much time diving with sharks and got so much confidence in the dive crew and their abilities, that I was not nervous at all come 'dive time'. Nick's above-water briefing is thorough and before you know it, we're into the water and making our way around to what I call 'Shark Stadium' for the feed. Everyone has extra weights for this dive and are 'seated' on a ledge, facing a coral bommie, at around 16m. Dive Instructor Nick checks that everyone is 'OK' before signaling to the Spirit of Freedom tender above to drop off the large metal cage, containing tuna heads on a line. Approximately 35 reef sharks, including Silver-tipped, are ready for breakfast and the dive crew pull the cage down to the bommie and open the hatch.
Osprey Reef is rated in the world's top 10 shark dive sites. This morning does not disappoint, with dozens of reef sharks feeding and coming close to divers, but not intimidating or threatening. It was AWESOME to watch and a life changing experience. I was not scared at all, just amazed. The feed probably lasted around three-minutes. Once the cage was pulled back out of the water and the sharks had dispersed, divers headed over the bommie eager to find some teeth, what they found instead was a large Potato Cod, quite bemused at their appearance. We quickly went and got some depth, before heading back to the boat. Enter 10.20am – Exit 11.27am – Max Depth 24.4m.
Lunch was fajitas with choice of chicken or beef, served with sour cream, cheese, lettuce, tomato, avocado, capsicum and onion. We feasted in the air-conditioned saloon as the boat continued its journey around Osprey Reef.
DAY 3 – DIVE 10: Osprey Reef 'False Entrance'. Another amazing dive site! For Coral Reef diving, this was arguably the most memorable, picturesque site of the trip. The wall has another 1,000m drop off and then the site itself has a series of sandy gullies, interspersed with coral bommies. Splashing down into the warm, clear waters at 1.09pm we come across a massive school of Trevally. Hundreds of the silver fish form a giant bait ball, which we delight in getting amongst, as it moves around the site. Visibility was easily over 30m and there was so much to see. Coral gardens were home to a variety of fish, including Clark's Anemonefish, Parrotfish, Slingjaw Wrasse, Spotted Boxfish, Barracuda, Crescent-tailed Bigeye and White-tipped Reef Sharks rested in the sandy gullies. Enter 1.09pm – Exit 2.06pm – Max Depth 20m.
Emerging from the water we snacked on fresh mango slices and chocolate biscuits, while Spirit of Freedom moved to a new location and very soon it was 'dive time' again.
DAY 3 – DIVE 11: Osprey Reef 'Secret Caves'. Giant stride entry off the back of the boat at 4.07pm, we set out to explore the site. It was a real 'see what you can see' type dive this one, cruising along the wall and then into the shallower lagoon area, with its caves and swim throughs. We stumbled across some spawning Sea Cucumber (not seen this before) and found some Banded Boxer Shrimp hanging out in a coral crevice with a Spotfin Lionfish. Moving on we also saw a very cool looking Hawkesbill Turtle, but it was in a hurry to be somewhere else, and many other types of reef fish. Enter 4.07pm – Exit 5.09pm – Max Depth 17.5m.
Back on board the boat, it was time for a hot shower and change, before a delicious dinner of fish with a creamy coconut sauce, rice and cucumber and mint salad. While we were eating, the crew brought each table some fresh tuna sashimi with soy and wasabi: this was unbelievably fresh and just melted in your mouth. Dessert was chocolate cake with fudge sauce, cream and strawberries.
As we helped ourselves to another glass of the complimentary wine, Trip Director Nick came around to tell us of a change of plans. Normally, Spirit of Freedom would head back to the Great Barrier Reef tonight and tomorrow would be spent in the Ribbon Reefs, however, due to the amazingly good weather Captain Cameron has decided to take us to Bougainville Reef instead! It had been a big day and we were in bed by 8.19pm, sleeping soundly as the boat tracked south.
DAY 4. Waking up at 5.45am we grabbed a coffee and headed up to the sundeck, where we could see the wrecks of Bougainville Reef rising out of the water. Bougainville is a small, half-moon shaped reef 140km beyond the outer edge of the Great Barrier Reef, 225km east of Cooktown. The reef itself is on the peak of a long extinct, submerged volcano and only becomes visible at half-tide. It's usually inaccessible to divers, due to the currents and squalls, this morning the water was flat and calm.
The wrecks we see are all that remains of the Atlas and Antonio Tarabocchia. The Atlas came to grief at Bougainville Reef on the evening of 2 November 1945. The 4,810 tonne freighter was driven hard aground with its fuel and water tanks compromised. The crew was rescued and none perished in the wreck, but the Atlas was unable to be salvaged and has gradually broken up and rusted where it rested, on the reef.
The Antonio Tarabocchia joined the Atlas on 12 November 1961. Its story is similar, the 5,851 tonne freighter ran hard aground on the reef late at night, in rough seas. Squally south-east winds pushed the freighter hard on the reef and despite salvage attempts, here it remains, rusting through the years. The other very visible feature of Bougainville Reef is its weather station, which was first constructed as a warning beacon light in 1958, after the wreck of the Atlas, continuing its life as a part of Australia's national weather tracking system today.
DAY 4 – DIVE 12: Bougainville Reef 'Wreck'. Splashing down into the flat waters, we descended into the blue and set out to explore the sloping wall. The usually strong currents have clearly wreaked havoc on the coral, of which there is little to speak of, but in this morning's calm seas we see Pink and Clark's Anemonefish, Black-spotted Wrasse, Red-lined Goby, Saddled Puffer, a large Napoleon Maori Wrasse, Peacock Rockcod, Clown Triggerfish and Spotted Garden Eels. We explore parts of the wreck and find a large Potato Cod living in a rusting cylinder. Not sure what this used to be, but apparently it's a nice place to call home for the cod now, as well as some Celestial Phyllidia nudibranchs. Further along, we find Scissor-tail Sergeants bustling about some more pieces of the wreck and as we make our way back to the boat, we spot an Eagle Ray gracefully cruising the shallow slope. Enter 7.17am – Exit 8.17am – Max Depth 28m.
Back on board it's time for 'second breakfast' which this morning is bacon, scrambled eggs, grilled tomato, baked beans, hash browns and toast. The sundeck is a popular choice for divers, who discuss what they've seen as the boat takes us to a new site.
DAY 4 – DIVE 13: Bougainville Reef 'Anchors Away'. It's a live entry this time, with divers stepping out the side door with 'military precision' (this is what Nick asked for, not sure if we delivered) as Spirit of Freedom moved slowly through the water. We swam to the wall, before descending and swimming along it. Things we saw included, but were not limited to: Moray Eel, Coral Beauty, Giant Squirrelfish, Fairy Basslets, Dash-dot Goatfish, Peacock Rockcod, Saddled Puffer, Bicolour Cleaner Wrasse, Bird Wrasse, Napoleon Maori Wrasse and Leopard Sea Cucumbers. Yellow Christmas Tree Worms burst forth on many of the corals and towards the end of the dive, we finally came across the anchor, embedded in the coral wall, for which this site is named. Surfacing, we had a tender pick-up and as Spirit of Freedom cruised very slowly by, we grabbed the mermaid line and climbed back aboard. Enter 10am – Exit 11am – Max Depth 28m.
Lunch was pizza, two types, supreme and chicken, accompanied by salad. We ate in the air-conditioned saloon and looked forward to our next dive.
DAY 4 – DIVE 14: Bougainville Reef 'Walmart'. Giant stride entry, we made our way to the wall with its 700m drop-off, descending to 19.8m and making our way along it. The water is clear and blue and amongst other things, we saw several types of Butterflyfish, Fire Dartfish, Clams, Nudibranchs, Thorny Oysters, Saddled Puffers, Headband Humbugs and Fairy Basslets. We had about an hour surface interval before our last dive of the trip, which was at the 'Corner Shop'. Enter 1.45pm – Exit 2.53pm – Max Depth 19.8m.
DAY 4 – DIVE 15: Bougainville Reef 'Corner Shop'. During our tender drop off, we noticed that all was not well with our underwater camera, so it would sit this dive out. Nervously I entered the water: for sure, sans camera, we would see something amazing! Fortunately for me, this dive delivered more of the same, so I happily enjoyed it without the camera. Descending to 16.8m we saw a Moray Eel and in the waters off the wall, White-tipped and Black-tipped Reef Sharks cruised along with large Napoleon Maori Wrasse. We saw Clown Triggerfish, Blue-fin Trevally, Bird Wrasse, Golden-saddle Goatfish, Dotted Sweetlips, Midnight Snapper and Schooling Bannerfish. As we completed our last safety stop (each dive of the trip we completed two safety stops: 2 minutes at 10m and 5 minutes at 5m) we were nervous watching some agitated Trevally school around with darting Reef Sharks. Anyway, everything was fine (clearly, I'm writing the review) and we made it back to the boat at 4.50pm. Enter 4.05pm – Exit 4.50pm – Max Depth 16m.
After a hot shower it was definitely time for some cold beers, which we enjoyed on the sundeck with other guests. This had been one amazing dive trip with absolutely PERFECT weather. You could not have asked for better conditions. As we all discussed the trip, the chef prepared a delicious BBQ on the sun deck, cooking up lamb cutlets, marinated chicken pieces, kangaroo steaks, sausages and the Wahoo caught earlier in the trip. This was served with steamed snow peas and broccoli, corn on the cob, potatoes in their jackets (with sour cream or butter) and green salad. It was a great way to end an amazing trip and as the sun went down, Spirit of Freedom commenced its journey back to Cairns.
DAY 5. We woke up to find ourselves in Cairns' Trinity Inlet. It's an overcast day and as we have coffee and hot chocolate croissants, the crew prepare for our departure, settling any bar tab accounts and moving our bags to the dock. At 7.30am it's on to the sundeck for our final farewells and then the dock, for some group photos in front of the boat. Then it's time to depart and courtesy coaches take everyone back to their respective hotels.
THE VERDICT: Coral Sea diving delivers adventure diving by the bucket load with its reef sharks and 1,000m wall drop-offs. We were extremely lucky with the weather, enjoying flat seas, blue water and unbelievable visibility for the entire trip. For those who had booked a 7-day trip, they had also seen (snorkeled and dived) with a Whale Shark the day before we joined them! Given the depths (and currents that sometimes occur in the open ocean) a Coral Sea dive trip is more suited to Advanced Divers, or Open Water Divers with lots of experience. Spirit of Freedom is a luxury liveaboard dive boat with air-conditioned interior and spacious exteriors. Even with its full accompaniment of guests on this trip, there was plenty of room to relax and enjoy your own space. A life changing and memorable dive trip!
If you want adventure diving with 1,000m wall drop offs, amazing visibility & more reef sharks than you can poke a stick at, this is the trip for you! 4 day / 4 night. Departs Thursdays. Up to 15 dives.
Click the links below to find out more.
Can't decide? We have personally been on every Cairns reef and diving trip. We can help you choose the best tour, to suit your experience and budget.
FREE UNDERWATER CAMERA HIRE*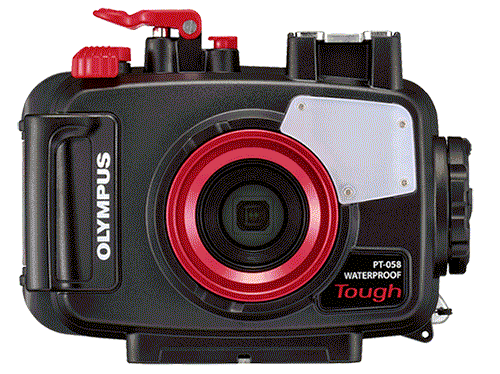 Spend over $550.00 AUD on your Great Barrier Reef tour with us and receive the latest Digital Underwater Camera Hire. Take amazing High-Resolution images and 1080 HD Video.
Not available for any tours to the Islands as fine white sand damages the seals on the cameras and makes them leak!
You need to come into our shop located on the Cairns Esplanade the day before departure to pick up the camera before 5:30 pm. You also need to supply your own SD Camera Card and drop the camera off back at our shop before 5:30pm.
Please Remember there is no other way to collect our cameras! All passengers must come into our shop the day before departure day before 5:30 pm.