Reef Magic Cruises Snorkeling Review
Cairns Dive Adventures Trip Review
Snorkelling conditions at the Reef Magic Cruises Marine World pontoon are excellent. Permanently moored about 60km offshore at Moore Reef, the pontoon is adjacent to some fabulous coral gardens that plateau literally just metres under the surface. Its distance from Cairns means that visibility is rarely affected by coastal conditions. A lowered platform provides comfortable…
Reef Magic Cruises Snorkeling Review
Snorkelling conditions at the Reef Magic Cruises Marine World pontoon are excellent. Permanently moored about 60km offshore at Moore Reef, the pontoon is adjacent to some fabulous coral gardens that plateau literally just metres under the surface. Its distance from Cairns means that visibility is rarely affected by coastal conditions. A lowered platform provides comfortable access to and from the water and all equipment is included. The highlight, you are almost guaranteed to see 'Wally' the Giant Maori Wrasse!
The Reef Magic Cruises day tour is highly recommended to snorkelers of all swimming abilities. For those uncomfortable in the water, the benefits include calm, sheltered waters, the lowered entry / exit platform and the complementary use of flotation devises. Strong swimmers will be amazed at the size of the coral gardens and diversity of marine life, just centimetres from your face.
The Marine World pontoon provides a stable, comfortable base to have lunch and sunbathe on the sun deck. Some of its many facilities, which are all included in your ticket price, are glass bottom boat tours, a semi-submersible tour and underwater observatory. Lycra and wet suits are all provided, as are fins, masks and snorkels, in adult and child sizes.
Launching from the pontoon, you are immediately over the coral gardens. Inquisitive, brightly coloured fish, including the stunning six-bar wrasse hover around you, darting in and out of your field of view. A few metres below you, Parrotfish graze on the corals as Butterfly fish swim lazily around and lined surgeonfish make determined dashes across the reef. Watch out for the scissor-tail sergeant fish, these black and white striped critters cluster in large schools, usually around the hard corals.
The coral gardens of this Moore Reef site vary from hard staghorn and brain corals, to soft corals and mushroom leather corals, to name just a few. The colours are magnificent, bright lime green, soft purple, blue and pink and warm yellows and creams.
Wally the giant Maori Wrasse is a favourite resident of these reefs and is clearly used to having visitors. Amazingly, he swims right up on to the lowered platform, taking a stroke on his large blue head, much to the delight of guests. His size will astound you, as will his nature and beauty, no wonder these fish are protected!
Optional extras on Reef Magic Cruises day tour are guided and adventure drift snorkel tours. Certainly you do not need to take these tours to enjoy the beauty of the Great Barrier Reef, it is readily accessible and waiting to be seen on your own. However, these tours will allow you to learn more about what you are seeing. What are the different types of fish and what makes them unique.
The adventure drift snorkel takes you about 200m away from the pontoon (you are dropped off in the Reef Magic Cruises tender) and then, as the name suggests, you drift back to the pontoon with the current, allowing you to see far more of the reef than you would just swimming around the pontoon. Some of the reef residents we saw on this tour, that we had not seen closer to the pontoon, include white tip reef sharks, long neon coloured trumpetfish, the impressive clown triggerfish and the world famous nemo (clown fish), to name just a few!
If you have the budget, then we do recommend booking one of the guided snorkel tours, they will provide you with a greater insight into this amazing marine environment.
Back on the board the Marine World pontoon there are freshwater showers and changerooms, as well as a new addition to the day tour, optional massages. What an excellent way to finish your day on the Great Barrier Reef.
This day tour commences with an 8am check-in at Cairns Reef Fleet Terminal and returns around 5.30pm.
THE VERDICT: Definitely an excellent day tour for snorkelers. The coral gardens are just metres under the water, bursting with a diverse, impressive array of marine life. We probably saw more at this site snorkelling, than we did in the certified dive tour. The waters around the Marine World pontoon are calm and protected, with amazing visibility, perfect for adults and children. All equipment is provided and included. Could not fault this.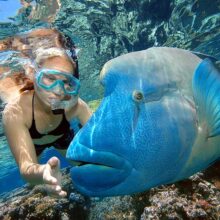 Up to 5 hours at the reef. Outer Great Barrier Reef pontoon with fabulous coral gardens. Meet Wally! Lots of inclusions: snorkelling, glass bottom boat, semi-sub, underwater observatory and more.
Click the links below to find out more.
Can't decide? We have personally been on every Cairns reef and diving trip. We can help you choose the best tour, to suit your experience and budget.
FREE UNDERWATER CAMERA HIRE*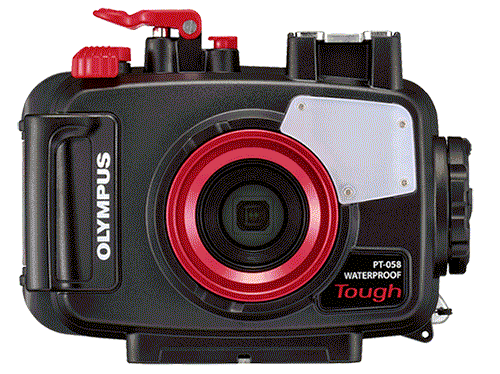 Spend over $550.00 AUD on your Great Barrier Reef tour with us and receive the latest Digital Underwater Camera Hire. Take amazing High-Resolution images and 1080 HD Video.
Not available for any tours to the Islands as fine white sand damages the seals on the cameras and makes them leak!
You need to come into our shop located on the Cairns Esplanade the day before departure to pick up the camera before 5:30 pm. You also need to supply your own SD Camera Card and drop the camera off back at our shop before 5:30pm.
Please Remember there is no other way to collect our cameras! All passengers must come into our shop the day before departure day before 5:30 pm.