Cairns Helmet Diving Review: Reef Magic Cruises
Cairns Dive Adventures Trip Review
Helmet diving is a great option for non-divers and swimmers to be able to spend time under the sea, getting up close and personal with the fish. Is it better than an introductory scuba dive? There's no right or wrong answer here. To do an introductory scuba dive, you do need to know how to...
Cairns Helmet Diving Review: Reef Magic Cruises
Helmet diving is a unique experience, allowing non-divers and swimmers to walk under the water and see the Great Barrier Reef from a fish-eye perspective. I experienced my first helmet dive with Reef Magic Cruises, at their Marine World pontoon on Cairns' outer Great Barrier Reef, Sunday 14 April 2013.
A day trip with Reef Magic Cruises starts with check-in at the Reef Fleet Terminal at 8.30am. Boarding passes received, we walked the short stroll down Marlin Marina to the triple-storey Reef Magic Cruises catamaran.
This air-conditioned boat with sun decks, provides fast, daily transfers between Cairns and the Great Barrier Reef. Once on board, the crew welcomed everyone and provided introduction and safety briefings. A range of optional extra activities are available on this day tour, including scuba diving (introductory and certified), helmet diving and scenic helicopter flights.
Briefings on each of these are provided by the professional crew, during the 90-minute transfer to the reef. Helmet diving is a unique experience, allowing non-swimmers and divers to walk under the water and see the reef from a fish-eye perspective.
For maximum participant comfort and safety, helmet divers are broken up into small groups (my group had three people), with the dives conducted at various times throughout the day. When you aren't helmet diving, there is plenty of time to participate in some of the other Reef Magic Cruises activities, such as snorkeling, glass bottom boat tours, semisubmersible tours and the underwater observatory, all of which are included in the ticket price.
During the helmet dive briefing, the equipment, terms and conditions and procedures are all explained to us. The equipment is pretty basic.? A helmet – which looks like a newer version of the old-school pearl diving helmets – and an air-supply hose.? Participants are also supplied with a lycra or wetsuit for the helmet dive.
It is explained to us that the helmet receives a constant supply of air from the surface, during the helmet dive, which is more of a walk. We will be assisted into the helmets on the surface, before descending down some submerged stairs underneath the pontoon. The importance of equalizing our ears during the experience is reinforced to us, and it all seems pretty easy. We are told a certified scuba diver will be in the water with us at all times. This is reassuring.
There are age and health limits / restrictions for helmet diving participants.? Reef Magic Cruises helmet divers must be at least 12 years old. This is to ensure the equipment fits properly. Also, participants must be in reasonable health and not suffer from certain medical conditions, such as asthma, heart conditions and epilepsy. This is all the same requirements for an introductory scuba dive and are for your own protection. Everyone needs to complete a pre-helmet dive medical (paperwork, not physical assessment), on board the boat. Like scuba diving, helmet diving is not suitable for pregnant women.
We're told our group will be diving at 1pm and until then, our time is our own. On arrival at the Marine World pontoon, it's straight into the water for some snorkeling. It's exciting to see the coral gardens of the Great Barrier Reef and meet the world famous Wally, a large blue Napolean Wrasse.
Reef Magic Cruises has a professional onboard underwater photographer, who gets lots of photos of everyone snorkeling, diving and helmet diving. These pictures are available for review and purchase on the way home. Individual prints are $15 each, or you can buy all of your photos, plus some free reef pictures, on a nemo memory stick for just $75. These are well worth the investment, to capture your Great Barrier Reef memories.
The Reef Magic Cruises day tour includes a delicious and extensive hot and cold buffet lunch, which is served on the pontoon from 12.15pm. Meal complete, it was time for the helmet dive!
Meeting at the dive deck on the pontoon, our instructor gives us a quick refresher on the equipment, procedures and what we can expect to happen under the water. This is appreciated, as once under the water, you cannot verbally communicate with your dive guide. (There are non-verbal communication signals and these have been explained at the briefing).
My time comes and I walk down the stairs into the Coral Sea. The helmet diving walkway is underneath the Marine World pontoon, so there are no waves here. Once I am about chest-high in the water, the Reef Magic crew help to position the helmet over my shoulders. Helmet on, it's time to walk under the water.
The helmet dive is actually more accurately described as a helmet walk: at all times you remain standing and walking along a pathway, you are not required to swim or dive anywhere. That's why this experience is so fantastic for non-swimmers!
Descending beneath the surface the overriding noise you can hear is the reassuring sound of air being pumped into your helmet. You are connected to the surface the whole time by an air-supply hose, so you cannot, and will not, run out of air during the 20-25 minute helmet dive experience.
Instantly I'm surrounded by Great Barrier Reef fish, with schools of yellow-tailed fusilier and red bass darting around us. Exciting!
If you want to learn more about the reef, check out our Ultimate Guide to the Great Barrier Reef.
Making our way along the underwater pathway, the handrails provide comfort and stability for the helmet divers. Reaching a 'deck' area, the scuba diver who is with us, motions for us to stop.
He then passes us a few things to touch, including a shell and sea cucumber. He then motions us to move around the corner, where he shows us some soft corals growing on the side of the pontoon. He then reminds us to hold on to the hand rails, for our own comfort and stability, before conducting a fish feed right in front of our helmets. The number of fish that arrive for their lunch is astounding and they are just centimeters in front of our faces! The underwater photographer is there, to capture our looks of amazement and wonder.
All too soon, it's time to start our walk back to the pontoon and the surface. This is completed at a comfortable pace and the crew are there waiting, to help remove our helmets. Amazingly, we have been under the water with the fish and not even got our hair wet! (Well I have wet hair, but that is from my earlier snorkeling).
The entire helmet dive lasted around 25-minutes. Back on the pontoon, the rest of the day was my own and I couldn't wait to get back in the water.
At 3.35pm, with everyone aboard, the Reef Magic crew turned the catamaran around and headed for Cairns.
THE VERDICT:
Helmet diving is a great option for non-divers and swimmers to be able to spend time under the sea, getting up close and personal with the fish. Is it better than an introductory scuba dive? There's no right or wrong answer here. To do an introductory scuba dive, you do need to know how to swim, as you will be swimming around the reef, albeit accompanied by a scuba instructor. Helmet divers walk on an underwater pathway underneath the pontoon. Both experiences are very different. For more information on this, please visit the Cairns Helmet Diving page on our site or give is a call on +61 7 40411638 or email: reservations@cairnsdiveadventures.com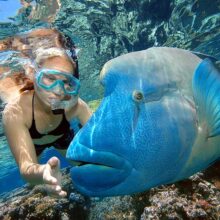 Up to 5 hours at the reef. Outer Great Barrier Reef pontoon with fabulous coral gardens. Meet Wally! Lots of inclusions: snorkelling, glass bottom boat, semi-sub, underwater observatory and more.
Click the links below to find out more.
Can't decide? We have personally been on every Cairns reef and diving trip. We can help you choose the best tour, to suit your experience and budget.
FREE UNDERWATER CAMERA HIRE*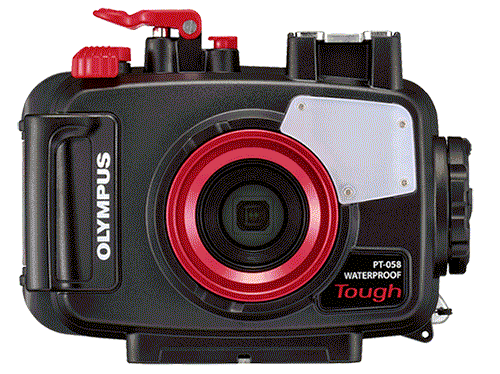 Spend over $550.00 AUD on your Great Barrier Reef tour with us and receive the latest Digital Underwater Camera Hire. Take amazing High-Resolution images and 1080 HD Video.
Not available for any tours to the Islands as fine white sand damages the seals on the cameras and makes them leak!
You need to come into our shop located on the Cairns Esplanade the day before departure to pick up the camera before 5:30 pm. You also need to supply your own SD Camera Card and drop the camera off back at our shop before 5:30pm.
Please Remember there is no other way to collect our cameras! All passengers must come into our shop the day before departure day before 5:30 pm.