Diving the best of Cairns' Reef with a Baby
Cairns Dive Adventures Trip Review
Certified divers, who also happen to be parents, will see the very best of the Great Barrier Reef by taking a dive boat day tour.? Although these are not usually recommended by operators (who will suggest an island or pontoon trip as the way to go), we think if your baby is not yet crawling…
Diving the best of Cairns' Reef with a Baby
Certified divers, who also happen to be parents, will see the very best of the Great Barrier Reef by taking a dive boat day tour.? Although these are not usually recommended by operators (who will suggest an island or pontoon trip as the way to go), we think if your baby is not yet crawling or walking*, then this is the ideal way to see the very best of the Great Barrier Reef.
How do we know? Over the past few months we've taken our little guy on all three trips: the experiences vary (importantly, none of them offer child minding, so you'll be taking turns diving wherever you go), but to dive the best of the Great Barrier Reef, we highly recommend a dive boat day tour!
We selected Silverswift for our baby diving day out.? Silverswift visits three (3) different Outer Great Barrier Reef sites each day, providing up to five (5) hours at the reef.? Certified divers can enjoy up to three (3) guided dives each, with unlimited snorkelling.? Some specific baby/reef questions and answers, about the boat, are as follows:
Can you take a pram on Silverswift? Yes you can. There are no real size restrictions, the boat (and its ramp) is designed to accommodate fold-up wheelchairs, as long as your pram is no bigger than this, you'll be fine.
Does Silverswift have change tables? No it does not, but you can change your baby in the pram, the downstairs changerooms for adults or on the seats (take a change mat with you).
Does Silverswift have nappy disposal bins? No it does not, but there are general waste bins on the boat.? I suggest taking some disposal bags with you, wrapping the nappy and placing it in the general bins.
Are there any microwaves on board to heat up bottles / food? Yes, there is a microwave on the boat: it is generally for crew use, but they are only too happy to help out.
Are there any swim suits for babies? No there are not.? The smallest lycra suit on board Silverswift was a child's size '6'. Baby sunsuits can be purchased at stores around Cairns or bring yours with you.
Is there any child minding? No there is not (but there isn't child minding services on any of Cairns' Great Barrier Reef boats, trips or islands) so diving parents will need to take turns diving and looking after baby, whatever you decide to do.
*Are boats a good idea for baby? The answer here is yes and no. We suggest boats as a viable option for dive parents whose baby is not yet walking and crawling. At this time, baby is sitting with parents no matter where they go. Once baby is on the move (as ours now is!), perhaps an island is best, so they can safely play in the sand.
Silverswift is a comfortable 29m catamaran with two (2) levels of air-conditioned interior, an exterior dive / snorkel deck and a top sun deck. The day tour price includes: a guided snorkel tour, hot and cold buffet lunch, morning and afternoon tea and up to five (5) hours at the reef, with unlimited snorkelling. Certified divers can enjoy up to three (3) guided dives, one at each reef site, and choose between full equipment hire, or just tanks and weights.
Check-in for the Silverswift day tour commences from 7.30am at the Reef Fleet Terminal: we arrived at 7.45am and after collecting our boarding passes, wandered down the marina to the nearby boat.? Boarding is from 8am and was completed fairly efficiently, with the crew handing out safety paperwork (for divers and snorkelers) and the on-board photographer taking photos of everyone. A complimentary light breakfast of muffins, focaccias, tea and coffee was available downstairs on arrival.
Settling into the comfortable seats, the crew commenced the welcome and safety briefings around 8.30am, as the boat began its departure from Cairns. The general briefings lasted about an hour and were followed by dive briefings (certified and introductory being completed in different parts of the boat).
Divemaster Sean provided the 13 certified divers on board with their briefing. He outlined the fact that divers could choose to do 1, 2 or 3 dives. Each dive would be completed at a different location and all dives on Silverswift are guided: dive guides today were Sean and Takuya. The dives would be at 10am, 11.15am and 1.30pm and would last a maximum of 45 minutes each, with an approximate maximum depth of 22-18-14m respectively.
Having our 8-month old baby with us, we opted to do one certified dive each with no snorkelling; although, in hindsight, one of us could have taken a second dive at lunchtime if we had chosen too, there was plenty of time.
Sean went through the equipment and underwater hand signals and advised water entry was giant stride, off the side of the boat. Divers are issued with lycra suits and wetsuits (short arms and legs) and there are hot water showers on the back deck.
Sean stressed the importance of being ready on time, to ensure you had time to complete your dives. Briefing complete, there was a quick chat from the on-board photographer and then about 15-minutes to relax, before it was time to get ready for the first dive at 9.45am.
Certified divers assembled on the back deck and put on their equipment, whilst Silverswift moored at the first dive spot, 'Ski Slopes' at Flynn Reef. While the divers prepared themselves, the snorkelers were called inside for a site briefing.
The divers splashed down at 10.10am and descended to the coral gardens below. The divers were broken up into groups for the guided dives: our group was led by Takuya. Reaching our maximum depth of 22m, we spent 45 minutes exploring the site and saw coral trout, sea whips, sea cucumbers, large schools of yellow-tailed fusiliers, sea squirts, lizard fish, bat fish, parrotfish, red bass, pink anemonefish and more.
While one dived, the other (Mummy) looked after baby on board. The crew were very helpful, heating up the bottle in the microwave. Once baby was fed, we went up on to the sun deck to enjoy the views.
When Daddy was back on board, we met inside to give baby some lunch, while Silverswift moved to its second reef location for the day. A delicious hot and cold buffet lunch was served from 11.30am to 1.15pm. Lunch included: chicken stir-fry, vegetarian curry, cold prawns, ham and chicken legs, a range of salads, fresh fruit and bread.
During this time there was a complimentary Reef Talk presentation on the sun deck, and certified divers completed their second dive (which we opted out of, to spend time together with baby).
After lunch, Silverswift moved to its third reef site for the day, 'Coral Gardens' on Flynn Reef. This time it was Mummy's turn to go diving, while Daddy stayed on-board with the baby. Splashing down at 1.59pm, I descended to the ocean floor and soon spotted a mantis shrimp beneath the boat! Sadly, he was way too quick for my camera, but it was a great way to start the dive.
Moving off with Divemaster Takuya, it soon became apparent why this site is called 'Coral Gardens', with large cabbage corals branching out beneath us. We passed over several large giant clams and swam alongside the coral wall with large schools of yellow-tailed and striped fusiliers showing us the way. Some of the highlights of this dive included seeing a nudibranch, clarke's anemonefish, rabbtifish, Christmas tree worms, angelfish, surgeonfish, red bass and more.? We even think we saw a large boulder coral spawning: very out of season and unconfirmed, but perhaps fooled by the Super Moon that had occurred three nights previously.
Climbing back on board at 2.46pm, I really enjoyed the hot shower on the back deck. Quickly changing in the downstairs change rooms, I re-joined my husband just in time for the final headcount around 3.10pm.
As Silverswift packed up and commenced its return journey to Cairns, a delicious afternoon tea of cheese, crackers, cake and fresh fruit was served. It was a smooth ride back to port and the boat tied up at Marlin Marina around 5pm.
THE VERDICT: Silverswift is a great day tour option for certified divers of all types, including those travelling with a baby.? Although the operator would recommend one of its island or pontoon products, we suggest if you are comfortable travelling with your baby (who is not yet crawling / walking*), and want to experience some great diving on the Outer Great Barrier Reef, then this is the trip for you.? There were no other babies on board the day we went, but the boat is spacious with a comfortable ride. The crew is friendly and helpful and there's time for both of you to enjoy a guided dive. An excellent day out and even though baby stayed dry, he had a great day too!

*Once baby is on the move, it might be time to head to the beach, so they can play too. Read our Green Island review for more information on this.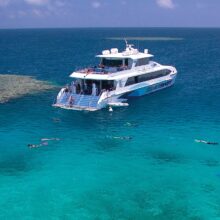 Only Cairns Great Barrier Reef day tour to visit 3 different reef sites in one day! Part of the Quicksilver Cruises fleet. Comfortable, high speed catamaran. Up to 5 hours at the reef.
Click the links below to find out more.
Can't decide? We have personally been on every Cairns reef and diving trip. We can help you choose the best tour, to suit your experience and budget.
FREE UNDERWATER CAMERA HIRE*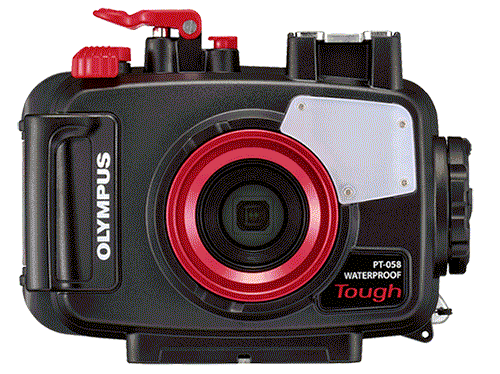 Spend over $550.00 AUD on your Great Barrier Reef tour with us and receive the latest Digital Underwater Camera Hire. Take amazing High-Resolution images and 1080 HD Video.
Not available for any tours to the Islands as fine white sand damages the seals on the cameras and makes them leak!
You need to come into our shop located on the Cairns Esplanade the day before departure to pick up the camera before 5:30 pm. You also need to supply your own SD Camera Card and drop the camera off back at our shop before 5:30pm.
Please Remember there is no other way to collect our cameras! All passengers must come into our shop the day before departure day before 5:30 pm.