Family Day Trip to Green Island Review
Cairns Dive Adventures Trip Review
Green Island is a great reef day tour option for the family, especially those with young children and toddlers. Its sandy beaches slope gently into the sea and there are lots of shady trees. Several boats visit the island, but you must book Great Adventures to take advantage of the resort's day facilities, including the...
Family Day Trip to Green Island Review
Green Island is the perfect family reef day trip destination, especially for those with a baby or younger children.? This sand cay island has gently sloping beaches, leading to sheltered warm waters, perfect for paddle and play.? There are offshore reefs, for diving and snorkelling, and plenty of corals and marine life to be found right beneath the jetty.? There are resort facilities and rainforest boardwalks to explore.
Great Adventures Reef and Green Island Cruises offer half and full day tour options to Green Island, with three daily departure times to choose from, on their comfortable, air-conditioned, high speed catamaran.? The Cairns to island transfers are included in the ticket price, as is tea and coffee served on boarding, choice of a glass bottom boat tour or snorkelling equipment and use of the island's resort day visitor facilities.? Optional extras include introductory and certified diving, snorkel excursion, helmet diving, parasailing and scenic helicopter flights and a visit to Marineland Melanesia Crocodile Habitat.
Our day began with an 8am check-in at the Reef Fleet Terminal.? Boarding passes collected, it was a short walk down Marlin Marina to Great Adventures' Reef King catamaran, with immediate boarding.? Tea and coffee were served on arrival and the boat pulled back from the marina at 8.20am.? Welcome and safety briefings were provided on departure and it was a short and comfortable transfer to Green Island.
There are no child minding services on Green Island, so we had booked separate certified diving and snorkelling tours for our day tour.? All offshore excursions meet at the island's Dive Shop and from there, it's a short walk to the tender and quick transfer to fringing reefs, about 1.5km from the island's beach.
Arriving at the island, we headed straight to the beach.? It was low tide and a great time to let our 11 month old baby have a play on the sand and in the shallows.? After a quick splash, Mum packed up and headed over to the Dive Shop for the 10.30am snorkel tour.
Lycra suit, life jacket, fins, mask and snorkel are all included in the snorkel tour price (Adult $40 and Child $25). Splashing down, the water was a pleasant 26 degrees and the lycra suit provided excellent sun protection.? The offshore reefs were great for snorkelling, with large table corals, beds of staghorn corals and coral bommies covered in hard and soft corals.
With 45 minutes to explore, I set out at a leisurely pace. There were lots of fish including schools of Blue-green Chromis, Yellow Damsels, Scissor-tail Sergeants and Half and Half Puller.? I also saw Coral Trout, Cleaner Wrasse, Parrotfish, Angelfish, Triggerfish, Six-bar Wrasse, Yellow-tailed Fusiliers, Surgeonfish, Clams and Sea Cucumbers.
Back on the island, my baby had enjoyed a big sleep on Daddy's shoulder and was ready for lunch.? We grabbed a quick bite from one of the island's food outlets, Canopy Grill, and ate at the shaded tables around the resort's day pool.
Unfortunately the 1pm dive tour was cancelled, due to a medical emergency.? With this off our agenda, we headed back to the beach for some more paddle time.? Our baby enjoyed being able to crawl in and out of the warm water and crunching wet sand between his fingers and toes.? Meantime, Daddy went for a snorkel under the Green Island jetty.
This is definitely the best place to snorkel on Green Island.? The highlight of his 1 hour, self-guided snorkel tour was seeing a massive Leopard Whipray underneath the jetty.? Measuring around 2m across (not including the tail) this giant demanded respect and after a few angry 'flaps' my husband left it alone. Other highlights included seeing schools of Coral Rabbitfish and Lined Snapper.
In our last hour on the island, we had to choose between relaxing around the pool and taking a self-guided tour on the rainforest boardwalks (tough life!); we picked the pool and grabbed a cold beer from Reflections Pool Bar. Boarding the boat at 4.15pm, it was another comfortable crossing back to Cairns where we arrived around 5pm.
THE VERDICT: Green Island is a great reef day tour option for the family, especially those with young children and toddlers.? Its sandy beaches slope gently into the sea and there are lots of shady trees.? Several boats visit the island, but you must book Great Adventures to take advantage of the resort's day facilities, including the freshwater pool.? Certified and introductory diving are optional extras and the offshore reef offers shallow diving amongst colourful coral gardens.? Green Island is home to lots of turtles and these can sometimes be seen when snorkelling.? A great day out: can be booked as a half-day tour as well.

GREEN ISLAND – GREAT ADVENTURES – BABY FAQS
Can you take a pram on Great Adventures? Yes you can. There are no real size restrictions, the boat (and its ramp) is designed to accommodate fold-up wheelchairs, as long as your pram is no bigger than this, you'll be fine.
Are there change table facilities on Green Island? Yes there are.? The room is amongst the resort's day facilities and is cleaned regularly throughout the day.
Are there nappy disposal bins? No there are not, but there are general waste bins.? I suggest taking some disposal bags with you, wrapping the nappy and placing it in the general bins.
Are there any microwaves to heat up bottles / food? Yes, there are microwaves at the resort's food outlets and you can ask the staff to heat up bottles and food.
Are there any swim suits for babies? No there are not.? Baby sunsuits can be purchased at stores around Cairns or bring yours with you.
Is there any child minding? No there is not (but there isn't child minding services on any of Cairns' Great Barrier Reef boats, trips or islands) so parents will need to take turns looking after baby, whatever you decide to do.
Is Green Island a good destination for baby and toddler? Yes it is.? The sandy beaches have gentle slopes leading into the warm, sheltered waters.? There are shaded, wooden timber decks around the resort's day pool and food outlets, which our baby really enjoyed exploring.
Great Adventures offer two departure (8.30am - 10.30am) and return times (2.30pm - 4.30pm) for their full day tours. Flexible option, suitable for families.
Click the links below to find out more.
Can't decide? We have personally been on every Cairns reef and diving trip. We can help you choose the best tour, to suit your experience and budget.
FREE UNDERWATER CAMERA HIRE*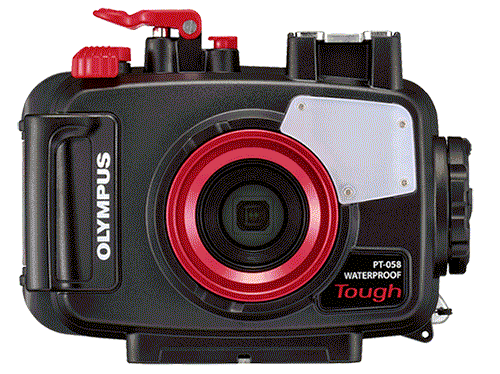 Spend over $550.00 AUD on your Great Barrier Reef tour with us and receive the latest Digital Underwater Camera Hire. Take amazing High-Resolution images and 1080 HD Video.
Not available for any tours to the Islands as fine white sand damages the seals on the cameras and makes them leak!
You need to come into our shop located on the Cairns Esplanade the day before departure to pick up the camera before 5:30 pm. You also need to supply your own SD Camera Card and drop the camera off back at our shop before 5:30pm.
Please Remember there is no other way to collect our cameras! All passengers must come into our shop the day before departure day before 5:30 pm.