Great Barrier Reef Coral Spawning 2016
The Great Barrier Reef's coral spawning for 2016 is predicted to occur in mid-November, around the 17-18-19th of the month. To provide people with the opportunity to witness this amazing natural phenomena first hand, there's a range of liveaboard as well as dedicated coral spawning trips operating out of Cairns. Tickets are now on sale for snorkelers and scuba divers.
Cairns Coral Spawning Tours 2016
People who are interested in the opportunity to witness this amazing natural phenomena first hand, can book a Cairns coral spawning snorkel or dive trip. For snorkelers, a night time coral spawning trip costs $190 including equipment and a meal. Certified divers can book 2 dives from just $225. Spaces are strictly limited. For more information or bookings, contact Cairns Dive Adventures today on +61 7 4041 1638 or email reservations@cairnsdiveadventures.com
What is coral spawning?
Coral spawning is the process of the Great Barrier Reef's coral reproducing. It is a mass event, which increases the likelihood of fertilization and successful reproduction. The coral spawning itself occurs when the corals release eggs and sperm into the water column simultaneously. If you're lucky to be there, it's like swimming in a glass of champagne or diving through outer space.
When does coral spawning occur? Well, as it's a natural event we can not be 100% accurate in our prediction of dates, but we can best guess on a few factors, which are as follows.
Moon Cycle. Ocean lovers will well know that the tides are impacted by the moon's cycle, so too is coral spawning. Spawning will occur after a full moon; the currents are at their smallest, providing the best conditions for the coral gametes to 'mix' together, fertilize and form polyps (new corals).
Time of Day (or Night). Coral spawning always happens at night, which is why in addition to the regular liveaboard trips, a number of Cairns operators schedule dedicated coral spawning night tours.
Water Temperature. Rising water temperatures stimulate the maturation of the gametes within adult corals. As a rule of thumb, the water temperature should be around 27 degrees Celsius for spawning to occur.
Although it is a mass event, the Great Barrier Reef's coral spawning occurs at different times, depending on your location on the reef. You've got to remember, the Great Barrier Reef is larger than the UK, Holland and Switzerland combined!
For Cairns' Outer Great Barrier Reef, the 2016 coral spawning is predicted to occur on 17-18-19 November 2016. Spawning can last between a few days and a week.
Coral Spawning Picture courtesy Stuart Ireland from Calypso Reef Imagery Centre.
Click the links below to find out more.
Can't decide? We have personally been on every Cairns reef and diving trip. We can help you choose the best tour, to suit your experience and budget.
FREE UNDERWATER CAMERA HIRE*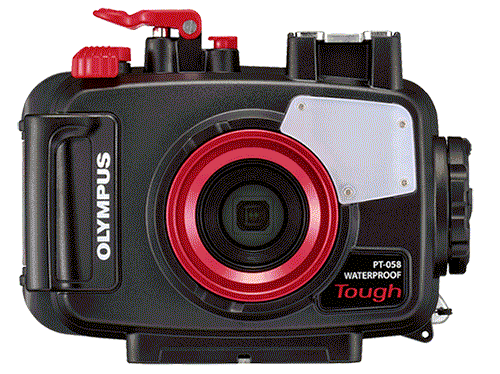 Spend over $550.00 AUD on your Great Barrier Reef tour with us and receive the latest Digital Underwater Camera Hire. Take amazing High-Resolution images and 1080 HD Video.
Not available for any tours to the Islands as fine white sand damages the seals on the cameras and makes them leak!
You need to come into our shop located on the Cairns Esplanade the day before departure to pick up the camera before 5:30 pm. You also need to supply your own SD Camera Card and drop the camera off back at our shop before 5:30pm.
Please Remember there is no other way to collect our cameras! All passengers must come into our shop the day before departure day before 5:30 pm.