Tusa Dive – Winter Diving Review
Cairns Dive Adventures Trip Review
This is our diving day tour operator of choice from Cairns. It's a dedicated dive boat (but snorkelers are well catered too as well) and one of the few to offer certified divers the choice between guided and unguided dives. This is great for experienced divers and those wanting to dive together and get some...
Tusa Dive – Winter Diving Review
Tusa Dive is a locally owned and operated Great Barrier Reef, day tour operation in Cairns. With one of the newest boats in the Cairns reef fleet, a commitment to environmental best practice and mooring at some of the best reef sites available, you can expect a quality dive day tour.
Our Tusa Dive day commenced with check-in and boarding at their boat, which was moored at A-Finger at the Reef Fleet Terminal, at 8am on Friday 25 July 2014. The friendly crew welcomed us aboard and complimentary tea, coffee and biscuits were available inside on the lower deck. These were appreciated, as it was a cool winter's morning in Cairns (around 15 degrees when we boarded).
Guests were invited to find a seat in the spacious air-conditioned interior and provided with safety and diver / snorkel information sheets to complete. Tusa is licensed to carry 100 day tour guests, but limits their numbers to 60 to ensure everyone has space: today's trip has 58 guests, so it's a busy one on the boat.
Once everyone was aboard, the Skipper Gareth 'officially' welcomed everyone and introduced the crew. He then handed over to the Trip Director and headed upstairs to prepare the boat for departure. The briefing provided was thorough, covering the day's itinerary, the boat's safety features and information on the Great Barrier Reef. There is a professional underwater photographer on board, they ran through their services and advised all pictures would be available to view (and purchase) at the end of the day.
In overview, Tusa Dive provides guests with up to 5 hours at the reef and visits 2 different reef sites. The boat has moorings at 16 different locations, they select the best sites to maximise experience on the day. We are told that today we are heading to Flynn Reef first and will plan movements once we see what conditions are like.
The T6 catamaran pulled out of Cairns on time at 8.00am. It was a grey, winter's morning but showers in Cairns do not mean a bad day on the reef, so we were quietly confident about the day ahead. [With good reason, by the time we arrived at our first reef destination, it was blue sky and white clouds overhead.]
The wind was gusting up to 25 knots for the journey out and despite the boat being very stable in the water, some passengers were sea sick. The crew were most helpful and did their best to make everyone comfortable. Our party for this trip was 3 certified divers and we had booked 3 dives.
Tusa Dive accommodates both snorkelers and divers, including those snorkelers who want to try diving for the first time (introductory diving – no experience necessary). Of the guests on board, there's 18 certified divers, 19 introductory divers and the rest were snorkelling.
The certified dive briefing took place during the journey out. Sarah invited all certified divers to the top deck, air-conditioned cabin and provided a briefing on the equipment, the dive sites and underwater communication. Certified divers have a choice of guided or unguided diving (we chose unguided) and for those without a buddy, they are allocated one during the briefing.
The introductory dive and snorkel briefings were conducted downstairs, by the professional and experienced personnel. Once the briefings were over, guests were free to spread out around the boat and enjoy the ride to the reef. There's plenty of room with two air-conditioned levels and two sun decks (both upstairs and downstairs).
Approximately 10-minutes before we arrived at Flynn Reef, certified divers were called down to the back deck to get ready to enter the water.
DIVE 1: 'LITTLE TRACEYS' – FLYNN REEF – 10.30AM
Despite a rough crossing and the grey sky of earlier in the day, the reef looked fabulous from the back of the boat. The sky was blue and we could see the corals about 15m below. We were all excited to get in the water! Speaking of, it is winter in Cairns and you might be wondering about the water temperature. It was a balmy 24 degrees.
Tusa do a 'cinderella / cinderfella' service for their divers, defogging masks and putting your fins on for you. Splashing down, we descended the mooring line and were greeted by a stingray floating above the sandy bottom at around 19m. Giant clams were scattered throughout the dive site, which was a combination of coral walls and bommies. On this first dive, we explored the bommies where we saw large schools of chromis and scissor-tailed sergeants, which danced above the staghorn corals. Highlights included seeing a large humphead maori wrasse and several Anemonefish.
Emerging from the water, we grabbed a towel and headed up to the top sun deck where a delicious, fresh fruit platter was being served. Everyone appreciated the cold slices of pineapple, apple, watermelon, strawberries and kiwi fruit. There was complimentary freshwater to keep everyone hydrated. It's a short surface interval, so we kept our wetsuits on and enjoyed the sunshine.
DIVE 2: 'LITTLE TRACEYS' – FLYNN REEF – 11.30AM
Dive time! It's a giant stride entry off the back of the boat and this time we decided to swim along the coral wall, to see a different side of this site. Excitement at seeing a Spanish dancer flatworm; they are so graceful in the water and such stunning colours. Schools of yellow-tailed fusiliers streamed around the corals, as did a large number of dark velvet looking surgeonfish. This dive reached a maximum depth of 12m and lasted 45 minutes.
Lunch time! Tusa Dive serves a cold buffet lunch inside their lower deck air-conditioned saloon. Guests are welcome to help themselves and eat wherever they like (the sun decks are a popular option). Lunch consisted of a selection of cold meats and salads and bread rolls. While we ate, T6 moved to its second location for the day.
DIVE 3: 'TENNIS COURTS' – FLYNN REEF – 1PM
Tennis Courts is home to a diverse array of hard and soft corals. Hundreds of blue fusiliers streamed around the site, sometimes interrupted by large parrotfish. Highlights of this dive included some truly massive giant clams, titan triggerfish, humphead maori wrasse, sea cucumbers and several nudibranchs. Maximum depth was 9m and the dive lasted around 40 minutes.
All too soon our diving for the day was done and it was time to grab a cold beer from the on-board bar. Alcoholic beverages can be purchased and paid for at the end. Tusa's crew completed a head count and then it was time to head back to Cairns. The return journey was a lot less windy and everyone enjoyed relaxing in the sunshine and on the lounges.
T6 arrived back into Cairns around 4.15pm and the crew lined the jetty to say thank you and farewell.
VERDICT

This is our diving day tour operator of choice from Cairns. It's a dedicated dive boat (but snorkelers are well catered too as well) and one of the few to offer certified divers the choice between guided and unguided dives. This is great for experienced divers and those wanting to dive together and get some great underwater photographs. The boat and its equipment are well maintained, the Skipper and crew friendly and professional: nothing bad to say here. A great day on the Great Barrier Reef with a great operator.
TUSA Reef Tours provide small group Certified Diving and Snorkeling on the Great Barrier Reef. One of newest day trips from Cairns with over 5 hours on the reef, visiting 2 locations. Outstanding Customer Service!
Click the links below to find out more.
Can't decide? We have personally been on every Cairns reef and diving trip. We can help you choose the best tour, to suit your experience and budget.
FREE UNDERWATER CAMERA HIRE*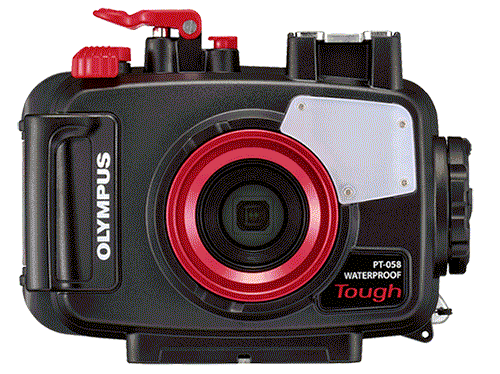 Spend over $550.00 AUD on your Great Barrier Reef tour with us and receive the latest Digital Underwater Camera Hire. Take amazing High-Resolution images and 1080 HD Video.
Not available for any tours to the Islands as fine white sand damages the seals on the cameras and makes them leak!
You need to come into our shop located on the Cairns Esplanade the day before departure to pick up the camera before 5:30 pm. You also need to supply your own SD Camera Card and drop the camera off back at our shop before 5:30pm.
Please Remember there is no other way to collect our cameras! All passengers must come into our shop the day before departure day before 5:30 pm.