Cairns Dive Adventures Trip Review
Tusa Dive is undoubtedly one of the premium day dive operations in Cairns. The boat is modern and the staff friendly, efficient and professional. The diving and snorkelling is fantastic with great dive sites. For the certified diver, you can really see the company has a diving background and really takes care of the certified...
Tusa Dive offers the premium Great Barrier Reef day diving and snorkelling tour from Cairns, that visits two (2) different reef sites in one (1) day. The 24m catamaran is built for comfort and speed, designed to accommodate 100 guests, the company limits its daily numbers to just 60, giving guests the most comfortable experience possible. The day tour price includes a guided snorkel tour, buffet lunch and up to five (5) hours at the reef, with unlimited snorkelling. Certified divers can enjoy up to three (3) guided or unguided dives, two at the first site and one at the next, and choose between full equipment hire, or just tanks and weights.
The 24m T6 catamaran has two levels: both offer air-conditioned interior seating and exterior sun decks. There are four (4) toilets on board (complete with hot water showers). Morning tea, fruit, lunch and an afternoon cake and cheese platter is included in the day tour price and additional beverages and snacks can be purchased. Note: Alcohol should only be consumed once all in-water activities have been completed, you will not be allowed in the water once you have had any alcohol.
The Tusa Dive Cairns reef day tour commences at 7:40am, with check-in at the boat on E-Finger at Cairns' Marlin Marina. Conditions today looked perfect, with no wind and plenty of sunshine; divers call these conditions "glass out", as the ocean is completely flat without even a ripple. Making your way along the jetty you are greeted by Lucy, the on-board photographer. Lucy was snapping away capturing the excited guests as they arrived at T6. On board we were welcomed by Gareth the skipper and directed into the saloon to complete our check-in, pay our reef tax ($10) and complete the paperwork for diving and snorkelling. Complimentary tea, coffee and muffins were all provided inside.
There was about 20-minutes between boarding and departure. During this time, Gareth gave an entertaining welcome speech introducing the crew and outlining our schedule and destination, Saxon and Hastings Reefs. Gareth then handed over to Sarah, the trip director, to complete the briefing, including safety and emergency procedures. The briefing also covered details about the Great Barrier Reef Marine Park and how you can help to protect it during your visit.
Lucy (the photographer) spoke next, letting us know that she would be taking photos of everyone during the day, swimming, snorkelling and diving. These would all be available for preview and sale at the end of the day, on the way back to Cairns.
Of the 60 passengers aboard, 29 were snorkelers, 12 were booked to try an introductory scuba dive and the rest were certified divers.
We departed the marina on time at 8.00am, beginning the 90-minute trip to Saxon Reef on Cairns' Outer Great Barrier Reef. During the journey, certified divers made their way upstairs for the dive briefing. The dive instructors outlined the dive schedule and dive procedures. The dive briefing also covered basic dive rules including, hand signals, air use, the dive computers and lost buddy procedures. Tusa Dive allows both guided ($10 per person, per dive) and unguided diving: no solo diving is allowed. Briefing completed, all certified divers were allocated dive gear, including full length wetsuits if needed (Tusa is the only day trip that has full length wetsuits). I opted to bring my own gear and was allocated a tank and provided a weight belt.
Certified divers can book two (2) or three (3) dives during this day tour. Two are completed on the first site and the final one at the second reef site. The first dive is at 10:00am, with a second dive around 11.15am (both before lunch) and the final dive at 1.15pm. The crew advised that dive 1 should be the deepest of the day (maximum of 25m), with no reverse profile diving allowed. The second dive should be a little shallower and the final dive around 10-12m. The maximum dive time is 45-minutes, to ensure there is time to complete the three (3) dives.
Water entry is giant stride from the back deck. The crew are super helpful and even offer to put your fins on for you; this is a great service and also speeds up the dive entry, allowing everybody to get in the water as quickly as possible. The Great Barrier Reef water temperature today was 25 degrees, so most divers chose to wear wetsuits, ranging from 3mm – 5mm.
Dive 1: 'Twin Peaks' – Saxon Reef – 10.00am
What makes this trip so special is the extra bit of service and care provided. The crew are all passionate about diving and always make an effort to give you the best dive. Today my dive group was made up of 3 experienced divers and we were lucky enough to be treated to tender drop on the far side of Twin Peaks (I have only experienced this on this day diving trip). Twin Peaks is an excellent dive site and is made up of two conjoined bommies that rise up from around 18m to 2m. This dive site was alive with fish and once in the water, we noticed a massive school of Red Bass circling above the bommies. We circumnavigated the twin bommies a couple of times before making our way back to the boat via some isolated bommies, one of which had a school of my favourite fish, the Diagonal-banded Sweetlips. After hanging with the Sweetlips for a while, we made our way back to T6. Some of the things we saw on this dive included: Stingray, White Tip Reef Shark, Red Bass, Diagonal-banded Sweetlips, a few different types of Anemonefish, Humbugs, Threadfin Butterflyfish, Moon Wrasse, Six-banded Angelfish, a juvenile Midnight Snapper, Batfish and Coral Trout.
Back on board for the 30 minutes surface time, we enjoyed the complimentary fruit platters and a few cups of water before the next dive. We stayed in our wetsuits and I decided to head back into the water for a quick snorkel and to take a few more photographs.
Dive 2: 'Twin Peaks' – Saxon Reef – 11.15am
Our second dive was again on Twin Peaks. As I had been snorkelling and lost track of time, the crew were very helpful and handed me my gear in the water; this saved me having to make my way back on the boat – very handy! Descending down the mooring line to the blocks below, we were greeted by a friendly Cuttlefish who seemed to like having his picture taken. The dive plan was to make our way back to the peaks, to see if we had missed anything last time. Unfortunately for our dive plan, we came across my old friends the Sweetlips again, this time accompanied by a large Flowery Cod. Mesmerised, we decided to hang out with these guys for a while, getting some more pictures. After around 30 minutes, when my dive buddy must have thought I was actually becoming a Sweetlip, we made our way back to the boat. Following the wall behind T6, we saw: the Cuttlefish, a large anemone, more Sweetlips, Scissor-Tail Sergeants, Half and Half Pullers, Three-Spot Dascyllus, Clark's Anenomefish, Red Bass, Blue-green Chromis and some Rabbit Fish.
With the second dive over, it was time for lunch! Tusa has a buffet self-serve lunch with a selection of cold meats and salads. After lunch Tusa Dive moved to the second reef site, 'The Wild Side' on Hastings Reef. Today was the flattest I have ever seen the ocean and you could see every fish and bommie as we backed up to the dive site, this was going to be another amazing dive!
Dive 3: 'The Wild Side' – Hastings Reef – 1.15pm
Splashing down into the mirror-like water, we dived to follow the wall around the back of the reef to see if we could find any interesting marine life. We found a few amazing giant clams and focused on trying to get a few photos of some very colourful sea fans; my dive buddy was over the moon when he spotted a Ocellate Phyllidia nudibranch. Another highlight of the dive was the massive school of Yellow-tailed Fusiliers. We circled an interesting bommie a couple of times and just when I thought our dive navigator was lost, we found ourselves at the back of Tusa Dive. We completed the dive in and around the area looking for interesting macro life. Some of the fish and marine life we spotted included: juvenile Midnight Snapper, Feather Star, Half and Half Puller, a great selection of hard and soft corals, Giant Clams, Sea Squirts, Christmas Tree Worms, a Stone Fish, Dotted Sweetlips and an interesting little Wrasse.
Diving over, it was time to pack up our gear and get ready for the trip home. Tusa Dive departs the reef around 2:30pm and takes around 90 minutes to reach Cairns. On the way home guests can browse the professional images taken by Lucy from Calypso Productions and enjoy the complimentary cheese and crackers and/or cake. Dive logs are available and the instructors are happy to help you fill these out. Tusa Dive is licenced and many guests enjoyed a welcome beer / wine / basic spirit to end their day at the reef.
Arriving back into Cairns, there was a quick debrief from the crew, who lined up along the jetty to wish everyone farewell and safe journeys as we departed the boat at around 4:10pm.
Verdict
Tusa Dive is undoubtedly one of the premium day dive operations in Cairns. The boat is modern and the staff friendly, efficient and professional. The diving and snorkelling is fantastic with great dive sites. For the certified diver, you can really see the company has a diving background and really takes care of the certified divers on board. That being said, all of the snorkelers and introductory divers had a fantastic day out on the reef as well. All in all, this was a memorable and magnificent day tour to Cairns' Great Barrier Reef.

TUSA Reef Tours provide small group Certified Diving and Snorkeling on the Great Barrier Reef. One of newest day trips from Cairns with over 5 hours on the reef, visiting 2 locations. Outstanding Customer Service!
Click the links below to find out more.
Can't decide? We have personally been on every Cairns reef and diving trip. We can help you choose the best tour, to suit your experience and budget.
FREE UNDERWATER CAMERA HIRE*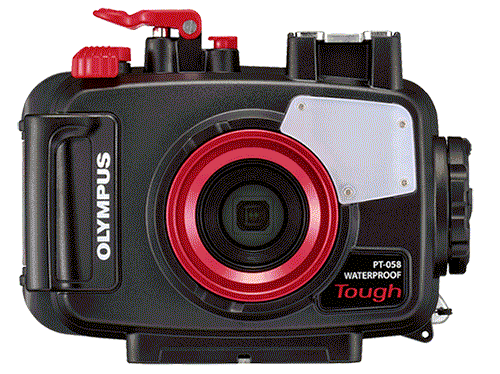 Spend over $550.00 AUD on your Great Barrier Reef tour with us and receive the latest Digital Underwater Camera Hire. Take amazing High-Resolution images and 1080 HD Video.
Not available for any tours to the Islands as fine white sand damages the seals on the cameras and makes them leak!
You need to come into our shop located on the Cairns Esplanade the day before departure to pick up the camera before 5:30 pm. You also need to supply your own SD Camera Card and drop the camera off back at our shop before 5:30pm.
Please Remember there is no other way to collect our cameras! All passengers must come into our shop the day before departure day before 5:30 pm.