Tusa Dive – February Day Dive Review
Cairns Dive Adventures Trip Review
Tusa Dive is a very professional day tour operator which is committed to teaching its guests about the Great Barrier Reef and some of the interesting creatures that call it home. T5 is a stylish, comfortable, fast and well-appointed vessel, equipped with modern, well maintained snorkel and dive equipment. The friendly crew look after all...
Tusa Dive – February Day Dive Review
Everything about Tusa Dive is professional and its speedy, comfortable T5 catamaran is a fantastic way to spend the day on Cairns' Great Barrier Reef. With a cruising speed of 21 knots, you enjoy less travel time and more time on the reef, exploring two different reef locations over five hours. T5 seats 120 guests but limits day trip numbers to 60, ensuring maximum passenger comfort in the air-conditioned interiors and on the exterior sundecks and well appointed dive deck. Catering to swimmers, snorkelers, introductory and certified divers, Tusa Dive is excellent value for money and a great day out!
Other than booking, your first contact with Tusa Dive is to receive a confirmation PDF with complete day tour information, inclusions, boarding information and a map. This is very helpful and ensures you know exactly where to be, at what time. Boarding commences at 7.40am at Cairns' Marlin Marina.
Berthed at the end of E Finger, T5 is an impressive introduction to the day ahead. Immaculately maintained, its sleek lines and stylish decal set the tone for the day ahead. On-board, guests can help themselves to tea, coffee, hot chocolate and a selection of delicious cookies. Everyone is welcomed by Trip Director Claire, who gives an introduction to T5, its features and facilities, as we head out from Cairns to the Great Barrier Reef.
Tusa Dive is licensed to visit over 20 different reef locations, enabling them to select sites which will maximize visitor experience each and every trip. Today, we are visiting Saxon and Hastings Reef, which are considered Cairns' 'northern' reefs. It's a 55km (34 mile) trip, which T5 manages in just 1 hour 40 minutes.
During the journey, certified divers were given dive briefings and an introduction to the equipment. We are also told not to worry about putting our fins on the dive deck, as one of the crew would assist with putting them on close to the water and taking them off again, before we stepped aboard T5. Talk about service!
Downstairs, snorkelers were given an introduction to the Great Barrier Reef, snorkeling orientation, safety notes and tips on what they might see. Today there are about 30 guests on board, 15 are snorkelers, 6 are certified divers and the rest of the excited guests are lined up to try an introductory dive.
Tusa Dive has Advanced Ecotourism Accreditation through Ecotourism Australia: they are committed to providing their guests with an informative, as well as amazing, trip to the Great Barrier Reef. Flicking through their Reef Ecology Compendium (several copies are on board) I learn a little more about some of the creatures we may see today, including the corals, crustaceans, echinoderms (sea stars etc), fish, sharks and turtles.
The compendium also has tips on 'what you can do today to protect the reef' which is reinforced by Claire's speech "if you don't know what it is, don't touch it – if you do know what it is, don't touch it", as well as tips on being environmentally sustainable at home (recycle, purchase products that minimize packaging, reduce runoff etc). It's nice to see Cairns operators protecting the reef and educating their guests on this natural paradise.
It seems barely five minutes has passed before we are assembling on the dive deck and getting ready to take to the water. Complimentary blue lycra suits are provided to all guests, as are boots, fins, mask and snorkel. Snorkellers are welcome to take advantage of the buoyancy noodles. For divers, all equipment (tanks, weights, BCs etc) is provided and included in the ticket price.
Our first Tusa Dive site is Saxon Reef's 'Magic Wall' and it certainly lived up to its name. Slipping beneath the waves, one of the first things we saw was a Hawksbill Turtle. I may be biased, but I love turtles, so my day had already been made! Moving along the wall we saw an amazing diversity of corals and critters, including leafy scorpionfish, nudibranches, a titan triggerfish (which is one of the few fish in the world able to swim backwards) and about three different varieties of anemone fish (clown fish).
Visibility on the first dive varied a little, and you could see some minor damage from Tropical Cyclone Yasi, which crossed the coast about 200k north from here earlier this month, but it was a great 45 minute start to our dive day trip.
Tusa Dive allows up to three dives per day and our second dive commenced at 11.17am. We visited the 'Magic Wall' again, but went a different direction this time and caught up with our friend the Hawksbill Turtle again. I have never seen one so friendly, and so intent on eating: it was fabulous.
Visibility was better on the second dive (around 10m / 32 feet) and we enjoyed exploring the warm, 28 degree C waters with our Dive Instructor Lucy. During the dive, Lucy pointed out sea cucumbers, clown fish, trumpetfish and several amazing, giant clams.
Our second dive ended just in time for lunch, which was served buffet style in the air-conditioned saloon. A delicious selection of cold meats, salads, condiments and bread rolls accompanied of fresh, cool water was all included in the ticket price. Soft drinks and juices were also available through an honesty sheet system, which was a nice touch and made it easy to get what you wanted, when you wanted it.
During lunch, a very interesting 'reef teach'-style presentation was provided, complete with pictures. This was great, as it taught people what they had been seeing and how it all connected with the Great Barrier Reef system.
After lunch, T5 moved to Hastings Reef, where our final dive for the day was at a site known as 'Canyons'. As the snorkelers jumped into the water with their buoyancy noodles, the divers headed down the mooring line to say hello to even more anemone fish, sea squirts, giant clams, cornetfish and two-spined angelfish: no wonder this is one of the seven natural wonders of the world!
Emerging from the warm waters at 2pm, it was time to wash off under the freshwater showers on the dive deck and get changed for the homeward journey. It was a simply stunning afternoon, clear blue skies and crystal clear waters, so T5 made an unscheduled photo stop at Michaelmas Cay, much to the delight of guests.
There had been an underwater photographer on board all day, taking happy snaps of snorkelers and divers enjoying their visit to the Great Barrier Reef. As we relaxed with a cold beer, and T5 powered its way back to Cairns, we reviewed some of the fantastic pictures he had taken and purchased some unique mementos of our amazing day with the turtle.
T5 moored at Marlin Marina at 4.15pm and as the crew thanked us for coming and we said goodbye to another fabulous day on Cairns' amazing Great Barrier Reef, we were surrounded by smiling and satisfied visitor faces.
THE VERDICT: Tusa Dive is a very professional day tour operator which is committed to teaching its guests about the Great Barrier Reef and some of the interesting creatures that call it home. T5 is a stylish, comfortable, fast and well-appointed vessel, equipped with modern, well maintained snorkel and dive equipment. The friendly crew look after all the 'details', including helping you to put on and take off your fins in the water! This trip is excellent cairns reef trip for snorkelers, introductory and certified divers and is good value for money.
TUSA Reef Tours provide small group Certified Diving and Snorkeling on the Great Barrier Reef. One of newest day trips from Cairns with over 5 hours on the reef, visiting 2 locations. Outstanding Customer Service!
Click the links below to find out more.
Can't decide? We have personally been on every Cairns reef and diving trip. We can help you choose the best tour, to suit your experience and budget.
FREE UNDERWATER CAMERA HIRE*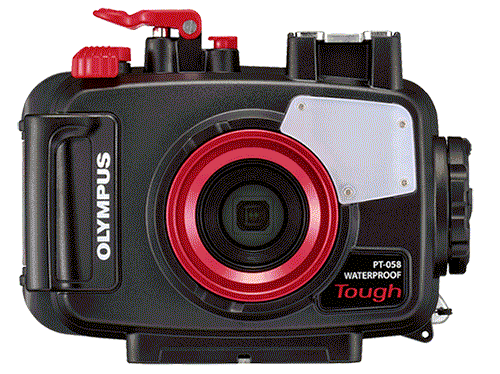 Spend over $550.00 AUD on your Great Barrier Reef tour with us and receive the latest Digital Underwater Camera Hire. Take amazing High-Resolution images and 1080 HD Video.
Not available for any tours to the Islands as fine white sand damages the seals on the cameras and makes them leak!
You need to come into our shop located on the Cairns Esplanade the day before departure to pick up the camera before 5:30 pm. You also need to supply your own SD Camera Card and drop the camera off back at our shop before 5:30pm.
Please Remember there is no other way to collect our cameras! All passengers must come into our shop the day before departure day before 5:30 pm.