Sunlover Reef Cruises Review
Cairns Dive Adventures Trip Review
Sunlover is a great reef day trip to Moore Reef. Suitable for families (of all ages) and guests that want to mix it up with a range of diving and non-diving activities.
Sunlover Reef Cruises Review
Sunlover Reef Cruises provides day trips to the Great Barrier Reef, departing from Cairns' Marlin Marina at 9.30am. Their fast catamaran takes you to a large pontoon, which is permanently moored at Moore Reef.
Here, guests have up to four (4) hours to enjoy a range of activities, including but not limited to, snorkelling, introductory and certified scuba diving. It's a great day out, perfect for people of all ages, including young families, groups of friends and solo travellers.
Our Sunlover Reef Cruises experience was taken on Saturday 11 March 2017. We did a family trip, two adults and a 4.5-year-old child. Both adults are certified divers, but on this occasion, only one parent dived, so we could maximise family time at the reef. There would be time for both parents to dive separately, if you wanted to do this.
Our day began with check-in at the Reef Fleet Terminal from 8.30am. Check-in is open until 9.15am and there's no real rush, as you can't board the boat until 8.45am. The boat is a short walk from the Reef Fleet Terminal and you are greeted by professional photographers, who are taking souvenir photos.
The photographers travel with the boat and are around throughout the day, capturing topside and underwater photos of your Great Barrier Reef experience. These are available for preview and sale on the way home and are a great piece of memorabilia.
The Sunlover catamaran is an impressive vessel with three-levels of air-conditioned interior and two exterior sun decks. Plenty of space for everyone to spread out and enjoy. Complimentary tea and coffee are available on-board, with all hot beverages to be consumed prior to departure from Cairns.
Divers were provided with paperwork to complete and were required to show their certifications.
Briefings are provided in both Chinese and English, catering to the mix of guests on board. The briefings covered the day's itinerary, as well as some of the optional extra activities you could choose to purchase and participate in. These included a guided snorkel trip, introductory and certified scuba diving, helmet diving and scenic helicopter tours. They also talk about lycra suits and wetsuits, which may be hired for the day from $5 and $10 respectively. These must be paid for at the bar, on the boat, at which time you will be issued with a docket, which you can redeem at the dive deck on the pontoon.
The boat fired up its engines and pulled out from Cairns on time, at 9.30am. There's plenty of views from all places on the boat and it's a scenic journey, from Cairns to the first port of call, Fitzroy Island. Here, Sunlover pulls up to drop off day guests and pick-up island guests, to take to the reef. It's a well-rehearsed procedure and is completed in no time at all.
It's a beautiful day in paradise and everyone is out enjoying the breeze on the top deck. With all guests aboard, we continue our journey, departing Fitzroy at 10.30am. The crossing from here to the Moore Reef pontoon can be a bit bumpy; sea sickness medication is available for purchase from the bar. Please note this is preventative though, so if you suffer from motion sickness, it's best to take something before leaving Cairns.
On the way to the pontoon, the dive crew advise that my certified scuba dive will be at 12.45pm, letting me know I should eat first. All certified dives with Sunlover are guided by dive professionals. Lunch is served on board the boat, from 12pm.
We arrive at the Moore Reef pontoon at 11.15am. There's lots of seagulls and birds who are enjoying the pontoon as the perfect place to relax and we can't wait to get on board. Guests disembark from the boat at 11.25am. We head straight to the dive deck to collect our lycra sunsuits, which are available in a range of sizes, including kids' sizes.
The lycra sunsuits are a great idea for everyone. The pontoon is also fully stocked with masks, snorkels and fins (which are complimentary) in a range of sizes. They also have buoyancy vests, for those who are not confident swimmers. NB: We brought our own for our son, so the Superman vest is not provided.
There is a lifeguard on duty at all times and the pontoon has an enclosed paddle pool / swim area for kids. This is a submerged and enclosed platform in the sea, so the fish do swim up on to it, providing the little ones with a real thrill and chance to experience the Great Barrier Reef for themselves.
Children and adults alike will appreciate the number activities that are included in the ticket price. This includes snorkelling, glass bottom boat rides, semi-submersible rides, a visit to the underwater observatory and fish feeding. These activities are scheduled throughout your time at the pontoon, so make sure you allow time for everything.
Now, on to the snorkelling! Water entry is via a set of steps down to a partially submerged platform, which has a seat, making it easy to put on fins and mask in the water. Fish are everywhere. We're excited to snorkel.
Almost immediately, our family was surrounded by tens of yellow-tailed fusiliers, scissor-tailed seagent fish and glass fish. We even saw a large Humphead Maori Wrasse. The coral gardens were beautiful and our son was amazed at all that he saw. Such a special family trip.
If you are interested to learn more about the Great Barrier Reef see our latest article – The Ultimate Guide to the Great Barrier Reef
With an eye on the time, we headed back to the boat to grab some lunch. It's a delicious hot and cold buffet, which included cold prawns, meats, fruits, a selection of salads (garden, pasta, potato, cous cous) and bread, as well as hot curry and rice and chicken and mushroom pasta. You could choose to eat on the boat or the pontoon. We chose the sea views from the pontoon and there was plenty of tables and bench seats to choose from.
DIVE 1: SUNLOVER CRUISES – MOORE REEF – 1.20PM
I arrived at the dive area on time, 12.45pm. Here we waited for the dive crew and the rest of the group to arrive. We were given a quick dive briefing, which advised the maximum depth would be 17m and that we should stay with the dive guide in a buddy system and keep an eye out for the underwater photographer. There were 3 certified divers in my group. Water entry for scuba divers is via another step of submerged steps, which take you down from the dive deck to a platform beneath the pontoon. Here the water is about waist height. Once the dive group are assembled, we put in our regulators and descend to the ocean below. This can be done either by dropping down on your own, or following a guide rope down. It was 1.20pm.
Immediately below the water, we were again greeted by fish of all shapes, size and colours. The Humphead Maori Wrasse is there and made for an excellent underwater photo subject and companion. Photos completed, our dive guide headed out to explore Moore Reef. We saw an amazing variety of hard and soft corals, giant clams, sea whips and sea fans. We also saw a range of different Great Barrier Reef fish, including but not limited to Clark's and Pink Anemonefish, Puffer Fish, Fusiliers, Parrotfish, Butterflyfish, Glass Fish, Moorish Idols, Giant Trevally and Spangled Emperor. It was diving around the coral walls and bommies, as well as an awesome swim through.
The dive lasted 40-minutes and ended at 2pm. While I had been diving, the rest of the family had been on the glass bottom boat and semi-submersible, as well as visiting the touch tank on the pontoon and underwater observatory. Everyone was having a great day, on the Great Barrier Reef.
Back together again, we did some more snorkelling. Once in-water activities were complete, we had a freshwater shower on the pontoon and got changed into clean, dry clothes. There are change rooms on the pontoon and change rooms and toilets on the boat.
At around 3pm, they call guests to board the catamaran, in anticipation for the return to Cairns. Before departure, they complete a head count and the boat pulls away from the pontoon at 3.37pm. The bar is open and guests can choose to purchase a range of cold drinks, including beer and wine. It also sells chips and chocolates. There is complimentary biscuits and tea and coffee. The journey back is smooth and after another short stop at Fitzroy Island, we arrive back into Cairns on time at 5.30pm.
THE VERDICT

Sunlover Reef Cruises is a great day trip to Moore Reef. It is suitable for families (of all ages) and guests that may want to mix it up with a range of diving and non-diving activities. There's lots of inclusions and a range of optional extras, catering to people of a diverse range of interests and abilities. The reef was great. We saw lots snorkelling and on the dive. Chinese and English signs, staff and presentations, catering to guests.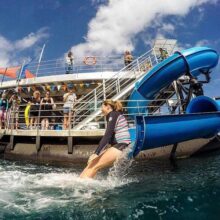 Great day tour for people of all ages. Visit Outer Reef Pontoon at Moore Reef, with lots of inclusions: snorkelling, glass bottom boat and semi-sub tours, underwater observatory and more.
Click the links below to find out more.
Can't decide? We have personally been on every Cairns reef and diving trip. We can help you choose the best tour, to suit your experience and budget.
FREE UNDERWATER CAMERA HIRE*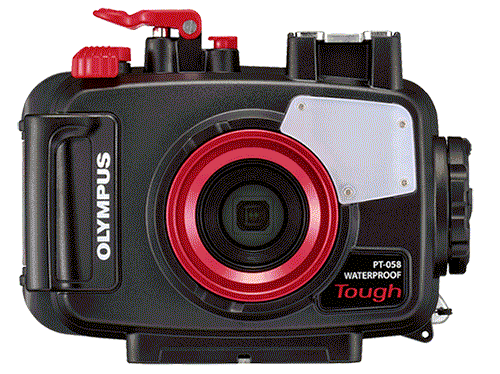 Spend over $550.00 AUD on your Great Barrier Reef tour with us and receive the latest Digital Underwater Camera Hire. Take amazing High-Resolution images and 1080 HD Video.
Not available for any tours to the Islands as fine white sand damages the seals on the cameras and makes them leak!
You need to come into our shop located on the Cairns Esplanade the day before departure to pick up the camera before 5:30 pm. You also need to supply your own SD Camera Card and drop the camera off back at our shop before 5:30pm.
Please Remember there is no other way to collect our cameras! All passengers must come into our shop the day before departure day before 5:30 pm.