Sunlover Cruises – A Rainy Day Review
Cairns Dive Adventures Trip Review
Sunlover Reef Cruises provides snorkel and dive tours to the Great Barrier Reef for people of all ages. On our day, guests ranged from 2 months old to 75 years, and were a combination of tour groups, families and couples. The coral gardens were excellent for snorkeling and despite poor weather (rain did come and...
Sunlover Cruises – A Rainy Day Review
Sunlover Cruises provides daily Cairns snorkel and dive tours to the Great Barrier Reef. Its high speed catamaran transfers you to their pontoon, which is permanently moored at Moore Reef, approx 40km offshore from Cairns. Here you have four (4) hours to swim, snorkel and dive. Activities included in the ticket price are: glass bottom boat and semi-submersible tours, an underwater observatory and all snorkel equipment, including floatation devices. Optional extras are: introductory and certified diving, helmet sea walking and helicopter tours.
Our Sunlover Reef Cruises day tour commenced at Cairns' Reef Fleet Terminal, where we checked in at 8.30am for boarding at 9.15am. There was a slight morning shower as we waited to board at Marlin Marina, so the hot tea and coffee served on-board was much appreciated.
Sunlover's catamaran is spacious, comfortable and well appointed. It has two levels of air-conditioned interior and three exterior sun decks. As we departed Cairns at 10am, the rain got heavier outside and the crew commenced their safety presentation and snorkeling demonstration.
The passengers were a mix of international and domestic tourists, as well as local residents. All briefing and safety information was delivered in three languages [English, Chinese and Japanese] and included messages of how to protect the reef during your visit.
I noted with interest their rule that "if we see you standing or walking on the coral more than twice, we will remove you from the water for the rest of the day". They also covered issues of sun protection, marine jellyfish, sharks and sea-sickness.
After a quick stop off at Fitzroy Island, where day visitors and overnight guests disembarked, we continued our journey to Moore Reef. The weather was getting decidedly worse as we headed to sea, and it was clear the Weather Bureau's mid-week predictions of 5knot winds, were well off the mark.
As Matt commenced his Marine Biologist Presentation on-board, the waves, wind and rain outside became stronger. Although the catamaran delivered superior ride stability, some passengers did take advantage of the early instructions regarding sea-sicknesses and headed to the exterior decks. The crew did an excellent job of making everyone as comfortable as they could.
The sun started to smile as we arrived at Moore Reef and disembarked to the pontoon. Certified divers, of which there were four (4) on board, headed straight to the dive deck for a briefing. Dive Instructor Caleb Eustice explained all equipment and underwater communication and informed us it would be a guided dive.
Water entry was easy and comfortable, simply a matter of stepping down an internal pontoon staircase into the warm 29 degree ocean. Descending at 12.15pm we enjoyed a 45 minute dive exploring the nearby reef. Highlights were seeing a red anemone, white tipped reef shark, a variety of hard and soft corals and a moray eel.
Moore Reef is a part of the Marine National Park Zone and encompasses a total area of 2,650 hectares. Our dive reached a maximum depth of 12.5m with 8m visibility. Returning to the pontoon, it was definitely lunchtime.
Sunlover Cruises serves its buffet-style lunch on-board the catamaran and you can choose to eat in the air-conditioning or outside on the pontoon. Lunch is a generous combination of hot beef curry and noodles, cold prawns and meats, a selection of salads and bread rolls. Grabbing a plate, we headed out to the pontoon to enjoy views over the Great Barrier Reef.
Meal complete, we were back in the water at 1.15pm to snorkel and explore the coral gardens adjacent to the pontoon. Snorkelling conditions were excellent! The coral depth varied and in some places was just 1m from the surface, which meant visibility and proximity were brilliant.
There was nothing we did not see. Highlights included hard and soft corals, anemone and their resident (nemo) fish, a napoleon wrasse, eagle ray, white tipped reef sharks, red bass, Chinese footballer cod, parrotfish, trumpetfish and trevally.
Definitely the most exciting moment for most guests was snorkeling and diving with the friendly green sea turtles! These delightful creatures gracefully moved around the snorkeling area, welcoming everyone to share their underwater world.
On this particular trip, we were accompanied by our visiting relatives from South Africa. Initially hesitant to enter the water, our daring 70 year old aunt and uncle, were soon convinced to give it a go. Mask, snorkel, fins and vest on, they pushed off from the submerged pontoon steps and explored the reef. They loved it!
Back on board the pontoon they joined our Mum (who is not a keen swimmer) on a glass bottom boat and semi-submersible tour, as well as a visit to the underwater observatory and touch tank. She enjoyed the day thoroughly too, which just goes to show that you do not need to get in the water to enjoy a visit to the Great Barrier Reef.
After we decided to call it a day in the water, we had a freshwater shower on the pontoon and got changed in preparation for our return to Cairns. The afternoon's pontoon activities concluded with a fish feed, which was eagerly watched from the back deck and in the underwater observatory.
At 4pm Sunlover Reef Cruises began its return trip to Cairns. The weather was kinder and the guests enjoyed smooth sailing to Fitzroy Island, while munching on complimentary biscuits and enjoying tea and coffee.
Professional photographs from our day at sea were displayed downstairs for purchase, with many choosing to pick-up the unique souvenir memories.
Top Tips
Clothes that are available for sale onboard Sunlover Reef Cruises catamaran are on sale (50% off)

before you leave

and (30% off) on the return journey. They are full price on the trip out.
If you want to rent an underwater camera, it is cheaper to do so in Cairns, before you get on board.
The best place to watch the fish feeding is in the pontoon's underwater observatory.
If you think you may get sea sick, take preventative medication – better to be safe than sorry.
THE VERDICT: Sunlover Reef Cruises provides snorkel and dive tours to the Great Barrier Reef for people of all ages. On our day, guests ranged from 2 months old to 75 years, and were a combination of tour groups, families and couples. The coral gardens were excellent for snorkeling and despite poor weather (rain did come and go throughout the day) everyone had an amazing time and left the reef with a big smile on their dial and memories to last a lifetime. This trip is suitable for all ages and abilities, even non-swimmers will enjoy the day.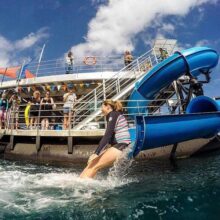 Great day tour for people of all ages. Visit Outer Reef Pontoon at Moore Reef, with lots of inclusions: snorkelling, glass bottom boat and semi-sub tours, underwater observatory and more.
Click the links below to find out more.
Can't decide? We have personally been on every Cairns reef and diving trip. We can help you choose the best tour, to suit your experience and budget.
FREE UNDERWATER CAMERA HIRE*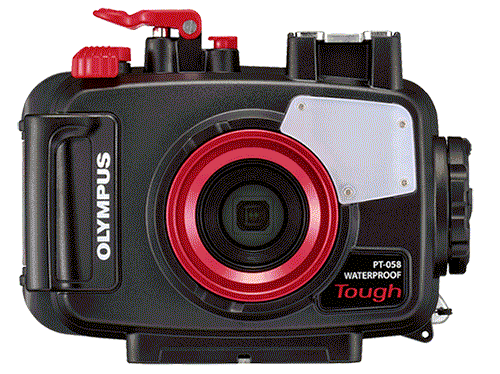 Spend over $550.00 AUD on your Great Barrier Reef tour with us and receive the latest Digital Underwater Camera Hire. Take amazing High-Resolution images and 1080 HD Video.
Not available for any tours to the Islands as fine white sand damages the seals on the cameras and makes them leak!
You need to come into our shop located on the Cairns Esplanade the day before departure to pick up the camera before 5:30 pm. You also need to supply your own SD Camera Card and drop the camera off back at our shop before 5:30pm.
Please Remember there is no other way to collect our cameras! All passengers must come into our shop the day before departure day before 5:30 pm.