Silverswift (Quicksilver) Cairns Review
Cairns Dive Adventures Trip Review
Silverswift is a great day tour option for certified divers and snorkelers who are comfortable swimming in the open water (with no islands or pontoons close by). Licensed to visit several different reef sites and locations, the three (3) best will be chosen on the day to maximise your experience, pending weather and conditions. The...
Silverswift (Quicksilver) Cairns Review
Silverswift is the only Cairns Great Barrier Reef day trip to visit three (3) different reef sites in one (1) day. The modern 29m catamaran is fast, smooth and comfortable and the day tour price includes a guided snorkel tour, hot and cold buffet lunch, morning and afternoon tea and up to five (5) hours at the reef, with unlimited snorkelling. Certified divers can enjoy up to three (3) guided dives, one at each reef site, and choose between full equipment hire, or just tanks and weights. A great day out, with a professional operator, on a luxurious boat.
Silverswift is a part of the multi-award winning Quicksilver Group and is their dedicated dive and snorkel vessel day trip out of Cairns. Your day commences with check-in at the Reef Fleet Terminal from 7.30am, with boarding at the boat from 8am.
On our day tour, it was a glorious winter morning, the type of day that Cairns and Tropical North Queensland is known for at this time of year. Clear blue sky, with sparkling sunshine reflected in the calm waters of Trinity Inlet. The crew welcomed each guest aboard, checking boarding passes and issuing relevant safety paperwork (for snorkelers and scuba divers).
Complimentary tea and coffee is served on arrival, along with a selection of muffins (chocolate and blueberry) and focaccias. There is about 30-minutes between boarding and departure and in this time, snorkelers are issued with their complimentary equipment (mask, fins and snorkel) on the back deck.
Silverswift pulls back from the marina on time at 8.30am, beginning its 80-minute trip to the Great Barrier Reef. On the journey out, the crew provide quick and informative briefings to everyone, starting with an overview of the boat, its facilities and the day ahead.
The 29m Silverswift catamaran has two levels: both offer air-conditioned, interior seating and exterior sun decks. There are three (3) toilets on board and three (3) separate change rooms. All meals are included in the day tour price and additional beverages and snacks can be purchased from the licensed bar. Note: Alcohol should only be consumed once all in-water activities have been completed.
The briefing also covers details about the Great Barrier Reef Marine Park and how you can help to protect it during your visit. For snorkelers, there's a selection of lycra and wetsuits available for hire on board ($7 each) and these are highly recommended for sun protection (the suits are included in the diving prices).
Once the initial briefings are completed, the introductory and certified dive briefings commence. There are eight (8) certified divers on board and about 25 people trying an introductory dive.
All certified dives on Silverswift are guided (with the guide included in the dive price). Today, the certified divers are broken up into two (2) groups of four (4) divers, which will be accompanied around the Great Barrier Reef by Dive Instructors Luke and Paul.
Certified divers can choose between 1-2-3 dives, which are completed at different sites throughout the day. The first dive is at 10am, with a second dive around 11.15am (both before lunch) and the final dive at 1.30pm. Paul advised that dive 1 would be the deepest of the day (maximum of 22m), with no reverse profile diving allowed. The second dive would be around 16-18m with the final dive around 15m. The maximum dive time is 40-minutes, to ensure there is time to complete the three (3) dives.
Water entry is giant stride and divers are advised to follow the mooring line down. The winter water temperature on the Great Barrier Reef today is 24 degrees, so most divers chose to use the wetsuits and appreciated the hot water showers.
Snorkelers relaxed during the dive briefing, with their individual reef site briefings provided on arrival to the reef. Certified divers were told to be ready to enter the water at 10am. Silverswift arrived at the Great Barrier Reef around 10am. The first site for the day was called 'Coral Gardens' on Flynn Reef.
Our party today comprised one pregnant snorkeler (unable to dive) and one certified scuba diver. To spend some time together, the diver chose to complete dives 2 and 3, sitting out the first dive to snorkel. As the certified divers entered the water from the back deck, Jemma – the Snorkel Instructor – provided her briefing on the sun deck.
She provided an overview of the 'Coral Gardens' site, pointing out where some giant clams could be found. She said there was one hour to enjoy this site and the boat would blow the horn to recall everyone at the appropriate time. For anyone who was a little uncomfortable in the water, complimentary life jackets and buoyancy noodles were available and provided. There is also a life guard on watch, from the top deck, at all times people are in the water. Should they choose too, snorkelers can enjoy up to 3.5 hours in the water, exploring the three different sites, throughout the course of the day.
Excited to get into the blue, clear waters, we were immediately impressed with the clarity and visibility. The reef was a short snorkel / swim from the boat and we spent an hour exploring the coral gardens, which rose to just a few metres from the water's surface. Some of the Great Barrier Reef fish we saw included: Pink and Black Anemonefish, Scissor-tail Sergeants, female Bird Wrasse, Humphead Maori Wrasse, Bicolour Parrotfish, Moorish Idols, Lined Surgeonfish and much, much more.
Too soon, it was time to climb back on board Silverswift. As the boat moved to its second reef location, Jemma provided the snorkelers with a Reef Talk on the front sun deck. Her presentation was both friendly and informative, covering different types of corals and marine life.
If you would like more detailed information about the reef check out our latest article – The Ultimate Guide to the Great Barrier Reef
The hot and cold buffet lunch was served from 11.30am – 1.15pm. It was self-serve and you could go when and as often as you liked. For the certified divers, it was time to explore the second reef site 'Gordons' at Flynn Reef.
Splashing down the divers quickly found their depth, before exploring the new reef site. It was an easy, comfortable dive with very little current and some great swim throughs. There was a lot of marine life cruising around the colourful corals and some of the things seen included: a Moray Eel, Humphead Maori Wrasse, Red Bass, Barracuda, Nudibranchs, Pipefish, Bat Fish, Sea Cucumbers, Pennant Bannerfish, Pufferfish and Butterflyfish.
Dive over, it was lunch time! The hot and cold buffet featured a range of dishes including sesame chicken stirfry, vegetarian curry and steamed rice, chilled local prawns, honey leg ham and cold honey and soy chicken pieces, as well as a great selection of salads (green, pasta, potato, coleslaw), nori rolls, a fresh fruit platter and bread rolls.
While we ate on the front sun deck, Silverswift moved to its third reef location, which was 'Traceys' on Flynn Reef. Here I took the 25-minute guided snorkel tour, while my partner enjoyed his second certified scuba dive. 'Traceys' proved a great location for both activities: the tide had gone down a little since the morning and the corals were now very close to the surface.
Snorkelling I saw: Trumpetfish, Clark's Anemonefish, Butterflyfish, Angelfish, Unicornfish, female Bird Wrasse, Steephead Parrotfish, Swarthy Parrotfish, Yellow-tailed Fusiliers, Bicolour Parrotfish and more. Snorkelling this site was both comfortable and enjoyable, with little to no current and the Great Barrier Reef just metres beneath you.
The diving was great too, with some more swim throughs and lots of coral bommies and gardens to explore. There were lots of Yellow-tailed Fusiliers, a White-tailed Reef Shark, Sea Squirts, Surgeonfish, Starfish, a large Peacock Rockcod, a Boxfish and NEMO (love these guys!). Making their way back to the boat, the divers saw several Red Bass hovering underneath Silverswift.
Everyone enjoyed the hot showers on the back deck and dried off before heading inside for more tea and coffee. Silverswift packed up and departed Flynn Reef at 3.15pm, to begin its return journey to Cairns. Everyone enjoyed the complimentary platters of cheese and crackers, chocolate and carrot cake, with several grabbing a cold beer from the bar.
On the way back to port, Silverswift came across a few Humpback Whales. Everyone rushed to the front sun deck to enjoy the show, as the friendly whales breached and tail-slapped. There were also some Pilot Whales in the water, who came within metres of Silverswift. We spent about 20-minutes watching the unexpected whale show before continuing on and arriving back into Cairns around 4.45pm.
THE VERDICT: Silverswift is a great day tour option for certified divers and snorkelers who are comfortable swimming in the open water (with no islands or pontoons close by). Licensed to visit several different reef sites and locations, the three (3) best will be chosen on the day to maximise your experience, pending weather and conditions. The boat is fast and comfortable with excellent facilities for divers and snorkelers, including large tanks, dry change rooms and hot water showers: the crew was friendly and very helpful. With a guided snorkel tour included, as well as all meals, this is a good value Cairns Great Barrier Reef trip.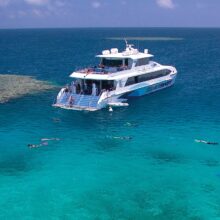 Only Cairns Great Barrier Reef day tour to visit 3 different reef sites in one day! Part of the Quicksilver Cruises fleet. Comfortable, high speed catamaran. Up to 5 hours at the reef.
Click the links below to find out more.
Can't decide? We have personally been on every Cairns reef and diving trip. We can help you choose the best tour, to suit your experience and budget.
FREE UNDERWATER CAMERA HIRE*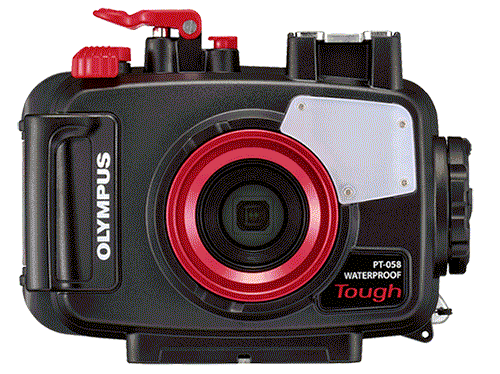 Spend over $550.00 AUD on your Great Barrier Reef tour with us and receive the latest Digital Underwater Camera Hire. Take amazing High-Resolution images and 1080 HD Video.
Not available for any tours to the Islands as fine white sand damages the seals on the cameras and makes them leak!
You need to come into our shop located on the Cairns Esplanade the day before departure to pick up the camera before 5:30 pm. You also need to supply your own SD Camera Card and drop the camera off back at our shop before 5:30pm.
Please Remember there is no other way to collect our cameras! All passengers must come into our shop the day before departure day before 5:30 pm.