Deep Sea Divers Den – Aqua Quest Review
Cairns Dive Adventures Trip Review
Aqua Quest is the newest addition to the Deep Sea Divers Den fleet, commencing Cairns Great Barrier Reef day tour operations in December 2015. This brand new boat is fully equipped with the latest dive and snorkel equipment and provides guests with up to five (5) hours at the reef and the chance to do...
Deep Sea Divers Den – Aqua Quest Review
Aqua Quest is the newest addition to the Deep Sea Divers Den fleet, commencing Cairns Great Barrier Reef day tour operations in December 2015. This brand new boat is fully equipped with the latest dive and snorkel equipment and provides guests with up to five (5) hours at the reef and the chance to do three (3) scuba dives and snorkelling.
Aqua Quest is 24m long and has been designed to offer a premium Great Barrier Reef day tour experience. Licensed to carry 125 guests, day tour numbers are limited to just 80, to ensure everyone has lots of space. To give you the best idea about what this new boat is all about, we checked it out!
Our Aqua Quest day tour commenced with an 8am check in at the boat, which was moored at B-Finger on Cairns' Marlin Marina. It was pretty easy to recognise, with its stand out octopus paint job. It was a stunning day when we travelled, Saturday 23 January 2016, blue sky and calm waters (10 knots).
Everyone was pretty excited. Friendly crew greeted all of the guests and handed out relevant paperwork, pending their activities for the day. Certified divers were required to show their dive cards and complete some standard forms and waivers. There was complimentary tea, coffee and pastries available. Yum.
When all were aboard, Aqua Quest pulled out of the marina, at around 8.45am. During the trip to the reef, a range of briefings were provided. These included an overview of the day, the boat, the reef and various safety and operational matters.
Passengers were then divided into groups, for more specific briefings, be they for snorkelling, introductory diving or certified diving. There were approximately 76 guests aboard on the day we travelled (so almost a full boat), of which roughly 14 were certified divers, 16 were people trying introductory diving and the rest were snorkelling.
In the dive briefing, the crew provided information and explanations on the equipment, dive procedures, dive computers, emergency recall, lost buddy procedures and hand signals. They also talked about the Great Barrier Reef and the dive sites we would be visiting during the day.
Thanks to the exceptional weather, Aqua Quest was headed to the 'wild side' (eastern side) moorings on Norman Reef, the Outer Great Barrier Reef. Certified divers could choose to dive with a buddy (unguided) or guided, which does cost extra, $10 per person, per dive. If you are travelling alone and are a certified diver, they will buddy you up with someone.
Travel time to the reef took about 90 minutes, which provided plenty of time for the briefings and to just relax and enjoy the great day! Aqua Quest has plenty of indoor and outdoor spaces, with lots of room for guests to spread out. For comfort and convenience, it has four (4) toilets on board, two (2) with hot, freshwater showers.
Before we knew it, we had arrived at our first destination and it was dive time!
DIVE 1: 'WILD SIDE' – (EAST) NORMAN REEF – 10.40AM
You can tell it's going to be a great day for diving when you can see to the bottom, while you're still on the boat. So it was with much excitement that we geared up and jumped in to the 28 degree water. The Wild Side is a beautiful dive site. There's lots of colourful coral gardens, home to an amazing diversity of marine life, of all shapes and sizes. The underwater visibility was amazing, at around 25m, and there were lots of glass fish and plankton in the water.
Highlights of this dive, which lasted around 50 minutes and went to a maximum depth of 18m, was seeing several large Coral Trout and hundreds of Yellow Tailed Fusiliers feeding along the reef walls. A great way to start the diving day.
Back on board, it's a relatively short surface interval, before we're back in for dive 2. This was at the same location, which was great, as there was lots to see.
DIVE 2: 'WILD SIDE' – (EAST) NORMAN REEF – 11.45AM
Setting out in a different direction this time, we soon came across a large Dotted Sweetlip (around 1m long) which was enjoying a morning spa session with some cleaner wrasse. The large beds of staghorn corals were home to a multitude of fish and it's always fun seeing the blue and white Scissor-tailed Sergeants darting in and out of the corals. Other critters spotted during this dive include, but are not limited it, Rabbitfish, Butterflyfish, Barramundi Cod and some giant clams. The second dive went to a maximum depth of 12m and lasted about 40 minutes.
Back on board Aqua Quest, it was time for us to have lunch, while the crew packed up and moved the boat to our second reef site of the day. Lunch was served buffet style and included a selection of cold meats, potato and pasta salads, bread rolls, fresh fruit and even some hot chicken soup. Complimentary freshwater was available, or you could purchase soft drinks from the bar (at your own expense).
DIVE 3: 'TURTLE BAY' – NORMAN REEF – 1.00PM
As this was our third and final dive for the day, we kept this one shallow with a maximum depth of just 11m. On the Great Barrier Reef this is plenty; you will see some amazing things. Diving in, the first thing we saw was a large and very friendly Humphead Maori Wrasse. Always love to catch up with these guys. A real divers' delight off Cairns. After stopping to say hi, we headed off to explore the site.
'Turtle Bay' has coral walls which drop away to the ocean floor below. Visibility here was around 30m and there were several, very large coral bommies. Highlights of dive there included seeing several large Batfish and schools of Trumpetfish.
Getting out of the water at around 1.45pm there was still plenty of time to do some snorkelling, as Aqua Quest was not due to depart until 3pm. If you wanted to do this, then guided snorkelling tours are included in the price. I took the time to wash my underwater camera in the freshwater tubs on the dive deck and soak up some sunshine upstairs.
If you want, Aqua Quest has a licensed bar on board and a range of alcoholic beverages and snacks (crisps and chocolates) are available for sale. This is in addition to the tour price.
Aqua Quest departed the Great Barrier Reef right on time, returning us all to Cairns at around 4.25pm. On the way home, customers could review some of the underwater photographs that a photographer had taken throughout the day. These were available for purchase.
VERDICT

A fantastic day trip with a great crew. This is a real dive boat that lets you dive by yourself in your own buddy pairs. Great for photographers, they have a camera bucket with freshwater on the back deck. The crew are attentive and the boat is brand new. Stunning layout and design with brand new dive gear, like BCDs, wetsuits, regulators, fins and mask. Norman Reef was stunning on this side, especially the eastern side of the reef which is called the Wild Side. Usually they can only get to this area in the summer months where we have low North and North East wind conditions of around 10 knots!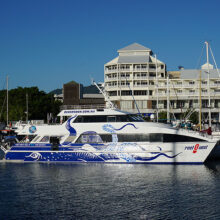 Value for money Great Barrier Reef dive tour. Visits 2 reef sites. Perfect for snorkellers, certified divers and those wanting to try an introductory dive. Buffet lunch included.
Click the links below to find out more.
Can't decide? We have personally been on every Cairns reef and diving trip. We can help you choose the best tour, to suit your experience and budget.
FREE UNDERWATER CAMERA HIRE*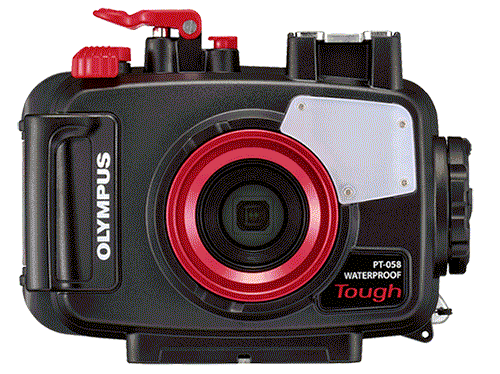 Spend over $550.00 AUD on your Great Barrier Reef tour with us and receive the latest Digital Underwater Camera Hire. Take amazing High-Resolution images and 1080 HD Video.
Not available for any tours to the Islands as fine white sand damages the seals on the cameras and makes them leak!
You need to come into our shop located on the Cairns Esplanade the day before departure to pick up the camera before 5:30 pm. You also need to supply your own SD Camera Card and drop the camera off back at our shop before 5:30pm.
Please Remember there is no other way to collect our cameras! All passengers must come into our shop the day before departure day before 5:30 pm.