Cairns Dive Adventures Trip Review
Reef Quest is a great value day trip to Cairns' Outer Great Barrier Reef. The boat is comfortable and the dive crew very helpful and experienced. The dive locations are good and easy to dive. A great point for Reef Quest is the number of larger tanks allowing the more air consuming divers more time...
Deep Sea Diver's Den Reef Quest is a great value Great Barrier Reef day trip that visits two (2) different reef sites in one (1) day. The 23m catamaran is fast, smooth and comfortable and the day tour price includes a guided snorkel tour, buffet lunch and up to four (4) hours at the reef, with unlimited snorkelling. Certified divers can enjoy up to three (3) guided or unguided dives, two at the first site and one at the next, and choose between full equipment hire, or just tanks and weights. Reef Quest is a great value day tour with an experienced operator.
Reef Quest is operated by Deep Sea Divers Den, who offer day trips, as well as liveaboard dive and snorkel tours from Cairns. Reef Quest is their day tour option, with the boat also providing daily transfers to the liveaboard vessel, which means some guests will come and go throughout the day.
Your Reef Quest day commences at 8am, with check-in at the boat, which is moored at the end of B-Finger at Cairns' Marlin Marina. Although it was a slightly overcast winter morning, the weather forecast predicted a fine day ahead with winds of 10-15 knots. Marlin Marina buzzed with activity as the reef boats geared up and welcomed their excited guests aboard. On Reef Quest the crew checked vouchers, took any final payments (reef tax etc) and issued relevant safety paperwork (for snorkelers and scuba divers).
There was about 30-minutes between boarding and departure. During this time, certified divers completed their paperwork, had it checked by the Dive Crew and were issued with their equipment for the day. I was delighted to see Reef Quest had quite a big selection of larger tanks, suited to the more air consuming divers. We had opted to bring our own gear and after setting up our BCD's we stored our bags upstairs under the benches. For those without equipment, Reef Quest has a range of gear which was all in great condition.
We departed the marina on time at 9.00am, beginning the 90-minute trip to Norman Reef on Cairns' Outer Great Barrier Reef. During the journey, the crew provided a quick and informative briefing to everyone, starting with an overview of the boat, emergency procedures and the day ahead.
The 23m Reef Quest catamaran has two levels: both offer air-conditioned, interior seating and exterior sun decks. There are four (4) toilets on board. Lunch is included in the day tour price and additional beverages and snacks can be purchased from the licensed bar. Note: Alcohol should only be consumed once all in-water activities have been completed, you will not be allowed in the water once you have had any alcohol.
The briefing also covers details about the Great Barrier Reef Marine Park and how you can help to protect it during your visit. For snorkelers, there's a selection of lycra and wetsuits available for use on board (no charge): these are highly recommended for sun protection. The on-board underwater photographer also gave a quick introduction about his services. Pictures can be viewed and purchased at the end of the day, on the way back to Cairns.
Once the introductory briefings were completed, the introductory and certified dive briefings commenced. There were 11 certified divers on board today and 34 people trying an introductory dive, with one (1) passenger completing an Advanced Open Water course. Deep Sea Divers Den also offers a range of dive courses.
Certified divers can choose between guided and unguided diving: guided dives cost $15.00 per person, per dive and are compulsory if you have not dived within the last 12 months. The crew provide a good dive briefing with site maps, for the unguided divers. The dive briefing also covered basic dive rules including, hand signals, air use, the dive computers and lost buddy procedures.
Certified divers can choose between 1-2-3 dives, two are completed on the first site and one at the second. The first dive is at 10:30am, with a second dive around 11.30am (both before lunch) and the final dive at 1.15pm. The crew advised that dive 1 should be the deepest of the day (maximum of 25m), with no reverse profile diving allowed. The second dive should be a little shallower and the final dive around 10-12m. The maximum dive time is 45-minutes, to ensure there is time to complete the three (3) dives.
Water entry is giant stride from the side of Reef Quest. There are drop lines on the side of the boat for anyone that wants to use them. The Great Barrier Reef winter water temperature today was 24 degrees, so most divers chose to wear wetsuits, ranging from 3mm – 5mm. It is worth noting that Reef Quest has short leg / long arm wetsuits on board.
Dive 1: 'Plate Top' – Norman Reef – 10.30am
Our first dive was a bit of a shakedown for my buddy, who had not dived in around a year. In the water he looked very comfortable and took the lead with navigation. We followed a wall and found deep water around 25m, after a quick look around we found and explored a huge coral garden with a wide variety of fish and corals. Monitoring our air, we decided to move to shallower water to get a longer dive. At 60 bar we surfaced to get our bearings – and find the boat – to discover we were about 100m from Reef Quest. Tender pick-ups are an option, but should be left for emergencies, so we inflated our BCD's and made our way back to the boat. Some of the things we saw on this dive included: Six-bar Wrasse, Maori Wrasse, Titan Trigger Fish, Spotted Sweetlips, Humbugs, Threadfin Butterflyfish, Steephead Parrotfish, Six-banded Angelfish, a juvenile Midnight Snapper, Giant Clam, Batfish and Coral Trout.
It was a short break between dives (about 15 minutes), so we kept our wetsuits on and had a quick drink of fresh water, which is supplied FOC on the dive deck.
Dive 2: 'Plate Top' – Norman Reef – 11.30am
For our second dive, we decided to explore the coral garden around the vicinity of Reef Quest. I had noticed some really nice looking reef, during our surface swim back to the boat and was keen to do some more underwater photography. After completing a lap around the coral gardens, we found ourselves back under the boat, where we were greeted by a very friendly Maori Wrasse. He proceeded to join us for the remainder of the dive, with the on-board photographer busy taking photos and pointing out a few interesting fish and photo opportunities. I have always found it interesting around the boats at the end of dives, as for whatever reason, the boats always seem to attract a plethora of fish into their shadows. During this dive we saw: the Maori Wrasse, a variety of hard and soft corals, Spine-cheek Anemonefish, Half and Half Puller, Giant Clam, Bullethead Parrotfish and Red Bass.
With the second dive over, it was time for lunch! The crew provide you with a plate and a selection of cold meats: the salad bar is self-serve and there was hot minestrone soup, which was perfect for the winter weather. During lunch we changed the batteries in our cameras and my dive buddy warmed up with some complimentary tea and coffee. During this time, Reef Quest moved to its second reef site for the day, 'Turtle Bay' at Norman Reef.
Dive 3: 'Turtle Bay' – Norman Reef – 1.15pm
With our last giant stride entry of the day, we splashed down into Turtle Bay. As the name suggests, it is a sandy bay with coral gardens surrounding the area. It is a very easy and comfortable dive, with little to no current. We dived off around the front side of the bay looking for interesting subjects, and although we didn't find any turtles, we did find a fish cleaning station where quite a few large Coral Trout were enjoying the attention of some Cleaner Wrasse. The cleaning station bommie lead to a great swim through that took us all the way back into Turtle Bay, where we spent the rest of the dive enjoying a range of Great Barrier Reef species including Batfish, Trevally, Blue Green Chromis, Coral Trout, Fusiliers, Parrotfish, Sea Cucumber, Threadfin Butterflyfish, Half and Half Puller, Yellow-tailed Fusiliers and Midnight Snapper.
Diving over, it was time to pack up our gear and get ready for the trip home. Reef Quest departed Turtle Bay around 2:30pm, making its way to the Deep Sea Divers Den liveaboard vessel, Taka. The two boats tied up and very efficiently exchanged passengers and supplies. This process took around 20 minutes but did not impact on our day, as we were busy washing down and putting our dive equipment away.
Reef Quest departed Norman Reef at around 3pm and started the trip back to Cairns. With our scuba diving over, it was time for a much enjoyed beer from the bar. We also took the time to look at the professional photographers photos (that were for sale) and filled in our log books. The trip back was quite smooth and everybody on board looked happy and tired from their day snorkelling and diving on the Great Barrier Reef. We arrived back in to Cairns around 4:30pm, with the friendly crew waving us farewell on the wharf.
THE VERDICT: Reef Quest is a great value day trip to Cairns' Outer Great Barrier Reef. The boat is comfortable and the dive crew very helpful and experienced. The dive locations are good and easy to dive. A great point for Reef Quest is the number of larger tanks allowing the more air consuming divers more time underwater. If you are looking for a great value day of diving, this is the trip for you.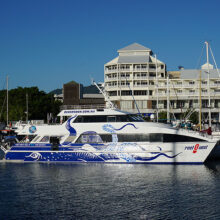 Value for money Great Barrier Reef dive tour. Visits 2 reef sites. Perfect for snorkellers, certified divers and those wanting to try an introductory dive. Buffet lunch included.
Click the links below to find out more.
Can't decide? We have personally been on every Cairns reef and diving trip. We can help you choose the best tour, to suit your experience and budget.
FREE UNDERWATER CAMERA HIRE*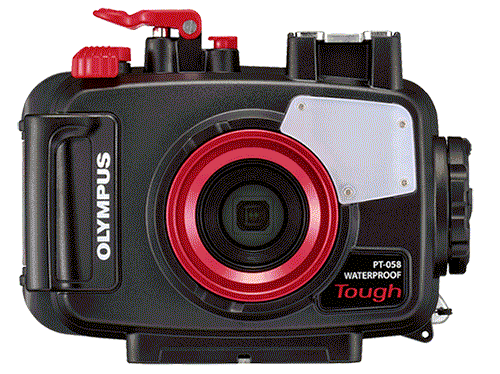 Spend over $550.00 AUD on your Great Barrier Reef tour with us and receive the latest Digital Underwater Camera Hire. Take amazing High-Resolution images and 1080 HD Video.
Not available for any tours to the Islands as fine white sand damages the seals on the cameras and makes them leak!
You need to come into our shop located on the Cairns Esplanade the day before departure to pick up the camera before 5:30 pm. You also need to supply your own SD Camera Card and drop the camera off back at our shop before 5:30pm.
Please Remember there is no other way to collect our cameras! All passengers must come into our shop the day before departure day before 5:30 pm.