Staying Overnight at the Reef with Baby – Reef Encounter
Cairns Dive Adventures Trip Review
For families with babies, toddlers and younger children, this is the only liveaboard option for spending a night on Cairns' Great Barrier Reef. As well as being your only option, it's an excellent option! The rooms are spacious enough to comfortably accommodate the port-a-cots and there are high chairs available in the dining room (ask...
Staying Overnight at the Reef with Baby – Reef Encounter
Reef Encounter is Cairns' only Great Barrier Reef liveaboard boat that caters to families with babies, toddlers and/or young children.? Promoted as a boutique floating hotel, this family owned and operated company know how to make you feel at home with port-a-cots, high chairs and even a selection of baby toys on board.? We took our 14-month old toddler on an overnight trip to celebrate New Year's 2014 and not only did we have a great time, but we got to go diving together as well.
Reef Encounter is permanently located at the Great Barrier Reef, moving from site to site throughout the day, to provide guests with the best experience, pending weather and conditions.? Daily transfers are provided to and from Cairns aboard the company's day boat, Reef Experience, which departs Cairns' Marlin Marina at 8am daily.? This makes Reef Encounter a very itinerary friendly option for travellers.
Before I get into the review, I'll answer a few quick parent questions.
Can you take a pram on Reef Experience and Reef Encounter? Yes you can.
Does Reef Encounter provide port-a-cots? Yes they do, they even come with cute toys! Lots of room in the cabins for these.
Does Reef Encounter have high chairs? Yes it does.
Do the boats have change-table facilities? No they don't, but when you have your own cabin on Reef Encounter, you can comfortably change baby in your room.
Is there a microwave / fridge? Yes to both, on both boats.
DAY 1.
Our overnight trip commenced at 7.50am on Tuesday 31 December 2013, checking in at Reef Experience, which was moored at A-Finger, Cairns' Marlin Marina.? The friendly crew welcomed us aboard and there was complimentary tea and coffee available on the lower deck.? Reef Experience is a 24m catamaran with two-levels of air-conditioned interior and an exterior sun deck with comfortable sun lounges.
Guests transferring from Reef Experience to Reef Encounter are directed to sit in the upstairs, air-conditioned saloon.? The crew bring their luggage up and Skipper Scott provided a personalised greeting and briefing of the day ahead.? He then handed over to Glen, while he prepared the boat for departure, pulling out of the marina at 8.15am.
Glen informed us Reef Experience would take approximately 90-minutes to transfer out to the liveaboard boat, Reef Encounter, which was currently situated at Hastings Reef.? During this time we could participate in the complimentary marine biologist presentation downstairs, relax inside, or outside on the sun deck. He explained that as overnight guests, all of our scuba / snorkel equipment would be distributed once we had boarded Reef Encounter.? Briefings completed, a delicious breakfast of hot bacon and egg rolls were brought up to us at around 8.30am.
The weather forecast for today was pretty much perfect: sunny with a top temp of 32 degrees, wind blowing a very gentle 5 knots and a calm, flat ocean. We enjoyed the views from the top deck and it was a smooth, comfortable ride to the reef.
Reef Experience moored alongside Reef Encounter at 9.50am. The crew lowered a gang-plank between the boats and the passenger transfer was quick and comfortable. The crew transferred the luggage for you while guests assembled in the downstairs saloon for a welcome and briefing.
Here we met Macca (Dive Instructor) and Tori (Purser) who ran through the 'rules of the boat', which included keeping the dry areas dry and assorted safety instructions / information.? All passengers were then shown to their cabins.? We were in 307, a double room, and as requested there was a port-a-cot in the room for us.? As a lovely, unexpected gesture, there was also a very cute Lamaze octopus toy in the cot, which was furnished with white linen and a warm baby blanket.? The room was spacious enough to fit the port-a-cot comfortably and there were ocean views.
All of the cabins on Reef Encounter have their own ensuite facilities and linen is provided (ocean towels and shower towels).? The entire interior of Reef Encounter is air-conditioned.? It's a set temperature throughout the boat, keeping it comfortably cool; additional blankets and/or fans are available for individual cabins, should you feel too cold or warm.
The boat has 21 cabins, a combination of double, twin-share and tri-share, and accommodates up to 42 guests per night.? The combined lounge / dining / bar area is spacious, comfortable and nicely appointed.? The rear dive deck is the same.? All passengers are issued with their snorkel / dive equipment from the top sun deck and are issued with a storage basket on the second level to place fin, masks etc? These are yours for the duration of your stay and you are responsible for storing your own gear after a water session.
Other features of Reef Encounter include a top sun deck, forward sun deck with spa and a dedicated smoking area on the rear second level.? The boat has three levels and plenty of room for everyone.? It also creates its own freshwater supply, with desalination equipment on board, this means you can enjoy long hot showers at the end of the day. The boat caters to snorkelers and scuba divers.
For new guests, the first water session of the day is at 10.30am. ? It's a snorkel only session (the first dive of the day is at 1.30pm).
Today, Reef Encounter is moored at Hastings Reef and you can see the bottom of the ocean from the back of the boat, which means visibility is at least 12m.? My husband went for a snorkel session while I gave our baby a bottle and settled him into the room for a sleep.
Lunch was served at 12pm: a delicious and nutritious burrito buffet.? Everyone was given a plate with soft flour burritos and they could choose between beef and lamb filling with a selection of sour cream, cheddar cheese, guacamole and salads.? There was also hot chips.
Cool water is complimentary and available on the tables at all meal times.? Guests can choose to purchase soft drinks from the on-board bar and alcohol is also available, but cannot be consumed before diving.? Everyone can dine comfortably and for the little ones, there are high chairs.

Parents Note: Everyone is asked about dietary requirements at the start of the trip.? We were asked specifically about any requests for our baby, but we brought our own food for him to eat, which they refrigerated for us.? We also took our own steriliser for bottles and the kitchen and crew were only too happy to help out with everything we needed. Reef Encounter cater to any dietary requests and requirements.

After lunch, certified divers were given a briefing on the back deck.? Anyone without a buddy was paired up with one*.? You could go unguided or guided, which cost $10 per person, per dive.? During the briefing, Reef Encounter moved from Hastings to Norman Reef. The first dive of the day was at 1.30pm.
Certified divers booked on a 2 day / 1 night trip with Reef Encounter can take up to six (6) dives.? *We took turns diving, so one parent could be with the baby at all times.
DAY 1: DIVE 1: NORMAN REEF – 1.30PM
Richard took the first dive of the trip, buddied up with one of the Reef Encounter dive crew.? Conditions were amazing.? The water was blue and clear with about 15m visibility.? The water temperature was 29 degrees Celsius.? During the dive he saw Pink Anemonefish, large schools of Half and Half Puller, Blue-green Chromis, Jewel Damsels and Yellow Damsels.? Scissor-tail Sergeants darted about the hard and soft corals, as did the very colourful Six-bar Wrasse. A highlight was seeing a Feather Star swimming free around the reef, something we've never seen before!
While Richard was diving, Tori offered to lower the duck deck on Reef Encounter so Ethan could splash around in the ocean.? We so appreciated her offer and Ethan loved being in the water.? The deck was shaded by the boat and it was lovely to cool down and splash around.? We were still there to see Daddy when he surfaced from his dive.
In between dives, we explored a little more of Reef Encounter and let our toddler cruise the passageways.? He had a great time.? The next dive was scheduled for 3.30pm but was running a little late.
DAY 1: DIVE 2: NORMAN REEF – 4PM
Julie took the second dive, tagging along with another pair of divers.? It's such a pleasure being in the water at this time of year, when it's so nice and warm and there's lots of juvenile fish about.? Highlights for me were seeing a large school of glassies: they seem to only be around in December / January and are really cool to see.? I also saw lots of Headband Humbugs, hanging around in the safety of the staghorn corals, Pink Anemonefish, Moon Wrasse, Moorish Idols, a large Flowery Cod and much more.? We ended the dive hanging out with a very friendly Maori Wrasse at around 5m.
Back on Reef Encounter, there was time for a shower and relax before dinner was served at 6pm.? There's table service provided and dinner was a delicious filo pastry with bacon, pumpkin, sweet potato and more accompanied by a fresh garden salad with pine nuts and shaved parmesan.? After dinner, we went upstairs to watch and sunset and everyone get ready for the last night dive of 2013.
The night dive was at 6.30pm but as anyone with a young child will tell you, this is not a great time of day for the little people, so it was all hands on deck for my husband and me as we finalised his night time routine.? This means we missed dive 3 of the possible 6 on offer for the trip.? After that, we all headed up to the top deck to watch the final sunset: it was all too much for our little man, falling asleep with Daddy in the sun lounge.? Dessert was served at 8pm, a delicious chocolate / caramel slice with vanilla cream.
The top deck proved the perfect place to star gaze and it was amazing to spend the last night of the year on the Great Barrier Reef.
DAY 2 – HAPPY NEW YEAR 2014!
We were up early at 5.30pm to have a coffee, Ethan's first bottle and watch the sunrise over the Coral Sea and the New Year.? Another special moment.? The first water session for the day is at 6.30pm and it was Richard's turn to go diving, while I gave our toddler some breakfast.
DAY 2: DIVE 3: NORMAN REEF – 6.30AM
Morning conditions were perfect.? Golden light and calm blue waters: what a way to start the New Year! Splashing down with two dive buddies, the friendly Maori Wrasse was waiting to say hello.? After hanging out with the big blue fish for a little bit, the trio headed over to check out the pressure point of the site, hoping to find some reef sharks. They weren't disappointed.? Other highlights included seeing two Green Turtles and huge schools of glass fish.
While they dived, the Reef Encounter chef prepared a delicious hot and cold buffet breakfast consisting of fruit salad and yoghurt, cereals, toast, scrambled eggs, bacon, grilled mushrooms and hash browns. This was served from 7.30am in the lounge / dining area with complimentary orange juice and cool water. While we ate, Reef Encounter moved to a new reef site.
After breakfast we packed up our room, as the boat moved to a new dive site.? Luckily for us, there was no one checking into our cabin that night, so Tori said we could stay in there until just before lunch. She also offered to look after our toddler, so we could have a dive together.? This was a lovely offer and I said I'd see how his morning was going.
DAY 2: DIVE 4: SAXON REEF – 8.30AM
My turn to dive again! Descending into the blue waters, we headed out to explore the site and soon stumbled across more schools of glass fish.? These guys are like little silver bullets, darting through the water in the early morning light.? It was a leisurely dive, as we poked around the bommies and peered under table corals to see what was about.? Highlights included seeing Dotted Sweetlips, a juvenile Rockmover Wrasse (I've never seen one before!), several large Coral Trout, Pink Anemonefish and Blue-green Chromis.
The next dive was scheduled for 10.30am.? As luck would have it, our toddler decided to have his bottle and a sleep at 10.15am. His sleeps last at least one hour, so we took Tori up on her offer and she watched over him in our room, while we got to go diving together.? A real New Year's treat for us!
DAY 2: DIVE 5: SAXON REEF – 10.30AM
Dive time! Splashing down we headed out to explore the site.? Twin Peaks has lots to offer divers with loads of interesting bommies, massive boulder corals and swim throughs. We spent some time watching the fishes dart in and out of the staghorn corals, before being distracted by some Clark's Anemonefish. Making our way back to the boat and up the reef, we came across a large school of sweetlips and then saw a cuttlefish. Mindful of the time, we stopped for a quick picture with Nemo before getting back on the boat.
Ethan had just woken up and was happily getting a cuddle from Tori: happy toddler and happy parents. We finished packing the room and took our bags down to the saloon, where lunch was being served. Lunch was another hearty and delicious meal, satay chicken wings with hot pasta salad with bacon, chorizo and cheese.
After lunch, Tori provided departing guests with a final briefing about the rest of the trip.? While she chatted, Reef Experience pulled up alongside and the crew transferred our bags back to the day boat.? We soon followed and headed straight into the air-conditioned cabin on the top deck.
At around 1.30pm Reef Experience pulled away from Reef Encounter and moved to a new site on Saxon Reef.? There was time for more snorkelling here (no diving for liveaboard guests) or the option of a glass bottom boat tour.? We took the glass bottom boat tour, which our toddler loved.
The boat packed up around 2.45pm and after a final headcount, began its return journey to Cairns.? During this time there was a complimentary glass of wine and cheese and crackers platter.? Additional drinks (alcoholic and non-alcoholic) could be purchased from the bar.? Reef Experience pulled into Cairns' Marlin Marina around 4.15pm.? The crew helped to unload our luggage and provided a friendly farewell.
THE VERDICT: For families with babies, toddlers and younger children, this is the only liveaboard option for spending a night on Cairns' Great Barrier Reef. As well as being your only option, it's an excellent option!? The rooms are spacious enough to comfortably accommodate the port-a-cots (which are available on request and come with linen, blankets and even toys) and you'll appreciate the ensuite shower and toilet facilities.? The air-conditioned interior is a comfortable temperature for the little ones and there are even high chairs in the dining rooms. The crew, especially Tori on our trip, were so welcoming and helpful with us and our toddler.? They even lowered the duck board a little deeper into the water, so our little man could splash around with Mummy and the fish.? They have fridges and microwaves on board to help out with cleaning bottles etc.? Our toddler enjoyed eating their standard meals as finger food, topped up with some purees and yoghurt I took along with me. An overnight trip gives Mum and Dad plenty of time to dive and snorkel, taking turns to watch the baby.? We even got to a dive together, while Tori watched over a sleeping Ethan.? An awesome family trip to the reef!
Reef Encounter offers 2-3-4 day trips from Cairns to the Great Barrier Reef. Suitable for snorkelers and divers: options for all budgets and itineraries.
Click the links below to find out more.
Can't decide? We have personally been on every Cairns reef and diving trip. We can help you choose the best tour, to suit your experience and budget.
FREE UNDERWATER CAMERA HIRE*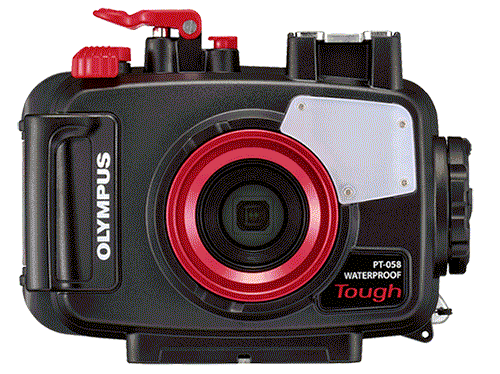 Spend over $550.00 AUD on your Great Barrier Reef tour with us and receive the latest Digital Underwater Camera Hire. Take amazing High-Resolution images and 1080 HD Video.
Not available for any tours to the Islands as fine white sand damages the seals on the cameras and makes them leak!
You need to come into our shop located on the Cairns Esplanade the day before departure to pick up the camera before 5:30 pm. You also need to supply your own SD Camera Card and drop the camera off back at our shop before 5:30pm.
Please Remember there is no other way to collect our cameras! All passengers must come into our shop the day before departure day before 5:30 pm.