Quicksilver's Silverswift – April Review
Cairns Dive Adventures Trip Review
Quicksilver's Silverswift is a fast, modern catamaran offering guests superior ride stability on their Great Barrier Reef day tour. Its spacious interior and exterior has plenty of room to relax and enjoy the day. The crew is committed to ensuring their guests are fully briefed on the day and its activities, providing care and attention...
Quicksilver's Silverswift – April Review
Silverswift is the only Cairns reef tour boat to visit three different cairns diving sites, each and every day. This fast, modern catamaran motors out of Cairns at 8.30am providing its guests with up to five hours to swim, snorkel, dive and explore the reef. The air-conditioned interiors are spacious and comfortable, while exterior sundecks provide the perfect place to relax and enjoy views over the Coral Sea and Great Barrier Reef. Briefings are thorough and professional, ensuring maximum passenger comfort throughout the day. Silverswift is a brilliant day out on the Great Barrier Reef, providing memories to last a lifetime.
Silverswift is a part of the Quicksilver Group of Companies, who are in the Australian Tourism Awards Hall of Fame for Major Tour and Transport Operator. Silverswift delivers on award winning success, providing guests with professional care and attention during their visit to the Great Barrier Reef.
The Silverswift experience commences with check-in at the Cairns Reef Fleet Terminal from 7.30am. It is a glorious day in Cairns with just a touch of winter coolness in the air and clear, blue skies. Boarding Silverswift at Cairns' Marlin Marina at 8am, we help ourselves to the complimentary tea, coffee, foccacias and muffins, before settling into one of the comfortable lounges.
Departing efficiently on schedule at 8.30am, the 29m Silverswift glides gently out of the harbour before powering up and heading to the Great Barrier Reef. With a top cruising speed of 32 knots, Silverswift is quickly passing other reef tour boats including the Fitzroy Flyer and Great Adventures.
The wind forecast for the day is just 5-10 knots and Silverswift's computerized ride control is barely needed, as we enjoy a smooth trip to the reef. Excited passengers admire the view and chatter amongst themselves about the adventure ahead.
There are about 65 guests aboard today's trip, a mixture of snorkelers (35), certified divers (14) and those keen to try an introductory dive (16). As we motor towards Flynn Reef, the professional crew divides the passengers into groups and provides briefings on safety, reef protection and the equipment (masks, fins, snorkels, BCs).
Dive Instructor Shaun outlines the day ahead for certified divers, which includes up to three guided dives. The first dive will be on arrival to the reef at 10am, the second dive will be at 11.45am and the final dive at 1.45pm. Each dive will last approximately 40-minutes with a dive profile starting with a maximum dive depth of 18m, then 14m and finally 12m, for each consecutive dive.
Shaun stresses the importance of following these depths and profiles, as well as the need to stay together as a group and ensure we remain in line of sight with him throughout the dive. He runs through the equipment, reef protection and assorted other procedural items.
We are excited to hear the water is around 27 degrees Celsius with 8-15m visibility. For Cairns locals, this is a little "chilly" and we note that wetsuits and lycra suits are provided to all divers, for their comfort in the water.
Getting ready on the dive deck, we are excited about our first dive on Flynn Reef, as the waters are clear and blue, matching the perfect sky above. Mask demister is provided and we splash down on the Great Barrier Reef at 10.10am, descending on a site called Gordons. Almost immediately we see our first Hawksbill Turtle.
As a lover of turtles, I am very excited and this one seemed particularly friendly, happily swimming in and around the group. Moving on, we pass over isolated patches of coral on the sandy floor, alive with the movement of dozens of cute little black and white Humbugs.
Making our way around the site we see a juvenile Midnight Snapper (I love these little guys as well, very cute) and pass over giant clams. We see many Damsels darting in and out of staghorn corals in the clear, blue waters: the beauty of the reef today would put a postcard to shame!
Each trip to the Great Barrier Reef offers a new experience and today we enjoy our first coral swim through. Sunlight streams down through the clear waters, lighting the way through. Emerging on the other side we spot a Yellow Boxfish (another first for us!).
Continuing on the dive we see stunning, colourful corals and many marine residents including Harlequin Sweetlips and some Nudibranchs. On the way back to the boat we come across another turtle, this time a Green Turtle, who is just as friendly as our first encounter. This dive reached a maximum depth of 15.7m and ended at 10.55am. Visibility was around 8m.
Back on deck it was time to snorkel the nearby coral shelves, which broke the surface of the water in some places. A giant Humphead Maori Wrasse hovered under the snorkel platform, to the delight of guests, who watched it swim underneath the boat.
In the shallow waters over the corals, colourful Parrotfish grazed, Lined Surgeonfish cruised, a Black-spotted Puffer darted around and assorted yellow Butterfly fish contrasted against the pink, blue, green and creamy yellow corals.
Called back to Silverswift with a quick blast on the horn, all snorkelers and divers were accounted for in a head count, before we moved to our second location on Flynn Reef, a site known as Coral Gardens. Our second dive commenced at 11.45am and we explored this stunning site, full of a diverse range of corals including Brain Coral, Sea Fans, Mushroom Coral, Mushroom Leather Coral, Table Coral, Boulder Coral, Bubble Coral, Staghorn Coral, Elephant Ear Sponge, Soft Corals and more.
A highlight was a Magnificent Sea Anemone home to several Pink Anemonefish, later we also came across a Black Anemonefish and Clark's Anemonefish. No matter the variety, anemonefish are always a crowd pleaser.
Other highlights on the Coral Gardens dive included seeing a Feather Star, home to some little crustaceans, numerous Damsels, Parrotfish, Butterflyfish, Scissor-tail Sergeants and a friendly Moon Wrasse, who was everywhere and very difficult to photograph.
Emerging from the water at 12.25pm I had a quick, warm freshwater shower on the back deck and decided it was definitely time for lunch! This was a veritable feast of cold, honey and soy chicken, ham, coleslaw, potato salad, green salad, prawns, tropical fruits and bread rolls. There were also some hot dishes, including chicken chasseur, Indian vegetarian curry, steamed rice and more.
Helping ourselves to a plate, we headed to the sundeck on the bow to enjoy views over the crystal clear blue waters while we dined. After lunch and another headcount, we moved to the final site of the day at Tracey's where we enjoyed our third dive at 1.40pm.
This time we did not take a camera with us, which was a shame as we saw Ghost Anemone Shrimp (another first for us), a giant Bumphead Parrotfish, who gave the nearby Humphead Maori Wrasse a run for its money in size, Spotted Boxfish, Unicorn Fish, a very cool Glorious Flatworm, Strigate Chromodoris and other, diverse underwater critters.
This dive ended at 2.30pm and we made the most of the final moments on the Great Barrier Reef to enjoy another snorkel. As the friendly life guard watched over us from the top deck of Silverswift, we saw more colourful corals and fish.
Thoroughly exhausted, we returned to Silverswift for a much deserved beer! The crew completed the final headcount as an afternoon tea of cakes, tea and coffee, cheese and biscuits were served. With everyone accounted for, Silverswift turned for Cairns and commenced its 1 hour 20 minute trip home.
Guests made the most of this time to preview the underwater photographs that had been taken of them throughout the day, snorkelling and diving on the Great Barrier Reef, by In Depth Video and Photography. Images were available to be purchased in a range packages and made a great memento of the day's adventure. Some of the pictures featured in this review are courtesy of In Depth Video and Photography and we thank you for these.
Meantime, guests scattered around on the sundecks, soaking up the afternoon sunshine, while dive logs were completed inside. The return journey to Cairns was fast and comfortable, arriving back into Marlin Marina around 4.20pm.
THE VERDICT: Quicksilver's Silverswift is a fast, modern catamaran offering guests superior ride stability on their Cairns Reef day tour. Its spacious interior and exterior has plenty of room to relax and enjoy the day. The crew is committed to ensuring their guests are fully briefed on the day and its activities, providing care and attention on the dive deck for divers and snorkelers. Equipment is well maintained and the lunch is delicious. This trip is excellent for adventurous snorkelers and introductory and certified divers, who will enjoy the three different reef sites.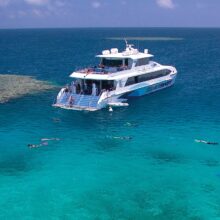 Only Cairns Great Barrier Reef day tour to visit 3 different reef sites in one day! Part of the Quicksilver Cruises fleet. Comfortable, high speed catamaran. Up to 5 hours at the reef.
Click the links below to find out more.
Can't decide? We have personally been on every Cairns reef and diving trip. We can help you choose the best tour, to suit your experience and budget.
FREE UNDERWATER CAMERA HIRE*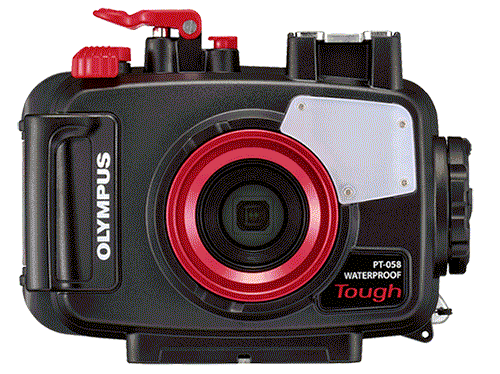 Spend over $550.00 AUD on your Great Barrier Reef tour with us and receive the latest Digital Underwater Camera Hire. Take amazing High-Resolution images and 1080 HD Video.
Not available for any tours to the Islands as fine white sand damages the seals on the cameras and makes them leak!
You need to come into our shop located on the Cairns Esplanade the day before departure to pick up the camera before 5:30 pm. You also need to supply your own SD Camera Card and drop the camera off back at our shop before 5:30pm.
Please Remember there is no other way to collect our cameras! All passengers must come into our shop the day before departure day before 5:30 pm.