OceanQuest Overnight Dive Review
Cairns Dive Adventures Trip Review
Deep Sea Diver's Den provides affordable, comfortable overnight dive trips from Cairns to the Great Barrier Reef. There are daily departures, thanks to SeaQuest, and OceanQuest is suitable for certified divers and snorkelers. Non-divers will enjoy the spacious, communal spaces and divers can look forward to excellent diving on varied Great Barrier Reef dive sites....
OceanQuest Overnight Dive Review
Deep Sea Divers Den Cairns liveaboard dive trips to the Great Barrier Reef are great value for money. There are daily departures, with transfers on ReefQuest, and passengers can enjoy up to seven (7) certified dives on this 2 day / 1 night trip, including a night dive on the Great Barrier Reef. Accommodation is comfortable and pending conditions; you'll enjoy exploring up to three (3) different reef sites. This is an affordable dive adventure from Cairns, which is also suitable for snorkelers and delivers many highlights.
DAY 1. Our Cairns overnight dive trip commenced with an 8am check-in at Deep Sea Diver's Den main office, on Draper Street. Passengers made final payments and were issued with boarding passes, before being transferred to Cairns' Marlin Marina in mini-coaches. The liveaboard trip starts by boarding Deep Sea Diver's Den's day boat, ReefQuest.
Crew usher you aboard and certified divers are given paperwork to complete, including a short medical questionnaire. Then it's out to the dive deck to be issued with any equipment you may need (all equipment is included in the dive price), before returning to the air-conditioned interior for the 'official' welcome and safety briefing.
At 8.45am SeaQuest pulls out of the marina, while Katie introduces the crew and discusses the day ahead. She then hands over to Howard, the on-board photographer, who will be taking underwater pictures of everyone during their day on the reef. These are available for sale on the homeward journey.
The introductory dive briefing is held downstairs, while the 19 certified divers on board today head upstairs for their briefing. Passengers booked on the overnight trip are told they will complete two dives on SeaQuest, before transferring to OceanQuest for a further two dives.
Basic Deep Sea Diver's Den certified dive rules are that the maximum dive time is 60-minutes, or, come back to the boat with 50 bar of air left in your tank, whichever comes first. You can choose to dive unguided with a buddy, or take a guided dive which is $15 per person, per dive. There is no solo diving on SeaQuest or OceanQuest.
With four (4) dives to complete today, we are told to ensure we get some depth on the first dive to ensure no reverse profiling. Suggested depths for each dive is 18m – 16m – 14m – 12m.
The dive crew discussed protecting the reef during the dives and staying away from the corals. They also advised it was breeding season for the Titan Triggerfish, and as such, we should keep a watchful eye out for these fish (photos were shown), as they can be aggressive at this time of year.
Finally, we were told about the onboard licensed bar and reminded that alcohol and diving do not mix. Our first sip of alcohol would be the last time we were in the water for the day, including any snorkelling.
SeaQuest takes approximately 90-minutes to arrive at its first reef destination and unguided divers are given a dive site briefing on arrival. Then it's time to get into the water!
DAY 1 – DIVE 1: NORMAN REEF "Sandra's". Water entry is a giant stride off the side of SeaQuest. We splash down into the Coral Sea at 11.05am. The warm blue water is around 28 degrees and we are greeted by a friendly Maori Wrasse, before dropping down to 21m and heading out to explore. There is a large anemone, home to Pink Anemonefish and Three-spot Dascyllus, moving on, we encounter a Hawkesbill Turtle grazing on the reef. Sandra's is a great little dive site, boulder corals are festooned with Christmas Tree Worms and large schools of snapper stream around the hard and soft corals. On this dive, we also saw Black Anemonefish and a Green Turtle. Love Great Barrier Reef turtles!
Back on the boat it was time for lunch, a fresh buffet of cold meats (ham, corned beef, silverside and salami), salads (coleslaw, potato, pasta and green), bread rolls and hot soup. As SeaQuest moved to its second site, we had another dive briefing upstairs.
DAY 1 – DIVE 2: NORMAN REEF "Turtle Bay". This dive started at 1.15pm and descending to the reef, we encountered several cuttlefish, another Maori Wrasse, Giant Clams and some Titan Triggerfish. As instructed, we were back on SeaQuest by 2.15pm, in time for our 2.30pm transfer to the liveaboard boat, OceanQuest.
SeaQuest moored alongside OceanQuest and the transfer was a simple step up to the new boat. On board, new passengers were taken into the dining room for an introduction to the boat and new safety briefings. Passengers were allocated cabin numbers and you have about 10-minutes to relocate your luggage, before the next dive briefing is given on the back sundeck.
OceanQuest is a large, comfortable boat which was purpose built for liveaboard dive trips. It started its 'life' in Papua New Guinea and the vessel still has many wooden masks and ornaments from this country, giving it a real "homely" feel. There are three exterior decks (one for smokers), including the spacious dive deck and three levels of air-conditioned interior, including a communal dining room and lounge.
OceanQuest takes a maximum of 48 passengers (plus crew) and each cabin has its own en-suite with shower and toilet. Linen and towels are provided. There are 41 guests on this overnight trip.
DAY 1 – DIVE 3: NORMAN REEF "Playground". At 3.47pm we were back in the water, enjoying the warm currents and 12-15m visibility. Unfortunately, we had failed to get much depth on our second dive (10.9m) so we stayed in the shallows for our third dive. This was excellent for underwater photography, with good light and clear water. We saw Pink and Spine-cheeked Anemonefish, Headband Humbugs, a green, male Bird Wrasse, Moorish Idols, Barred Rabbitfish, Clams, Sailfin Surgeonfish and a juvenile Bicolour Parrotfish. Coming back to the boat, there were several string jellys and a Green Turtle coming up for air, while in the depths, a large Silver-tipped Reef Shark cruised by.
Deep Sea Diver's Den offers night dives on this liveaboard trip, but we had just completed several night dives recently and decided to grab some beers and relax in the upstairs lounge instead.
OceanQuest has an internal intercom system which plays music for most of the day and is also used to communicate with guests: this is how we received the call for dinner at 6pm. OceanQuest's dinner is served to you at the table by the crew. Tonight it was meatloaf with roast potatoes, cabbage, carrot and eggplant. Bread, butter, water and fruit are all available in a self-serve buffet style.
The night dive is at 7pm. All passengers not diving are invited to head down to the duck deck with masks and snorkels, so they can check out the reef sharks. This was a popular option and there were 7 or 8 sharks cruising around, as well as large and enthusiastic Red Bass and Trevally.
Once this action had all ended, a delicious dessert of warm apple crumble and custard was served in the dining room. It had been a big day of diving, so exhausted, we headed back to Cabin 10 for a hot shower (which had great water pressure) and to relax in the air-conditioning.
DAY 2. The first dive of the day is at 6.30am. OceanQuest's daily itinerary of diving and meal times is displayed at various points around the boat, for your handy reference. We woke early and despite some cloud cover, enjoyed sun rise over the Coral Sea and its cam waters. A dive briefing was given on the back deck at 5.50am and then it was dive time!
DAY 2 – DIVE 4: NORMAN REEF "Playground". Early morning dives on the Great Barrier Reef are the best. There was a large coral bommie underneath the boat and it was teeming with literally hundreds of glass fish. Of course little fish attract bigger fish and there were at least 10 Lionfish at various points on the bommie, as well as Dotted Sweetlips, Maori Wrasse, Coral Cod and Trevally. Cruising around some nearby bommies we also saw several Blue-spotted Stingray.
Back on OceanQuest, there was time for a hot shower, before breakfast was called at 7.30am. Breakfast was served buffet style and included toast, cereals, fruit salad, bacon, scrambled eggs, sausages and potato grits. Tea, coffee and water were also included.
After breakfast, OceanQuest moved to a new reef location.
DAY 2 – DIVE 5: SAXON REEF "Twin Peaks". Water entry on OceanQuest is off the slightly submerged duck deck and was at 8.49am. Making our way to the mooring line, we were greeted by a particularly inquisitive Red Bass, who came right up to my mask and circled me a few times. Descending down to 17m we set out to explore the site and the first critter we encountered was a Moray Eel. From there we came across a pair of Schooling Bannerfish and a Bicolour Angelfish before spotting an Octopus, as it quickly retracted into a boulder coral. "Twin Peaks" was an excellent dive site, delivering many Great Barrier Reef fish including, but not limited to, Clark's Anemonefish, a large school of Bumphead Parrotfish, Leafy Scorpionfish, and NEMO!
The break between this dive and the next was relatively brief, around 30-minutes and we were back in the water for another look at 10.30am.
DAY 2 – DIVE 6: SAXON REEF "Twin Peaks". This time we headed out in the other direction and swam along the coral wall, starting at 16m and gradually making our way back up to 10m. There were nudibranches, large schools of Yellow-tailed Fusiliers, Feather Stars, a pair of Six-banded Angelfish, another Moray Eel, Sea Squirts, Spotted Unicornfish, hard and soft corals and at the end of our dive, a pair of Spine-cheeked Anemonefish.
This dive ended at 11.30am, giving us an hour to have a hot shower, pack up our rooms and vacate our cabins before lunch. Lunch was served buffet style in the dining room and was a delicious selection of meat kebabs, rice salad, green salad, pea and ham soup and bread rolls.
All passengers transferring back to Cairns then had about two hours to just relax and wait for their transfer to SeaQuest and return trip. Most slept in the comfortable upstairs lounges or chilled out on the exterior sun decks.
Our transfer from OceanQuest to SeaQuest was the same as our arrival, comfortable and quick, stepping directly from one boat to the other. It was completed efficiently and then SeaQuest made a quick 90-minute motor to Cairns, getting us back into Marlin Marina at 4.30pm. A tropical shower greeted our arrival into port, so we dashed up the marina to the waiting courtesy coach, to take us back to the Draper Street office and our car.
THE VERDICT
Deep Sea Diver's Den provides affordable, comfortable overnight dive trips from Cairns to the Great Barrier Reef. There are daily departures, thanks to SeaQuest, and OceanQuest is suitable for certified divers and snorkelers. Non-divers will enjoy the spacious, communal spaces and divers can look forward to excellent diving on varied Great Barrier Reef dive sites. If you are diver with non-diving family / friends, looking for a good liveaboard trip from Cairns to the Great Barrier Reef, then this is an ideal, well priced option.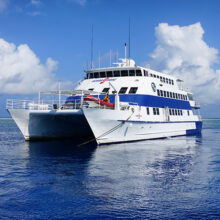 Ocean Quest 3-Day/2-Night Liveaboard dive trips depart Cairns every day! Enjoy amazing diving on beautiful outer reefs. Includes all chef-prepared meals and accommodation & 10-Dives with full dive gear!
Click the links below to find out more.
Can't decide? We have personally been on every Cairns reef and diving trip. We can help you choose the best tour, to suit your experience and budget.
FREE UNDERWATER CAMERA HIRE*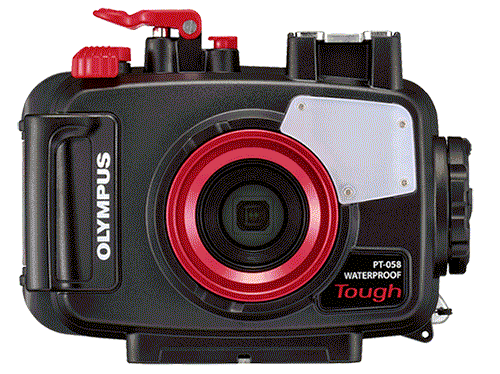 Spend over $550.00 AUD on your Great Barrier Reef tour with us and receive the latest Digital Underwater Camera Hire. Take amazing High-Resolution images and 1080 HD Video.
Not available for any tours to the Islands as fine white sand damages the seals on the cameras and makes them leak!
You need to come into our shop located on the Cairns Esplanade the day before departure to pick up the camera before 5:30 pm. You also need to supply your own SD Camera Card and drop the camera off back at our shop before 5:30pm.
Please Remember there is no other way to collect our cameras! All passengers must come into our shop the day before departure day before 5:30 pm.