Great Adventures: Green Island + Reef Review
Cairns Dive Adventures Trip Review
Great Adventures is the only tour operator to combine Green Island with the Outer Great Barrier Reef. The boat carries hundreds of guests, so you can expect the pontoon and boat to be quite busy. There is ample time to explore Green Island and then enjoy the Outer Great Barrier Reef, with the pontoon activities...
Great Adventures: Green Island + Reef Review
This is the only Cairns day tour that combines Green Island and the Outer Great Barrier Reef, in one day tour option. Departing Cairns at 8.30am, Great Adventures Green Island and Great Barrier Reef day tour takes you first to Green Island, where you have two hours to explore, before continuing on to their activity pontoon at Norman Reef. Arrive at 12.30pm and spend three hours snorkeling, diving and exploring before heading back to Cairns. It's a big day which has something for everyone.
Our adventure commenced with check-in at Cairns' Reef Fleet Terminal, before we boarded the 28.77m long Reef King catamaran at 8am. Complimentary tea and coffee was available on arrival and the engines powered up at 8.17am, in preparation for the 8.30am departure.
Reef King can seat 394 people on its transfers to Green Island (325 to the Outer Great Barrier Reef) and today there were approximately 260 guests aboard. Seating is available across two decks of air-conditioned interior, with two exterior sundecks, one shaded and one not.
A short safety presentation is provided by the crew, before video presentations take over, providing information on the Great Barrier Reef Marine Park, snorkeling equipment and demonstrations. During the 50-minute transfer to Green Island, we completed the certified diving paperwork and handed this to the crew, along with our dive licenses.
Alighting at Green Island, guests are encouraged to take their belongings with them, as while we explore, the boat returns to Cairns to collect guests who have booked the later departure time of 10.30am. Green Island is a national park with rainforest, fringing coral gardens and sea grass beds.
Walking down the jetty the clear blue waters beneath us were teeming with black and white Scissor-tail Sergeant fish and about 10m in the distance, a Green Turtle came up for a breath of air, before continuing its shallow journey through the sea.
It was high tide and as we approached the island, a flock of seagulls rested in the shade on the sea wall. We decided to take a self-guided walk through the national park section of the island. This is a comfortable stroll along shaded boardwalks which are dotted with informative botanical, cultural and historical signage. Pathways head off to golden beaches.
The island's rainforest was humming with noise that morning. Cicadas buzzed loudly and their discarded exoskeletons can be seen on nearby foliage. Several birds call out through the trees, which are heavy with basket ferns. Beside the pathway, a baby bird forages for food amongst the fallen leaves. You feel immersed in nature.
Walking from one side of the island to the other, and back again, took about an hour at a comfortable and relaxed pace. There was no water along the way and it was a warm day, so perhaps a good idea to take some with you.
Chairs are provided along the boardwalk and on the beach, for your comfort and convenience. As a Great Adventures guest, you are welcome to use the island's resort facilities, including the large inground swimming pool. This was a great place to relax after our island walk, stretching out on the day beds in the cool.
The island's beach is patrolled by life guards and snorkeling can be done in the patrolled areas or around the jetty. Mask and snorkels are provided as a part of your ticket: lycra stinger suits can be hired from $6 per person.
Mindful we had to be back on the jetty at 11.15am for the transfer to the Outer Great Barrier Reef, we had a quick snorkel under the jetty. Much to our delight there was large schools of fish to be found, some of which we had not seen before.
Back aboard Reef King, a second safety presentation was provided and then a Reef Presentation played on the video screens around the boat, as we completed the one hour transfer to the outer reef pontoon. Complimentary water was available from dispensers in the lower saloon, which helped hydrate us during the dive briefing with Yooyi Kim.
All certified dives on this Great Adventures trip are guided. The first dive is scheduled for 12.40pm with a second at 2.30pm. We were told our dives would have a maximum depth of 14m and time of 40-minutes. This ensures you have time to enjoy the other activities on the pontoon, including the underwater observatory, semi-submersible tour and snorkeling.
Arriving at the pontoon, it was straight to the dive area to get into our equipment. Water entry is underneath the pontoon, with steps taking you to a lowered platform. This is both comfortable and convenient. At this time of year the water is a very pleasant 28 degrees and all of your equipment, including choice of wetsuit or lycra suits, are included in the dive price.
Entering the water, the first thing we saw were several large Red Bass and then a very friendly Maori Wrasse. The Maori Wrasse is a large blue fish which delights and excites divers, with its close contact and interesting markings. Two Maori Wrasse followed us around the dive at "First Bommie", showing us their underwater home. Other highlights of this dive were seeing some Pink Anemonefish, Spine-cheeked Anemonefish, Sea Cucumbers and colourful Clams.
Dive complete, it was lunchtime! The Great Adventures pontoon serves a hot and cold buffet lunch from 1pm – 2pm. Choices included beef curry and rice, chicken and potato bake, cold meats and salads, prawns and fresh bread. There was also a vegetarian option.
After lunch, we headed to the submerged snorkeling platform to put on our fins and mask. This lowered platform made water access easy for people of all ages. The reef gardens were a short swim from the pontoon and had good coral coverage and marine life. Life vests were available for swimmers not confident in the open water.
The underwater observatory was open all day and guided semi-submersible tours departed throughout the afternoon. Optional extra 'tours' available from the pontoon were scenic helicopter flights over the reef and guided 'scuba-doo' trips. These are popular and should be booked in advance, on the boat.
We were excited about our second dive, which started on time and took us around a new site called "Secret Garden". This was a shallow dive with swim throughs and large beds of staghorn corals. Highlights included seeing more Anemonefish, Coral Trout, Nudibranchs, Barracuda and more.
The dive ended at 3.17pm and it was straight back on to Reef King, where a headcount was completed before we started our return trip. Grabbing a cold beer, we relaxed in the air-conditioning while Reef King stopped by Green Island, before motoring back to Cairns.
The day concluded around 5.30pm, pulling into Cairns' Marlin Marina with the golden sun beginning its slow slide down behind the rainforest covered mountainsides.
TOP TIPS:
Take sunscreen with you. It not provided on the boat, however, you can purchase it from the bar for $8.
Take a hat and some sun protection with you, especially in summer. The walk along the jetty and Green Island can be hot
Take a small bag, rather than a large one. You will be carrying this with you on Green Island, although lockers are available for hire, should you prefer this option.
Take a snorkel at Green Island under the jetty: there are lots of interesting fish to see.
Take a self-guided tour of the island's rainforest boardwalks. The signage provides some really interesting information on the island, its botanical, cultural and historical elements.
Lycra suits are not included in the ticket price for snorkelers, but we highly recommend hiring them, as they provide excellent UV protection in and out of the water. They are available for hire on Green Island and the outer reef pontoon.
THE VERDICT: Great Adventures is the only tour operator to combine Green Island with the Outer Great Barrier Reef Tour. The boat carries hundreds of guests, so you can expect the pontoon and boat to be quite busy. There is ample time to explore Green Island and then enjoy the Outer Great Barrier Reef, with the pontoon activities and options catering to people of all interests, from non-swimmers to snorkelers, introductory and certified divers. The pontoon has lowered, in-water platforms for entry and exit: there is also an elevated sun deck with lounges to just relax and soak up the views.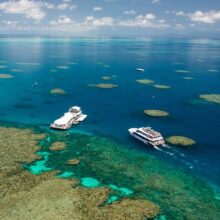 Leaves later than most (10am) and provides up to 3 hours at their outer reef pontoon. Enjoy the sun deck, underwater observatory, semi-submersible and many optional extras.
Click the links below to find out more.
Can't decide? We have personally been on every Cairns reef and diving trip. We can help you choose the best tour, to suit your experience and budget.
FREE UNDERWATER CAMERA HIRE*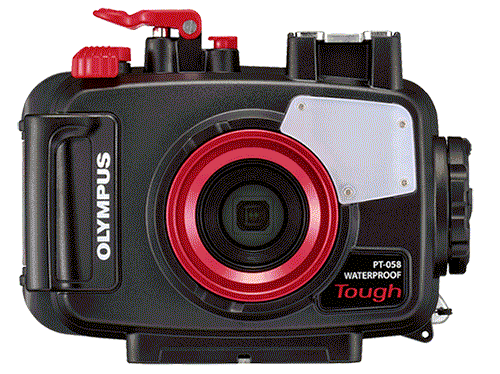 Spend over $550.00 AUD on your Great Barrier Reef tour with us and receive the latest Digital Underwater Camera Hire. Take amazing High-Resolution images and 1080 HD Video.
Not available for any tours to the Islands as fine white sand damages the seals on the cameras and makes them leak!
You need to come into our shop located on the Cairns Esplanade the day before departure to pick up the camera before 5:30 pm. You also need to supply your own SD Camera Card and drop the camera off back at our shop before 5:30pm.
Please Remember there is no other way to collect our cameras! All passengers must come into our shop the day before departure day before 5:30 pm.