Fitzroy Island Resort Review
Cairns Dive Adventures Trip Review
Fitzroy Island is a continental island 30km offshore from Cairns. Access is via a comfortable 45-minute boat transfer and accommodation is available at the 4.5 star Fitzroy Island Resort. The island has tropical vegetation, a mixture of rainforest, mangroves and open woodlands and the coral beaches have fringing reefs and bommies. Guests can snorkel and…
Fitzroy Island Resort Review
Fitzroy Island is a continental island 30km offshore from Cairns. Access is via a comfortable 45-minute boat transfer and accommodation is available at the 4.5 star Fitzroy Island Resort. The island has tropical vegetation, a mixture of rainforest, mangroves and open woodlands and the coral beaches have fringing reefs and bommies. Guests can snorkel and take certified dives directly from the beach, or book guided snorkel / dive tours at the island's Dive Centre. Stay a night, a weekend or a week, there's plenty to do at Fitzroy Island.
Fitzroy Island has long been a playground for Cairns locals, who favour its relative close proximity to the city, beachside bar and relaxed ambience. Fitzroy Island Resort was purchased, completely rebuilt and reopened in 2010. The new, luxury 4.5 star resort has a welcoming feel that appeals to families and couples.
Built with natural materials, including timber and stone, the resort is nestled between the island's coral beaches and towering mountains. In its communal areas it embraces the environment, with high ceilings and open plan layout capturing the cool ocean breezes.
Its 99 rooms are a combination of ocean suites, self-contained apartments, resort studio rooms and beach cabins. All are fully-air-conditioned with fans and tastefully appointed. We stayed in a self-contained ocean suite which was spacious and comfortable.
Anyway, back to the beginning of our overnight island adventure. There are two departure times available from Cairns: 7.30am and 2.00pm. Check-in at the resort is from 2pm, so this is the time we chose. Arriving at Fitzroy Island at 2.45pm, the crew took our luggage to reception, which is a short stroll up the timber jetty.
Checking-in we were given our room keys, instructions and several fact sheets. We were also advised to make dinner reservations at Zephyr Restaurant for that evening. Bookings are essential and it's best to do this early, to get the time you want. Making our way into our third-floor suite at 3.30pm, we were greeted with hibiscus on the entry table and a cool, air-conditioned interior.
The open plan suite provided views over the gardens, beach and ocean from the kitchen, dining, lounge and bedroom. The full kitchen had a large fridge / freezer, dishwasher, oven, microwave, toaster, tea and coffee making facilities and floating island bench. This type of accommodation is perfect for overnight (our option on this occasion) and longer stays, especially those wanting to self-cater. Groceries can be brought with you from Cairns (cheaper option with more range) or purchased at the island's General Store (limited stock).
The neutral floor tiles and walls provided the perfect canvas for the timber and leather furniture. The bedroom had a comfortable queen bed and stunning, black marble bathroom ensuite. Bi-fold doors opened from the bedroom and lounge room to the shaded balcony beyond, which was just 30m from the beach.
After investigating the room, we went down to make our dinner reservation and check out the Dive Centre, which was already closed for the day. Please note the Dive Centre is independently operated by Cairns Dive Centre: its opening hours are 8.30am – 5.00pm.
Unperturbed, we made our way over to the beachside bar – Foxy's Tavern – for a cool drink. This is a great place to chill out, with amazing views over the beach and ocean trampoline. Guests can book Great Barrier Reef day tours, with pick-ups and drop-offs at the island. While we chilled out, Sunlover Reef Cruises dropped back their day tour passengers to the jetty, before returning to the mainland.
Taking a stroll down the timber jetty at low tide, we could easily see several Great Barrier Reef fish species around the pylons below and nearby coral bommies, including: Six-banded Angelfish, Parrotfish, Moorish Idols and Scissor-tail Sergeants. This is a great time of day for snorkelling.
After a quick change, we made it back to the beach in time for sunset, which we enjoyed sitting on the Beach Hire Activity Hut deck. The beaches at Fitzroy Island are comprised of coral, so as well as a golden sunset view we were treated to the tinkling sounds of coral washing backwards and forwards in the gentle waves.
Our dinner reservation was for 6.15pm at Zephyr Restaurant, which offers outdoor dining with ocean views, or indoor air-conditioned dining. Being the last night of winter, the air was still cool and crisp, so we opted for outdoor seating. The service was excellent and friendly: main meals were around $30 each, including steak, chicken, lamb and more. Vegetarian options available.
After dinner, it was back to the room where we opened the bi-fold doors to enjoy the full moon views while the sound of the waves lulled us to sleep. We woke early the next morning to enjoy sunrise and a stroll along the beach. We walked past the newly established Turtle Rescue Centre (interpretive facility due to open later in 2012) down to the end of Welcome Bay, before making our way back to the restaurant for breakfast (served from 7am – 10.30am).
Breakfast is a choice of continental buffet ($15.50pp) which includes juice, cereals, fruit, toast, cold meats, cheeses and tea and coffee, or a hot breakfast buffet ($23.50pp) which is all of the aforementioned plus bacon, sausages, fried eggs, hash browns, mushrooms and tomatos.
It was another beautiful day in paradise – first day of spring! – and we were keen to go diving! Making our way over to the Dive Centre, we were told the best place to dive at Fitzroy Island was at Shark Fin Bay, named after the rocks on the beach, not the presence of sharks.
There was a boat transfer, which was scheduled to leave at 11am. The certified dive price was $85, which included a dive guide and all equipment, including computer, mask, fins, snorkel, BCD and wetsuits / lycra suits.
Fitzroy Island Resort check-out was at 10am, so we made our way back to the room and packed up. The resort has a luggage storage room, which was the perfect place to leave our bags for the day. NB: When booking your accommodation there is a choice of return transfer times from Fitzroy Island to Cairns, leaving in the morning or afternoon. As we only stayed overnight, we picked the afternoon transfer.
We got ready for the dive at the Dive Centre, putting on all of our equipment. From there, it was a short walk (30m) to the boat and 10-minute transfer to Shark Fin Bay. Water entry was giant stride off the side of the glass bottom boat.
Splashing down into the 24 degree water, we appreciated the short-legged / long-armed wetsuit. It was a shallow dive, reaching a maximum depth of 12m. The coral gardens offered a range of hard and soft corals and to our delight we found a true Nemo and some very cool Nudibranchs. The guided dive lasted around 50-minutes and ended back at the boat.
You can enjoy a maximum of two guided dives per day from the Fitzroy Island Dive Centre, or unlimited unguided dives. The Dive Centre also hires out snorkelling equipment and sea kayaks. More details provided in the Fitzroy Island activities section below.
Arriving back at the resort, we decided to spend some relaxing time on the sun lounges by the large, freshwater swimming pool. The pool is a feature of the resort by day and night, with its swim-up bar, spa, Balinese-style gazebo and blue lighting.
The more adventurous / strenuous could have spent their time participating in any number of island activities, including self-guided rainforest walks, submarine tours, aqua-jet hire or the fish feeding. More on Fitzroy Island activities below.
Later in the afternoon we had lunch at Foxy's Tavern (lunch is served 12pm-3pm) and spent some time on the beach, before collecting our luggage for the 4pm boat transfer back to Cairns, which arrived at around 5pm.
THE VERDICT: Fitzroy Island is a great, tropical island escape. It's most suited for divers travelling with non-diving companions, who will enjoy the resort and island facilities. Certified divers can choose between guided or unguided dives on the island, or take a Great Barrier Reef day tour with Cairns Dive Centre or Sunlover Reef Cruises, both of which do island pick-ups and drop-offs. You can snorkel off the beach and under the jetty to see a range of Great Barrier Reef fish and corals. The resort is luxurious and well appointed. Features, other than those already mentioned, include: cinema, kids' games room and play room. Great resort for couples and families.
Fitzroy Island Activities
Certified Guided Diving from the Beach. $85 for the first dive, includes all equipment and a dive guide: $65 for subsequent dives.
Certified Guided Diving with tender drop-off. $105 for the first dive, includes all equipment and a dive guide: $85 for subsequent dives.
Certified Diving Equipment Hire. If you have your own buddy, you can hire equipment from $70 per day and dive from the beach. Subsequent air fills are $20 per fill, per tank. (No deposit required for hotel guests – $1,500 refundable deposit on credit card imprint required for non-resort guests.)
Introductory Diving. $100 for the first dive, including all training, equipment and a dive guide: $75 for subsequent dives.
Snorkelling Equipment. $15 per day including mask, fins and snorkel ($5 each for individual hire).
Lycra Suits / Wet Suits. $10 per day.
Kayaks (Perspex viewing). Single $20 per hour | Double $25 per hour. (No deposit required for hotel guests – $200 refundable deposit on credit card imprint required for non-resort guests.)
Glass Bottom Boat Tours. Depart daily at 11.30am and 1.30pm. Adults $25 each | Children (4-14) $10 each.
Aqua-jet Hire. From $49 for 20-minutes.
Sorry, we couldn't find any posts. Please try a different search.
Click the links below to find out more.
Can't decide? We have personally been on every Cairns reef and diving trip. We can help you choose the best tour, to suit your experience and budget.
FREE UNDERWATER CAMERA HIRE*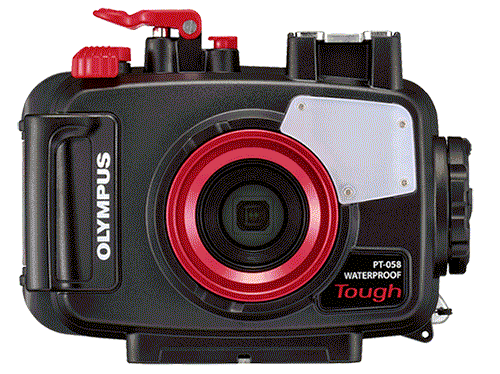 Spend over $550.00 AUD on your Great Barrier Reef tour with us and receive the latest Digital Underwater Camera Hire. Take amazing High-Resolution images and 1080 HD Video.
Not available for any tours to the Islands as fine white sand damages the seals on the cameras and makes them leak!
You need to come into our shop located on the Cairns Esplanade the day before departure to pick up the camera before 5:30 pm. You also need to supply your own SD Camera Card and drop the camera off back at our shop before 5:30pm.
Please Remember there is no other way to collect our cameras! All passengers must come into our shop the day before departure day before 5:30 pm.