Calypso Dive & Snorkel – Port Douglas Trip Review
Cairns Dive Adventures Trip Review
Absolutely magnificent comes to mind! This is no exaggeration, the boat, the crew and most importantly the dive sites were outstanding! What a day! A big friendly welcome by all the crew, great dive gear, and really nice dive guided with excellent reef sites!
Calypso Dive & Snorkel – Port Douglas Trip Review
Welcome to our Calypso Dive & Snorkel – Port Douglas Trip Review. For a start can we just say … Wow!
Calypso Dive & Snorkel run a fantastic day dive boat from Port Douglas, they actually have a dedicated snorkel boat and a dive & snorkel boat.
With amazing reef permits on St Crispins Reef, Opal Reef, and Agincourt reef Calypso Dive & Snorkel – Port Douglas visit 3 outer reef sites in one day!
This makes it a perfect choice for experienced certified divers wanting to explore beautiful dive sites on the very outer reef.
Watch our Calypso Dive Video Below:
The above video is filmed from our day out diving on Calypso. The boat has been designed with scuba divers in mind and the reef permits they operate are outstanding.
Check in, Saftey and Dive Briefings:
Check-in is at the Crystalbrook Super Yacht Marina in Port Douglas at 8:00 am. At boarding tea, coffee and biscuits are served before the boat departs at 8:30 am.
All relevant safety briefings are presented by the fun happy crew. An intermit dive briefing from the chief dive instructor/dive guide of the day is also well received. This is a really nice experience as you get to talk to the dive guide in detail about your skills, abilities, and any request you may have.
Divers are then escorted to the back dive deck of the boat to gear up. (Full dive gear is provided on the boat this includes snorkel, fins, mask, lycra suit BCD, Regs, Dive Computer). The dive gear provided is of extremely high quality and well maintained.
Experienced divers with their own gear are also catered for with a few divers on the day integrating their systems with the onboard dive gear.
Dive Site – 01: Advance Bommie
The boat moors up as we gear up into our dive gear. Completing our buddy checks we make sure we all have 200 bars in our tanks. There are only 5 divers in our little group plus the dive guide. The Fist dive is on the Agincourt Reefs called Advance Bommie. A beautiful deep bommie sitting in around 22 meters of water. Actually, visibility is quite low as the entire Great Barrier Reef had a major coral spawning only 4 days earlier.
Coral Spawning is a yearly event where when the tides, water temperature, and atmospheric pressure are just right, the entire Great Barrier Reef spawns billions of eggs and sperm to populate the reef with new corals.
Advance Bommie is a great first dive of the day, it is also our deepest dive of the day at 21 meters. There is no reverse dive profiling on this boat so the dives are always shallower as the day progresses.
Allot of really healthy corals, with white tip reef sharks darting in and out of the dive looking for food. We surface after 45 minutes to relax and enjoy the boat ride over to the next dive site.
Dive Site – 02: Gone Again "Drift Dive"
Drift dives are some of our favorite dives to do. The skipper suggests to us they don't get to visit this site "Gone Again" very often due to the open ocean located on the eastern side of the reef. But this day's weather conditions were near perfect! So we had to indulge!
All the footage from our Calypso Dive Video was shot on this dive site. Magical conditions, large deep bommies, current, and literally thousands of fish.
Dive Site – 03: Halloween "Drift Dive"
Today was the day for drift diving, another magical dive with magnificent coral. In fact, we were blessed to find so many large healthy corals, red seafans, giant pink seafans, red anemonefish, true anemonefish "Nemo" and a turtle.
In the last dive of the day, we capt our maximum depth to 12 meters and shallower to make sure there was no reverse dive profiling. This turned out to be a fantastic dive as many beautiful large healthy plate corals were living at this depth. See the photos to get an idea.
THE VERDICT: Calypso Dive & Snorkel is a magnificent day dive boat operating from Port Douglas. It really does offer fantastic fun friendly service. The dive gear is in excellent condition and the dive sites are outstanding.
Calypso Dive & Snorkel Port Douglas is suitable for snorkelers, for those wanting to try first-time introductory dives, to experienced certified divers wanting to explore the outer reef walls and enjoy some really beautiful diving. If you have any questions about this trip please email our dive crazy reservation team: EMAIL: reservations@cairnsdiveadventures.com or PHONE: 07 40 411638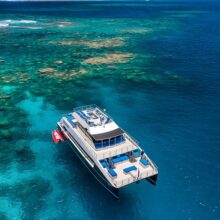 Calypso Dive & Snorkel operate a beautiful dive boat from Port Douglas. This boat was built with divers and snorkelers in mind. A large hydraulic step is located at the back of the boat, this makes it extremely easy to get in and out of the water.
Click the links below to find out more.
Can't decide? We have personally been on every Cairns reef and diving trip. We can help you choose the best tour, to suit your experience and budget.
FREE UNDERWATER CAMERA HIRE*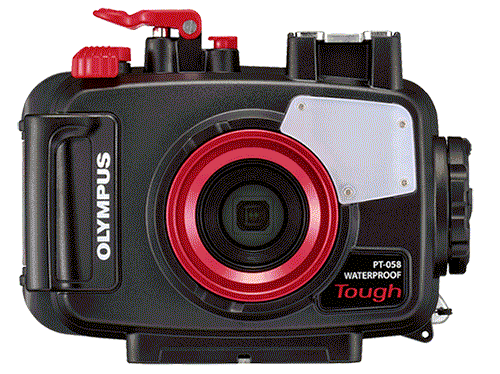 Spend over $550.00 AUD on your Great Barrier Reef tour with us and receive the latest Digital Underwater Camera Hire. Take amazing High-Resolution images and 1080 HD Video.
Not available for any tours to the Islands as fine white sand damages the seals on the cameras and makes them leak!
You need to come into our shop located on the Cairns Esplanade the day before departure to pick up the camera before 5:30 pm. You also need to supply your own SD Camera Card and drop the camera off back at our shop before 5:30pm.
Please Remember there is no other way to collect our cameras! All passengers must come into our shop the day before departure day before 5:30 pm.