Cairns Dive Centre – December Liveaboard Diving Review
Cairns Dive Adventures Trip Review
This trip exceeded my expectations. The dive sites were excellent and varied. The large crew was friendly and professional. MV Kangaroo Explorer had comfortable cabins, a spacious dive deck and comfortable top deck. The daily dive schedule provided ample time to explore the Great Barrier Reef and relax onboard. As a bonus, the weather was...
Cairns Dive Centre – December Liveaboard Diving Review
Cairns Dive Centre provides professional, affordable and most of all enjoyable, scuba diving trips to the Great Barrier Reef. We recently spent two days and one night aboard their MV Kangaroo Explorer liveaboard vessel, with six certified scuba dives including a night dive on Milln Reef.
This amazing value for money package included transfers to and from Cairns, air-conditioned cabin accommodation, all meals, dive equipment, professional crew and dive briefings. The dive sites at Thetford and Milln Reefs were excellent, showcasing the very best of the Great Barrier Reef.
DAY 1. Our December Great Barrier Reef liveaboard dive adventure started at 7.30am on Wednesday 29/12/2010, with check-in at Cairns Dive Centre's Abbott Street offices. Once all passengers had arrived, we transferred to Cairns' Marlin Marina and boarded day trip vessel MV Sunkist for transfer to MV Kangaroo Explorer. Tea and coffee were served and the friendly crew welcomed everyone aboard, outlining the day ahead.
During the two hour transfer from Cairns, we hugged the mountainous coastline, enjoying scenic views of Second Beach, Mission Bay, and later, Fitzroy Island. Arriving at MV Kangaroo Explorer around 10.30am, we were welcomed aboard by the liveaboard crew and given an introduction, orientation, safety speech and cabin allocation by the Trip Director. After a quick lunch, it was on to the dive deck and into the water for our first dive of the day.
DAY 1 – DIVE 1: Thetford Reef has excellent coral cover, combining soft and hard corals on assorted coral bombies. Dive depth varies up to 30m and Thetford offers good swim throughs and wall dives. Usually visibility can be up to 20m, but due to recent heavy rains and cyclonic activity (Cyclone Tasha crossed the Cairns coastline four days ago, on Christmas morning) visibility was reduced to just 10m.
Thetford Reef still offered an excellent introduction to diving the Great Barrier Reef, with vibrant coral colours and abundant marine life including Giant Clams, Anemone Fish (Clown Fish), Butterfly Fish, Blue Tang, Parrotfish, Batfish, Sea Cucumbers and much, much more.
MV Kangaroo Explorer then moved to a new reef location, Milln Reef, which is about 60km offshore from Cairns. This is a favourite snorkeling and diving reef for many Cairns reef operators, due to the quality of coral colour and cover. Milln is one of the Great Barrier Reef's 2,900 individual coral reef systems. Line fishing, trolling, bait gathering, netting, spear fishing, commercial fishing and coral and shell collection are all banned on this reef, creating a stunning marine haven, perfect for snorkelers, divers and underwater photographers.
DAY 1 – DIVE 2: Milln Reef has a variety of dive and snorkel locations. Our second dive of the day was at Club 10 where visibility was 15m and the fish were abundant when we entered the water at 3.45pm. My personal favourites were the Humbugs, small black and white fish which live amongst staghorn corals, darting in and out for protection. We also saw some of the larger reef residents, including Round Batfish, Red Bass and Coral Cods.
Re-boarding MV Kangaroo Explorer it was time to relax on the spacious sun deck, soaking in the afternoon sun on comfortable chairs and meeting other passengers. Liveaboard guests were a combination of certified divers and learner divers who had come from around the world to explore Cairns' Great Barrier Reef. There was a couple from New Jersey in the United States of America, who were experienced, certified divers, that had never taken a liveaboard dive trip before; brothers from Spain, sisters from Canada and a solo traveler from Chile in South America, to name just a few.
There was an excellent crew to passenger ratio, which meant there was someone on hand to answer your questions and provide dive and general advice. Digital Water Photography is also onboard MV Kangaroo Explorer, as a separate contractor. Specialising in underwater photography and videography, Digital Water Photographer can rent you an underwater camera for the duration of your liveaboard dive adventure, or can film you underwater and prepare a unique souvenir DVD of your Great Barrier Reef dive experience.
Daniel Kaag, founder of Digital Water Photography, provided us with a film briefing, letting us know when he would be filming us and giving some tips and suggestions on how to get the best footage for our video. Purchasing the video is optional, but it does make a great memento of your Cairns Dive Centre Great Barrier Reef trip.
A hearty, delicious dinner featuring marinated chicken, garlic and rosemary potatoes with vegetables and fresh bread was served in the early evening, followed by sticky date pudding for desert. Eating early allowed us to recharge the batteries for the night dive at 7.15pm.
DAY 1 – DIVE 3: Night diving the Great Barrier Reef is something you will either love or hate: I did not have fond memories of my last experience, so for peace of mind, we booked a guided night dive with dive instructor Dan Morrissey. I highly recommend this, as it made all the difference.
Diving by torch light we were amazed at how much you could see, including giant Crabs, translucent Anemone Shrimp, Glass Fish, Trumpetfish and Crayfish. Our torch light attracted numerous Red Bass, who followed the beams to locate some smaller game. A highlight was definitely seeing a very late, individual coral spawning by a Mushroom Leather Coral.
Generally, coral spawning (reproduction) is a mass event on the Great Barrier Reef and in 2010, it occurred between 25-27 November. Here we were, one month later, seeing our own little coral spawning show by a singular coral: something we would have missed, without our Cairns Dive Centre night dive guide.
Our first day of diving ended at 7.55pm and it was time to shower, freshen up and relax. Top Tip: Usually, onboard showers can have pretty poor water pressure and lack of hot water, making it really difficult to clean off sunscreen and wash your hair properly. The shower in our MV Kangaroo Explorer cabin (U1) was excellent: strong pressure and really hot water, leaving us refreshed and ready for a beer at the bar.
We ended the day learning more about the friendly crew, who were only too happy to share their own stories of diving the reef, their favourite critters and most memorable moments. They also reminded us that it would be an early start for the pre-breakfast dive, so it was definitely time to retire at 11pm.
DAY 2. Watching the sun rise over the Coral Sea and Great Barrier Reef is magical and worth getting up for. MV Kangaroo Explorer sat lightly in the gentle waves as the morning sky turned from black to golden shades of pink and red, before finally settling on a brilliant blue. Thursday 30 December 2010 was going to be a glorious day on the Great Barrier Reef.
MV Kangaroo Explorer made an early morning move on Milln Reef, so the first dive of the day at 6.10am was at a new site, the Three Sisters. Looking down from the top deck, the water was crystal clear and deep blue. Two sea turtles swam alongside the bow, gracefully sliding through the water and coming up to break the flat surface for a quick look and breath of air. One of them had had a previous encounter with a shark and was missing his back flipper and about 2/6 of the shell: not that it seemed to affect his movement at all.
DAY 2 – DIVE 4: Milln Reef's Three Sisters is an amazing dive site! Slipping down beneath the waves we were immediately surrounded by large schools of fish, of every shape, colour and size imaginable. Immediately beneath us was a large school of striking Diagonal Banded Sweetlip, further along another large group of Schooling Yellow-backed Fusilier and lower down, masses of silver bait fish created a dive spectacle. Highlights of the early morning dive was definitely the variety and quantity of marine life including Clown Trigger Fish, Spangled Emperor, Lionfish, Hussar Snapper, Round Batfish and Moorish Idol to name just a few.
Emerging from the water, we discovered MV Kangaroo Explorer's onboard chef (Grant) had been busy in the kitchen, preparing a breakfast buffet of all the cereals, cheesy scrambled eggs, grilled tomatoes, pickled vegetables, baked beans, spaghetti, toast and fresh fruit. The aroma of tea and coffee was just too good to refuse. Grabbing a plate we headed to the top deck to enjoy the beauty of this glorious day and share stories of what we had just seen on our dive.
DAY 2 – DIVE 5: At 8.10am it was back in the water at Milln Reef, for what turned out to be the dive of the trip! Slipping beneath the waves the first thing we saw was a shy Hawksbill Turtle: something I had been hoping to see all trip. Descending further, through the Schooling Diagonal Banded Sweetlip, to the sandy bottom at 16.5m deep, we spotted a Blue-Spotted Stingray and Whitetip Reef Shark. Moving along through the Three Sisters site we encountered a small nudibranch on the sand and came across a Moray Eel, hiding amongst the coral.
The fish at this Great Barrier Reef dive site continued to impress as a large Napolean Wrasse (also known as a Humphead Maori Wrasse) came to greet us. This giant blue / green fish spent about five minutes swimming in and around us and was definitely a highlight, as were the other reef residents we spotted including Puffer fish, Clown Trigger Fish, Parrotfish, Flowery Cod, Coral Cod, Long Nose Butterfly Fish, Butterfly Fish, Red Bass, Surgeonfish, Anemone Fish, Angelfish, Barracuda and too many more to mention.
DAY 2 – DIVE 6: To ensure we saw as many sites as possible during our two day / one night trip, MV Kangaroo Explorer moved to the fourth dive site of the trip, Pinnacles. Entering the water at 11am we were astounded at the variety of corals this stunning dive destination had to offer including Brain Coral, Staghorn Coral, Table Coral, Mushroom Coral, Encrusting Coral, Mushroom Leather Coral, Soft Coral and Sea Fans.
Marine life on Milln Reef's Pinnacles was also impressive and on the last dive of the liveaboard trip we saw feather stars, Christmas tree worms, nudibranches, anemone fish, sea urchins, a Blue-Spotted Stingray, a trumpetfish, damselfish, barracuda and a family of Dotted Sweetlips.
The last dive of the day ended at 11.50am and it was time for lunch onboard MV Kangaroo Explorer before we caught up with Daniel Kaag of Digital Water Photography to view our souvenir DVD. It was a 25-minute presentation and he explained some of the fish and marine life we had seen during our dive that morning. The DVD cost $75 and can be posted anywhere in the world. Ours is on order (it takes 7 days for delivery) and will be loaded to the site when available.
Leaving MV Kangaroo Explorer, we boarded MV Sunkist for the return journey to Cairns. A quick sun shower cooled things down as we entered the Cairns harbor, but ended before we reached Marlin Marina. Disembarking at 4.30pm, the crew thanked everyone for choosing Cairns Dive Centre and wished everyone safe travels and a great stay in Cairns: a lovely touch to end a fabulous trip.
THE VERDICT: This trip exceeded my expectations. The dive sites were excellent and varied. The large crew was friendly and professional. MV Kangaroo Explorer had comfortable cabins, a spacious dive deck and comfortable top deck. The daily dive schedule provided ample time to explore the Great Barrier Reef and relax onboard. As a bonus, the weather was brilliant: glassy seas, blue skies, clear, warm waters with 15-20m visibility at Milln Reef.
Stay at sea. Can be booked as 2-3-4 day Great Barrier Reef trips, including transfers, accommodation, linen, meals and dive / snorkel equipment. Daily departures.
Click the links below to find out more.
Can't decide? We have personally been on every Cairns reef and diving trip. We can help you choose the best tour, to suit your experience and budget.
FREE UNDERWATER CAMERA HIRE*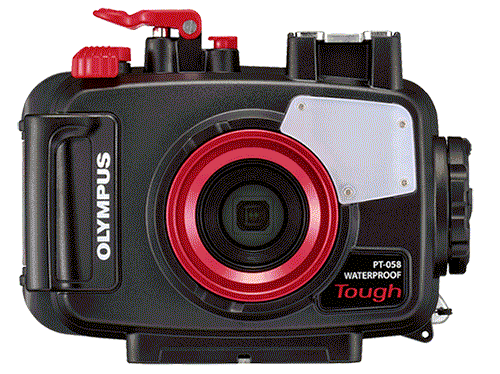 Spend over $550.00 AUD on your Great Barrier Reef tour with us and receive the latest Digital Underwater Camera Hire. Take amazing High-Resolution images and 1080 HD Video.
Not available for any tours to the Islands as fine white sand damages the seals on the cameras and makes them leak!
You need to come into our shop located on the Cairns Esplanade the day before departure to pick up the camera before 5:30 pm. You also need to supply your own SD Camera Card and drop the camera off back at our shop before 5:30pm.
Please Remember there is no other way to collect our cameras! All passengers must come into our shop the day before departure day before 5:30 pm.