Cairns Dive Centre – 4 Day Liveaboard Learn to Dive
Cairns Dive Adventures Trip Review
I found the dive course fun and educational. The level of professionalism and tuition was beyond my expectations. The training facilities were clean and well setup. The diving was excellent and the dive sites must be world class. The MV Kangaroo Explorer is ideally suited as a dive boat and the accommodation was comfortable. The...
Cairns Dive Centre – 4 Day Liveaboard Learn to Dive
With our classroom and pool training completed it was time to head out to the Great Barrier Reef.
DAY 3: Open Ocean Diving
Day 3 started with a trip to the Great Barrier Reef and Cairns Dive Centre's liveaboard scuba boat, MV Kangaroo Explorer. Our trip on MV Sunkist took around two hours; the weather was fantastic and with no wind the ocean was almost completely flat.
Arriving at Thetford Reef we boarded the MV Kangaroo Explorer we were greeted by Ned, the Trip Director, who gave us a tour of the vessel and showed us our cabins. Our cabin was a comfortable, air-conditioned double, which provided cool relief from the heat of the day.Without too much of a break, our SSI Dive Instructor Dan was on the radio calling his students down to the dive deck, where we were given our fins, mask and snorkel. As some of the group had never seen the Great Barrier Reef before, and as part of the dive course, we headed out for a snorkel at the dive site 'Mystery'. I was amazed at the colour of the corals and amount of fish. I have snorkelled at a few other locations around Cairns' Great Barrier Reef but the coral here seemed brighter and more colourful than I had seen before. The snorkel provided an orientation of the site: we then made our way back to the boat and prepared for our first dive.
DIVE 1: 'Mystery' – Thetford Reef – 12:20PM
This was it, show time. We had done the pool and classroom training it was time to go diving on the Great Barrier Reef. Once we had set-up, done our buddy checks and registered with the crew, we made our way onto the dive platform. Dan was first in; one by one we entered the water. The water was a little cloudy, as a small tropical cyclone had passed through a few days earlier, and we could not see the bottom.
After a quick rundown on what we needed to do this dive, to complete our SSI Cairns Learn to Dive Open Water Course, we released the air from our BC's and followed the mooring line down to around 9 metres.
On this dive we were to practice our mask clearing and regulator retrieval. I was not actually looking forward to doing this in the salt water, but after the taking my mask off and opening my eyes, the salt did not hurt much at all. Once I put mask back on and cleared the water, my eyes stung a little bit but after a few long blinks, they were back to normal.
After the mask clearing and regulator retrieval we did a little buoyancy control, I found myself accending to the surface and not really understanding why. Luckily for me, instructor Dan was watching on and had seen this many times before, basically I was not breathing out enough. After relaxing a little, I found myself back with the group and we went for a dive to explore 'Mystery' on Thetford Reef.
The marine life at 'Mystery' was fantastic with large schools of fish and an abundance of colourful coral. Some highlights of this dive included seeing:
Giant Clams
Anemone Fish (Nemo)
Butterfly Fish
Blue Tang (Dory)
Sea Cucumbers
Batfish
At the end of the dive, after 26 minutes, we practiced a control accent and once on the surface, removing our BC's and putting them back on again. [In some cases you would need to remove your scuba gear in order to get back onto a boat that was not set up for diving: this is not the case with the MV Kangaroo Explorer, but is a good skill to practice.]
DIVE 2: 'Club 10' – Milln Reef – 3:45PM
After a pretty successful first dive, it was time to hit the water again and this time it was at a 'Club 10' on Milln Reef. Again after the gear and buddy checks we entered the water with a backward stride. The visibility on 'Club Ten' seemed better than 'Mystery'; we sank down into the water and found a nice sandy patch around 9 metres. Once on the sandy floor, we practiced out of air procedures and a pretend emergency out of air accent (we do not practice this for real as it could damage your health).
With our practice drills out of the way, we set out to explore 'Club Ten'. The marine life was amazing and we even spotted a Whitetipped Reef Shark. As we explored the reef, Dan was constantly keeping an eye on us and our air supply.
Our bottom time at 'Club 10' was 35 minutes and before I knew it we were underneath the boat. Dan signalled us to do an air sharing accent and breathing my buddy's secondary regulator, we ascended to the surface.
Back on Board – Dinner and a Beer
After our first day of diving on Cairns' Great Barrier Reef, we sat in the dinning area and filled out our new log books, two dives down, many more to come. After a refreshing shower in our cabin, we headed down to the dining saloon for dinner.
MV Kangaroo Explorer's chef Grant had prepared a delicious meal of marinated chicken, garlic potatoes and steamed vegetables. The sticky date pudding at the end was a highlight. The Cairns Dive Centre crew were all very friendly and more than happy to sit with the passengers and talk about diving, places they have travelled and friends they have meet on the trips.
DAY 4: Certification Day
The day started for me at 5am. I woke up and watched the sun rise, over a completely flat ocean, with not a breath of wind. We were scheduled to move to our new dive site in the morning and around 5:30am the skipper moved the boat over to the '3 Sisters' on Milln Reef. Today would be the day we receive our certification cards.
DIVE 3: '3 Sisters' – Milln Reef – 6AM
The thought of jumping in to the water at 6am would not normally appeal to me, however, looking down into the clear water and seeing some fish and turtles swimming around, gave me all the inspiration I needed. Suited up and with all the buddy checks done, we entered the water with a "James Bond" roll (not one we were taught in the course).
The '3 Sisters' is an awesome dive location, with three coral towers rising out of the floor below at around 25 – 30 metres. We dived down to around 18 metres and explored the shallower bases and passageways between the towers.
An early morning dive gives you the opportunity to see the reef waking up and the transition from night to day. Marine life seen on this dive included:
Clown Fish
Trigger Fish
Spangled Emperor
Lionfish,
Hussar Snapper
Round Batfish
Moorish Idol
Our dive lasted around 33 minutes, with a maximum depth of 17.3 metres.
Breakfast and Checkout
With dive four completed, it was time to have breakfast and again Grant had done a great job. We also needed to vacate the cabin and checkout. This would give the crew time to clean the cabins for the next arrivals. We stored our bags on the top sun deck and started to get ready for the next dive.
DIVE 4: '3 Sisters' – Milln Reef – Certification Dive – 8:10am
Dive 5 was a special dive, not only was it our certification dive but also our video dive; Daniel Kaag of Digital Water Photography was filming our dive and this would give us lasting memories of the reef and my certification. Digital Water Photography also rent out underwater cameras to passengers onboard MV Kangaroo Explorer.
Descending down, we immediately saw a Hawksbill Turtle which cruised around with us for a little while. It also became apparent that if you want to see lots of fish, you need to hang out with Dan the video man as all the fish seem to be good friends with him. We were lucky enough to be followed for most of our dive by a large Humphead Maori Wrasse. We also spotted:
Puffer fish
Clown Trigger Fish
Parrotfish
Flowery Cod
Coral Cod
Long Nose Butterfly Fish
Butterfly Fish
Red Bass
Surgeonfish
Anemone Fish
Angelfish
Barracuda
After diving around for around 10 minutes we found a nice sandy patch and with the company of the Maori Wrasse, we were awarded our certification cards that just seemed to be sitting and waiting for us in the sand. We were pretty happy to get our cards and know we had passed the tests and made it to become certified, SSI Open Water Divers. The dive lasted 38 minutes, with a maximum depth of 16.4 metres.
Final Reef Location – Pinnacles
MV Kangaroo Explorer moved to the final destination for our trip, "Pinnacles" on Milln Reef. The crew were all really exited, as the boat only comes to this dive site around twice a year; the weather and wind normally makes this location impossible.
DIVE 5: 'Pinnacles' – Milln Reef – 11:00am
This dive was our first as certified divers and our 'A-team' decided to take on the 'Pinnacles' with no instructor for the first time. Suited up and ready to dive, we descended behind MV Kangaroo Explorer and made our way around the front of the boat and the mooring line. We followed the line to around 9 metres and set off to explore the 'Pinnacles'.
We dived around the reef and bommies and spotted a huge variety of fish, it was interesting to note many of the larger fish were quite inactive, staying under large ledges of plate coral. We spotted the following marine life on our final dive:
Feather stars
Christmas tree worms
Nudibranches
Anemone fish
Sea urchins
Blue-Spotted Stingray
Trumpetfish
Damselfish
Barracuda
Dotted Sweetlips.
Our dive lasted 43 minutes, with a maximum depth of 10.8 metres.
Lunch and the Trip Home
After our final dive we had lunch and prepared for the trip home. We sat on the sun deck, relaxing and talking with our fellow passengers. Some had travelled from Canada, Spain, USA and Chile: all had loved diving on Cairns' Great Barrier Reef.
The trip home on MV Sunkist took around two hours, getting us back into Cairns around 4.30pm.

THE VERDICT
I found the dive course fun and educational. The level of professionalism and tuition was beyond my expectations. The training facilities were clean and well setup. The diving was excellent and the dive sites must be world class.
The MV Kangaroo Explorer is ideally suited as a dive boat and the accommodation was comfortable. The food onboard was great and satisfying for hungry divers.
I would not hesitate to recommend Cairns Dive Centre's 4 Day SSI Learn to Dive Open Water Course to anybody who wants to learn to scuba dive on Cairns' Great Barrier Reef. Excellent value for money.

Learn to dive in Cairns and get a PADI Open Water Dive License. Courses can be booked in 4-5-6 day options, so you can tailor to suit budget & itinerary.
Click the links below to find out more.
Can't decide? We have personally been on every Cairns reef and diving trip. We can help you choose the best tour, to suit your experience and budget.
FREE UNDERWATER CAMERA HIRE*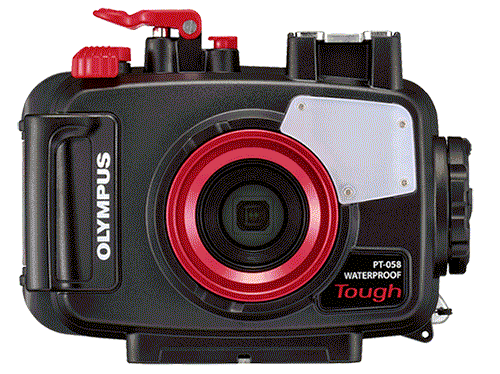 Spend over $550.00 AUD on your Great Barrier Reef tour with us and receive the latest Digital Underwater Camera Hire. Take amazing High-Resolution images and 1080 HD Video.
Not available for any tours to the Islands as fine white sand damages the seals on the cameras and makes them leak!
You need to come into our shop located on the Cairns Esplanade the day before departure to pick up the camera before 5:30 pm. You also need to supply your own SD Camera Card and drop the camera off back at our shop before 5:30pm.
Please Remember there is no other way to collect our cameras! All passengers must come into our shop the day before departure day before 5:30 pm.