Aqua Quest Cairns Review Diving and Snorkeling Trips
Cairns Dive Adventures Trip Review
Diving with Aqua Quest Dive & Snorkel was just Fantastic to say the least! With permits on Norman, Saxon and Hastings Reef Systems. See our photos to give you an idea what this day is all about!
Aqua Quest Cairns Review Diving and Snorkeling Trips
Today we had the pleasure to dive into the outer Great Barrier Reef from Cairns with a wonderful day boat called Aqua Quest Dive & Snorkel. This article talks about our Aqua Quest Cairns Review Diving and Snorkeling Trip to the outer reefs from Cairns.
The purpose of this review is to give you a clear understanding of what you can expect to see and do on a day trip with Aqua Quest.
2-Highlights: Unguided Diving & 3-Dives In The One Day!
There are two main highlights of diving on this boat, the first highlight is Aqua Quest offers divers the chance to complete three certified dives in one day! The second highlight of diving on the Aqua Quest day boat is they allow unguided dives! This is a big deal for experienced scuba divers who really want to go off and explore the reef in their own buddy pairs. Unguided diving allows the freedom to explore the Great Barrier Reef independently of a guide. It gives experienced scuba divers especially underwater photographers the chance to take your time and spend your dive taking pictures and videos of the marine life you are most passionate about.
Guided Diving:
Guided diving also serves a purpose, especially for those who are not so confident in the water or if you really would like someone to show you around underwater. Don't worry there is still the chance to get a dive guide on this boat, at the time of writing this article a dive guide can be organized for $20 per dive per person. Just have a chat with the crew on the boat on the day and they will arrange the guide for you.
Departure Location:
Check-in on the Aqua Quest dive boat happens directly on the vessel which is located at the end of B-Finger Marlin Marina Cairns. Check-in starts at 8:00 a.m. with the boat departing to the reef at 8:30 a.m. Travel time to the reef is a little over 1 hour and 15 minutes. The boat will visit two outer reef locations in one day. The boat spends around 2.5 hours at each reef location before traveling back to Cairns to arrive at the Cairns Marlin Marina at 4:30 p.m.
Dive Saftey:
On the way to the reef, divers are set up with full dive gear like snorkel, fins, mask, wetsuit, BCD, regulator, dive computer, and wetsuit. All certified divers will fill out the standard medical questionnaire paperwork and everyone will be briefed on the day's procedures. The certified dive briefing goes for about 25 minutes taking you through all the safety details of the boat and your dive gear. It is at this time the crew will buddy you up into dive buddies you can decide to go unguided diving or guided diving.
Arriving at the reef around 10:00 a.m. it's the perfect time to suit up get in your gear get ready for your dive. If you are diving unguided they generally get you in the water first, the crew will give you a briefing on the reef with maps and dive charts. You our now ready to enter the water to start your dive.
Dive Times:
The boat allows up to 3 x certified dives in one day. If you choose to do three dives the first two dives are capped at 40 minutes per dive with the third dive capped at 50 minutes. If you choose to do two certified dives then you can do two 50-minute dives with a nice long surface interval in between your dives.
Marine Life:
What marine life can you see? Well, this is what it's all about! Check out our photos attached to this article to give you a visual idea. The reef sites visited by Aqua Quest are stunning. Divers and snorkelers will witness beautiful shallow coral gardens, teaming with life. You can expect to find giant clams, soft and hard corals along with a large array of marine animals. On this day we spotted Octopus, Cuttle Fish, Moray Eels, Large Schools of Red Bass, and Sweetlip Fish. To say the least, we had three spectacular dives!
Reefs Dived:
On this day we dove at Norman Reef and Saxon Reef. Aqua Quest has dive permits on all three reefs Norman, Saxon, and Hastings Reef systems. The highlight of the day for us was definitely diving at Plates Dive Site which is located on Norman Reef. The plates dive site is absolutely a stand-out dive site with a large pressure point located at a large underwater bommie. It is where large schools of Red Bass and Sweetlip fish can be viewed in around 6 meters of water. The front end of the bommie drops away to over 24 meters.
Lunch:
Lunch was a nice mix of hot and cold foods like chicken curry, salads, bread, pasta, fruits, and tea and coffee. Water is on tap all day and you can also purchase beer, wine, soft drinks, and chocolate snacks from the onboard bar.
Conclusion:
Absolutely fantastic are the first words that come to mind! The crew was friendly and very helpful especially when setting up our dive gear and getting organized for the dives. Lunch was fresh, healthy, and filling. The water was crystal clear, with beautiful dive sites and absolutely wonderful diving. Especially a dive site called Plates which was located at Norman Reef. Would we dive again with Aqua Quest … Absolutely.
Please note we are an independent dive travel agency located in Cairns. We are keen divers with over 686 dives logged on the Great Barrier Reef. If you have any questions about this trip or any other trip please email our dive crazy reservation team: EMAIL: reservations@cairnsdiveadventures.com or PHONE: +61 7 40 411638 we are more than happy to help you plan your next dive adventure on the Great Barrier Reef from Cairns. Follow us on Instagram all video and photos taken by Clint Carroll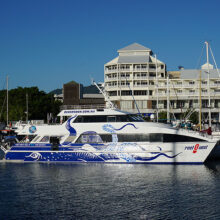 Value for money Great Barrier Reef dive tour. Visits 2 reef sites. Perfect for snorkellers, certified divers and those wanting to try an introductory dive. Buffet lunch included.
Click the links below to find out more.
Can't decide? We have personally been on every Cairns reef and diving trip. We can help you choose the best tour, to suit your experience and budget.
FREE UNDERWATER CAMERA HIRE*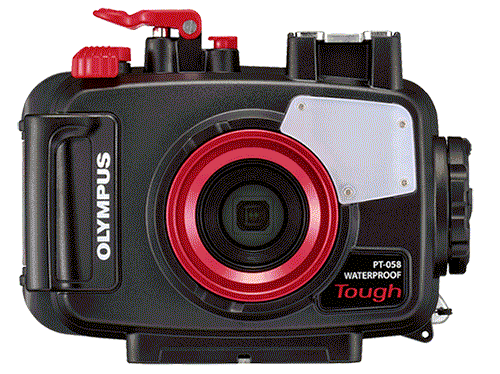 Spend over $550.00 AUD on your Great Barrier Reef tour with us and receive the latest Digital Underwater Camera Hire. Take amazing High-Resolution images and 1080 HD Video.
Not available for any tours to the Islands as fine white sand damages the seals on the cameras and makes them leak!
You need to come into our shop located on the Cairns Esplanade the day before departure to pick up the camera before 5:30 pm. You also need to supply your own SD Camera Card and drop the camera off back at our shop before 5:30pm.
Please Remember there is no other way to collect our cameras! All passengers must come into our shop the day before departure day before 5:30 pm.