3-Dives in a Day! Silverswift Trip Review
Cairns Dive Adventures Trip Review
Fantastic full day diving on the Great Barrier Reef. The ultimate trip for those that want to see as much of the Great Barrier Reef as you can in one day! The only boat in Cairns to visit 3 sites.
3-Dives in a Day! Silverswift Trip Review
Enjoy up to 3 scuba dives in the one day. Perfect for those that only have one day to dive the Great Barrier Reef. Departing Cairns at 8:30 am and returning to Cairns at 4:30 pm, this dive trip is for you.
Local dive tour operator Silverswift Dive & Snorkel is the only boat in Cairns to visit three outer reef sites in the one day. This is great for divers that really want to maximise and explore the reef but only have one day to do so.
The check-in starts at 7:45 am in the morning at the Reef Fleet Terminal, located at 1 Spence Street Cairns. Certified divers should bring along your dive certification card and log book. You can also bring any of your own gear, for example, snorkel, fins, mask, dive computer. The boat offers all equipment if you don't have your own, this is included in the price.
After boarding the boat, tea, coffee and biscuits are served. Everyone must be seated and you will be handed the safety diver forms to fill out. All day boats in Cairns get you to fill these out. They want to make sure you are medically fit with no asthma and not taking any prescription medication. Some of these elements may prevent you from diving in Australia. (The State of Queensland has the toughest diving laws in the World.)
On the way to the reef sites (about 1 hour 15 minutes travel time) you will meet your instructor and be shown all the dives gear, hand signals, diver computer, BCD and REG's. This is actually like a mini dive refresher. Great for those that are feeling a little nervous or rusty, maybe it's been a few years since your last dive.
All dives on the boat are guided by professional dive instructors. There is no option to dive solo or in your own buddy pairs. Dive times are capped at around 45 minutes, but this is to allow time for the boat to move to three different sites during the day,
First dives start at around 10:15am. As the boat prepares to Moore at the first reef site of the day all divers are called forward and must start to prepare for you dive. Once geared up and in your little group with your instructor, they will give you a dive briefing of the first site. The first dive of the day is usually the deepest as no reverse profile diving is allowed on the boat.
Descending to around 18 meters it feels good to get in the water and dive those deep out reef walls. Your instructor will keep an eye on you, checking your gauges, making sure you feel comfortable. Once everyone is settled in they commence the dive.
Silverswift has reef permits on Flynn, Milne and Pellowe reefs. These are regarded as some of the best diving reefs from Cairns. Mainly due to their location of 65km offshore near the continental shelf of Australia.
After spending one hour and 30 minutes at the first dive site the boat moves to the second reef site. It is here certified divers will gear up again and jump straight back into the water. (The surface interval times is around 20/40 minutes between the first and second dive.)
The second dive the depth is usually capped to around 16 meters. Once again your instructor will keep a sharp eye on you making sure you feel relaxed, comfortable and enjoying the view. Flynn, Milne and Pellowe reefs offer beautiful diving. Large shallow coral gardens with many different species of soft and hard corals. The dive site called Gordons is usually a favourite with divers, often many different species of small and large sea turtles can be found.
A hot and cold buffet lunch is served at the second site of the day. Snorkelers can also enjoy a guided snorkel tour and marine biology lesson about the Great Barrier Reef. A good learning opportunity for those that are interested.
The boat moves on to the third dive site of the day, this will be the last dive of the day. Dives are usually capped to around 14 meters. Once again you dive instructor keeps a sharp eye on you and shows you the best of what around. The outer reefs from Cairns are home to many different species of marine animals like cuttlefish, moray eels, octopus, juvenile barracuda, sea turtles, reef sharks, giant mauri wrasse stingrays, giant clams along with much more.
The boat departs the outer reef at around 3:00 pm and journeys its way back to Cairns (1 hour 15 minute travel time). Docking back at Cairns at 4:30 pm. Most people are a little tired but overjoyed spending a spectacular day diving the Great Barrier Reef all in one day!
THE VERDICT
Silverswift Dive and Snorkel is perfect for those that want to see as much of the Great Barrier Reef as you can, all in a day. If you are interested in this tour or would like to find out more. Contact our dive crazy reservation team on
PH: +61 7 40411638
or send us an email:
reservations@cairnsdiveadventures.com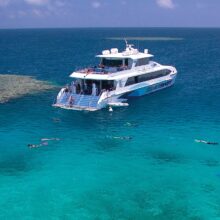 Only Cairns Great Barrier Reef day tour to visit 3 different reef sites in one day! Part of the Quicksilver Cruises fleet. Comfortable, high speed catamaran. Up to 5 hours at the reef.
Click the links below to find out more.
Can't decide? We have personally been on every Cairns reef and diving trip. We can help you choose the best tour, to suit your experience and budget.
FREE UNDERWATER CAMERA HIRE*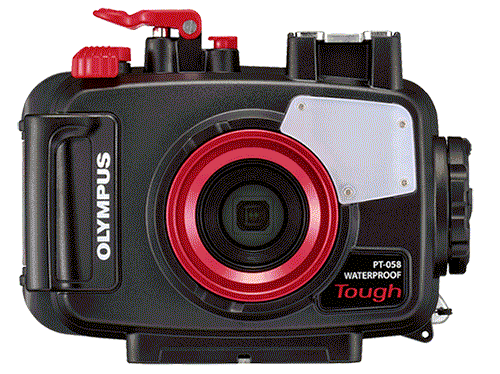 Spend over $550.00 AUD on your Great Barrier Reef tour with us and receive the latest Digital Underwater Camera Hire. Take amazing High-Resolution images and 1080 HD Video.
Not available for any tours to the Islands as fine white sand damages the seals on the cameras and makes them leak!
You need to come into our shop located on the Cairns Esplanade the day before departure to pick up the camera before 5:30 pm. You also need to supply your own SD Camera Card and drop the camera off back at our shop before 5:30pm.
Please Remember there is no other way to collect our cameras! All passengers must come into our shop the day before departure day before 5:30 pm.